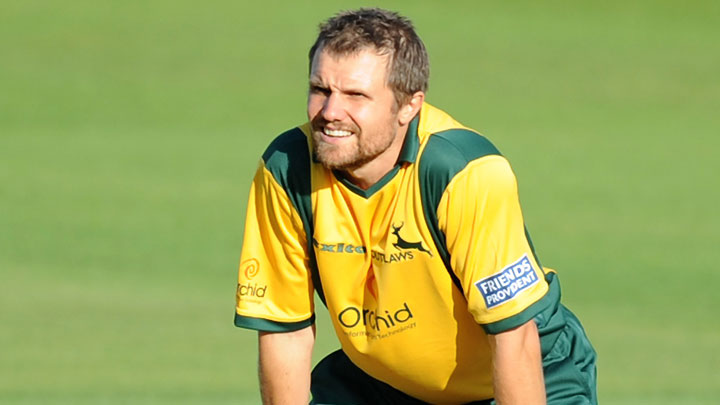 Nannes Keen To Capitalise
On Home Advantage
Comment and Analysis | 21st July 2010
Dirk Nannes has been living out of a suitcase for a long time. Loyally followed by wife Erin, son Max and daughter Ayla, his stints with Delhi Daredevils in the Indian Premier League and Australia at the ICC World Twenty20 in the West Indies have kept him away from home comforts for the last four months.

Success for Notts Outlaws against Sussex Sharks in Monday's Friends Provident t20 quarter-final would keep him in the UK for another three weeks but despite his nomadic existence, nothing would make him happier than turning out for the Outlaws in the competition's finale.

"My family travel with me and we've been on the road for four months now so it would be good to get back to base but I want to be with Notts at the Rose Bowl on finals day," said Dirk

"I've had a great time here and I'd love to have an opportunity to come back for another go but it would be even sweeter if we were defending the trophy.

"Trent Bridge is a great ground, the banter in the dressing room has been first class and winning matches has made it even better."
"We all play the game to make winning contributions at crucial stages in games so I'm happy to be thrown the ball at crunch time."
Dirk's meteoric rise to prominence is well documented but here's an abridged version for anyone unfamiliar with it. Accomplished skier tries cricket and discovers unfathomable natural ability to bowl quickly before quickly realising that he's well-placed to exploit the Twenty20 boom.

Having travelled via Middlesex and the Netherlands, he now finds himself attached to Victoria, Delhi and Notts where he became the first player in world cricket to surpass 100 Twenty20 wickets.

"I like to think that my track record is pretty solid in all formats but Twenty20 is where it's at for me at the moment and I reject the opinion that it isn't 'proper' cricket," said Dirk.

"I've been pigeon-holed as a Twenty20 player which isn't a bad thing from a business perspective but I'd love to play 50-over cricket for Australia.

"There's a misconception that I don't like longer forms of the game but I'm actually a big fan of Test cricket. I can happily watch session after session but my body won't allow me to play four day matches."

Following his stint with Notts, Nannes will report for Champions League duty with Victoria before the Australian domestic campaign. He will feature in the Indian Premier League and hopes to receive an offer to return to Trent Bridge for the 2011 Friends Provident t20.

"We all play the game to make winning contributions at crucial stages in games so I'm happy to be thrown the ball at crunch time," he said.

"We've had several matches during this tournament where we've needed to keep it tight at the death and we've ended up on the winning side.

"I'm really happy that we've got the home advantage because we seem to raise it here. I want to be lining up for Notts at the Rose Bowl and we know what we need to do to make that happen."

Sussex aren't short of match-winners either with Matt Prior having scored 443 runs so far and Murray Goodwin, who denied Notts NatWest Pro40 glory in 2008, on 377.

Nannes admits that he'd only recognise 'three or four' of the Sussex players and that Hussey and Pattinson aside, he was unfamiliar with the Outlaws' roster before his arrival.

That said, he has been impressed with the team ethic and the depth of talent in the squad.

"Alex Hales gave us a great start, Samit and Huss have been consistently good and Darren has done well but every single player has made a difference at some stage," he said.

"We're not reliant on any superstar but all of the guys have worked hard for this and we're not ready for the rollercoaster to end just yet.

"We'll look to continue what we've been doing in maintaining our basics. My job will be to keep it tight in the first six overs and suffocate them at the end and then hope that one of our batsmen comes off and brings it home for the team.

"The game against Sussex should be a good old-fashioned slog with both teams looking to hit the ball out of the park, bowl well and keep it tight in the field.

"We've done very well in our group fixtures but there are still eight teams in the competition and we have to finish what we've started. Sussex are a good unit and they were certainly very competitive in the Champions League but we will always back ourselves to do well at Trent Bridge."

Nannes has made a lot of friends during his time at Notts and his reputation will be further enhanced if he can help put the Friends Provident t20 trophy in the Trent Bridge cabinet. Tickets for Monday's quarter-final at Trent Bridge are now on general sale.
Click here to buy online, visit the Trent Bridge ticket office or call 0844 811 8711.

Ticket prices
Notts members in advance
£12 for Adult Notts members
£7 for Junior and Senior Citizen Notts members
 
General sale in advance
£15 for Adults
£8 for Junior and Senior Citizens
£38 for a Family ticket (2 Adults + 2 Juniors)
 
From 1.00pm on Saturday 24th July and on the day:
£20 for Adults and Senior Citizens
£10 for Juniors
£50 for a Family ticket