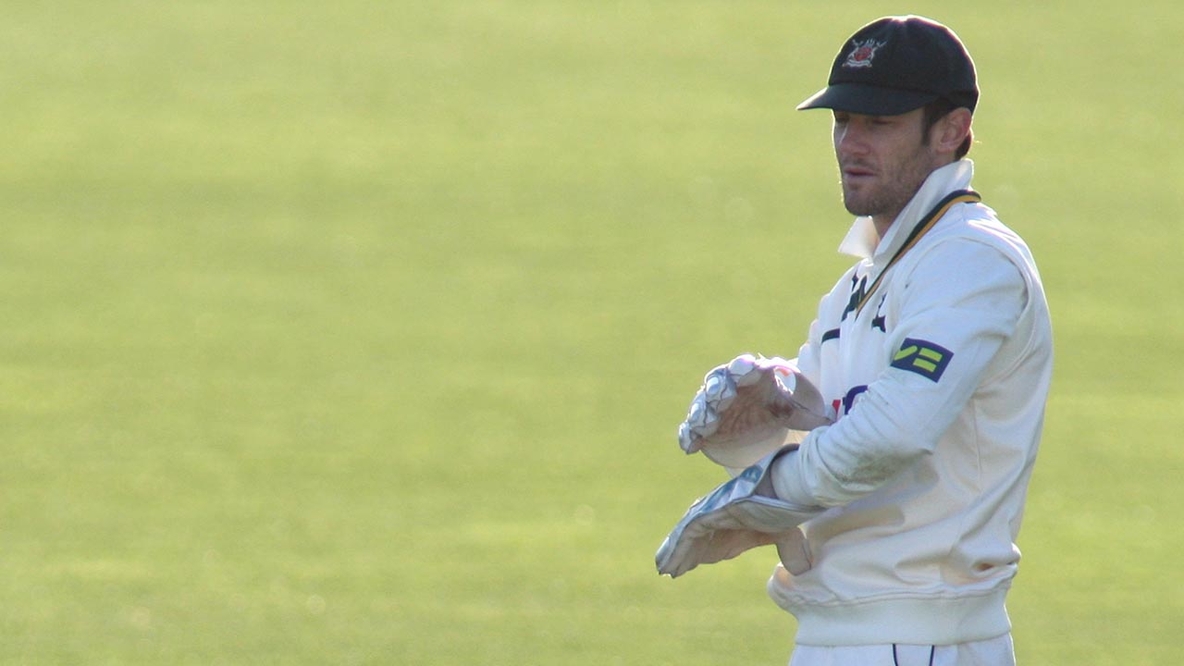 Somerset v Nottinghamshire:
Statistical Preview
Featured News | 2nd May 2014
Nottinghamshire return to action when they travel to Taunton this weekend to face Somerset in the First Division of the LV= County Championship.
The match begins on Sunday with both sides having won one of their opening three matches, yet there are nine points between them currently.
Somerset lie third, having secured an innings win over Sussex in their last match, to add to draws against Yorkshire and Durham.
Notts are seventh in the early Division One table, needing to bounce back after defeats to Middlesex and Warwickshire, following their opening round success against Lancashire.
Head to head
Over the years Nottinghamshire have played at a number of out-grounds when visiting the 'Cider County', including Bath, Frome, Weston-super-Mare and Yeovil but they have played 36 championships matches at the county headquarters in Taunton.

As in most long-term match-ups it's the home side that hold the overall advantage. Somerset having won thirteen of the meetings, to Notts' five, with 18 draws.
Last Match
Nottinghamshire had the upper hand when the two sides met at the County Ground last August but were ultimately foiled by a combination of the weather and a sterner second innings response from the home side.
Winning the toss and batting first Notts made 378 in the first innings of the match, with healthy contributions from Steven Mullaney (75) and David Hussey (68) before the total was given a boost with the last two wickets putting on 108 between them due to Luke Fletcher (58), Ajmal Shahzad (35) and Harry Gurney (22 not out).
Rain wiped out half of the second day, leaving Somerset on 70-1 and further interruptions curtailed play on the third day with the home side closing on 188-9.
Notts picked up the final wicket with just the second ball of the final morning and instantly enforced the follow-on, with a lead of 190. Somerset were still 49 adrift, at 141-2 but seemingly on course to bat through the day, when the heaviest rain of the four days arrived at tea-time, wiping out the final session.
Played for them both
Although he hasn't yet represented them, Dirk Nannes has signed to play for Somerset in this year's NatWest T20 Blast competition, four years after appearing for Notts.
The former Australian and Netherlands international fast bowler joined the Outlaws for their t20 campaign in 2010 and was part of the side that appeared in Finals Day that year.
In 16 matches for Notts the left-armer took 17 wickets at 27.41 apiece.
Others to have played for both Nottinghamshire and Somerset in recent years include Matt Wood (pictured), Ben Phillips, Neil Edwards, Simon Francis and Kevin O'Brien.
Stats
Nottinghamshire have never scored 500 in an innings at Taunton and only passed 400 on rare occasions, most recently in 2011 when they made 402.
In 1994, despite losing the match by 100 runs, Notts went down fighting and created a little bit of history in the process. Delaying the inevitable, Jimmy Adams and Kevin Evans put on a new county record stand of 170 for the ninth wicket, with the West Indian making 144 not out, his highest score for Notts, with Evans adding 77.
HIGHEST INNS TOTALS AT TAUNTON – Somerset v Notts
616-7dec (Som) 1992
431-9dec (Notts) 1975
LOWEST INNS TOTALS AT TAUNTON – Somerset v Notts
69 (Notts) 1892
106 (Som) 2008
HIGHEST INDIVIDUAL INNINGS AT TAUNTON – Somerset v Notts
163 Mike Harris (Notts) 1975
BEST BOWLING IN AN INNINGS AT TAUNTON – Somerset v Notts
Ted Tyler 9-33 (Som) 1892
Mark Bowen 7-73 (Notts) 1998
BEST BOWLING IN A MATCH AT TAUNTON – Somerset v Notts
Ted Tyler 15-96 (Som) 1892
LARGEST VICTORY AT TAUNTON – Somerset v Notts
Inns & 163 (Som) 1992
Inns & 12 (Notts) 1928
10 wickets (Som) 1938, 1954, 1996, 2010
9 wickets (Notts) 1985
SMALLEST MARGIN OF VICTORY
3 runs (Som) 1984
8 runs (Notts) 1955
HAT TRICKS AT TAUNTON – Somerset v Notts
No bowlers, from either side, have taken a hat-trick in the Taunton matches, although Frank Shacklock (1893) and Barry Stead (1972) both claimed one for Notts at Trent Bridge and Geoff Lomax repeated the feat for Somerset at Weston-super-Mare in 1958.
FIRST CLASS DEBUTS AT TAUNTON – Somerset v Notts
Somerset; Laurie Hawkins (1928), Trevor Jones (1938), David Hughes (1955), Ray Robinson (1964), Andrew Jones (1985), Harvey Trump (1988).
Notts: Tony Siddons (1959).
COUNTY CHAMPIONSHIP DEBUTS AT TAUNTON – Somerset v Notts
Somerset; Alec Cunningham (1930), George Dockrell (2011), Abdur Rehman (2012).
Notts; Darren Bravo (2011)
Did you know?
Mike Taylor played for Notts between 1964 and 1972 before leaving to joining Hampshire. During a similar period Mike's twin brother, Derek, was Somerset's wicket-keeper. The brothers were born in Amersham, Bucks in 1942 and given the respective initials MNS and DJS – in each case the S stands for Somerset!
History
Notts haven't tasted too many successes at Taunton over the years, with their fifth win (and most recent) coming as far back as April 1985 when they pulled off a 9-wicket triumph.
On that occasion honours were pretty even after each side had batted once – with Tim Robinson scoring 105 in the visitors' first innings.
Peter Such, with 5-73, helped skittle the hosts out for 133 second time around, leaving Broad, Robinson and Randall to knock off the required runs.
The triumph only partially made up for a narrow defeat there the previous season.
In September 1984 Notts went to Taunton knowing that victory would secure them the county championship. Chasing 297 to win and pip Essex for the crown, the last pair, Mike Bore and Andy Pick, were left together with fourteen still needed.
The equation had been reduced to just 4 from the final two deliveries.
Bore swung hard and handsome at fellow left-arm spinner Stephen Booth but, with the county championship at stake, Richard Ollis, on the field as a substitute, broke Nottinghamshire hearts when he took the catch at long on.
On a ground that has developed a reputation as being a batsman's paradise, it's perhaps surprising that only ten Nottinghamshire centuries have been scored at Taunton, beginning with William Gunn, who hit 101 in 1894. Since then the ton-up guys have been;

John Clay 127 (1955), Norman Hill 106 (1967), Basharat Hassan 104 (1964), Mike Harris 163 (1975), Tim Robinson 105 (1985), Richard Hadlee 133* (1987), Jimmy Adams 144* (1994) and Samit Patel, who hit 104 four years ago and followed it up with 128 in 2011.
Two Nottinghamshire bowlers have claimed 7-wicket hauls at Taunton. Mark Bowen bagged 7-73 in the drawn match in 1998 and Bruce Dooland, the Australian leg break and googly specialist, spun his side to a narrow win in 1955 with figures of 7-110.

Milestones
Chris Read has scored 13,469 first class runs, 944 of them against Somerset. He's also taken 49 catches in championship cricket against this week's opponents.
Alex Hales has scored 3,428 first class runs (which includes a career best 184 made v Somerset in 2011)
Steven Mullaney has scored 2,938 first class runs and is closing in already on his best performance with the ball in a season. He has 7 first class wickets already in 2014, only 2 behind his best (2010).
Luke Fletcher has scored 985 first class runs.
Trivia
Nottinghamshire's Michael Lumb has scored 994 first class runs against Somerset, from 28 innings at an average of 39.76.
His runs include a century at Taunton, made during his Yorkshire days. In 2005 he scored 130 on the ground, sharing in a 4th wicket stand of 119 with current team-mate, Phil Jaques, who added 106.
Tickets
For all matchday information, including ticket pricing, access the official Somerset CCC webpage at www.somersetcountycc.co.uk
Coverage
BBC Radio Nottingham will be providing live ball-by-ball on-line commentary from all four days of the match. Access the commentary via the link on the BBC Sport webpage.