Notts Outlaws players Jake Ball, Steven Mullaney, Riki Wessels and Sam Wood have preserved the spirit of cricket following an epic battle in Sherwood Forest.
The trio of Mullaney, Wessels and Wood saved the city of Nottingham from meteorites two years ago, before this time last year, being called in to action again to thwart an alien invasion in the battle of Trent Bridge in Cricket Has Landed 2.
Joined in 2016 by Ball, the trilogy of films has now been concluded by a four-minute production, starring over 100 Outlaws supporters as well as the quartet of players, in which the spirit of cricket is rescued from the clasps of a giant alien.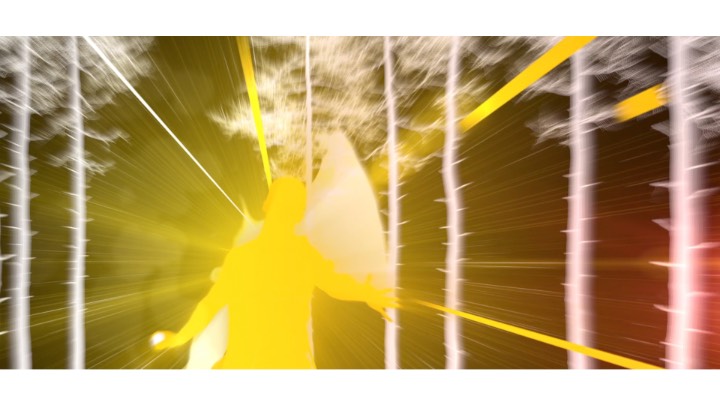 "It's about time I got brought into it! I've been asking for a few years now and finally I got the nod," said Outlaws fast bowler Jake Ball who made his debut appearance in Cricket Has Landed 3.
"The nickname given to me was 'One Take Jake' because I get the job done and that's how it is.
"It's comfortably the best promotional video yet. It's taken it to the next level.
"Affixxius Films were very good to work with. The level of professionalism was incredible and, seeing the video now, it's something no other county has matched.
"It was also nice to get supporters involved and they'll now be able to come down and see their good work on the screen before each match.
"I'm sure that will be particularly exciting for the kids featured in the film, and we as players love seeing young people involved in the game."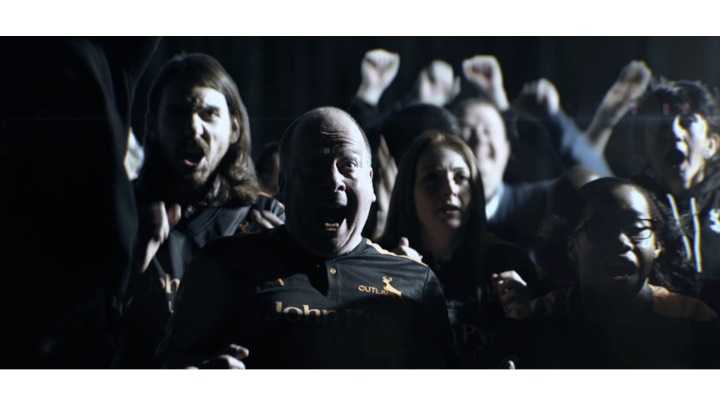 Cricket Has Landed 3 will be circulated online and will act as a promotional film for Notts Outlaws' NatWest T20 Blast tournament, which begins against Birmingham Bears on Friday 20 May.
Notts Outlaws broke their NatWest T20 Blast record attendance in the local derby fixture against the Derbyshire Falcons last season, with 13,582 taking in a thrilling encounter at Trent Bridge.
That bumper crowd contributed to an average attendance in excess of ten thousand for the first time, with the Club's spectator experience voted the best in the country by fans for a seventh season in succession.
A combination of digital effects and live action were used by Affixxius Films to produce the cliffhanger, which will also precede the entrance of the players at all Notts Outlaws fixtures at Trent Bridge this season.
"We always sit on the balcony and watch before we go out and it gets us up for it," added Ball.
"There's nothing like playing T20 cricket at Trent Bridge, and seeing the video really does give us a little bit of an edge going into the game.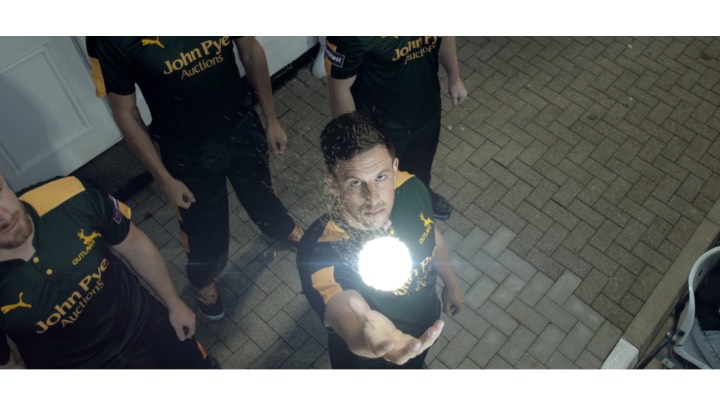 Trent Bridge will host seven NatWest T20 Blast home games in 2016, five Friday nights and two Saturday afternoons.
Adult tickets for the opening fixture on Friday 20 May have been reduced to £10 for adults, £5 for under 16s and £7 for under 21s and over 65s.
Notts Outlaws NatWest T20 Blast Fixtures & Ticket Information
Vs. Birmingham Bears – Friday 20 May 6.30pm BUY TICKETS
Vs. Lancashire Lightning – Saturday 4 June 2.30pm BUY TICKETS
Vs. Derbyshire Falcons – Friday 10 June 7.15pm BUY TICKETS
Vs. Durham Jets – Friday 1 July 6.30pm BUY TICKETS
Vs. Worcestershire Rapids – Saturday 9 July 2.30pm BUY TICKETS
Vs. Yorkshire Vikings – Friday 15 July 6.30pm BUY TICKETS
Vs. Leicestershire Foxes – Friday 29 July 6.30pm BUY TICKETS
Season tickets include best value access to all seven group stage home fixtures and a rain guarantee.
Click here to secure your season ticket: Adults £84 / Over 65s £63 / Families £203 / Under 21s £36 / Under 16s £26
Need more information? Call our ticket office on 0844 8118711.