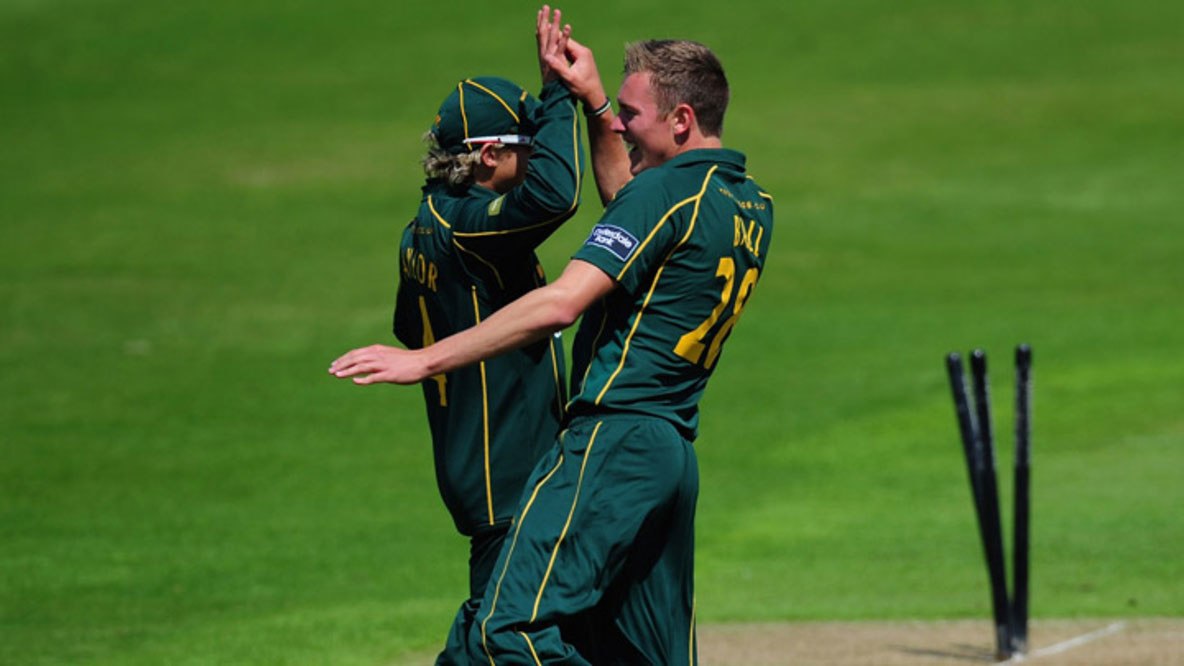 Outlaws v Steelbacks:
Statistical Preview
Featured News | 4th May 2013
Nottinghamshire begin their one-day programme on Sunday when they travel to Wantage Road to face Northamptonshire. The two counties have been drawn together in Group A of the ECB's domestic 40-over competition, sponsored this season by the Yorkshire Bank.
The other five teams in the group are Kent, Worcestershire, Warwickshire, Sussex and the Netherlands. Everyone will meet each other home and away, with the group winners going through to the semi finals of the competition, along with the winners of Groups B and C, plus the best second-placed team.
Nottinghamshire have claimed three trophies in one-day cricket, winning the 1987 NatWest Trophy, the 1989 Benson and Hedges Cup and the 1991 Sunday League.
Head to Head
In domestic one-day competition Notts have met Northamptonshire on 61 occasions, winning 22 times but losing 34 of the other matches. Five contests have been washed out.
Notts' away record isn't particularly strong against the Steelbacks, with Northants leading by 20 wins to 9.
Several of the previous encounters have been staged at an assortment of outgrounds with Notts travelling to such outposts as Luton, Peterborough, Kettering, Finedon, Milton Keynes, Brackley and Wellingborough.
At Northamptonshire's headquarters at Wantage Road the sides have met on 25 occasions, with the home side leading 14-8, with another three matches ending as 'No Results'.
The first encounter was a Gillette Cup tie in 1967 which Northants won by 4 wickets. Notts most recent success at the County Ground was in 2007 when Bilal Shafayat scored a century in the Outlaws' 122-run victory.
1987 saw the most famous meeting between the two counties, in the Final of the NatWest Trophy at Lord's. In a contest which carried over from the Saturday, into a Monday morning finish, Richard Hadlee's unbeaten 70 earned him, the man of the match award, and his side the spoils by 3-wickets.
Last Meeting
In May 2008 the two counties should have met at Northampton in the Friends Provident Trophy but bad weather wiped out the entire contest.
Three weeks earlier, in another rain-interrupted match, Notts defeated Northants by 6-wickets under Duckworth-Lewis regulations at Trent Bridge. Luke Fletcher made his Outlaws debut in that fixture.
Northants scored 189-7, with Stephen Peters registering 90. Notts chased down their revised target of 143 in 30 overs with Adam Voges making an unbeaten 42.
The visitors included five players with Nottinghamshire connections; Riki Wessels, Nicky Boje, Lance Klusener, David Lucas and Jason Brown.
Already this year the two counties have met on two occasions, with Notts winning a T20 match at the 3Ws Oval in Bridgetown before a 2-day practice friendly was fought out at Trent Bridge in early April.
History
Nottinghamshire's first-ever competitive one-day match took place in May 1962 and saw them defeated by Northamptonshire at Trent Bridge. In a low scoring contest the visitors posted 168-9, with John Cotton taking 4-24. In reply, Notts could only make 137 all out, with skipper Geoff Millman making 60, the only half-century of the clash. The two sides, along with Leicestershire and Derbyshire, were pioneering a Midlands Knock-Out competition, played over 65 overs and Northants went on to defeat Leicestershire in the final.
Stats
Nottinghamshire's highest score at Northampton is the 328-5 they posted from 50 overs in 2007. Apart from Bilal Shafayat's 104, there were significant contributions from Jason Gallian (68), Mark Wagh (66), Chris Read (40 no) and Samit Patel (34).
Northants scored 352-8 at Trent Bridge in 1995 but their highest score against Notts at home is the 296-5 they scored in 2003.
Paul Johnson's unbeaten 136 in 1995 is the highest score made by a Nottinghamshire batsman at Northampton.
In 2003 Chris Read scored 119 not out on the same ground, with David Sales making an undefeated 133 for the home side, the highest Northants score in the series of matches.
Clive Rice recorded figures of 6-22 at Northampton in 1981, the best figures by a Notts bowler, although a year later Mike Hendrick collected 6-33.
Tim Lamb's 5-13 in 1979 is the best by a Northants bowler but during that innings Notts' last wicket pair, Eddie Hemmings and Mike Bore, added an unbroken 50 for the last wicket – the county's tenth wicket record in all List-A cricket.
The lowest score made against Nottinghamshire in List A cricket came at the County Ground, Northampton in 1977. Notts had struggled to make their way to 130-8 in their 40 overs but it was more than enough as the home side folded for just 43. Five different bowlers shared the wickets with Dilip Doshi's figures making the most interesting reading: 8-7-1-1.
Played For Them Both
A number of players, particularly in recent seasons, have turned out for both Nottinghamshire and Northamptonshire. Among them are, Usman Afzaal, Nicky Boje, Mark Bowen, Jason Brown, Lance Klusener, Richard Logan, David Lucas, Wayne Noon, Ben Phillips, Bilal Shafayat, Graeme Swann, Riki Wessels and Graeme White.
Milestones
Michael Lumb has scored 4992 runs in List-A cricket (one-day) from 168 inns with average of 31.79.
Graeme Swann has scored a total of 984 List-A runs at the County Ground, Northampton.