Trent Bridge Cricket Ground is situated in West Bridgford, in very close proximity to both Nottingham Forest and Notts County Football Clubs. Our postcode is NG2 6AG.
As you approach, you can't miss the circular floodlights.
We are a couple of miles from Nottingham City Centre, a mile or so from the train station, and our city is blessed with one of the best public transport networks in the UK.
We have gates through which to enter the ground situated on Bridgford Road, Radcliffe Road, Hound Road and Fox Road.
You'll need your membership card, season ticket or match ticket at the ready to gain entry.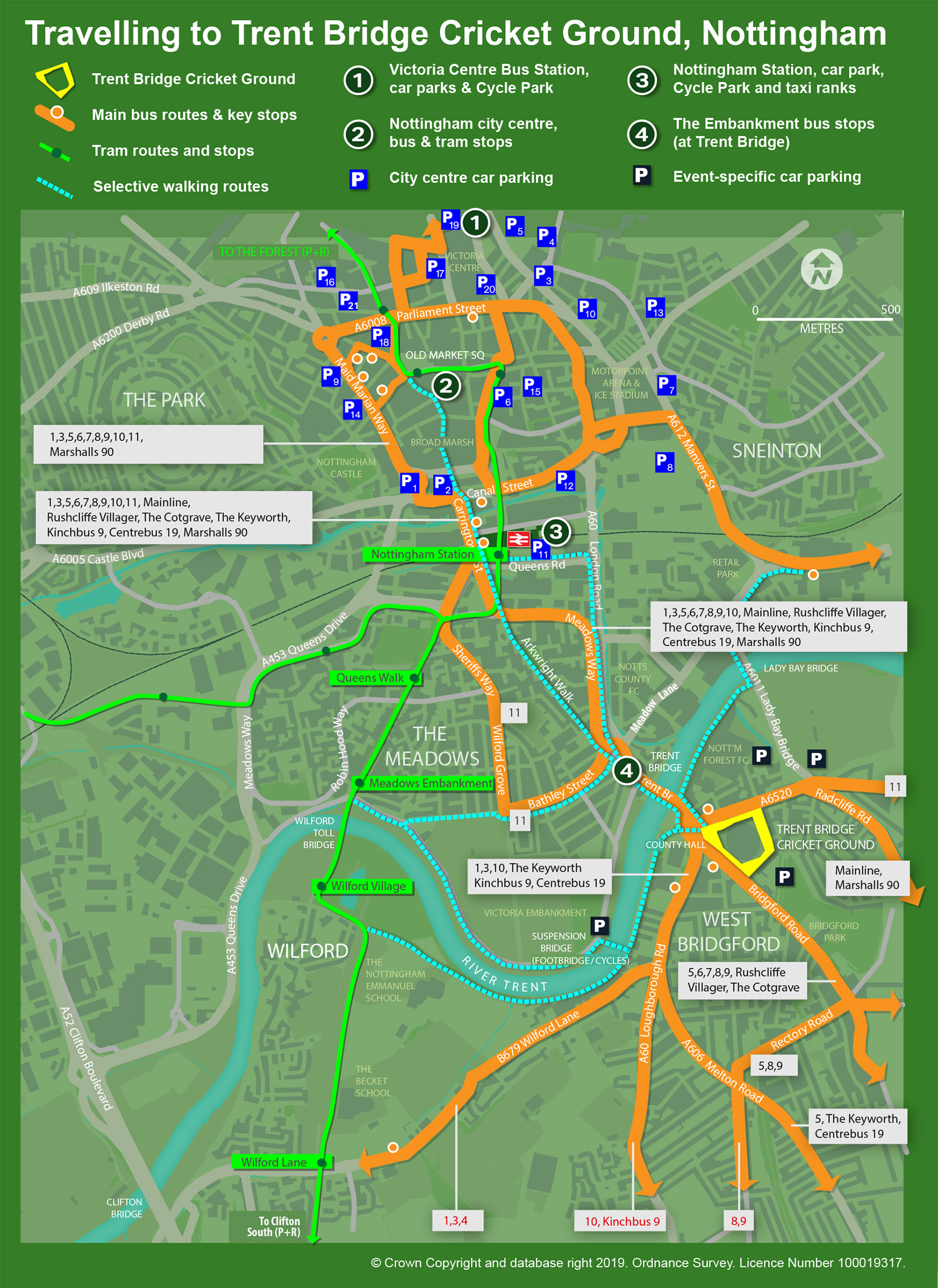 Car Parking
Domestic Matchday Car Parking
Car parking for LV= Insurance County Championship, Royal London Cup and Vitality Blast group stage matches is commonly available at Notts Sports Ground (Lady Bay, postcode NG2 5AA).
Alternatively, T20 Blast parking is available at Bridge Field (postcode NG2 6AP), also priced at £6 (£4 for members).
Parking may also be available, depending on other events and on a first-come first-served basis, at the Nottingham Forest car park. Access for this can be gained off Lady Bay Bridge (NG2 3HF), with spaces again priced at £6 (£4 for members).
All of these car parks are around a five-minute walk from the ground.
International Matchday Car Parking
Parking can be booked in advance at Bridge Field (NG2 6AP), a few hundred yards from Trent Bridge. Car park passes, priced at £10 for Nottinghamshire members and £12 for non-members, can be reserved below:
Paid-for parking can also be found on the Victoria Embankment, priced at £10 per car and £30 per coach (cash only). Please note that the Embankment is no longer accessible via car from the Eastern approach (near Trent Bridge), and must now be accessed via Queens Drive/ Riverside Way to the West. The postcode NG2 2GJ may assist when navigating to the car park: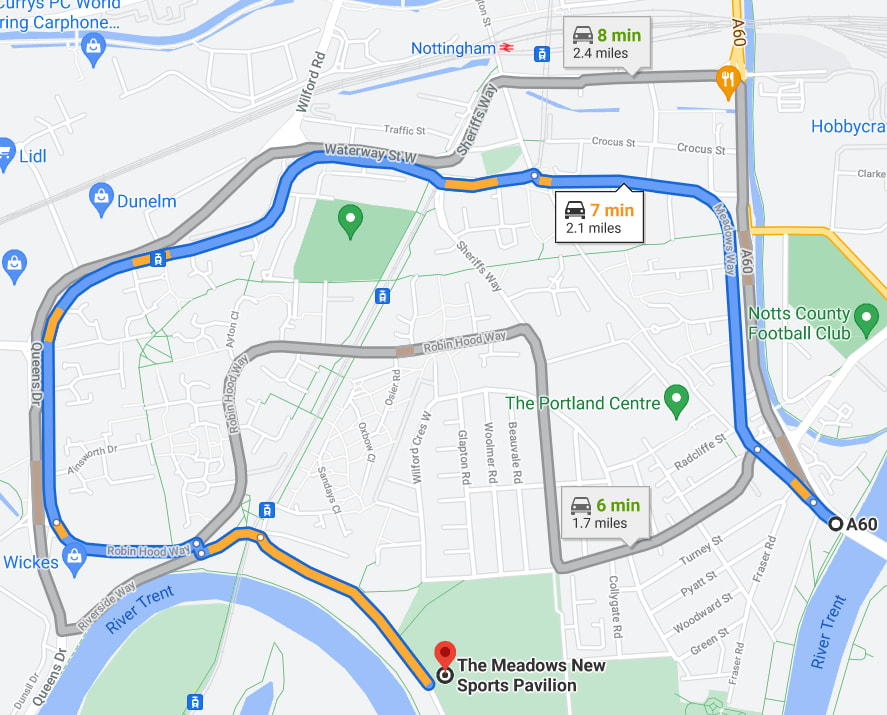 There are a number of well-located, secure car parks around the city centre, which can be found on the travel guide above.
Anyone travelling by car from outside the city can take advantage of NET's free park & ride facilities located around Nottingham.
The most convenient tram park & ride site for the A453 can be found at Clifton South (17-minute tram travel time), stopping at Meadows Embankment, where spectators can then take a pleasant walk (around 20 minutes) along the river to Trent Bridge. For more details visit www.thetram.net/park-and-ride.aspx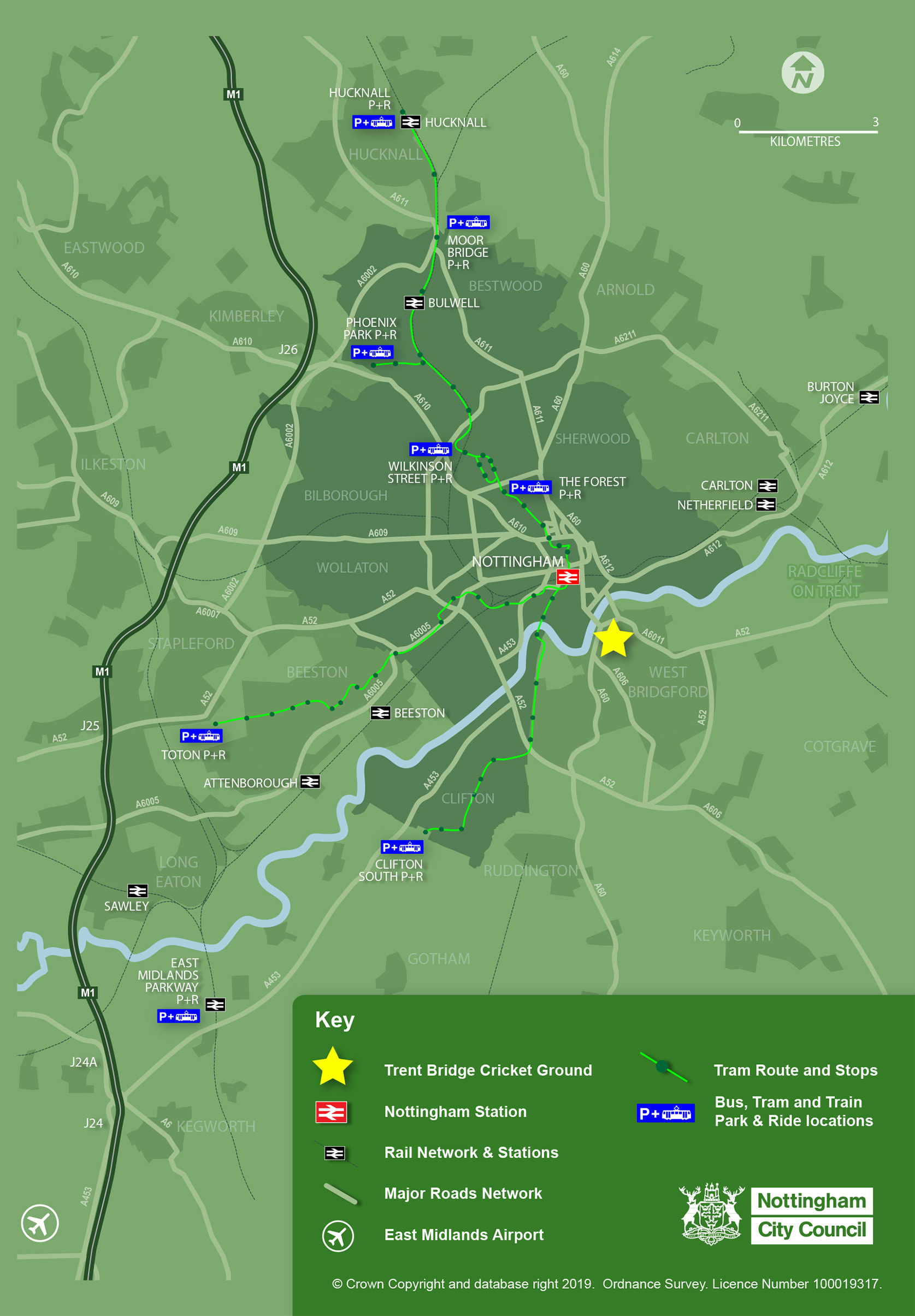 If you have a spare seat in your car, or are looking for a ride, then why not visit http://www.nottinghamshare.com/, the free-to-use car share website, that could save you money on your transport costs.
Bus travel
Regular bus travel is available to the ground, with bus stops situated on Bridgford Road and Radcliffe Road.
Grouprider tickets, costing £6, allow up to five people to travel together (min 1 adult, max 2 adults) and are available to purchase on the bus, provided you pay via contactless means or have the exact fare in cash.
Advantageous pricing is also available for individuals if you choose to pay via contactless means. Find out more here, and plan your bus journey at www.nctx.co.uk.
Trent Barton buses, meanwhile, serve West Bridgford and Nottingham via their Mainline (every ten minutes), Rushcliffe Villager, Keyworth and Cotgrave buses. Plan your journey at https://www.trentbarton.co.uk/.
Tram Travel
The Queens Walk and Meadows Embankment tram stops are located around a 20-minute walk from the ground, with the route from the Meadows Embankment stop proceeding along a pleasant stretch of the River Trent. Alternatively, a stop at Nottingham Train Station can be found just a 20-minute walk away. To help plan your journey, visit www.thetram.net.
You can also purchase a group ticket (priced at £10 on weekdays, and £8 at the weekend), which is for up to two adults and three children (under the age of 19).
Train travel
The ground is approximately a 20-minute walk from Nottingham Train Station towards West Bridgford and over the bridge, with regular buses also taking the route. Visit www.nationalrail.co.uk to plan your journey.
Bicycle Parking
Riders are able to park their bikes at the ground for LV= Insurance County Championship and Royal London Cup matches (excluding the final) only. You'll find our bike racks on the PKF Smith Cooper Stand and Radcliffe Road Stand concourses, until an hour after close of play.
For other matches, supporters are welcome to chain their bikes to the fence on the Bridge Field Car Park on Bridgford Road. Please bring a chain to secure your bike. This parking will be available from two hours before scheduled start times until an hour after close of play.
Taxis
A taxi rank can be found 200 yards from the ground on Bridgford Road, adjacent to the large West Bridgford Co-op. If you need to call for a taxi, some of our local operators include: Royal Cabs 0115 9608 608, Trent Cars 0115 950 5050 and Yellow Cars 0115 981 8181.