Trent Bridge Membership
We can cordially announce that membership of Nottinghamshire County Cricket Club for 2022 is well and truly on sale.
Join our club:
Should you choose to join our club, you'll become part of the privileged, with entry to all scheduled home domestic cricket, priority access to international tickets and a whole host of additional exclusive perks.
With the Nottinghamshire team seeking success on the field across three formats of the game, and England in both Test and International T20 action against New Zealand (10-14 June) and India (10 July) respectively, you'll become part of one of the most revered sporting institutions in the land.
We will also gladly bestow priority access to Trent Rockets' fixtures at our venue in The Hundred, and the final of the Royal London Cup.
*Kindly note that listed below is a summary of the benefits we're dearly hoping to deliver during the course of the 2022 season. However, some flexibility may be required in the event of any further disruption in the context of Covid-19.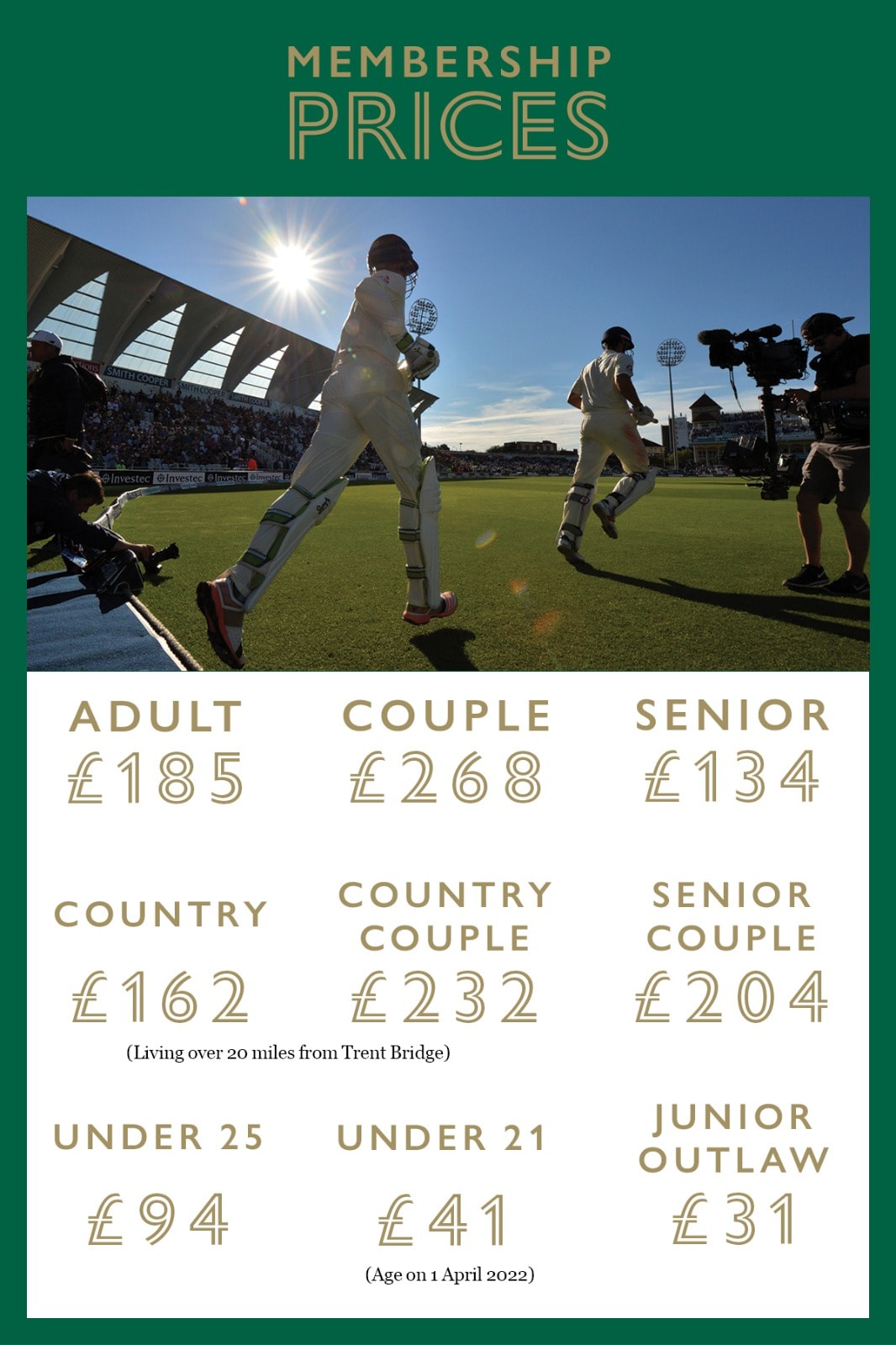 Membership Benefits:
Memorable major match days...and we can't wait to welcome you
Access to priority purchase windows for international and major match cricket at Trent Bridge.
With us every step of the way
Admission to the ground, member facilities and members' seating areas for all LV= Insurance County Championship cricket and for the group stages of the Royal London Cup and Vitality Blast.
Share in our success
Priority access to tickets should the Outlaws secure a home quarter-final or semi-final tie, and priority booking (subject to availability) if we reach Vitality Blast Finals Day.
Our stalwart publication
Free subscription to our official magazine, Covered. Browse our latest edition...
Go out on loan
Free admission to County Championship cricket played at venues that choose to participate in reciprocal arrangements (excluding matches where Notts are the visitors).
Share your love of Trent Bridge
Four passes for guests to join you in the member facilities on Nottinghamshire matchdays, for use at LV= Insurance County Championship cricket and the group stages of the Royal London Cup. *Excludes international cricket, T20s and the final of the Royal London Cup.
Know every nook and cranny
Take the Trent Bridge Tour once a season, and you need not pay us a penny for the privilege.
The inner sanctum
From the rapscallions meeting their heroes, to belting out Christmas carols. From exclusive forums to starring as extras in our films. Ensure we have your email address so you don't miss out on any invitations we bestow.
It's jolly good to stay in touch
The fax machine and telegram have sadly had their day, but pass on your email address and we'll be sure to entertain you with content crafted lovingly just for you.
Treat yourself to a little more luxury
We're delighted to offer a canny member discount of 10% off hospitality at County Championship matches.
Have your say
Voting rights and an invitation to our Annual General Meeting (paying members aged 18+ only)
Celebrate with us
If you've a family occasion to celebrate, perhaps one of those pesky landmark birthdays, where could possibly be better to entertain your invited guests than the historic venue you know and love? Flash your membership card and – subject to availability – our events team will be only too sure to bestow you a special deal.
Contact Us
For further information, kindly contact our friendly Ticket Office team by email to questions@nottsccc.co.uk or, between the hours of 9.30am and 4.30pm Monday to Friday, on 0115 899 0300.
Junior Membership Benefits:
Junior Outlaws are entitled to all of the above benefits (with the exception of voting rights and an invitation to the AGM), plus:
Tickets for two adults and two under 16s to a County Championship matchday of their choice
A £5 shop voucher
Discounted club coaching
Free entry for two adults and two children to White Post Farm