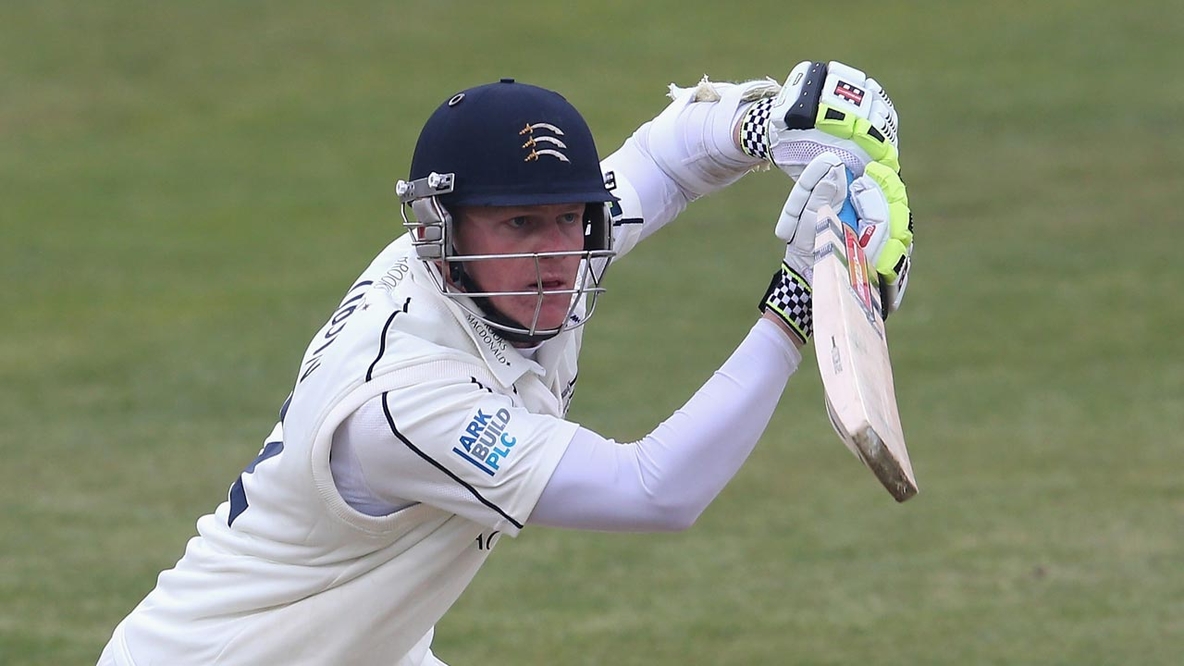 Middlesex V Nottinghamshire:
Statistical Preview 
Featured News | 10th September 2013
Nottinghamshire travel to Lord's this week to face Middlesex in their 14th LV= County Championship fixture of the season.
Middlesex currently sit third in the Division One table on 171 points, with six wins in their 14 matches.
Notts have played a game fewer and lie sixth on 123 points, seven clear of Derbyshire and eight clear of the relegation zone, with a game in hand.
Head To Head
Nottinghamshire have met Middlesex 184 times in first class cricket, winning 40 matches and losing 72. There have been 70 draws and two total abandonments.
Last Meeting
Last year the away fixture was played at Uxbridge Cricket Club. Andrew Strauss, plus some unseasonably wet weather, denied Notts after Andre Adams had been instrumental in dismissing the home side for just 98 with an inspired performance which earned him figures of 6-32.
Strauss, playing the final championship match of his career, made 50 in the first innings and was then unbeaten on 127 second time around when the rains came and wiped out the last day. Adam Voges had scored 105 for the visitors.
History
The 1927 fixture at Lord's between Middlesex and Notts was the first ever championship match to have ball-by-ball commentary. Listeners heard Pelham Warner's description of an opening day that saw Notts make 381, before the home side closed on 44-0. The remaining two days weren't covered but ended with a ten-wicket success for Nottinghamshire.
Nottinghamshire's highest-ever individual score came against Middlesex, when Walter Keeton made an undefeated 312 in 1939, in a match played at The Oval.
The highest score made by Richard Hadlee during his 342 first-class matches came at Lord's in 1984 when he reached 210 not out for Nottinghamshire against Middlesex. He had come to the crease with his side in strife, at 17-4, and produced a master-class, from 261 deliveries faced. The New Zealand all-rounder batted for 356 minutes, scoring 24 fours and one six. Turning the game on its head, Notts won by an innings with Kevin Cooper taking career-best figures of 8-44 in Middlesex's second effort.
South Africa's Lance Klusener earned a deserved reputation for hard-hitting and quick scoring. Sadly, those qualities weren't allowed to shine on his first championship appearance for Nottinghamshire in 2002, as he was clean bowled by Middlesex's Simon Cook for a seven-ball 0 at Lord's.
Klusener did make 42 in the second innings – and took 1-88 with the ball, although it was his only first-class appearance during a short-term registration.
Russell Warren scored five centuries for Nottinghamshire in 36 first-class matches, with two coming in the same fixture. Against Middlesex at Lord's in 2003, he made 123 in the first innings and an unbeaten 113 in the second, to become the 19th different player to achieve the feat for the county.
Played For Them Both
A significant number of players have represented both counties over the years, amongst them, Mike Harris, Bob White, Harry Latchman, Lance Klusener, David Alleyne, Dirk Nannes, Scott Newman and Stephen Fleming.

This season, Adam Voges, who appeared regularly for Notts between 2008 and 2012, joined Middlesex mid-season and played in four county championship, three Yorkshire Bank 40 and 10 t20 matches for them.
Stats
Notts highest team score at Lord's came as recently as 2006, when they racked up 642-9 declared, with 3 centurions in the line-up. Stephen Fleming made 192, Samit Patel 156 and Will Smith 141.
Middlesex's highest score at Lord's v Notts came in 1921 when they posted 612-8 declared.
Arthur Shrewsbury's unbeaten 224 in 1885 is the highest individual score by a Nottinghamshire batsman on the ground and the same played scored 212 there seven yeras later.
The only other Notts player to score a double hundred at St John's Wood is Richard Hadlee (above), who made 210 not out in 1984.
Fred Morley's 8-36 in 1880 are the best figures by a Notts' bowler at Lord's.
Nottinghamshire duo, John Gunn in 1899 and Charlie Shreck in 2006, are the only two bowlers to take hat-tricks in the fixtures
Did You Know?
The only Nottinghamshire cricketer to be killed whilst playing for the county was George Summers. Born in Nottingham on 21 June 1844, he was an excellent fielder and more than capable defensive batsman.
Summers was in his 18th first-class match when he was struck whilst batting on the third day of a game (15th June 1870) against MCC at Lord's. His first delivery, bowled by John Platts, struck him on the left side of his head. Summers dropped to the ground and – understandably – retired hurt.
He left London to return home the following day but on the Sunday morning he died at his parents' house, 35 Station Street, Nottingham, two days before turning 26.
Milestones
After Samit Patel reached his 1,000 runs for the season last week, two other Nottinghamshire batsmen are within striking distance of also getting there. James Taylor is on 997 first class runs and Michael Lumb has already scored 903.
David Hussey has registered 12,922 first class runs in his career, Harry Gurney has taken 90 wickets, Chris Read has claimed 746 catches for Notts, and Samit Patel has bowled 496 career maidens.
Tickets
Ticket prices for this match are displayed on the Middlesex County Cricket Club website.
Adult admission for the first 3 days is £16, Over 65s admission is £8 and Under 16s can gain access for £5. On the fourth day adult admission is £5, with everyone else able to gain free admission.
Coverage
On-line ball-by-ball commentary will be provided by BBC Radio Nottingham. Access the link via the BCC Sport website.