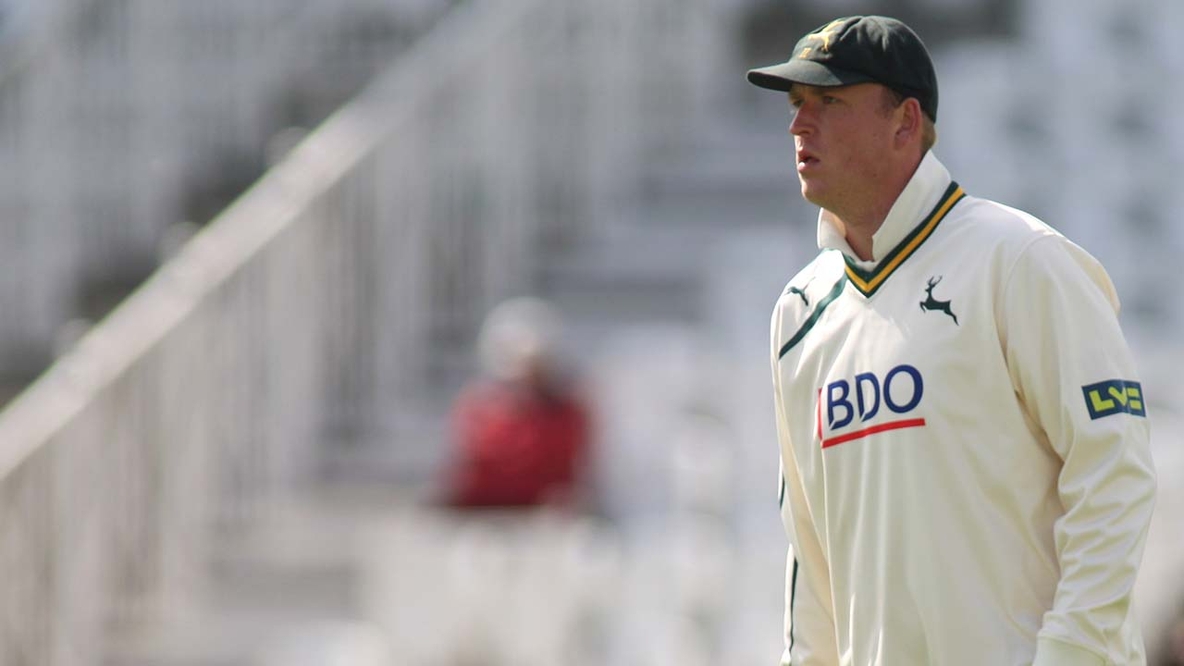 Statistical Preview: Nottinghamshire v Warwickshire
Featured News | 25th April 2014
Background
Nottinghamshire begin their third LV= County Championship match of the season on Sunday when they face Warwickshire at Trent Bridge. After opening their 2014 campaign with a home success over Lancashire, Mick Newell's side then went down to a disappointing 10-wicket defeat against Middlesex at Lord's.
Warwickshire have yet to record their first win of the new campaign, falling to a 7-wicket loss at home to Sussex, registering scores of 87 all out in the first innings and a whopping 471 in the second. Last week they were on the brink of their first win at Old Trafford since 1984 when bad light brought a premature conclusion to their match with Lancashire. Needing just 25 from the last 4.3 overs the umpires decided the conditions were too gloomy to continue.
Notts go into this match in third place, behind Sussex and Yorkshire. Warwickshire currently lay seventh.
Head To Head
Nottinghamshire and Warwickshire have met on a total of 129 occasions in first class cricket, with Notts boasting a winning record of 40 successes to the Bears' 31.
One match was abandoned without a ball being bowled and the other 57 matches have been drawn. This week sees Notts host their opponents for the 67th time, having won 28 of the previous home matches, most recently in 2010 when they claimed 20 wickets on the second day.
Warwickshire's win in 2011 was their tenth in Nottingham and last season's draw was the 28th time the contest has finished without a positive result.
The 1987 fixture was staged at Worksop, and resulted in an innings victory for Notts but all other home meetings have been at the county headquarters at Trent Bridge.
Last Meeting
Rain spoilt what had been developing into a really good contest when the sides met at Trent Bridge last September, leaving each side having to contend themselves with a share of the spoils.
Put in, on the opening morning, Warwickshire made 298 in their first innings, thanks to 76 from skipper Varun Chopra and an unbeaten 66 from Jeetan Patel.
The visitors had been decimated by injury in the days leading up to the match and gave a county championship debut to 18 year old wicketkeeper Peter McKay and a county debut to fast bowler Maurice Chambers, who had trialled for Notts' seconds just a few days earlier. The experienced Darren Maddy was also coaxed into making an appearance, having already announced his retirement from cricket.
McKay's first game was particularly memorable. He scored 33 and shared in a ninth wicket stand of 66 but needed the use of a runner having fallen and twisted his ankle.
For Notts, Luke Fletcher (4-56) and Andre Adams (4-77) made significant inroads, with Chris Read also able to celebrate, having collected his 900th career dismissal.
Notts euphoria at skittling the Bears on the first day soon dissipated as they stuttered to 14-3 at stumps. Matt Cross, Notts second team 'keeper, deputised initially for the injured McKay, whilst an SOS shout had gone out for Jamie Atkinson, Hong Kong's wicketkeeper who took over on day two.
Samit Patel followed up his 100 in the Yorkshire Bank 40 match with his second ton of the summer against the same opposition on day two, making 117 with Riki Wessels adding 77, as Notts posted 359.
Second time around Warwicks were bowled out for 271, with Luke Fletcher taking 5-52. Maddy top-scored with 65, featuring in a stand that had the foundation to be chaotic, as both he and McKay batted with runners.
Set to score 211 Notts were foiled in their victory bid by a day of inclement weather which prevented any play at all.
History
Previous clashes with Warwickshire throw up a host of memories and a cluster of random statistics from classic encounters, both from a bygone era as well as more recent times.
Perhaps surprisingly, given the longevity of the fixture, Warwickshire have never reached 500 at Trent Bridge, with Notts only doing it once against their forthcoming opponents, with 514 in 2005.
That game saw David Hussey make 232, the first of his three 'double-tons' for Nottinghamshire and the highest individual score by a Notts player at home to Warwickshire.
The Bears' Rohan Kanhai did even better in 1968, scoring 253 out of a stand of 402 for the fourth wicket with Khalid Ibadulla, a first class record at Trent Bridge.
Kanhai, one of the West Indies all-time greats, clearly enjoyed batting in West Bridgford as he also recorded centuries on two other visits with his county – 105 in 1970 and 114 in 1973.
The series of matches has featured some of the game's outstanding performers, with many of them coming to the fore in this particular clash. Best bowling honours for the visitors came in the very first meeting – way back in 1894 – when James Whitehead claimed eight wickets. In a 58 match career his figures of 41.4-24-47-8 were easily the best he ever achieved.
That fixture was won by the visitors, enjoying success on their maiden first class outing.
Nottinghamshire's best bowling at home to the Bears was achieved by Harold Larwood in 1930. The fearsome quickie grabbed 7-57. Four years ago another Nottinghamshire and England Test bowler did take eight wickets against Warwickshire for the first time but Stuart Broad's 8-53 came at Edgbaston.
Stuart's father Chris is one of a host of star names to record a century in the fixture. His 104 came in 1992 and was preceded and emulated by the likes of Tim Robinson (207 in 1983), Derek Randall (113 a year later), Paul Johnson (120* in 1995) and Darren Bicknell's 167 in 2001.
Bicknell's effort came a year after he and Guy Welton put on an unbroken 406 for the first wicket against Warwickshire at Edgbaston – a ground record.
Current Notts skipper Chris Read has enjoyed the fixture with centuries in both 1999 and in 2009. The first of them was his maiden hundred in first class cricket and his eventual score of 160 remains the highest score ever made by a Nottinghamshire number 7 batsman.
Read's absence in 2006 enabled David Alleyne to make a rare appearance, which he celebrated by hitting a career-high 106, as well as picking up a tally of nine dismissals in the match.
Played For Both
Born in Leamington Spa, Edward Ernest "Eddie" Hemmings (pictured) had already played in 177 first-class matches for Warwickshire before joining Notts in 1979. Having begun his career as a right-arm medium pacer, the decision to switch to bowling off-spin reaped handsome dividends. As well as helping his new side to County Championship success in both 1981 and 1987, Hemmings also became a Test match cricketer at the age of 33 – representing his country in 16 matches at that level, as well as in 33 ODIs.
For Nottinghamshire, the spinner became a prolific wicket-taker and consistent match-winner, eventually capturing 850 first-class wickets for the county, at an average of 27.86, with a best of 7-23. He also scored 4,366 runs at 17.74. He took a further 263 List A wickets in 268 matches.
Hemmings is perhaps best remembered by Notts fans for hitting the winning runs, off the final ball, to help his side defeat Essex in the Benson and Hedges Cup Final of 1989. Others to have represented both Nottinghamshire and Warwickshire at first class level include Dilip Doshi, Deryck Murray,Vasbert Drakes, Daniel Vettori, Anurag Singh and Mark Wagh.
Stats
HIGHEST INNS TOTALS AT TRENT BRIDGE – Notts v Warwickshire
514 Notts (2005)
470-7 dec (2009)
LOWEST INNS TOTALS AT TRENT BRIDGE – Notts v Warwickshire
49 (1964) by Notts
56 (1978) by Warwickshire
HIGHEST INDIVIDUAL INNINGS AT TRENT BRIDGE – Notts v Warwickshire
253 Rohan Kanhai (1968) Warwickshire
232* David Hussey (2005) Notts
BEST BOWLING IN AN INNINGS AT TRENT BRIDGE – Notts v Warwickshire
8-47 James Whitehead (1894) Warwickshire
7-57 Harold Larwood (1930) Notts
BEST BOWLING IN A MATCH AT TRENT BRIDGE – Notts v Warwickshire
13-102 Ian Davison (1964) Notts
LARGEST VICTORY AT TRENT BRIDGE – Notts v Warwicks
Innings and 169 runs (1978) – match won by Notts
Innings and 151 runs (2005) – match won by Notts
252 runs (1927) – match won by Notts
95 runs (1951) – match won by Warwickshire
HAT TRICKS AT TRENT BRIDGE – Notts v Warwickshire
Only one hat-trick has been taken in the series of matches and that came at Trent Bridge on 16 July 1997 when Nottinghamshire's Paul Franks dismissed Trevor Penney, Dougie Brown and Graeme Welch with successive deliveries. Penney was caught behind, by wicketkeeper Wayne Noon, with Brown and Welch each being clean bowled.
FIRST CLASS DEBUTS AT TRENT BRIDGE – Notts v Warwickshire
Hard-hitting opening batsman Paul Todd was born at Morton, near Southwell in March 1953. His Nottinghamshire debut came towards the end of the 1972 season when he appeared against Warwickshire at Trent Bridge, making 66 before being forced to retire hurt with a broken jaw after being hit by a delivery from AC Smith
Nadeem Malik (Notts) made his first class debut in this fixture in 2001.
Other players to have made their county championship debut include:
Warwicks: MA Wagh (1997), MW Clark (2003), MM Ali (2006), S Sreesanth (2009), PJ McKay (2013). Notts: AR Oram (1997), C Shreck (2003)
Did You Know?
Nigel Murray, son of the former Nottinghamshire, Warwickshire and West Indies wicketkeeper Deryck Murray, is the Trent Bridge Ticket Office Manager.
Milestones
In first class cricket Michael Lumb has scored 9470 runs, Steven Mullaney has scored 2919 and Luke Fletcher has scored 981.
Fletcher has taken 92 first class wickets at Trent Bridge alone (out of his career total of 171.
Tickets
Tickets may be purchased from the gate at a cost of £14 for Adults, £10 for Senior Citizens and Under 21s and £7 for Juniors.
Coverage
BBC Radio Nottingham will be providing ball-by-ball on-line commentary, via the BBC Sport website.