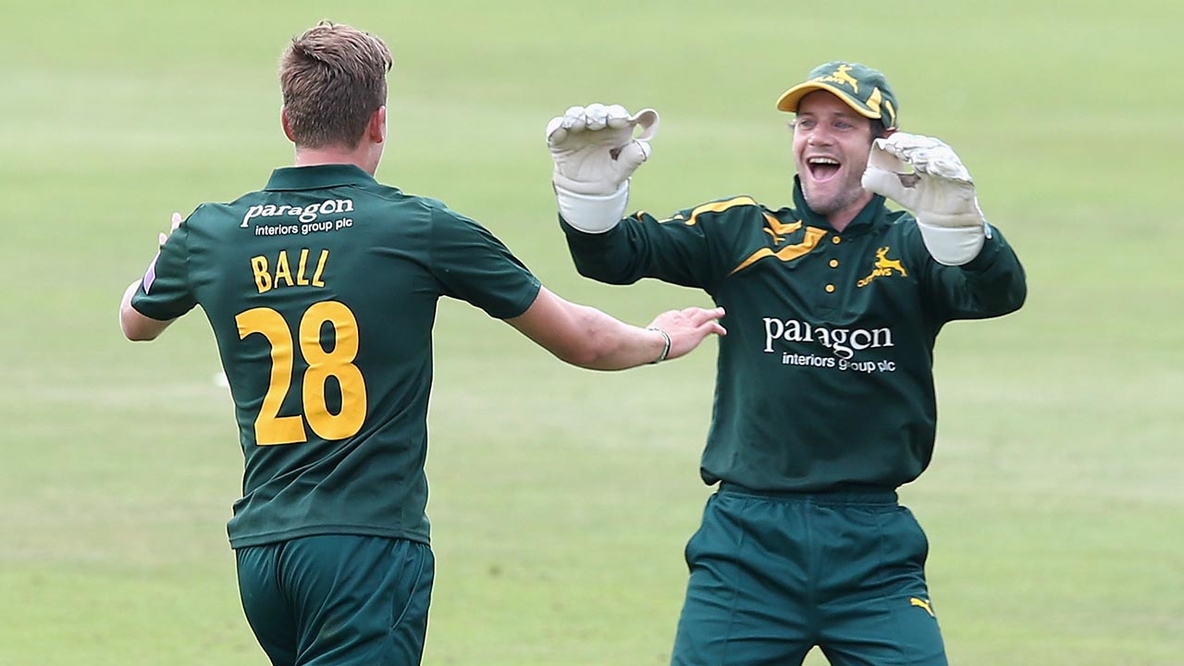 Statistical Preview: Notts Outlaws v Derbyshire Falcons
Featured News | 26th August 2014
Background
Notts Outlaws face Derbyshire Falcons in the quarter finals of the Royal London One Day Cup. The match will be played at Trent Bridge, starting at 2pm on Tuesday 26th August 2014. (The following day has been set aside in the event that the match cannot be completed due to inclement weather).
The Outlaws finished top of Group B to earn home advantage, whilst their opponents qualified by finishing fourth in Group A.
Head To Head
Nottinghamshire and Derbyshire have faced each other on 57 occasions in all forms of one-day cricket (ranging from 40 to 60 overs per side).
Notts have a healthy overall advantage, having won 35 of the matches, to Derbyshire's 20. Two other fixtures were abandoned.
Notts have hosted the fixture on 29 occasions. The first was a John Player League match played at the Town Ground, Worksop in 1970. Since then the other 28 matches have all taken place at Trent Bridge.
Home wins number 20, with Derbyshire being successful on 8 past visits, including the initial success at Worksop.
A 1984 JPL match was abandoned without a ball being bowled.
First Meeting
The first time that Notts hosted Derbyshire in one-day cricket was on 26 July 1970 at Worksop, with the visitors winning by 37 runs after rain had reduced the match to 23 overs per side.
Derbyshire made 162-7, with Mike Page top-scoring with 36. Dave Halfyard was the pick of the home attack, taking 4-39.
Notts struggled to 125-8 (Hassan 39), with Fred Rumsey and Phillip Russell each taking 3 wickets.
Notts: Harris, Bolus, Hassan, Sobers (cap), Smedley, Frost, M Taylor, White, Forbes, Halfyard, Pullan (wk)
Derbys: Wilkins, Smith, Page, Buxton (cap), Harvey, Russell, Ward, Taylor (wk), Gibbs, Hall, Rumsey
Last Meeting
The two sides haven't met at Trent Bridge in one-day cricket since 28th May 2007, when they clashed in a Friend's Provident Trophy group match.
Wet conditions reduced the match to just 13-overs per side and Notts made 170-5, with 56 from 20 balls by David Hussey.
Derbyshire were soon reduced to 9-4 in their reply, with Charlie Shreck and Mark Ealham each taking a couple of wickets. Ant Botha responded with a quickfire 47 but the eventual total of 120-9 was 50 runs short.
Notts: Shafayat, Fleming (cap), Wagh, Hussey, Patel, Read (cap), Ealham, Swann, Clough, Franks, Shreck
Derbys: Birch, Birt, Katich (cap), Smith, Stubbings, Botha, Pipe (wk), Wagg, Needham, White, Hunter
History (a look back at past clashes at Trent Bridge)
WEDNESDAY 29th JULY 1987
Nottinghamshire completed the significant business of the day by defeating Derbyshire in the quarter-final of the NatWest Trophy at Derby. Notts scored 268-8, losing their way in the last over of their innings, with Martin Jean-Jacques taking a hat-trick of wickets: Hadlee, Birch and French. The home side could only make 211 all out in reply. It was the third time in the same season (previously against Leicestershire and Glamorgan) that French had been involved in an opposition hat-trick.
SUNDAY 25th AUGUST 1991
A nine-wicket win over Derbyshire, at Trent Bridge, secured Notts their first one-day Sunday league title. Needing to beat their local rivals to make sure of finishing ahead of Lancashire, they restricted their opponents to 176-9 from their allotted 40 overs. Despite losing Derek Randall for 67, with the score on 134, an unbeaten 73 from Chris Broad and 25 not out from captain Tim Robinson saw Nottinghamshire to their 13th win out of 16 matches and a deserved evening of celebrations.
SUNDAY 29th AUGUST 1993
Nottinghamshire posted their highest ever List A score, 329-6, in an AXA Equity and Law League match against Derbyshire at Trent Bridge. Batting first, the home side were indebted to scores of 91 from Paul Pollard, an unbeaten 78 from Tim Robinson and 75 from Paul Johnson to help them to their record total. Derbyshire were then dismissed for just 187, leaving Notts winners by 142 runs.
SUNDAY 29th AUGUST 1999
Vasbert Drakes' most startling performance for Nottinghamshire came in a match that had been virtually conceded. Playing against Derbyshire at Trent Bridge, in the 45-overs-a-side CGU National League, the home side mustered 269-7. Nevertheless, it didn't look like being enough as the visitors began the final over on 260-5, requiring just ten runs to win. To everyone's sheer astonishment, the West Indian fast bowler then produced a once-in-a-lifetime finish. He yorked Phil DeFreitas with the first ball and then removed Adrian Rollins' middle stump with the next. He needed the assistance of the umpire to get his hat-trick – James Pyemont palpably out lbw – and then, for good measure, a full-length delivery took out the leg stump of Simon Lacey. Four wickets in four balls – the only time it has happened for a Nottinghamshire bowler in the shortened format of the game. A dot ball and a single ended the over by the way, enabling Notts to defeat their closest rivals in the most dramatic fashion imaginable.
Played For Them Both
MIKE HENDRICK
Lively, fast-medium seam bowler Mike Hendrick was, undoubtedly, one of the best of his generation. Born in Darley Dale, Derbyshire, on 22nd October 1948, the bulk of his career was spent with his home county, for whom he took 497 wickets in 167 matches. He played 30 Tests for England, plus 22 ODIs, including the 1979 Prudential World Cup Final against the West Indies at Lord's. He moved to Trent Bridge in 1982, taking exactly 100 wickets in 34 first-class outings for his new county. Hendrick was briefly a first-class umpire before turning his attention to coaching. He managed the Nottinghamshire first-team in 1992 and later used his experience to develop and coach the county's young seamers.
GEORGE STANHOPE
George Philip Arthur Stanhope lived a full and varied life. Also known as the 7th Earl of Chesterfield, he served as a soldier and a politician, following his private education at Eton. He became one of the pioneers of Derbyshire cricket, playing for them against the All England Eleven, before playing twice for Nottinghamshire, both against Surrey at Trent Bridge, with a top score of 14. A good friend of the Prince of Wales, he stayed with him at Londesborough Lodge in Scarborough. Both contracted typhoid fever there – the Prince recovered but the Earl's condition deteriorated and he died in December 1871, aged just 40.
Amongst the other cricketers to play for both Nottinghamshire and Derbyshire have been: Brian Bolus, Wayne Dessaur, Matt Dowman, Scott Elstone, Mark Fell, Mark Footitt, Peter Hacker, Andrew Harris, Garnet Lee, John Morris, Akhil Patel, Harold Rhodes, Mark Saxelby and Pat Vaulkhard.
Stats (in all one-day matches between Notts & Derbyshire)
Highest Team Total
Notts: 329-6 (TB 1993)
Derbyshire: 261-9 (TB 1999)
Highest Individual Score
Notts: 130 JER Gallian (Derby 1999)
Derbyshire: 121 CJ Adams (TB 1997)
Best Bowling
Notts: 5-43 GS Sobers (Chesterfield 1969)
Derbyshire: 6-7 M Hendrick (TB 1972)
Hat Tricks
Notts: VC Drakes (TB 1999)
Derbyshire: M Jean-Jaques (1987)
Team News
Neither Alex Hales (pictured) nor Harry Gurney will be available for selection for the Outlaws as both are away on England duty, as members of the squad for the current ODI series against India.
Danger Man
The Outlaws will need to be wary of Wes Durston, a man who has achieved success against Notts in the past.
In a 2010 T20 match at Trent Bridge Durston blasted 111 from only 59 balls with 11 fours and 7 sixes.
17 months ago, on the pre-season tour of Barbados, Durston raced to another spectacular century (73 balls 9x4 8x6) against Notts, getting there in the most dramatic fashion possible, by hitting Graeme White for 5 consecutive sixes.
Durston, now 34, has been in fabulous form in the Royal London One Day Cup so far this season, having hit hundreds against both Hampshire and Northamptonshire in the group stages
Milestones
This will be the 100th one-day match of James Taylor's career. The Outlaws skipper has played 40 matches for Leicestershire, 31 for England Lions, 26 for Notts and 2 for the full England team.
Riki Wessels has scored 2,990 one-day runs, from 122 innings.
Tickets
Adults - £10
Over 65s - £7
Under 21s - £7
Under 16s - £2
Coverage
The match will be screened live by Sky Sports 2.
BBC Radio Nottingham will be providing ball-by-ball on-line commentary via the BBC Spot website.
You can also follow the action on your smartphone, tablet or desktop using our Trent Bridge Live match centre.