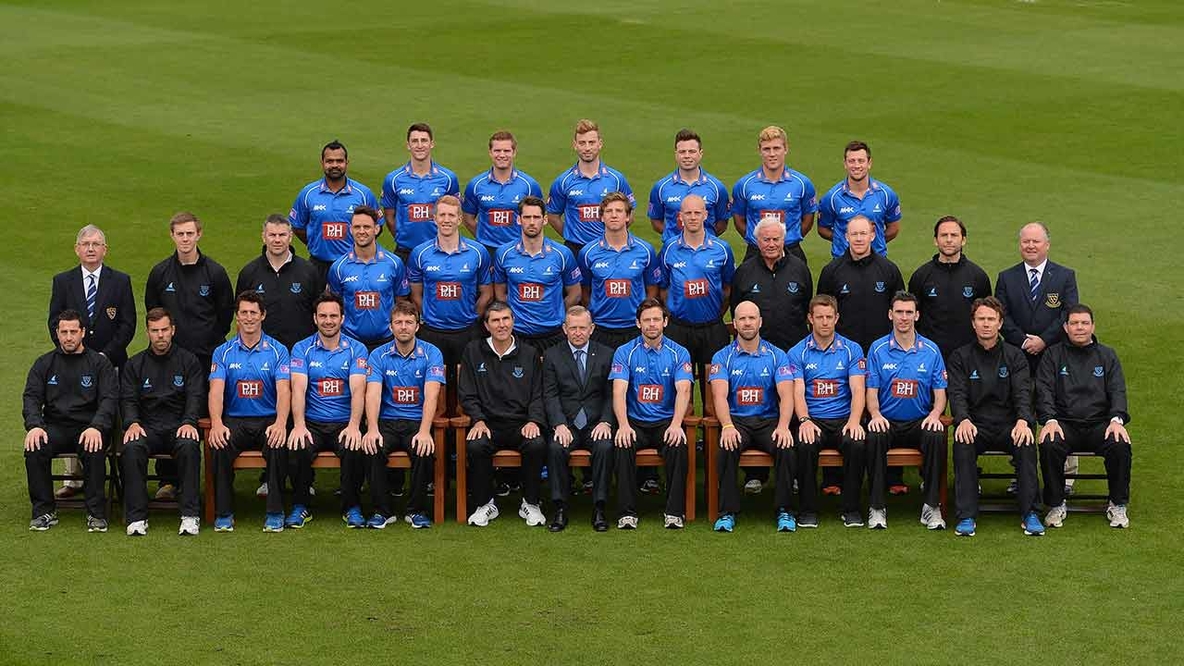 Statistical Preview:
Sussex Sharks v Notts Outlaws
Featured News | 26th July 2014
A brand new domestic competition begins this weekend with Notts Outlaws heading south to face Sussex Sharks at Horsham on Sunday 27th July (10.30am).
The fixture marks the start of the new 50-over competition, the Royal London One-Day Cup.
It is the first time since 2009 that counties have played one-day matches of that length, the change coming ironically after Notts Outlaws had won its predecessor, the 40-over competition, last season.
Head To Head
In all one-day competitions Notts and Sussex have contested 49 fixtures, with Notts ahead by 25 wins to 21.
Two matches have been washed-out, without a ball being bowled, and the 2004 match in Hove ended in a thrilling tie.
Sussex have hosted Notts on 24 previous occasions within their own county, with matches being played at Hove, Eastbourne, Arundel as well as at Sunday's venue, Horsham.
Cricket Field Road, Horsham has twice hosted matches, with Notts emerging victorious on both occasions.
A John Player League Special match in 1985 went down to the last ball, with Eddie Hemmings and Kevin Saxelby scrambling the winning run to complete a narrow 2-wicket victory.
The National League match in 2003 (originally scheduled for 45 overs per side) was frequently interrupted by rain and the Sussex target was continually adjusted. The home side were rarely in contention though and were bowled out for 150 in 31.3 overs, losing by 97 runs on Duckworh Lewis, after Notts had posted 258-6 in 40 overs.
History
A dramatic finish to a totesport League 40-over match at Hove in 2004 saw Nottinghamshire grab a share of the points thanks to the bowling of Ryan Sidebottom. Batting first, Notts scored 260-4, with Russell Warren making 78 and Jason Gallian 77. Sussex's reply went right down to the final delivery, which arrived with the scores level and last man James Kirtley on strike. Sidebottom's delivery clattered into the stumps to earn his side an unexpected tie.
The only hat-trick in the meetings came at Hove in 2009, when Dwayne Smith removed Bilal Shafayat, Kevin O'Brien and Jake Ball in successive deliveries.
Played For Them Both
Two of Nottinghamshire's most illustrious overseas stars also appeared for Sussex during their careers. Vasbert Drakes, who won 12 Test caps for the West Indies, played for Sussex in 1996 and 1997 before joining Notts two years later.
The last county cricketer to achieve the first class double of 1,000 runs and 100 wickets in the same season also has links to both counties.
Franklyn Stephenson played for Notts from 1988 to 1991 and featured in 82 first class matches, completing his most famous feat in his first season at Trent Bridge.
The Barbadian, who has hosted the Notts team at his cricket academy on their last two pre-season tours, joined Sussex in 1992 and appeared 62 times for them.
In 2000 Giles Haywood moved north to join Notts from Sussex but he only made five List-A appearances for the Outlaws before being released.
Last season James Taylor guested' for Sussex in their tour match against Australia. Taylor, on stand-by should he be needed to replace injury-doubt Kevin Pietersen for the Third Test match, made an impressive 121 not out in his only innings for the south coast side..
Stats (Notts v Sussex in all one-day matches)
Highest Team Total
Notts: 292-2 (TB 1996)
Sussex: 293-6 (Hove 2013)
Highest Individual Score
Notts: 118 PR Pollard (TB 1996)
Sussex: 123* CD Hopkinson (Hove 2007)
Best Bowling:
Notts: 6-18 CEB Rice (Hove 1982)
Sussex: 7-41 AN Jones (TB 1986)
Did You Know?
Kepler Wessels, father of current Notts star, Riki Wessels, played for Sussex between 1976 and 1980, scoring 4,329 first class runs at an average above 52. He also scored 1,411 one-day runs, averaging 36, with two centuries.
Kepler is one of only 14 players to have represented two different countries in Test match cricket. He appeared on 24 occasions for Australia, prior to his 16 outings for South Africa.
Milestones
This match will be Chris Read's 300th List A appearance. he has played 246 times for Notts and 36 times for England, plus the following other games: England A 8, Devon 3, ECB National Academy 3,England XI 2, Gloucestershire 1.
Harry Gurney needs one more wicket for 50 in List A cricket, he has 49 from 45 appearances so far.
Tickets
For admission prices and all other matchday information please see the official Sussex County Cricket Club website.
Coverage
BBC Radio Nottingham will be providing ball-by-ball on-line commentary from Horsham, access via the BBC Sport website.
Trent Bridge have reduced all tickets to £1 for the Outlaws' Royal London One-Day Cup match against Surrey on Sunday 10 August. Click here to secure your £1 tickets for Notts Outlaws v Surrey.