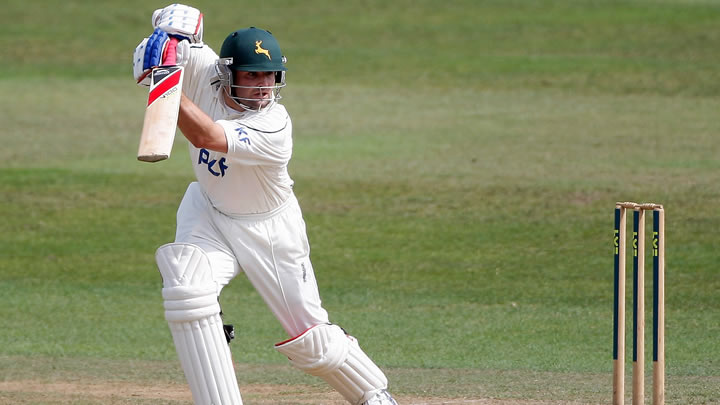 Statistical Preview: Nottinghamshire v Durham
Featured News | 24th May 2014
Background
Nottinghamshire return to LV= county championship action on Sunday when they host Durham in a First Division match at Trent Bridge (11am start).
Notts currently lie fifth in the table, with their northeast opponents sitting in seventh spot. Both have played five matches to date with Notts (64 points) having beaten Lancashire and Northants, drawn with Somerset and lost to both Middlesex and Warwickshire.
Durham (45 points) are still looking for their first win of the campaign, although they have only played one match at home so far. They have drawn with Somerset (home), Northants, Sussex and Yorkshire, before losing to Somerset in the match that finished at Taunton on Thursday.
Head To Head
Durham only joined the county championship in 1992 and Notts have faced them on 28 occasions since then, winning 9, losing 10 and drawing 8 of the fixtures, with the 2008 clash in the north east being abandoned without a ball being bowled.
At Trent Bridge the results have been equally shared, with each county winning four matches, with six other games ending all-square.
Last Meeting
Durham inflicted home and away defeats upon Nottinghamshire last season, on their way to lifting their third county championship title in six years.
The match at Trent Bridge was played between 29 April and 2 May and featured s
ome traditional four-day fare, topped off by a run-chase that came straight out of the t20 handbook. Notts made 320 on the first day, after winning the toss. The highlights were contrasting innings between James Taylor, who made 97 from 189 balls faced in 247 minutes, and Steven Mullaney – more hare than tortoise, who raced to 80 from 100 balls in 102 minutes, aided by a brace of sixes from consecutive Gareth Breese deliveries.
The pair added 111 together for the fifth wicket, Stuart Broad scored 46 and Ed Cowan had earlier compiled 40.
Durham were able to gain an advantage of 151, with former Outlaw Will Smith scoring 153 in an innings of 471 that hurt the home side right up until the bitter end.
Apart from Smith's ton, the other ten batsmen all got into double figures with the major supporting roles coming in the bottom half. Paul Collingwood made 64, Mark Wood a career-best 58 not out, Gareth Breese 44 and Graham Onions 26.
Last pair Wood and Onions added 70 so Notts were suitably demoralised ahead of their second dig and immediately lost Alex Hales for 0.
Michael Lumb found form at the right time and was 77 not out at the end of day three but at 145-5, Notts were still half a dozen behind.
Durham would have gone to bed sensing victory – but barely had their heads hit the pillows than a fire alarm had them all evacuating their hotel.
The next few hours gave the visiting players and support staff an insight into life on Nottingham's streets at night, as their hotel was sealed off with the fire brigade on the scene to attend to a burning area of their accommodation.
Understandably tired, Durham nevertheless began the final day as overwhelming favourites, unless Lumb and co could bat for two sessions and build up enough of a lead.
That seemed to have been achieved as Notts reached 333. Lumb made 123 before another sizeable last wicket stand held up the bowlers.
Graeme Swann, with 57 and last man Ajmal Shahzad, 17 not out, added 75 in 22.3 overs to stretch the innings to tea-time.
A target of 183 in 23 overs appeared out of reach. Surely a five o'clock handshake was inevitable? Durham's openers had other ideas and Notts were unable to keep the run-rate in check. Mark Stoneman raced to his fifty in just 24 deliveries, the quickest in Durham's history and then Phil Mustard got there from just 30.
Graeme Swann dismissed them both, and also accounted for Ben Stokes (12) and Dale Benkenstein (9) but the damage had already been done, allowing Gareth Breese (18 not out) to score the winning runs to pull off a 6-wicket win with 16 balls to spare.
The return last September, at the Emirates Durham ICG, was even more humbling. Notts were bowled out for 78 on the opening day on their way to a crushing 8-wicket defeat inside 3 days, enabling the north east county to pop open the champagne and celebrate their title success.
History
In 1992 Durham first entered the county championship, becoming the 18th first class county. The first time they played against Nottinghamshire was at Trent Bridge, in July of that year. The match ended in a draw after Notts began with 431-6, with Tim Robinson scoring an undefeated 164 and Chris Lewis adding 107. Ian Botham took 3-104 for the visitors who were bowled out for just 147 but in a rain-affected contest they fared much better after being asked to follow-on and were 265-3 at stumps, with captain Dean Jones unbeaten on 154, having scored his county's first hundred at Trent Bridge.
Teams for that first meeting
Notts: Crawley, Pollard, Robinson, Johnson, Randall, Lewis, Cairns, Evans, French, Field-Buss, Pennett
Durham: Larkins, Parker, Jones, Briers, Botham, Henderson, Glendenen, Scott, Hughes, McEwan, Brown
In September 1993 the sides met for the only first-class match to be played at Ropery Lane, Chester-le-Street, a venue that certainly met with the approval of Chris Lewis and Bruce French who both made the best scores of their careers. The Nottinghamshire duo set a new seventh-wicket record for the county as Durham subsided to defeat by an innings and 157 runs. Having been 4-2 at one stage, Notts turned it round to reach 629, with 130 from Paul Johnson, followed by 247 from Lewis and 123 from French, who combined in a stand of 301.
The highest score by a Nottinghamshire player on debut for the county
is the 133 scored by the Australian batsman Greg Blewett against Durham at Trent Bridge in April 2001. Since then, only David Hussey, Steven Mullaney and James Taylor have scored hundreds on their debuts for the county.
Unusually, both of Nottinghamshire's opening batsmen for the county championship match against Durham at Chester-le-Street in 2011 were making their first-class debuts. Sam Kelsall, an 18-year-old right-hander who had been born in Stoke-on-Trent, made scores of 11 and 4, whilst his partner Karl Turner reached 9 and 40. The left-handed Turner, 23, hailed from Durham and had been released by his home county without making an appearance.
In the Trent Bridge fixture of 2012 Durham were permitted to make an official change to their starting eleven after Graham Onions had been omitted from an England Test at Lord's. Onions arrived at Trent Bridge at lunch on the second day just as Notts were about to begin their first innings. Replacing the unlucky Mitch Claydon, Onions proceeded to dismantle the home side with figures of 9-67 and only had himself to blame for not getting all ten wickets as it was his direct throw that ran out the other batsman, Luke Fletcher.
Played For Them Both
Five cricketers have played in first class matches for both Nottinghamshire and Durham. The first to do so was wicketkeeper Chris Scott, who played 63 times for Notts between 1981-1991, then moved north to join Durham for their debut season in the county championship.
Others to have represented the two counties include: Mark Saxelby, Nathan Astle, John Morris and Will Smith.
Stats for Notts v Durham at Trent Bridge

Highest Team Total
Notts – 559-8dec (2010)
Durham – 455 (1996)

Lowest Team Total at Trent Bridge

Notts – 83 (2009)
Durham – 132 (2002) Biggest Margin of Victory Notts – Innings and 62 runs (2010)
Durham – Inns and 102 runs (2009)

Highest Individual Innings at Trent Bridge

Notts – 184 RT Robinson (1984)
Durham – 154* DM Jones (1992)
Best Bowling (Innings)
Notts – 6-81 S MacGill (2004)
Durham 9-67 G Onions (2012)
Best Bowling (Match)
Notts – JA Afford 7-110 (1994)
Durham 10-125 G Onions (2012)
Hat-tricks
There hasn't been a hat-trick taken in any first class match between Notts and Durham.
County Championship Debuts
Notts – CMW Read (1998), KP Pietersen (2001), GJ Smith (2001)
Durham – MA Wood (2011)

Did You Know?
Amongst the quaint-sounding villages local to Durham's home ground at Chester-le-Street are the wonderfully-named 'No Place' and 'Pity Me'.
Milestones
Phil Jaques has scored 15,490 first class runs and Steven Mullaney has scored 2,965 runs.
Samit Patel has scored 6977 first class runs for Nottinghamshire and is 45th on the list of leading run scorers for the county. 44th in the standings is Garfield Sobers, who scored 7,041. Patel has now taken 192 first class wickets.
James Taylor has scored 1,928 first class runs for Notts.
Luke Fletcher has scored 985 first class runs and has taken 95 wickets at Trent Bridge.
Stuart Broad has taken 447 first class wickets.
Ajmal Shahzad has taken 191 first class wickets.
Tickets
Tickets may be purchased from the gate at a cost of £14 for Adults, £10 for Senior Citizens and Under 21s and £7 for Juniors.
Coverage
BBC Radio Nottingham will be providing ball-by-ball on-line commentary, via the BBC Sport website.

Dave Bracegirdle will provide live ball-by-ball commentary through all of Nottinghamshire's LV= County Championship matches this season on behalf of BBC Radio Nottingham. Follow him on Twitter @bracecricket