The return of Specsavers County Championship cricket to Trent Bridge sees Peter Moores pitted against the Club with whom he won back to back titles a decade ago.
The Nottinghamshire Head Coach remembers his time at Sussex with great fondness, but admits there'll be no room for sentiment when play gets underway at 11am tomorrow (Friday).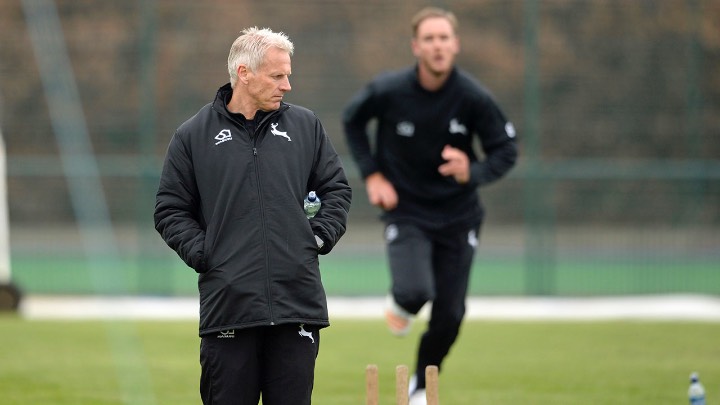 "I'm immersed in Notts," he said. "Part of my nature is wherever I coach, that becomes the closest club to me. That's no different here.
"I'm loving my time here at Trent Bridge, I loved my time at Lancashire and I loved my time at Sussex.
"I've made good friends at all three places, the same with coaching England.
"It's been a great start to get two wins. Every coach wants the same thing at the start of the season," Moores continued.
"You want some momentum. We had a great pre-season but that only really comes when you get Championship points.
"It's exciting for the lads. We've been on the road a fair bit and hopefully the weather is nice. It's a great place to play and the players love it.
"They'll be really up for putting a performance on. They'll know this is the last Championship game for a while. It's a chance to push on again."
With Stuart Broad available for selection having been rested for last week's trip to Durham, Moores is faced with a selection dilemma having also named James Pattinson. Jake Ball, Luke Fletcher and Harry Gurney in his 13-man squad.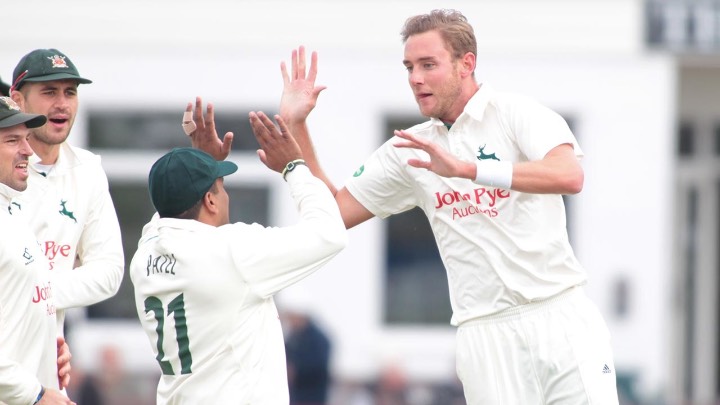 "There has been a relentlessness about our bowling in both games, keeping the opposition under pressure for long periods of time.
"Everyone has bowled well," he said. "You've got the pace of Jimmy (Pattinson), Jake bowled beautifully at Durham and Stuart Broad coming back as well.
"Luke Fletcher has backed them up and although Harry Gurney has had less opportunity, when he's bowled, he's bowled well.
"It's a very strong attack but you can't take anything for granted. We've got to get ready and we've got to bowl well."
Brendan Taylor, meanwhile, comes into contention for a spot in the batting order having posted a century in the Second XI on his return from a finger injury.
With Nottinghamshire's highest scores of 2017 having come from the lower-order duo of Pattinson and Fletcher, Moores believes his top-order is now ready to flourish.
"There are batters who will want to get up and running," he said. "This time of year can be quite tough, but they'll be looking for a significant score.
"We can see players are up for it, both in practice and in games. You can't always guarantee you'll perform, but if a player is preparing well and up for it, they put themselves in the best possible position.
"I'm confident ahead of Friday. You want to make 400 depending on the pitch and I'm very happy with how we're approaching games."
Nottinghamshire squad to face Sussex (from): Brendan Taylor, Jake Libby, James Pattinson, Chris Read, Stuart Broad, Riki Wessels, Alex Hales, Harry Gurney, Luke Fletcher, Samit Patel, Greg Smith, Jake Ball and Michael Lumb.
Sussex squad to face Nottinghamshire (from): Jofra Archer, Adam Barton, Danny Briggs, Ben Brown, Laurie Evans, Harry Finch, George Garton, Steve Magoffin, Chris Nash, Delray Rawlins, Ajmal Shahzad, Stiaan van Zyl, David Wiese, Stuart Whittingham and Luke Wright.
Trent Bridge Live: The perfect matchday companion
- All the action streamed live
- Click here to visit Trent Bridge Live
​******
It's jolly convenient to receive latest news, ticket information and behind the scenes exploits direct to your inbox - and rest assured we'll never pass on your information to others.