James Pattinson played a starring role with both bat and ball to transform the shape of Nottinghamshire's opening Specsavers County Championship match of the season.
The Australian Test player, on debut, scored a career best 89 as Notts posted a first innings advantage of 78 on the second day of their match against Leicestershire at Grace Road.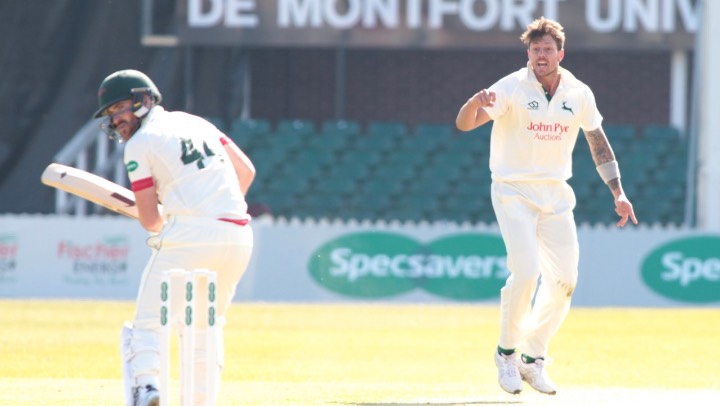 His effort, coupled with 52 from Stuart Broad, helped the visitors to a total of 329 all out, a lead of 78.
Pattinson then struck twice at the top of the Foxes second innings to render the hosts on 51 for six at stumps, still 27 runs away from making Notts bat again.
Ben Raine took six for 66 for the home county as Notts struggled in the first half of the day but the bowling honours later on were shared by Pattinson, Luke Fletcher, who took three for 14 and Broad, who took the other wicket.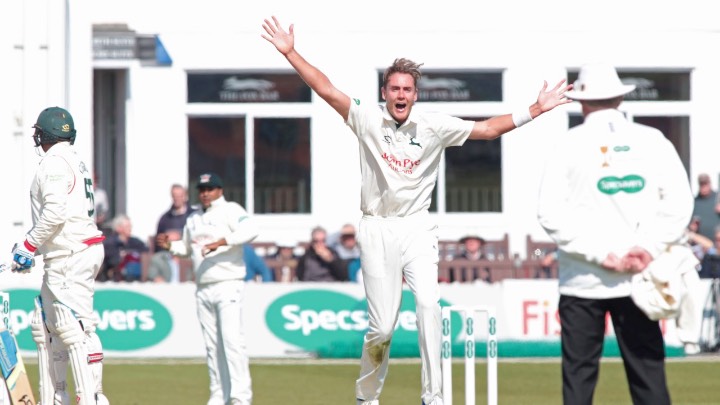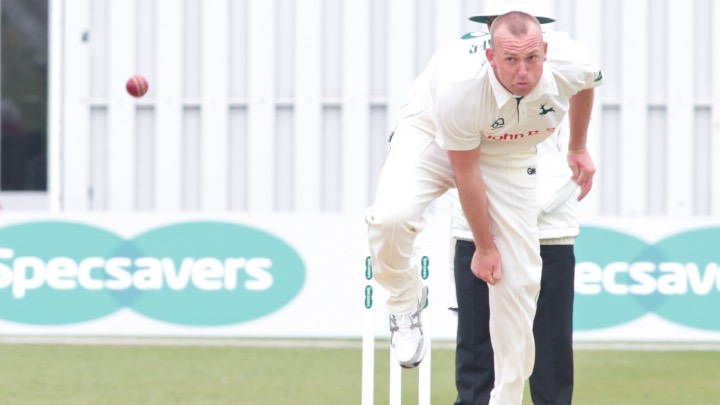 A happy Pattinson was very enthusiastic about how it had all gone, "It was an enjoyable day," he said. "The boys were in a bit of trouble early on and we weren't in the position we wanted to be but it was fantastic to put on a good partnership with Broady and get us into a good position in the game after it was looking like it was not going our way.
"Then to come out and get six wickets was probably a bit unexpected but everyone bowled well, especially Fletch. I thought he bowled really well and deserved his three wickets."
After making 80 in the Sheffield Shield a fortnight ago, the left-hander reached a new career high during his first innings for his new county.
"I've always loved batting and the thing about consistent cricket, you can keep on improving and one thing I can do is improve my batting. At the moment it's going ok, so hopefully I can keep making runs and keep contributing to the team."
He even shrugged off the disappointment of not getting his hundred. "I was pretty happy with what I did in the end and then to come and get six wickets as a tram is a pretty good effort, so all in all it has been a good day and hopefully we can come out and play some more good cricket in the morning."
Notts began the day on 52 for one, trailing by 199 but quickly reduced that deficit.
Jake Libby hit the first ball of the day through midwicket for three runs and then the unfortunate bowler, Gavin Griffiths, had the misfortune of seeing his next delivery driven straight back past him for four by Michael Lumb.
Runs came fairly freely in the opening stages but progress was halted with the dismissal of Lumb, who edged Ben Raine behind for 30.
Libby had looked completely untroubled but was then drawn into pushing at Clint McKay and offered a catch to Colin Ackermann at second slip.
Alex Hales, batting at number four in the order, got off the mark with an elegant clip to the midwicket boundary. He advanced to seven before nicking a delivery from Raine onto his off bail.
Leicestershire set a leg side trap for Samit Patel and almost had their man but Harry Dearden spilled a clip off Zak Chappell at backward square, enabling the visitors' to go to lunch only four wickets down.
Patel and Riki Wessels took their partnership to 59 but then both fell in consecutive overs. Raine found the edge of Wessels' bat and Harry Dearden took a sharp catch in the slip cordon. Patel was then pinned lbw by Clint McKay.
Both players had got starts, Wessels made 24 and Patel 34, and were batting in perfect conditions, so their loss was untimely to say the least.
Worse was to follow when Chris Read quickly departed, caught behind off Raine for only three.
The cricket was fairly intense when Stuart Broad and James Pattinson were bowling in tandem on the first day and they were pitted together in a tense tussle to get their side up towards the batting points.
Pattinson opened his account with a delightful cover drive for four and Broad hit Chappell over the midwicket ropes for six, either side of two fours to third man.
Shots of the highest quality were coming from Pattinson's blade as he plundered the tiring attack. Broad, on 25, miscued Chappell high to mid on but had a reprieve as McKay couldn't complete the offering.
Pattinson clubbed Ackermann's off spin into the Pavilion and brought up his 50 with the shot that also took Notts into a first innings lead. His cut to backward point was his ninth four to bring up a half century from 63 balls.
Broad's own 50 came from one fewer, and included eight fours and a six but the following delivery he was given out lbw against Mark Cosgrove.
A third batting point was secured before Raine took his fifth and sixth wickets, trapping Fletcher lbw and getting Harry Gurney caught in the slips.
Meanwhile, Pattinson had gone tantalisingly close to a maiden hundred, being left stranded on 89 when the final wicket fellNotts made an explosive start to the ball, with Pattinson having Dearden caught behind in his first over and then Horton shouldered arms to Broad for the second time in the match.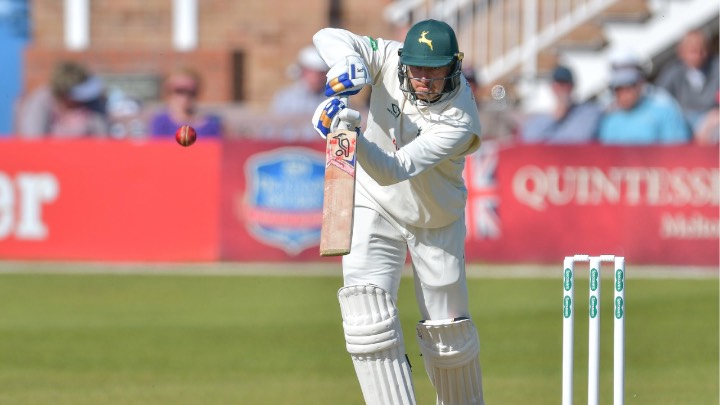 The Australian pinned Ackermann lbw before Fletcher claimed three in a row; having Pettini taken at slip, Lewis Hill leg before and Ned Eckersley bowled through the gate – the 15th and final wicket to fall on an extraordinary day of cricket.
Captain Cosgrove stood firm but Nottinghamshire are well on course to complete the win, with the Foxes reaching stumps still 27 behind with only four wickets left.
**********
It's jolly convenient to receive latest news, ticket information and behind the scenes exploits direct to your inbox - and rest assured we'll never pass on your information to others.