Brendan Taylor may not know what the future holds, but there's absolutely no doubting his commitment to the Notts Outlaws and Nottinghamshire cause in the meantime.
It was announced by Director of Cricket Mick Newell last month that the former Zimbabwe international and one-day captain was considering whether he would play his cricket beyond the end of this county season in this country or back in his homeland.
A decision on that front has still to be made by the 31-year-old batsman once he has a clearer picture of the options at hand, but, for the moment, his focus remains very much on helping his current employers continue their excellent season to date.
The Harare-born right-hander has certainly been doing that in recent weeks, hammering 154 in the Royal London One-Day Cup quarter-final win over Somerset – a competition in which the Club eventually triumphed against Surrey at Lord's.
He has also contributed some important runs since the onset of the NatWest T20 Blast too, with 67 not out against Derbyshire, 33 not out against Durham Jets and 41 against the Yorkshire Vikings.
"There are games to be won for Notts in a very busy period coming up."
"I've always been extremely settled at this club and I've got great friends here," said Taylor. "The coaching and support staff are great too, which makes things a lot easier.
"With my future, I've just tried to put it out of my mind and concentrate on my batting for the moment. These things are a little bit out of your control sometimes.
"I've told Mick Newell that there has been one or two family issues with being away from them. My wife doesn't want to bring four kids over and take them out of school, so there is quite a lot to it to consider.
"But each year that has gone by it's become more and more like home here, so it's been a pleasure to enjoy every game because playing cricket doesn't last forever.
"Whatever happens, happens. I'm a little bit in the dark at the moment, but more importantly there are games to be won for Notts in a very busy period coming up."
The first of those matches tomorrow night (7pm) is against near-neighbours Derbyshire Falcons at the 3aaa County Ground.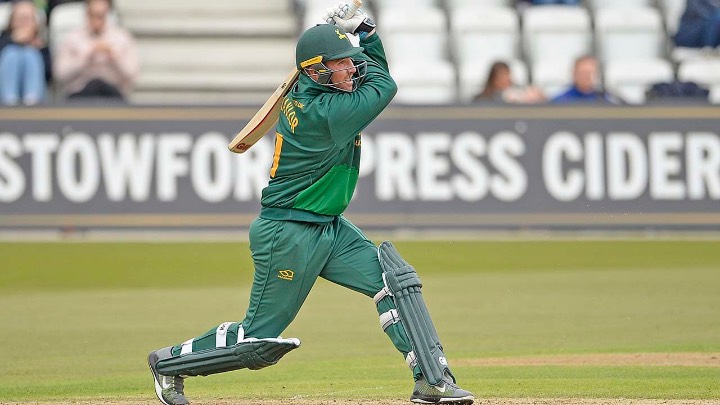 The Outlaws will be looking to repeat the success of their first home fixture of the T20 campaign on 21 July when they successfully defended a Club record score of 227-3.
Taylor said: "Despite that big score, they were not too far off getting them and have shown some good form in this competition so far.
"They are a side that is developing and one that has made some good signings. Playing them at home, they are always going to be a threat.
"With it being a local derby, there is a lot to play for and it's certainly one where we'll be doing our utmost to get a win."
Notts go into the fixture looking in good touch with the bat, even though two out of their last three fixtures have not been completed because of bad weather.
"There's also a real confidence about our batting and in our mindsets."
They have already passed 200 three times and came close in hitting 195-5 in the narrow defeat to the Worcestershire Rapids.
"Everyone has contributed at crucial times," said Taylor. "At Leicestershire yesterday (Wednesday) we lost two quick wickets, but we still kept up the momentum to get up to 210.
"That's the beauty of our team that we are able to switch things around and be dynamic with the batting order. Everyone understands that you need to be flexible.
"We have firepower there like Dan Christian and Tom Moores is an exciting young player who can really whack it.
"There's also a real confidence about our batting and in our mindsets, especially with the way Riki Wessels and Alex Hales have been getting our innings up and running, which has been really incredible."
Taylor himself has chipped in with 166 T20 runs in five innings after struggling for form in the early part of the season.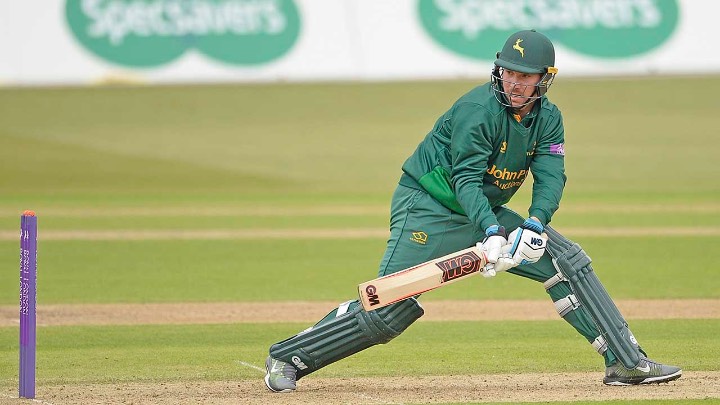 He believes he is now back to close to his best and says that has been down to a difference in approach.
Taylor said: "In the past, looking back, I think I've probably tried a bit too hard and put too much pressure on myself instead of just relaxing, being calm and playing instinctive cricket.
"Trying to do that more recently has certainly helped me and the coaching staff, who don't necessarily get the credit they deserve, have been a big help too."
From a team standpoint, the Outlaws sit fifth in the North Group table with 10 points from their nine matches so far.
Taylor considers that to be a decent haul taking into account the Club has lost the services of hard-hitting batsmen Michael Lumb and Greg Smith, who have retired, and injured bowler Luke Fletcher since the T20 competition got underway.
"It's great to see young talents like Tom Moores, Billy Root and Luke Wood staking a claim for a place."
"It caught us off guard at first, to be honest, and it's been a very sad few weeks for us. Two great guys have called time on their careers," he said.
"I know the club has been excellent in looking after them and they do for all us players, whether our future is in cricket or not.
"With Fletch, we are just glad that he is alive and back to his normal self. He's full of beans, but we are going to miss him this season, along with Michael and Greg.
"The good thing is that there is depth in the squad. It's great to see young talents like Tom Moores, Billy Root and Luke Wood staking a claim for a place in the side as they have certainly got the ability."
Notts Outlaws squad to face Derbyshire Falcons (from): Brendan Taylor, Steven Mullaney, Riki Wessels, Alex Hales, Harry Gurney, Luke Wood, Samit Patel, Tom Moores, Brett Hutton, Jake Ball, Dan Christian, Ish Sodhi, Billy Root.
*************
Buy your tickets for Notts Outlaws' NatWest T20 Blast North Group game against Durham Jets on Saturday here.