If you're one of the many fans who have loved the high-scoring, boundary-laden action that has provided terrific entertainment in the NatWest T20 Blast at Trent Bridge this summer, spare a moment's thought for the bowlers who have suffered as a result.
In the four exhilarating contests played so far at the world's third oldest Test venue in the 2017 edition of the competition, the scores have been 227-3 and 222-5 v Derbyshire, 195-8 and 52-0 in a rain-affected match v Northamptonshire, 208-8 and 195-5 v Worcestershire and 223-5 and 225-5 v Yorkshire.
That adds up to a remarkable 1,547 runs scored by the batsmen with the help of some 227 boundaries – fours and sixes – that have been flying to all parts.
Balance that against just 39 wickets taken in 145.1 overs bowled, and you can see why it's been such hard toil for the seamers and spinners alike on a superb wicket and lightning-fast outfield.
"It absolutely seems to be the way that it's been a batsman's T20 so far this year."
It's not simply a Trent Bridge phenomenon either, but a pattern that appears to have been mirrored around the country. T20 scores have been on the up this year and it is the bowlers who have taken the brunt of that shift, with many harbouring double-figure economy rates for the tournament.
One man who can sympathise, having done more than a fair amount of bowling on good pitches at Trent Bridge and elsewhere, is former Nottinghamshire seamer and now the Club's Assistant Head Coach Paul Franks.
It's now part of his role to help devise plans to keep batsmen in check, but insists it is no easy task, saying: "It absolutely seems to be the way that it's been a batsman's T20 so far this year.
"Teams in general seem to have amended their tactics from a positivity point of view and just keep going at it hard.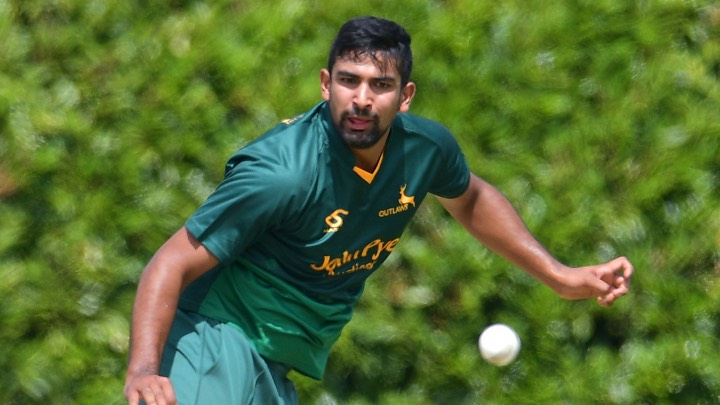 "There's been some great pitches around the country, as we've seen at Trent Bridge, and that's certainly contributed. A lot of the bowlers have been put in difficult situations and had the pressure put on them.
"With that in mind, it's always going to be a test and challenge to keep coming up with things that will put the pressure back on the batsmen.
"I can't speak for the batting units of other teams, but we are pretty confident our batters have set the bar high in terms of expectation and how we go about things.
"Everybody, bowling-wise, has got their work cut out and sitting there on the sidelines now, as opposed to playing, only makes me realise how hard a job it is for bowlers in T20.
"There is definitely no issue with motivation among the bowlers."
"The game is moving on fast and you have got to be up for the challenge. I would probably have fancied that challenge if I was still 22, but not so much now!"
Going for big runs time and again could be seen as being a big dent in the willingness of a bowling attack to keep charging in.
But Franks insists he has seen nothing but determination from those who have pulled on the green and gold since the tournament began for them on July 7.
He said: "There is definitely no issue with motivation among the Outlaws bowlers, and we have a Bowling Coach, Andy Pick, who prides himself on making sure of that.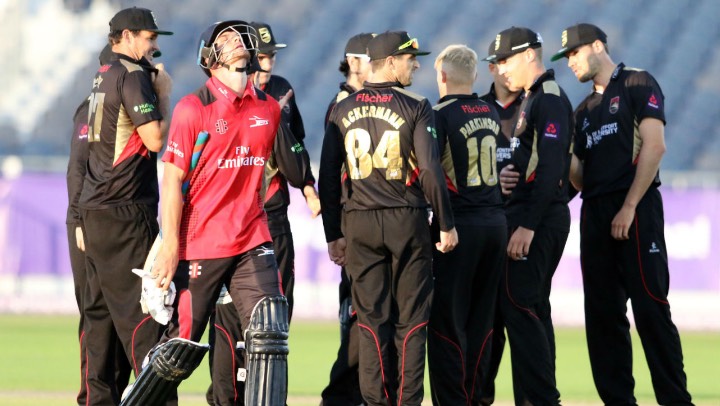 "There is a desire to keep getting better and although we have our plans for each game, there is also a recognition that you have to be flexible and adapt to what is going on."
Today, the Outlaws host a Durham Jets side (2.30pm start) who they beat by nine wickets with four overs to spare at the Emirates Riverside last week.
Notts bowled out their opponents for 123 during that match and Franks believes it underlines just how important taking wickets can be in this format.
"That was the other extreme to most of the games, and the best-case scenario," he said. "If you can keep taking wickets all the time, that's the best way of keeping the scoring rate in check.
"Durham have had to wear it this season at times, and they have worn it pretty well."
"It's obviously not going to happen every time, but we have shown that, when we have a good day and things click, we have a bowling attack that can run through a side."
Durham are anchored to the bottom of the North Group table with little to play for after being deducted four points before they even started their North Group games.
The punishment – which also saw them relegated to Division Two of the Specsavers County Championship for 2017 – was meted out by the ECB, who helped the Club overcome the financial problems they had hit.
Franks said: "Without knowing the ins and outs of it, and only knowing what was made public, it does seem harsh in the way it has impacted on the players because if it's down to administrative errors, that's not the players' faults.
"They have had to wear it this season at times, and they have worn it pretty well. I wish them well in the future, but obviously the priority for us this afternoon is to try to get another two points towards qualification."
Notts Outlaws squad to face Durham Jets (from): Brendan Taylor, Steven Mullaney, Riki Wessels, Alex Hales, Harry Gurney, Luke Wood, Samit Patel, Tom Moores, Brett Hutton, Jake Ball, Dan Christian, Ish Sodhi, Billy Root.
*************
Buy your tickets for today's Notts Outlaws' NatWest T20 Blast North Group game against Durham Jets here.