Alex Hales is chomping at the bit to represent Nottinghamshire at Lord's in the Royal London One-Day Cup final against Surrey after spending much of his summer so far on England duty.
The destructive top-order batsman has played just twice for the Outlaws since their win over Lancashire Lightning in mid-May due to the ICC Champions Trophy and One-Day and T20 matches against South Africa.
But after turning out for Notts in the semi-final victory over Essex, as well as the rain-affected Specsavers County Championship game against Kent, Hales has his sights firmly set on success against the Brown Caps.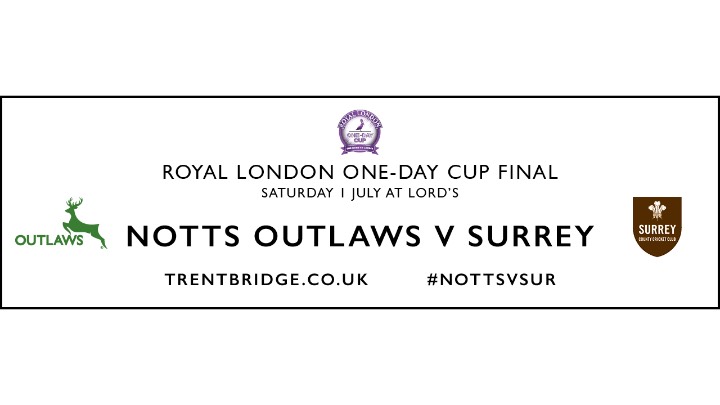 "I'm really looking forward to it, it's a massive occasion for the Club," said the powerful right-hander.
"We won it a few years ago (in 2013) and that was one of my most enjoyable moments on a cricket field. It would also be great in Chris Read's last year if we can give him some silverware to sign him off."
Hales reiterated the influence that captain Read has brought to the Club in his two decades on the staff.
He said: "I think I'm on my 10th year now and Ready's been there twice that time. He's just been incredible - he's definitely the best keeper I've ever played with.
"We've earned the right to be here and hopefully we can go out and win it."
"His batting since I've been at the Club has been monumental in us winning Championships, and he's played some huge innings for us over the last decade in one-day cricket too."
Hales admitted that Lord's hasn't always been a happy hunting ground for him, but he hopes to set the record straight against Surrey.
"It's not really been that lucky a ground for me. I can't really work out if I like batting here or not," he said.
"I've had one decent Test match here (scoring 94 against Sri Lanka last year) and a couple of OK 50-over games, so it's been mixed for me, but hopefully today can be one of the good days."
Hales believes that the Outlaws have deserved their spot in the final and is optimistic about their chances once the game gets underway.
He added: "We've played some great cricket so far, especially in the quarter-final and the semi-final, so we've earned the right to be here and hopefully we can go out and win it."
Want to keep up-to-date with what's happening in the Lord's final? Go to our Trent Bridge Live coverage to stay in touch.
*************
Nottinghamshire bowler Stuart Broad has been named in the England squad to face South Africa in the first Investec Test match, starting on 6 July at Lord's.
*************
It's jolly convenient to receive latest news, ticket information and behind the scenes exploits direct to your inbox - and rest assured we'll never pass on your information to others.