Media and Communications Manager Matt Halfpenny looks back at Notts Outlaws' sensational Royal London One-Day Cup final victory at Lord's that meant so much to so many - on and off the field.
*************
Magical, mesmeric and magnificent. Days in cricket just don't get any better. For players, management and loyal supporters, 1 July 2017 is a date they will simply never forget.
After an excruciatingly tense seven-and-a-half hours of play, those who travelled down from Trent Bridge to the iconic Lord's with a sense of hope and anticipation were eventually rewarded with the perfect climax… a Notts Outlaws Royal London One-Day Cup final victory that was accomplished in some style.
As the Home of Cricket was suddenly bathed in glorious evening sunshine, everywhere you looked, there were smiles, hugs, kisses and salutes in recognition of a success that had been just over two months in the making, but that took only a few seconds and one solitary run to secure.
Though the glory of the winning hit went to overseas bowler James Pattinson in what was a fitting end to his stint with the Club before flying back to his native Australia, the celebrations that followed were thanks, in large part, to one Alexander Daniel Hales.
His career-best, Lord's one-day best knock of 187 not out was scintillating, captivating and devastating in equal measure.
At times he bludgeoned, at times he caressed, but there was no denying the effectiveness of his inspired batting, with Surrey unable to contain a man on a mission.
It was an innings match umpire, and Nottinghamshire batting great Tim Robinson, would have quietly admired from close quarters out in the middle. Like the rest of those present, he would have considered it a pleasure to witness.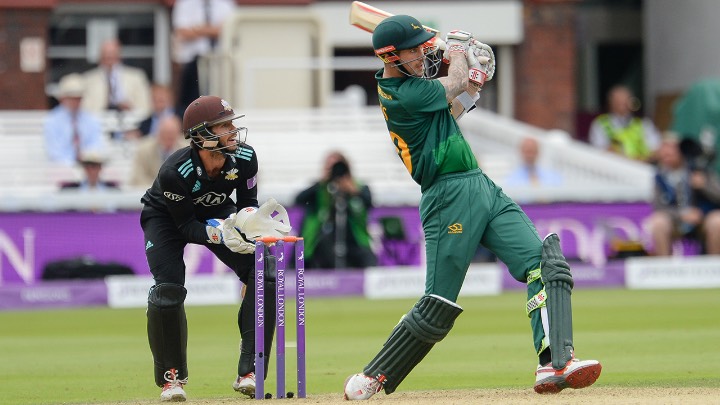 In the past, Hales' languid style has often been misconstrued as insouciance. It's often been levelled at him that he can sometimes give it away, just when he's found his groove.
But no-one could say that this time. The former MCC Young cricketer, back in familiar surroundings, knuckled down and saw the job through. Scoring all around the wicket, it was an innings every bit as good as his final figures suggested (167 balls, 20 fours, four sixes).
In getting the Outlaws over the line, he eclipsed the previous highest one-day knock at Lords – Aaron Finch's 181 for the MCC against the Rest of the World in 2014 – having already sailed past Geoffrey Boycott's domestic Lord's final best of 146 dating back to 1965.
Hales told TrentBridge.co.uk before the game that he didn't know if he liked batting at Lord's that much, having not had huge success there previously. After this knock, he surely will do now!
Then there was his accomplice in the slaying of Surrey, skipper Chris Read. A master of his craft and the team's talisman, the evergreen 38-year-old rose to the occasion in his last Lord's final, just as you'd expect.
While all and sundry were getting nervous for him, the man himself used all his years of experience to keep a cool head and dig the Outlaws out of trouble when they were 150-5.
Cautiously at first, and then more fluently as his innings went on, he helped sap the life out of the Surrey attack and turn the tide of the game decisively in Notts' favour, sharing a 137-run sixth wicket stand in 20.1 overs with his already well-established batting partner.
It seemed only fitting that the pair shared many of their special post-match moments together on the boundary edge. Hales, still wearing his batting pads and 'lucky' arm guard, posed for a picture for his mum as she told him how proud she was.
Later, as he was whisked off to the press conference, sweaty and drenched in Champagne, but totally elated, he joked he was going to wear his kit all night.
Read, meanwhile, was on the end of a well-deserved hug from his wife Louise, while son Caleb and daughter Callista held aloft the trophy their daddy had played such a key part in securing.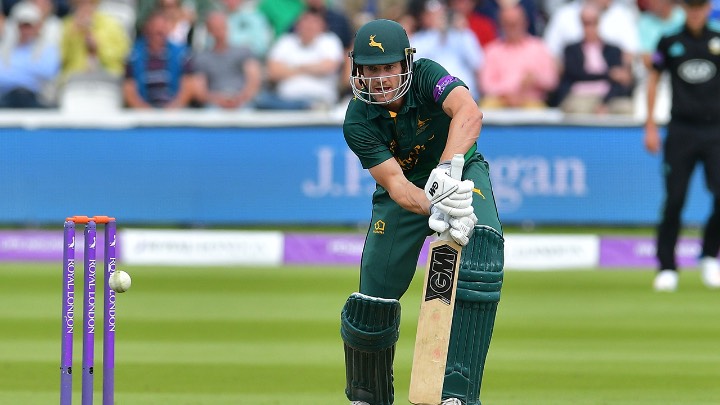 When he began his return to the dressing room after completing his media commitments, the captain walked back across the Lord's square with trophy in hand to the hollers of 'Ready, Ready' from his team-mates on the dressing room balcony.
It really was a lovely moment, and no-one in English cricket deserved such a momentous send-off from competitive domestic one-day cricket.
Other players, too, could look back on a pulsating game with a personal sense of pride. Samit Patel underlined his all-round value with bat and ball by following up his crucial 122 not out in the semi-final against Essex with 3-51 in the final, thereby checking Surrey's flying start.
And Steven Mullaney, a revelation this season in all forms of cricket, also chipped in with 2-50, just days after his career-best 168 against Kent in the day-night pink ball game at Trent Bridge.
What stood out most, though, was the sense of it being a team effort.
As he tried to make himself heard over the players singing along to the Killers' Mr Brightside in a post-match dressing room interview, Peter Moores pointed out that throughout this year's competition, individuals have stood up at various points to contribute to the greater whole.
And it's that sense of collective responsibility that has brought a unity which has made the Outlaws so hard to beat this season. Stuart Broad is a great example of how it has worked so well. On the national stage he is an England star, but, in the Notts dressing room, he is more than happy to be one more of the boys.
The players are acutely aware that they are part of a greater team too. Not just Moores, but Assistant Head Coach Paul Franks, bowling coach Andy Pick, Director of Cricket Mick Newell and the rest of the backroom team have been an integral part of the 2017 success story so far.
Of course, they will consider the job only half done having put some silverware in the trophy cabinet, with the primary focus to secure promotion back to Specsavers County Championship Division One come September.
But the exploits of the team so far certainly bodes well for the rest of the summer, where there is also the prospect of the NatWest T20 Blast competition to look forward to, starting this Friday (7 July).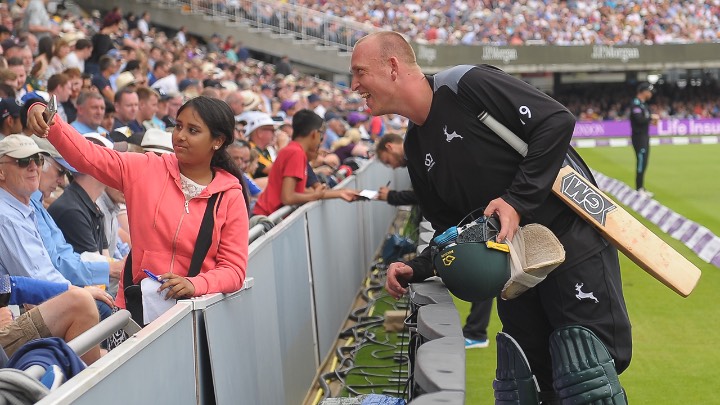 Then of course, there were the supporters themselves, who Lord's officials indicated numbered more than 3,500. They did their level best to make themselves heard – and very effective they were in doing so too.
Although outnumbered by Surrey fans, who only need to make a short trip across the River Thames, the Green and Gold army clapped, chanted and cheered with unwavering passion as their heroes got closer and closer to the winning line.
It was great to see home-grown favourite Luke Fletcher, having just returned from a nets session, hold his bat aloft to salute the Outlaws followers - and then high-five young fans as he walked around the edge of the ground.
That kind of interaction between those either side of the boundary boards was, for many, the highlight of the day, and was most evident after the formal presentations had been made and Hales, inevitably, announced as man of the match.
Immediately, en masse, Broad, Pattinson et al set off in direction of where the biggest contingent of Notts fans were congregated to celebrate with them. Players, management and fans alike broke into an impromptu chant of 'Nottingham, Nottingham' and Read was held shoulder high by his team-mates.
After a day, and a campaign, where everyone played their part, how fitting it was they came together to be united in ultimate victory.
*************
It's jolly convenient to receive latest news, ticket information and behind the scenes exploits direct to your inbox - and rest assured we'll never pass on your information to others.