Notts Outlaws head back to Welbeck Cricket Club for the Royal London One-Day Cup fixture against the Leicestershire Foxes on Sunday 7 May.
The match against the Foxes follows the Welbeck Weekender in 2015 when two matches were played at the picturesque outpost in the north of the county, and an entertaining victory for the Outlaws over Derbyshire in 2016.
Prior to that, Nottinghamshire's previous out-ground fixture came at Cleethorpes in 2004.
This matchday guide contains all the information you need to ensure maximum enjoyment from your day out at Welbeck.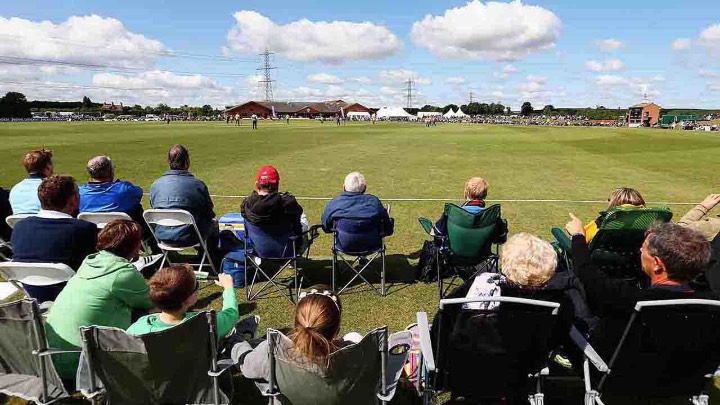 Hours Of Play
Gates open at 9am, with start of play scheduled for 11am. The first innings will take place between 11am and 2.30pm, before a 45 minute interval. The second innings will then commence from 3.15pm until 6.45pm.
Ticket Information
General admission is priced at £10, with a concessionary price of £7 for under-21s and over-65s, £5 for under-16s, and there is a £5 charge for on site car parking. Entry and parking is free to Nottinghamshire Members.
Tickets will be available in advance until midnight on Saturday 6 May, with tickets purchased prior to 4pm on Thursday posted to the purchaser and the remainder available for collection at the venue.
Click here to secure your seats now… or call our friendly ticket office staff on 0844 811 8711. Kindly note that calls to our 0844 numbers will cost 7p per minute plus your telephone company's access charge.
Cash tickets will be available at the ground on the day of the game.
Please note that dogs will not be permitted entry.
Seating
Welbeck Cricket Club provides an out-ground cricket watching experience with a grass bank around the majority of the perimeter of the playing area. A picnic rug may, therefore, be all you need to enjoy the match in this setting.
Fold down chairs will be available at the ground and supporters are also welcome to bring along their own seating.
Address And Directions By Car
Welbeck Cricket Club is situated at The John Fretwell Sporting Complex, Sookholme Road, Sookholme, Mansfield, Nottinghamshire, NG19 8LL.
Directions: Sookholme Road is the B6407 and is located off the A60 between Mansfield Woodhouse and Spion Kop. The ground is opposite the Hostess Restaurant and 500 metres from the junction with the A60.
Car Parking
The main entrance to the ground will be reserved for players and match officials. However, on site car parking will be available 100 yards past the main entrance on the right hand side, priced at £5 (free to Nottinghamshire Members). This will be signposted accordingly on the day.
Travelling By Train
Sunday 7 May, Nottingham to Mansfield Woodhouse:
Depart Nottingham : 09.42 & 11.28
Arrive Mansfield Woodhouse : 10.22 & 12.08
Depart Mansfield Woodhouse : 16.09, 17.36, 19.18 & 21.07.
Arrive Nottingham : 16.46, 18.13, 19.55 & 21.44.
Mansfield Woodhouse station is approximately four miles from Welbeck Cricket Club. Taxis will be available.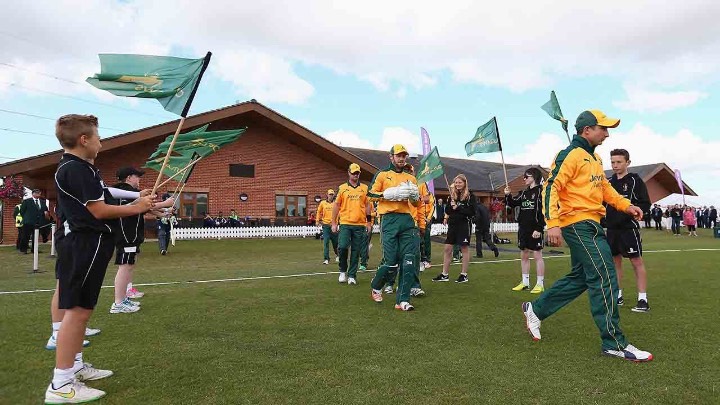 Travel By Coach
Places on the Supporters' Coach, departing the Dixon Gates at Trent Bridge at 9.30am and returning after the game, are available priced at £10 for adults and £5 for under 16s.
To secure your places, please book online here or contact our friendly ticket office staff on 0844 811 8711, email questions@nottsccc.co.uk or in person from 9.30pm to 4.30am Monday to Friday.
Catering
A variety of food and drink outlets will be available, including ice cream van, Rustic Crust Pizza and the Welbeck Cricket Club cake stall. The majority will be situated adjacent to the Pavilion.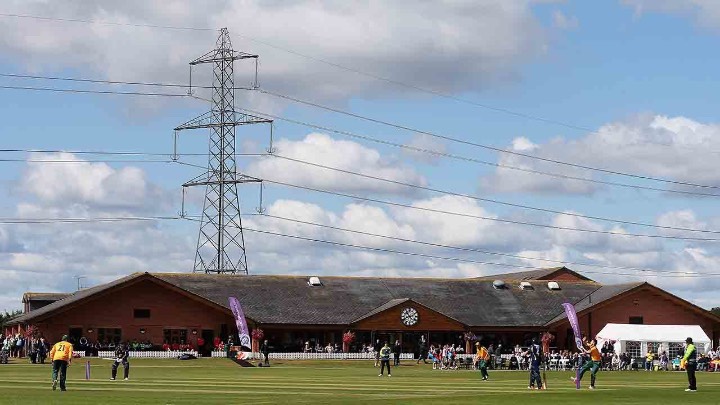 Match Day Activities
Visit our Outlaws Cricket Zone, situated near the Pavilion, where spectators - especially juniors - can take part in batting, bowling and fielding exercises. A face painter and retail outlet selling a range of Nottinghamshire County Cricket Club merchandise will be situated nearby.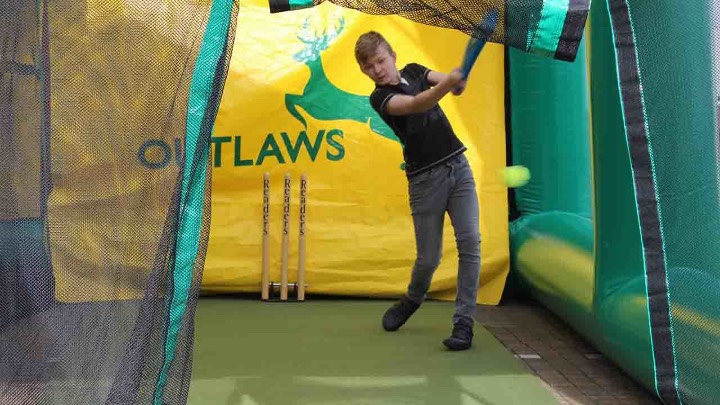 Former England wicketkeeper and fine artist Jack Russell will be exhibiting paintings during the event and signing copies of his book. Feel free to pay him a visit.
Weather Forecast
View the latest weather forecast here…
The weather can take turns during the day, so please bring clothing to cover all eventualities.
In The Event Of Bad Weather
Fittingly as the nation's summer sport, we can't play cricket in the rain.
However, our friendly refund policy ensures that you can purchase tickets safe in the knowledge that the elements won't hit you in the pocket...
If play is restricted to less than 20 overs and there is no result, you will be entitled to a refund of the face value of your ticket. Only the original purchaser of the ticket from Nottinghamshire County Cricket Club can be refunded. Alternatively you can exchange your tickets for a future Royal London One-Day Cup or Specsavers County Championship match in 2017.
If play exceeds 20 overs but there is no result (i.e. the game is abandoned due to poor weather) you will be able to exchange your ticket for a future Royal London One-Day Cup or Specsavers County Championship match in 2017.
In the event of a match being abandoned, any complimentary tickets issued will not be valid for alternative fixtures.
If play exceeds 20 overs, and the game has a result, then no refunds or exchanges will be offered.
Know Your Royal London One-Day Cup Cricket
Royal London One-Day Cup matches are played to a finish over the course of one-day with 50 overs-per-side.
50-over cricket is traditionally more considered, and less hectic, than the all-out explosive action of the NatWest T20 Blast – but the balance is shifting and there's nothing quite like the fluctuating drama of a run chase.
With the current trend towards playing the game in an entertaining and dynamic way, 50-over cricket is resurgent as a form of entertainment around the world – a format watched by a sell-out crowd of 17,000 each time England play a Royal London One-Day International at our venue.
The Notts Outlaws are contesting a group of nine in this year's competition, with Worcestershire, Derbyshire Falcons, Warwickshire Bears, Leicestershire Foxes, Durham, Lancashire Lightning, Yorkshire Vikings and Northamptonshire Steelbacks competing alongside the Outlaws for the latter stages of the competition.
The tournament culminates in the grand occasion of a final at the spiritual and traditional home of world cricket, Lord's.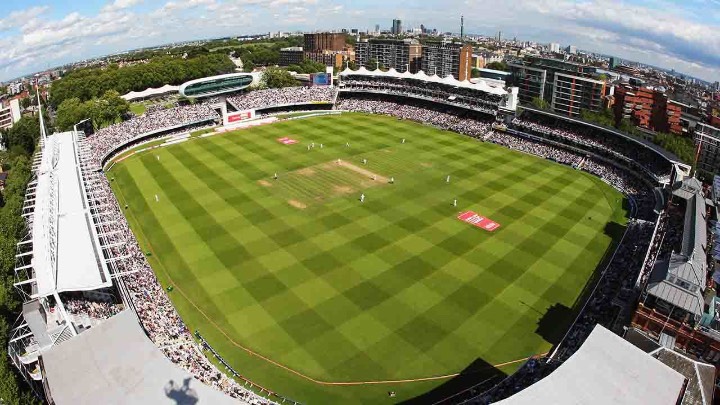 It's a dream for every county cricketer to get there, something the Outlaws last achieved in 2013, so the stakes are certainly high.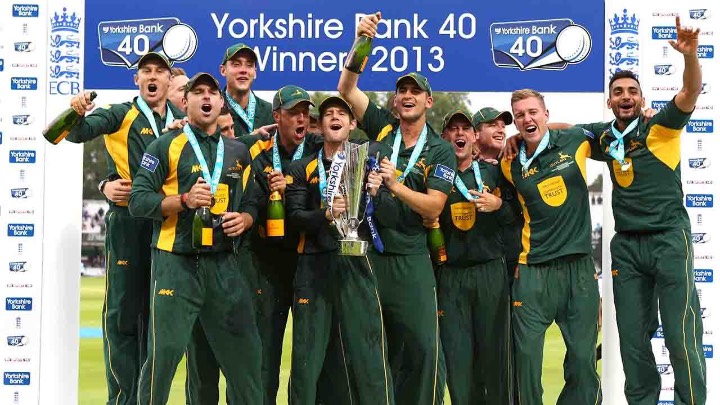 **********
Notts Outlaws are returning to the homely surroundings of Welbeck Cricket Club, where they will face Leicestershire Foxes on Sunday 7 May.
Click here to secure your seats now… or call our friendly ticket office staff on 0844 811 8711.
Following The Action Online
Can't make it to Welbeck? We offer the perfect matchday companion...