Jake Libby believes Chris Nash is 'the perfect signing' for Nottinghamshire and is looking forward to learning from his fellow opening batsman.
The 24-year-old is 10 years the junior of the latest acquisition to the Trent Bridge playing staff, who joined last week following his release from Sussex.
Libby is hoping to 'tap in' to Nash's considerable experience, which has helped the former Lions player score more than 11,000 runs during his career on the south coast.
"We have lost quite a few experienced heads so Chris will fit in really nicely here."
The Devonian is determined to continue his own personal development as Notts prepare for life back in Specsavers County Championship Division One.
"Chris' record speaks for itself. He's been a class player, particularly in Division One cricket, which will be really good for us," said Libby. "I enjoy watching him bat. He's a really classy player who scores bucketloads of runs.
"He is the perfect signing for us. We have lost quite a few experienced heads so he will fit in really nicely here and it will be great to have him around.
"I played my first game against him, my debut, and I remember him chirping at me from short leg, so I will remind him of that!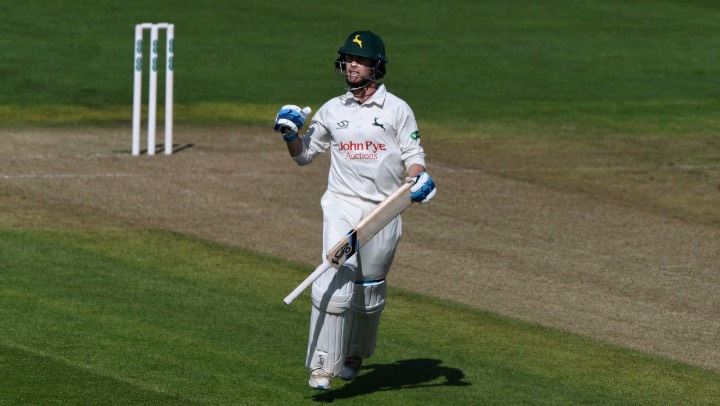 "I think it will be really good to talk to him and learn from him, as I have done with previous players. The experience that you can tap into with those kinds of players is invaluable. Sometimes the games can get quite brutal and to speak to guys who have been through it helps.
"It's also good to see how these guys go about their work and prepare. I learned a lot from Chris Read and Michael Lumb in terms of being the ultimate professional. You get different pieces of advice from different people and you log different bits."
Libby is also impressed with the signing of all-rounder Paul Coughlin, who joined from Durham in the closing weeks of the season.
The seamer and powerful batsman is a player who enjoyed a strong 2017 across all three formats.
"Paul Coughlin's a great athlete and bowler who will add a lot to our squad."
Libby added: "With what we have to replace, you have to look at white ball as well as red ball and, like Chris, he has a good record in both, and captained Durham last year in T20.
"Paul has had my number a couple of times in the past, so it's nice to have him on the same side as us now. He's a great athlete and bowler who is with the Lions this winter and will add a lot to our squad.
"Both Chris and Paul will add a lot to our squads, and it's two really clever signings in my opinion."
••••••••••••••••••
You can watch every ball of Nottinghamshire's scheduled home matches in 2018 - in all three formats of the game - by joining our family as a Member. Become a Member now...