It's been a fantastic season for Nottinghamshire CCC and the Notts Outlaws in 2017, winning the Royal London One-Day Cup, NatWest T20 Blast and promotion to Division One of the Specsavers County Championship.
Assistant Coach Paul Franks counts down his 10 favourite moments of the campaign – and there are plenty for him to choose from!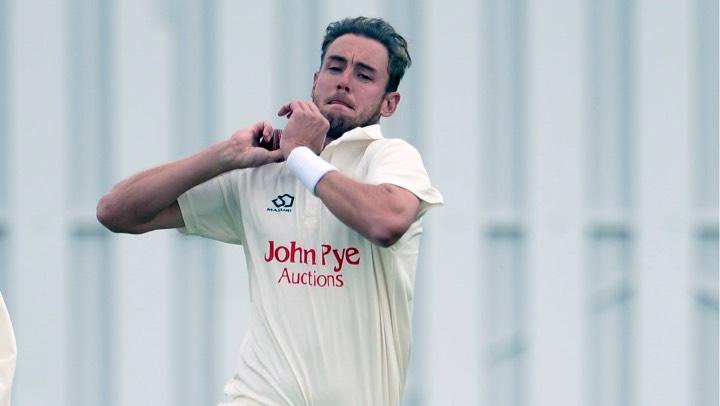 10. Anticipation in the squad before the first game against Leicestershire.
"Not a specific personal moment, but there was visible excitement about all the work that had been done, plus Stuart Broad was coming back and James Pattinson was about to make his debut. There were nerves there as well, and it showed for a period in that first game. That final Grace Road practice session may have been fairly low key, but we knew we had the makings of a very good side if we played to our capacity."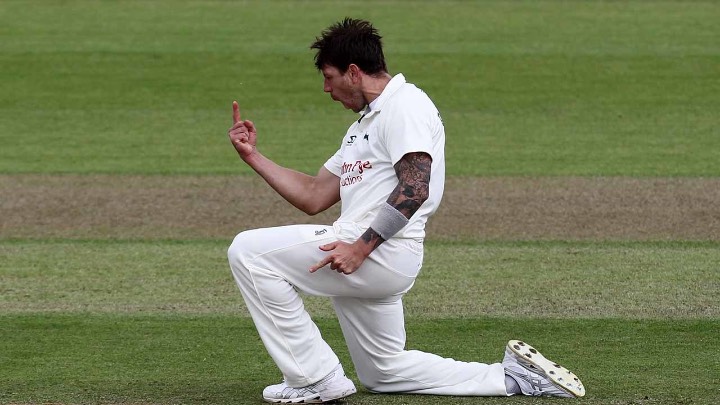 9. James Pattinson dismissing Paul Collingwood at Durham.
"It was an important game with us on the road and it being our second game of the summer – or should I say spring as, crikey, it was still very cold! Arguably one of the more intense passages of play during the summer saw Patto get his tail up bowling down breeze and had a very close lbw shout against Collingwood turned down. He kept going and then we saw one of the catches of the summer from Riki Wessels. Colly fenced off a short ball that came through throat high and it looked for all the money as if it was going to go over Riki's head for four, but he jumped and took an amazing one-handed catch. In the context of that game, it was a huge turning point because Collingwood had a great season and was integral for Durham, but we went on to win the game."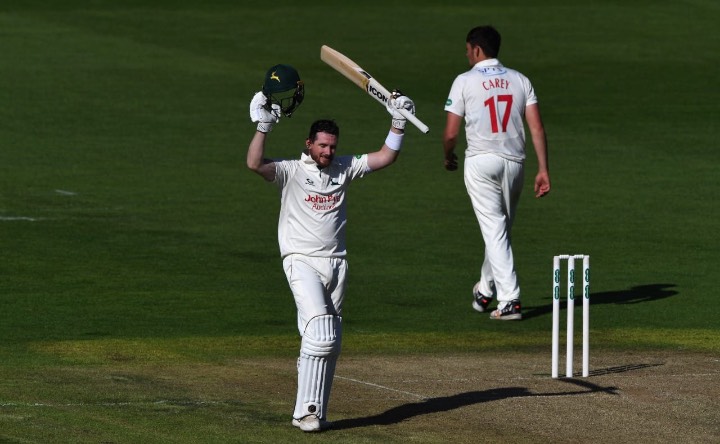 8. The victory at home to Sussex.
"That was arguably as good a performance as we put in all season. We battled hard early on against the new ball batting first and didn't necessarily make the runs we'd have liked, but then had a fantastic performance from Riki Wessels, who scored an unbeaten double hundred. We then backed it up with some great fast bowling from the quartet of Pattinson, Broad, Ball and Fletcher. We wanted to get off to a flyer in the early part of the season and that made it three wins from three. For the complete team performance you're looking for everyone to contribute and, while we didn't necessarily have that, we had seven out of 11 doing well. If that's the case, then it puts you in a good spot."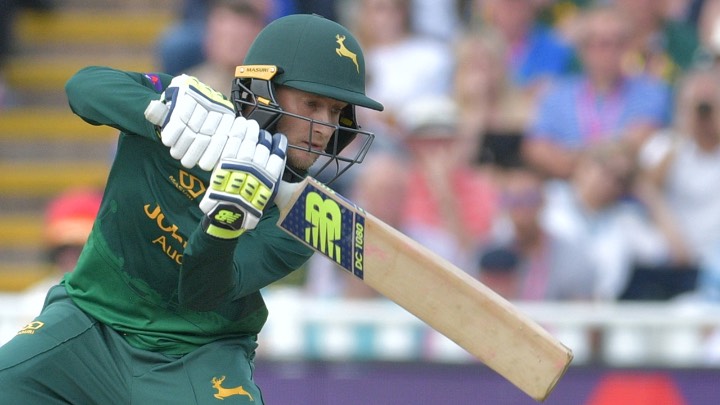 7. Billy Root's Royal London hundred at Edgbaston.
"We'd lost our first two matches in the Royal London One-Day Cup and, although we'd beaten Derbyshire, we'd not really got going, so we were at a tipping point in the fixture at Warwickshire. We were meandering along in our innings batting first when he came to the crease and the tempo with which he started and finished his innings to go to his first List A hundred was excellent to watch. Some of his strokeplay was very special, playing shots that had been invented all over the world! It showed us that his cricket had come on leaps and bounds and he was ready to play first-team cricket."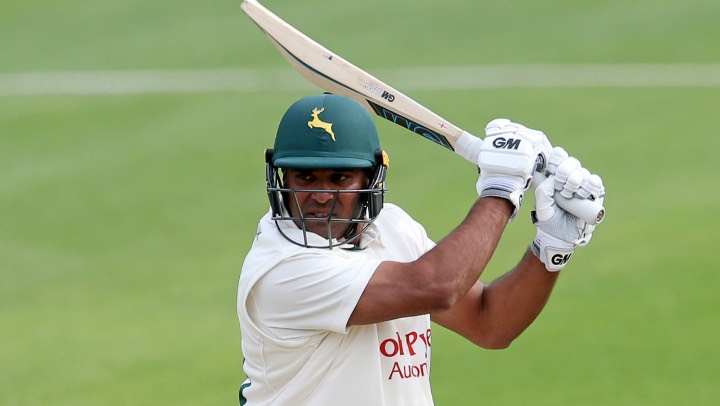 6. Samit Patel's back-to-back Championship double hundreds.
"It was a real purple patch of play for him and Samit showed fantastic personal discipline, especially for a strokemaker of his style. To not make a mistake and capitalise in the situation where his form was at such a peak was superb. For him to score 500 runs and make back-to-back double hundreds was special. Samit played well all summer, but that period, with the volume of runs he scored, was the best he has ever played and I don't think he would disagree with that."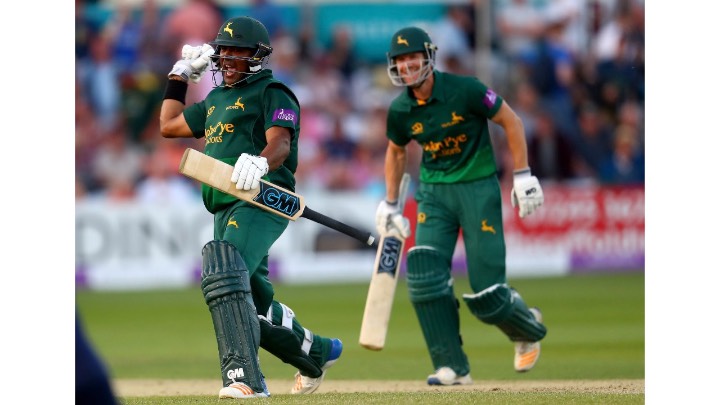 5. Record 50-over run chase in the Royal London semi-final at Chelmsford.
"To chase 370 down against such a good team was an unbelievable effort – and it all revolved around two significant partnerships. First Samit Patel and Brendan Taylor got us back into things and then Steven Mullaney joined Samit and really accelerated the chase, timing things perfectly. We needed someone to be in until the end, and Samit ensured that he did that. Mull went from it from the word go in what is probably the best I've seen him play in one-day cricket. He's hit the ball well before, but often in cameo roles, and this time he went big, with some of the cleanest striking you will see."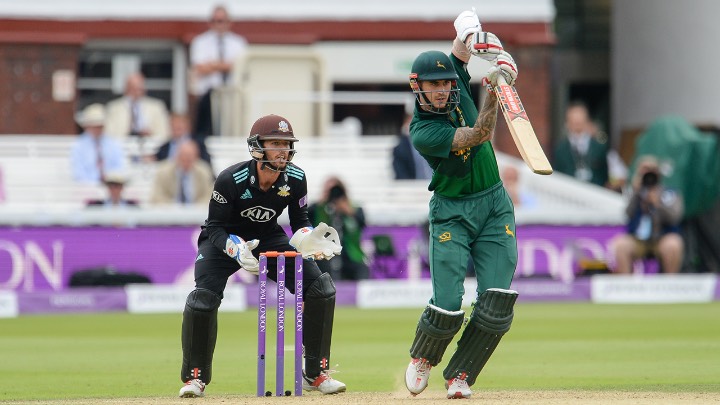 4. Victory in the Royal London One-Day Cup Final at Lord's.
"Alex Hales magnificent knock of 187 not out said everything about where his cricket is at. He's been the scorer of some fantastic international hundreds over the last 18 months – and that was an international hundred in a domestic game. It was as good as you will ever see. It was all there, with his assessment of where the game was, understanding of what the team needed, discipline to see it through. It was a really, really good man of the match performance at a time the team really needed it. It was great to see Ready (Chris Read) be the man to be his main partner in doing that and finish off in competitive games at Lord's in style by lifting the winners' trophy. Plus there were some excellent contributions from the bowlers, particularly Samit Patel and Steven Mullaney, to get us back into the game after Surrey had got off to such a flying start."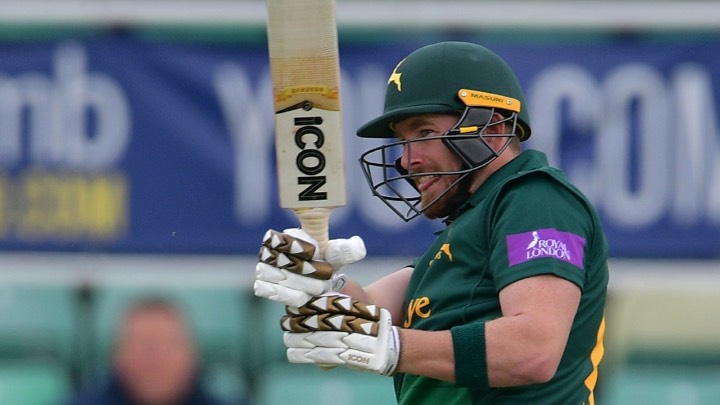 3. Hitting our batting straps in T20.
"We'd not seen an Outlaws T20 hundred and then, like buses we saw two brilliant ones almost back-to-back. The two players who got them, Alex Hales and Riki Wessels, were a devastating combination in that competition, none more so than their world record Power Play partnership in the first six overs of 106 against Durham, and did so much in helping us to reach Finals Day. They really set the precedent for us with the bat, and teams most certainly did not enjoy bowling at them first up. To have a record crowd too (14,123 against Derbyshire) made that period all the more enjoyable. The support we get at Trent Bridge is very special. They play a massive part in setting the tone for the lads and, if we get up and running, the players know the fans will be right behind them."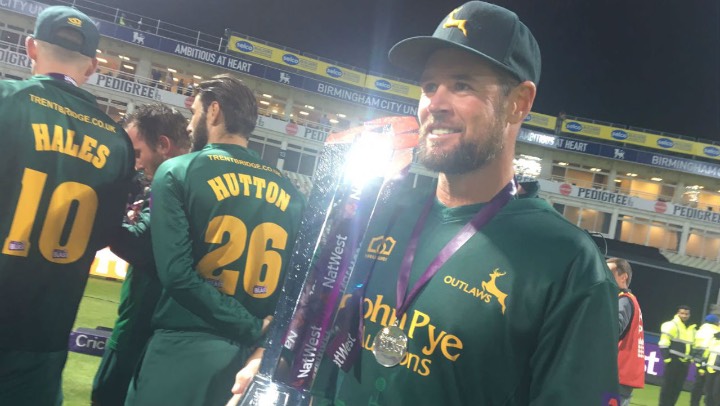 2. Finals Day victory at Edgbaston.
"It was very different to Lord's – a very different theme and style of day, with the razzamatazz of it all that is quite something to take in and a stark contrast to the calmness of a game at the Home of Cricket. The 50-over game finds its way to a natural end, while T20 Finals Day doesn't give you the chance to take a breath. Again it was special to see some top individual performances from the likes of Brendan Taylor, Steven Mullaney, Samit Patel, Dan Christian as captain, Harry Gurney, Jake Ball… you could keep going because they were all outstanding. Over the course of the day you know you are going to need pretty much everyone to turn up and do a job and I thought we did it brilliantly. We have been close to winning it before, but you're never sure how close until you get there. This year there was another level of belief where we knew we could do it and everyone trusted each other in terms of delivering performances. We also handled the pressure of it all very well, which is not easy to do."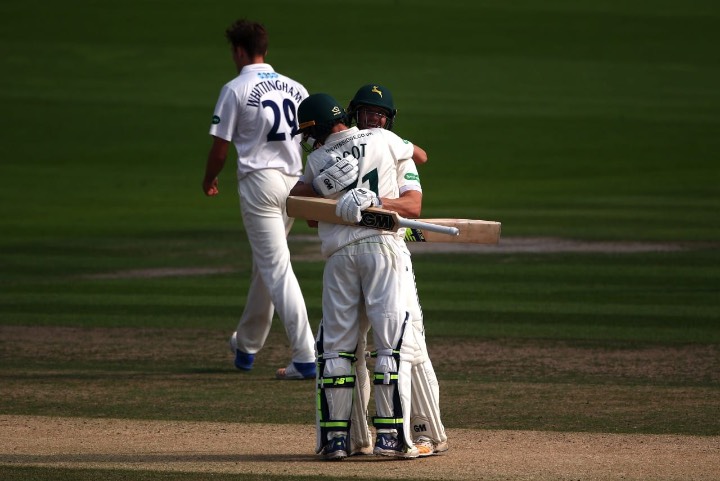 1. Chris Read's century in his final game at Sussex
"It has to be doesn't it? He found a fantastic ally in Billy Root, who went on to make his first Championship hundred, but that was a special script for Chris, and whoever was looking after that deserves commending. I have seen him work at close quarters as a player and now as a coach, when he's worked with us for T20, and you could see he really wanted that score at Sussex. Often the more you want something, then the more it tends to evade you sometimes. But to play as well as he did, as fluently as he did, having showed signs in the previous two games but not really having got settled enough of pitches that were doing a bit, was tremendous. At Hove, he knew he had a good pitch and he wasn't going to miss out. As that game went on, we went through all the emotions, and knew we needed something special to get us out of trouble, and that came from an excellent partnership led by the captain. To be able to play as well as he did when in the spotlight says everything you need to know about him."
***********
The world's best are heading to Trent Bridge in 2018 for a trio of international fixtures. Register your interest to receive priority booking here.