There are plenty of 20-somethings for which the prospect of sitting with their feet up on the sofa all day and watching television is more than a little appealing, but when you're a professional cricketer with his sights firmly set on a first team debut, an idle month-and-half is far from ideal.
Fast bowler Ben Kitt had been making great strides in his burgeoning career, carrying on this summer where he had left off in 2016 in taking more than 100 wickets in competitive cricket that saw him land a two-year professional contract.
But that progress came to a juddering halt in July when the 22-year-old sustained a stress fracture of his back that flared up playing in a Nottinghamshire Premier League win for Farnsfield against Mansfield Hosiery Mills at the start of July in which he took 1-38 and hit 74.
As it became apparent that the injury was something more than a niggle that would keep him out for just a week or two, Plymouth-born Kitt was quickly ruled out for the rest of the season.
It was devastating news for the hard-working quickie, who had thrust himself into the thinking of first-team coach Peter Moores with some consistent performances
"It was diagnosed as being the L5 lumbar vertebra on the my left side of my back and, without me knowing, had started quite a while previously through the amount of bowling I had done over two to three years, which had taken its toll," explains Kitt.
"I only missed two games during that time and being a fast bowler it takes it out of you."
"The fracture was right across the bone, but it didn't snap, so I haven't had to have an operation, which is the main thing.
"I was bowling all last winter out in New Zealand and we didn't have grass nets, so there was a little bit of bowling on artificial turf, which wouldn't have helped.
"But the main reason for it was bowling throughout the English season last year, bowling all of the New Zealand season this winter and then bowling half of this English season without a break. I only missed two games during that time and being a fast bowler it takes it out of you.
"When it did flair up, the pain came on quite quickly. The day it happened I bowled nine overs and got runs batting, but then I had an Academy session on the Monday and I couldn't get off the floor."
That was the week before the onset of the NatWest T20 Blast competition in which Kitt had hoped to play some part. Instead, as he was sidelined, he could only watch as the Notts Outlaws recovered from defeat in their opening two games to win that particular trophy for the first time in their history.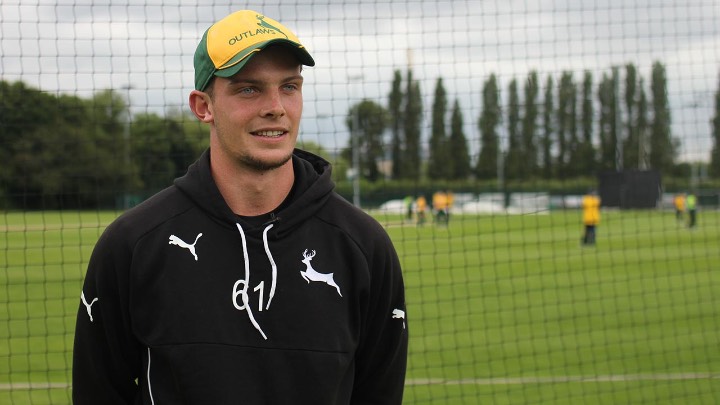 The period has really tested the former Cornwall player's patience, when lifting the proverbial finger was ordered to be just about the limit in the early stages of his recovery.
Kitt says: "It was pretty disappointing to get injured when I did, I'm not going to lie, especially with the T20s coming up, which I see as my best format to bowl in.
"But at the same time it's been a pleasure watching the lads win the trophies and pretty much dominate English cricket for a year, certainly in the one-dayers.
"For the first six weeks I couldn't do anything apart from walk – so no specific movements, arching the back, running or anything like that. Being the person that I am, always active, I found that difficult.
"Coming back in the gym can be pretty tedious because you have to do the same things all the time just to get stronger again, so it's pretty tough work, but I'm getting to the stage now where I can do proper gym work and lift weights again, so it's better."
"I hope to be back training fully with the first team when training starts – that's the plan."
Notts' players will report back next week for fitness tests and to discuss their respective winter training programmes with Club management.
And Kitt is optimistic he will be there with the rest of his teammates, even if he won't be up to full speed and will need more time to get back to peak condition.
"I'm still having to follow what Pipey (James Pipe) is saying, and he's been really good with me, but I'm slowly getting there," he insists.
"I hope to be back training fully with the first team when training starts – that's the plan. Obviously you can have little setbacks, but you have to get on with it.
"As for bowling fully, I will be fit again soon after Christmas - that's when I'm hoping to get back bowling properly. If we have our pre-season tour, I hope to be able to bowl fully then."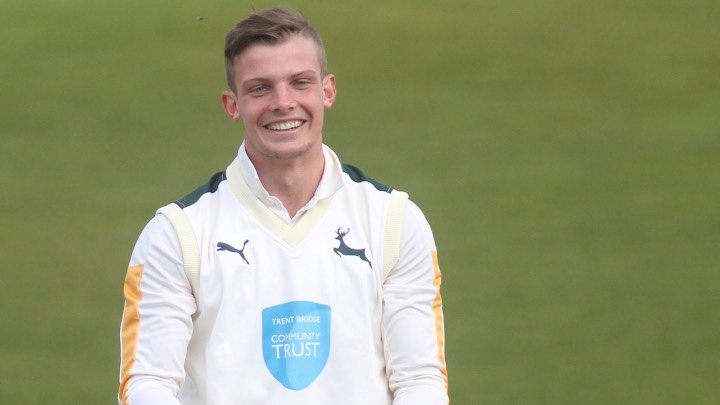 Like fellow seam bowler Luke Wood, who also suffered from a back injury last season, Kitt has learned some valuable lessons he can use for the future.
The right-armer is hoping that he can make some changes to the way he operates to minimise the chances of a similar injury returning.
Kitt says: "I've realised that I probably wasn't as fit as I could have been coming into the 2017 season, but, at the same time, injuries are one of those things that happen to bowlers.
"I definitely feel I know my body a lot better now and what pain is pain I can get through, and what pain I probably need to check out. That's something I've had to learn with the little niggles that I've had over the past couple of years."
Once fit again, Kitt's target is clear: a first team debut for Nottinghamshire in Division One of the County Championship.
"Everyone wants to play Division One cricket. Everyone is buzzing to be back in there."
"I feel like I had started off this season really well and I had high hopes, but the problems I had didn't help with my bowling, even before the injury became apparent.
"Hopefully, if I can do what I did this pre-season again next year then I hope I will be in contention to get a game for the first team.
"Everyone wants to play Division One cricket. Everyone is buzzing to be back in there, especially after winning two trophies this summer."
••••••••••••••••••
You can watch every ball of Nottinghamshire's scheduled home matches in 2018 - in all three formats of the game - by joining our family as a Member. Become a Member now...