Nottinghamshire County Cricket Club are among five of the city's best-known sports teams to announce their backing for Nottingham's bid to be European Capital of Culture 2023.
The programme is an annual competition in which cities from two selected European countries bid for the title.
In 2023, both the UK and Hungary will host a Capital of Culture - and Nottingham has until October to produce its bid.
The city is up against Leeds, Dundee, Milton Keynes and Belfast.
Nottinghamshire County Cricket Club chief executive, Lisa Pursehouse, said: "As the world's third oldest Test ground, Trent Bridge is one of Nottingham's most iconic venues and we are very proud to be part of the sporting calendar that our city delivers to both local and international sports fans.
"Our collective offer throughout the year is a big part of what makes Nottingham such a vibrant, exciting and cosmopolitan city that's a great place to live, work, do business and socialise.
"With £1 billion currently being spent on the city's infrastructure, the future looks bright for Nottingham and we at Nottinghamshire County Cricket Club believe it would make a great European Capital of Culture in 2023."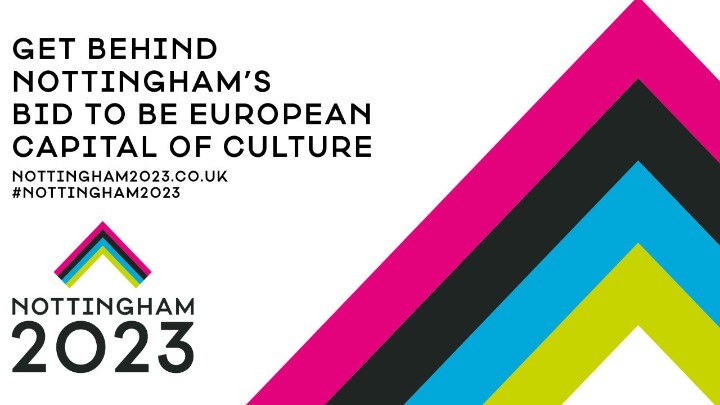 Nottinghamshire have been joined by other professional sports team in the city in getting behind the bid.
Nottingham Forest announced their support when they faced football and culture rivals Leeds at the City Ground in August.
Chairman of the Reds, Nicholas Randall QC, said: "We are delighted to announce that we are backing the bid for Nottingham to be the European Capital of Culture 2023.
"Sport is such an important part of Nottingham's cultural identity and we encourage Forest fans to pledge their support for the bid."
As well as receiving the backing of the two-time European champions, Notts County, the oldest professional football team in the world, have announced their support.
Alan Hardy, chairman and owner of Notts County said: "I am delighted that Nottingham has launched a bid to become the UK's next Capital of Culture and Notts County will do everything we can to support the campaign.
"Having lived in Nottingham my whole life I am excited at the prospect of everyone coming together to celebrate everything this great city has to offer."
High-flying ice hockey team Nottingham Panthers are enjoying a successful run in Europe at the moment, most recently celebrating a thrilling overtime win against Champions Hockey League competitors Mountfield HK.
Gary Moran, general manager of GMB Nottingham Panthers, feels the team's current form is an example of the importance of sport in Nottingham.
He said: "Nottingham has a rich history of sports success and the Nottingham Panthers team have recently epitomised that success by surprising the world of ice hockey with some stunning against the odds wins in the top European club tournament – the Champions Hockey League.
"Panthers are proud to fly the flag for the city of Nottingham but we also recognise the role of the city in the broader scope of everything: culturally, historically, and socially. If the city was to be honoured by the granting of the status being sought we would be thrilled to play whatever part we could in helping to ensure it is a success."
Nottingham Rugby, who have enjoyed a positive start to the season following an excellent win against Rotherham and narrow loss to Yorkshire Carnegie, are proud to be getting behind the bid.
General Manager of Nottingham Rugby Steve Smith said: "We're proud to be part of such a vibrant and diverse city and with Nottingham having already been recently crowned England's 'Home of Sport', this bid is another huge step in giving Nottingham the spotlight it deserves.
"The Green and Whites are right behind the city's bid to become the UK's next European Capital of Culture in 2023."
Paul Russ, chairman of Nottingham's Cultural Strategic Partnership and chair of the Nottingham 2023 board added: "We have been overwhelmed by the support we have received since announcing the bid, and to be backed by our fantastic local sports teams is something special.
"Nottingham is an ambitious and diverse city with a culture of grassroots collaboration and a history of rebellious innovation, and the to see our teams coming together to support the bid is a fine example of what makes Nottingham a great place to live.
"Getting behind the bid is simple; you can use the hashtag #Nottingham2023, provide us with your email signature to pledge support via the website or become a Cultural Lion by providing us with your ideas and opinions for the 2023 bid."
For more information and to show your support visit www.Nottingham2023.co.uk
***********
The world's best are heading to Trent Bridge in 2018 for a trio of international fixtures. Register your interest to receive priority booking here.