The Public Ballot for the ICC Cricket World Cup 2019 has opened today (Wednesday, 1 August).
Members of the public can now apply for any of the 48 fixtures in the tournament by registering an account on the Official Cricket World Cup Ticketing website here.
The ballot will be open until 29 August for you to secure your seat.
"An ICC Cricket World Cup in England and Wales is a once in a generation event and we're looking forward to welcoming the world to Trent Bridge, " said Michael Temple, Commercial Director at Trent Bridge.
"The ICC Cricket World Cup has a proud history and this is the fifth time that tournament matches will be held here. It's the biggest version of the tournament so far and we hope that our members and supporters get behind the games."
Trent Bridge will host five fixtures in the competition, including England v Pakistan, detailed below.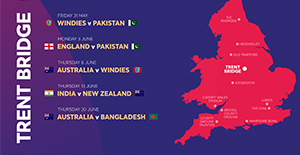 On the Public Ballot, ICC Cricket World Cup Managing Director Steve Elworthy said:
''1 August is a day we've all been looking forward to as we welcome many potential future cricket fans to the sport. This a great chance for anybody who wants to attend the ICC Cricket World Cup and watch the most exciting and competitive cricket available, as the best teams in the world go head to head.
"Being the third most-watched global sporting event, we know there will be huge interest in next year's World Cup. The Cricket Family Ballot was a recent indicator to how popular we expect this tournament to be, when over one million tickets were applied for.
"What's more, with our price structure for this tournament, which we consulted on widely and used external experts, all games will be accessible for a large proportion of sports fans. Any revenue that we do make from the tournament will be invested back in the game as part of our commitment to grow cricket and engage with future generations.''
For more information on the Cricket World Cup 2019, click here.
*************
Hospitality tickets for the 2019 Cricket World Cup are now on sale, and whether you want to treat yourself and friends, or impress guests and entertain in style, we'd hate for you to miss out on this exclusive, once-in-a-generation opportunity. Find out more by clicking here.