Andy Pick, Nottinghamshire's Bowling Coach, is looking back on 2018 as a year in which the weather meant swing bowlers had to change their game.
With the British summer characterised by a searing heatwave, conditions were far from helpful for those who rely on moving the ball in the air.
"You're generally looking for some kind of cloud cover for the ball to swing consistently," the 55-year-old told BBC Radio 4's Sangita Myska.
"This summer, there's been none of that. A lot of the time, it's been clear blue skies and sun shining, so guys who rely on the ball swinging have found it difficult. They've had to adapt and come up with some different tricks.
"I'm not a scientist by any stretch of the imagination, but 50 years in cricket has taught me that if it's cloudy you've got more chance of it swinging – hence why it tends to swing more here (in the UK) than other parts of the world.
"The clear skies in 2018 have meant the lads who swing the ball and rely on it swinging have had to adapt to get a bit more off the pitch."
Pick's interview played out on the stalwart Today programme on Boxing Day, kicking off a feature on the repercussions for cricket of climate change.
"Cricket is affected in numerous ways. You've only got to look at what's happened in recent years," said Tania Aldridge, a journalist who has written extensively on the subject.
"IPL games in India have been moved because of drought, schools matches and club cricket in Cape Town were called off because of drought, hurricanes have hit the West Indies and air pollution in Delhi that had players vomiting on the pitch."
Nottinghamshire Head Groundsman Steve Birks, who was also interviewed for the BBC programme, believes deluges of rain have become more frequent during his 21 years at the helm.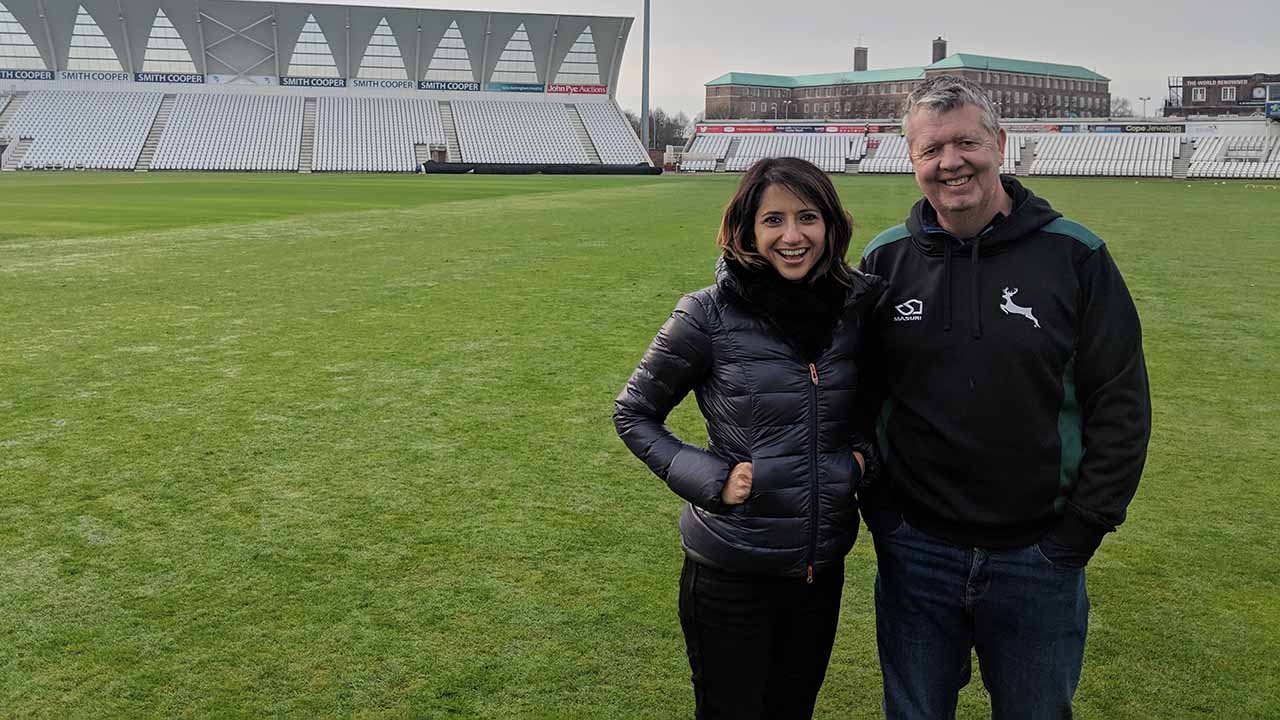 "You get heavier rain now," he said. "You get more torrential rain. Some days we've had 15ml within an hour, or 25ml in a day. It's a lot for the ground to cope with.
"It's alright if it rains for one day, but if it rains for two or three days it makes the ground saturated. That's when our drainage system really comes into its own."
Listen to the full BBC feature here (from 42 minutes)…
*******
Be there for every ball next year, including seven T20 Vitality Blast games, by joining our family as a Member. You'll also save up to £20 off England v Pakistan Royal London ODI tickets, have access to the exclusive Members' Pavilion and be invited to exclusive events such as the Christmas singalong. Learn more...
Alternatively, priced at just £100 for adults, £70 for seniors and £227 for a family of four, you can pledge your support by purchasing an Outlaws Season Ticket.
The season ticket will cover all scheduled home cricket in the T20 Vitality Blast and Royal London One-Day Cup, plus a priority purchase window for any knockout stage cricket at Trent Bridge.