After waiting the best part of 10 months for it, any game would have done nicely.
But the fact Paul Coughlin made his senior Notts debut against the Northamptonshire Steelbacks in a match where skipper Dan Christian scored the Club's highest individual score in T20 cricket, means it is one the returning all-rounder is unlikely to forget.
The 25-year-old – back in the fold after recovering from shoulder surgery to play as a batsman – was, like just about everyone else at the County Ground, Northampton, in awe at the 113 not out compiled by the Australian, which came from just 40 balls and contained no less than nine sixes and seven fours.
There aren't too many number sixes who score centuries in any form of one-day cricket, let alone T20, so with Christian not striding to the wicket until the 10th over, and the Outlaws up against it on 81-4, it made his innings all the more remarkable.
He eventually helped the team up to their fourth highest total in the shortest format – 219-6 – and overtook Riki Wessels' 110 against Derbyshire last summer to set a new individual scoring record for the Green and Golds. It really was, Coughlin insists, something special.
"I think most people who saw it would say Dan's is the best T20 knock they have ever seen – I know I would."
"I watched some of it from out in the middle when I was batting with, Dan and I think most people who saw it would say it's the best T20 knock they have ever seen – I know I would," he says.
"It was just the way that he scored so quickly without actually appearing to take too many risks because he was striking the ball so cleanly.
"He was hitting it so long, way over the ropes, that there wasn't a chance of him getting out, even with the fielders on the boundary. It was amazing to watch and be a part of.
"We already knew what DC could do and that he's capable of something very special because he's done it before.
"He came in at a very important stage of the game and to be able to turn it on at that point shows what a good player he is.
"When your captain is able to put his hand up like that in that situation and help you get your first win of the competition, it gives everyone else in the dressing room a lot of confidence."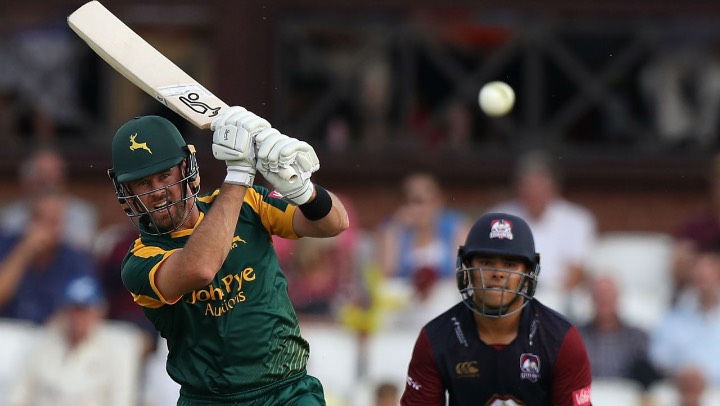 For Coughlin, the nod from Head Coach Peter Moores to play against the Steelbacks was the culmination of four months of hard work to recover form a shoulder injury sustained in the field in the final game of England Lions' tour of the West Indies.
It was originally expected that he would not figure until the closing weeks of the season, so to be available from almost the beginning of the Vitality Blast comes as a real bonus both for the Club management and the player himself.
However, the North-Easterner is well aware that it could yet be a while before he is bowling again. For now, though, he's just pleased to be back out there in the middle.
He says: "It was pure excitement once I was told I was playing – and then a little bit of nerves kicked in just before I went out onto the field, but it was a great feeling to be back.
"I couldn't get to sleep last night after the game and I was up first thing again this morning, which is not usually like me!
"It's a brilliant feeling to be back this early because I wasn't expecting it."
"It's just underlined how much I have missed it and now I just want to carry on playing more and more and gradually getting myself back into it.
"It's a brilliant feeling to be back this early because I wasn't expecting it and I have the hardwork of James Pipe (physio), Ross Herridge (former S&C Coach) and Liam Price (current S&C Coach) to thank for that.
"The first part of the recovery wasn't that bad – the worse part has been since nearing fitness, but the fact I have played earlier than I thought has cut the time that I have felt frustrated. I've not had to wait too long in the end.
"The big question is when I will bowl again, but we haven't put a timescale on my injury from the start and we won't do with this either. It will happen when it happens."
Although making just the four runs before being bowled by Ben Sanderson, Coughlin took two catches in the field, one an excellent diving effort to remove Rory Kleinveldt off the bowling of Luke Fletcher.
Despite what happened in the Caribbean, he insists he didn't have a moment's hesitation before taking off to pluck the ball from the air.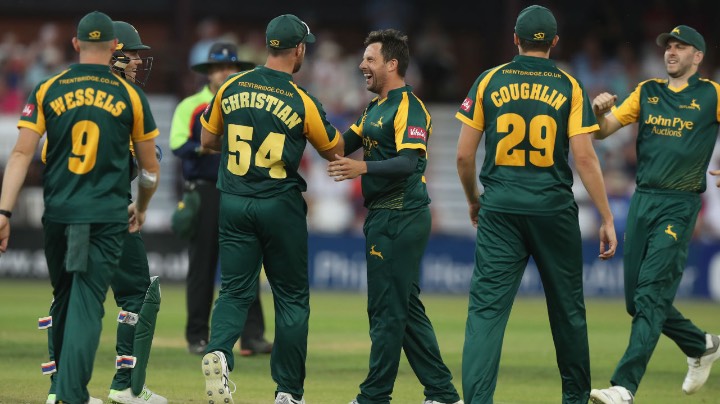 "It was good for me to take those couple of catches," says Coughlin. "It's just great to be back involved in some way and once I'd taken the first one it took the pressure off and I could relax a bit more.
"I kept saying to myself that I wouldn't dive around, but then the instinct kicks in! But I have been working with Pipey on controlling a dive and ensuring I have a softer landing and I'm sure if I'd taken that catch before that work, I would've had a lot heavier landing.
"With regard to my batting, I feel in pretty good nick and I've had a couple of decent scores for the second team coming into the T20s.
"I definitely feel capable of fitting into this side lower down the order and making runs when needed, so hopefully I can put some good performances in."
Having played once, Coughlin is now thirsty for more and has been named in the squad to face the Leicestershire Foxes at the Fischer County Ground, Grace Road tomorrow. The Outlaws' other debutant at Northamptonshire, Will Fraine, is also in that number.
"I definitely feel capable of fitting into this side lower down the order and making runs when needed, so hopefully I can put some good performances in."
Leicestershire opened with a victory over the Steelbacks as they successfully chased down 218 on Wednesday as their new skipper Colin Ackermann hit 66 not out.
However, the Foxes did not fare so well last night as they lost at home to Durham, being bowled out for 120 chasing 154 to win, as the visitors' Imran Tahir captured 4-14.
Both sides will know that a victory in this match will represent a good start to their Vitality Blast campaign and that a defeat will leave the loser with plenty to do.
Coughlin says: "They had a good win in their first game, but have then lost their next one, so they're in the same situation as us.
"It's the nature of T20 that the games can go either way and you can never take anything for granted, so we know we have to prepare right to play Leicestershire, as they are a good side.
"We came back strongly to win after the disappointment of losing our first game, so hopefully we can now keep that going in this match."
Notts Outlaws squad to face Northamptonshire Steelbacks: Steven Mullaney, Riki Wessels, Harry Gurney, Matt Milnes, Luke Fletcher, Matt Carter, Samit Patel, Tom Moores (wkt), Paul Coughlin, Will Fraine, Dan Christian (c), Ish Sodhi, Billy Root.
*************
Notts Outlaws are next in action at Trent Bridge on Tuesday 17 July against Durham Jets. Be part of it - secure your seats now...