Current and aspiring captains, including Nottinghamshire's Steven Mullaney, have attended a leadership course ahead of the 2018 season.
A total of 18 Professional Cricketers' Association (PCA) members were at the introductory course to effective leadership in a first for the organisation's Personal Development and Welfare Programme.
Notts' Assistant Coach Ant Botha also sat in one the one-day course at Edgbaston which was developed and delivered by international training providers, Dale Carnegie, and incorporated a number of sessions to encourage personal growth and empower the members.
Sessions looked at understanding the fundamental skills of good leadership and how attendees could draw upon their own experiences to improve themselves both on and off the field.
The course was significantly subsidised by the PCA, with 11 counties represented as well as the MCC Young Cricketers, with ECB Umpire Alex Wharf also attending.
"One of the biggest things is learning about different peoples personalities," said Mullaney.
"You are probably going to get to the same decision in the end; people just need different ways to get there.
"I'm looking forward to leading such a talented group of players. I've got some really close relationships with some of the lads, and at certain points of the year there will be some tough conversations, no doubt. Hopefully days like today will help me towards that."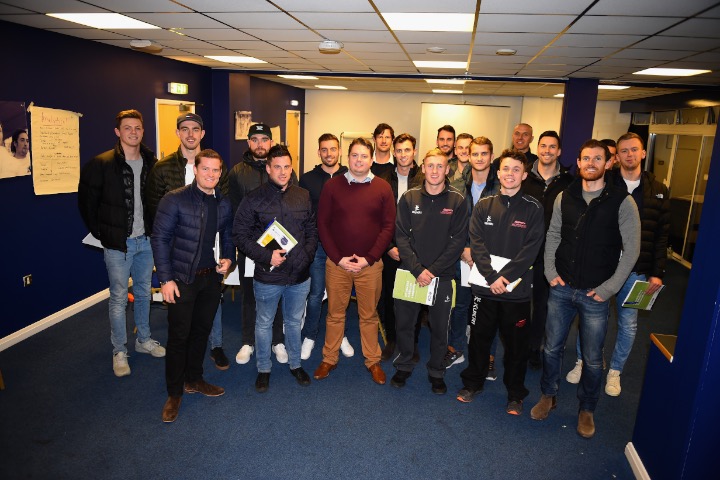 Yorkshire batsman Jack Leaning, 24, was one of the aspiring leaders in attendance and appreciated the opportunity to further his development.
"In the future, captaincy is something I'd love to have a crack at and there are a few lads in the room that have done that," said Leaning.
"The PCA are awesome for helping lads develop themselves. The stuff we have done today it doesn't really matter if you are in cricket or going into business, you can always transfer the skills across.
"You can always have a couple of things running alongside to try and facilitate your cricket as well and if they can cross over and help your cricket then it's even better."
Senior Trainer and Engagement Specialist Mark de Stadler delivered the course on behalf of Dale Carnegie and he explained the rationale behind the day.
"The real focus was about equipping players with a little more insight about how they can be more successful in leading and captaining teams themselves," he said.
"The day was about self-reflection, finding out about 'who am I' as a leader and as an individual and how we can work together as a team and not an individual within a team.
"We're hoping to give players insight and techniques so they can go back to their teams and start to put what we've talked about into practice. With anything, practice makes permanent."
PCA members in attendance: Billy Godleman (Derbyshire), Ryan Pringle, James Weighell (both Durham), Ruaidhri Smith (Glamorgan), Callum Parkinson, James Dickinson (both Leicestershire), James Harris (Middlesex), Steven Mullaney, Ant Botha (both Nottinghamshire), Lewis Gregory, Tim Rouse (both Somerset), Ben Brown (Sussex), Sam Hain (Warwickshire), Ed Barnard (Worcestershire), Jack Leaning (Yorkshire), Oli Smithson, Ben Brookes (both MCCYCs), Alex Wharf (ECB / ICC Umpire).
************
Vitality Blast tickets for summer 2018 are now on general sale. Secure you tickets by clicking here.