An unfortunate tweak of the knee in a pre-game football practice at Emerald Headingley may have temporarily sidelined bowling Coach Andy Pick, but the Nottinghamshire attack he prides himself on preparing and advising continues to fire on all cylinders.
The former Trent Bridge paceman had an operation on Tuesday to repair damaged cartilage, reluctantly forcing him onto the sofa to recuperate for a couple of days – cannily timed to fall in between home matches with Hampshire and, starting on Friday, Lancashire.
But even though his injury has restricted some of the normal training activities he would undertake, his charges have continued to excel in early-season conditions that, until last weekend at least, as the sun finally came and stayed out, have been to their benefit.
Jake Ball is the leading wicket-taker in Specsavers County Championship Division One with 25, Harry Gurney is third with 20, Luke Fletcher seventh with 16 and Stuart Broad, despite having played just two of the team's four matches, has taken ten scalps.
It has left Pick brimming with pride at the achievements of his 'cartel', and cheered him up significantly after what proved to be a painful trip to Leeds.
"What's been great is to see the lads continue to bowl really well, with their attention to detail and ability to stick to the plans."
"Bearing in mind I was about 20 yards away from anyone and was just jogging and changing direction, it's not much of a story to tell," admits Pick. "I wish I could say I was the victim of a Luke Fletcher cruncher, but it was all pretty innocuous.
"Luckily it hasn't affected things too much in terms of the coaching. I've still be able to drive having an automatic and get down in the nets and talk to the players and discuss things. It's just that I haven't been able to do fielding practice with the mitts, or anything where you have to change direction quickly.
"If there is a toss and we bat first then I might have an extra bit of time recovering going into this Lancashire game, but I'll be back down at the ground as soon as we get bowling, so I can't complain too much.
"What's been great is to see the lads continue to bowl really well, with their attention to detail and ability to stick to the plans we have come up with. It's one thing to come up with plans, but quite another to back it up by delivering on them.
"As was the case last year, when we also had James Pattinson available to us, we have shown great discipline and bowled to the conditions, bowling full and straight to bring bowled, lbw and catches behind the wicket into play.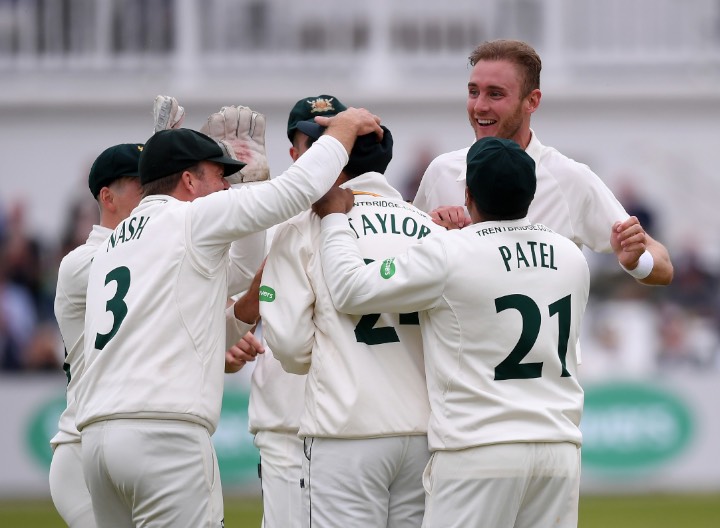 "We have talked a lot about not trying too hard at the end of a spell, even if you haven't got a wicket, and thereby letting the batsman get away. Instead, they have kept it tight in that last over or two and the bowler coming on has reaped the benefits."
Head Coach Peter Moores declared the victory over Hampshire – despite former Notts batsman Hashim Amla's second innings 112 – was as good a four-day win as he had seen during his time in county cricket as the Green and Golds regained top spot in Specsavers County Championship Division One.
Pick is also equally full of praise for the commitment and quality of the bowling during that game, which he felt was out of the top drawer.
He insists: "As a bowling unit, that is the best I have seen since I came in here as a coach. It was, I think, as close to getting an international class of attack in a county game.
"You have three seamers who have played for England in different formats and then a spinner in Samit Patel who has also played at the highest level and bowled at a miserly economy rate to keep the pressure on.
"We know Broady will eventually go back to England, but we feel we have a good stable of bowlers."
"Then backing them up you have Luke Fletcher who has earned his stripes several times over in county cricket and is excellent in the conditions we have seen in the early part of the season.
"There's also a good variety in there, with Harry's left arm and ability to bowl around the wicket, Stuart's international class, Bally's extra pace and bounce and Fletch's nagging line and length, together with Samit's ability as a spinner.
"You need to have those elements to challenge at the top end of the table and we know things can change at any moment with an injury, plus we know Broady will eventually go back to England, but we feel we have a good stable of bowlers."
Pick was lucky enough to bowl with the likes of club legends Sir Richard Hadlee and Clive Rice during the 1980s and says they are similarities to be struck between a four-pronged attack also including Kevin Cooper and the class of 2018.
He also draws comparisons in the way the two sets of bowling units have found the right length to bowl – and bond on and off the field.
"Like Bally and Broady, Richard and Clive were international class and then you had someone like Cooper, who kept the scoring rate down, asked questions of the batsmen and got people to nick off regularly, in the same way Fletch does now," Pick explains.
"They always pitched it a yard further up than other teams, who tended to get excited by the bounce there was then and try to rough you up. The current lads have also done an exceptional job in threatening the stumps and giving themselves a chance.
"Like us, this group is also very tight knit. They love being on the field together and off the field as well, which is why there was a picture of them together after the Hampshire win that has been doing the rounds. That's a genuine respect and appreciation for each other."
Lancashire come to Trent Bridge seventh in the eight-team table having lost their first two matches – including an opening game defeat by six-wickets to Notts at Old Trafford.
But the Red Rose County have been much-improved since then, getting the better of draws with Surrey and Somerset, and will be able to call on the services of Broad's long-time opening partner for England, Jimmy Anderson.
"For the pitch against Hampshire, the batsmen could score runs while there was a bit in it for the bowlers."
Pick expects his bowlers will once again be put to the test and adds: "It might get a bit tougher than in early season, and we saw it last week with what was a superb four-day wicket produced by Steve Birks.
"The batsmen could score runs while there was a bit in it for the bowlers, but they were made to work hard for their wickets, which is why the game finished on the fourth day after tea.
"It will probably be pretty similar against Lancashire this week, even though the pitch is on the other side of our square, and I reckon the bowlers can expect to have to out a decent shift in.
"But the general approach won't change for us, we want to challenge the batsman every ball and keep them honest."
Nottinghamshire squad to face Lancashire: Jake Libby, Chris Nash, Steven Mullaney (c), Stuart Broad, Riki Wessels, Harry Gurney, Matt Milnes, Luke Fletcher, Samit Patel, Tom Moores (wkt), Ross Taylor, Jake Ball, Billy Root.
*************
You can watch every ball of Notts' scheduled home matches in 2018 - including all seven Vitality Blast (T20) group games - by joining our family as a Member. Adult prices start from £38 and you can become a Member by clicking here.