Peter Moores enjoys a celebration after a major achievement with the best of them, but he's also keen not to live in the past and keen, instead, to look to the future.
That's why, while the start of a new Royal London One-Day Cup campaign sparks memories of last year's magnificent triumph at Lord's in the minds of many who follow the Notts Outlaws, the Head Coach has already moved on – as he frequently has to do.
After climbing to the top of Specsavers County Championship Division One in their first five games, for instance, the team's white kit and red ball have been stowed away for the time being in favour of the green uniform and white ball – and there is a definite change of emphasis.
In the nets, leaves and defensive pushes have been replaced by lofted drives and scoops; length balls and away swingers by yorkers and slow balls.
But the one thing that remains constant ahead of the Notts Outlaws beginning their trophy defence at Lancashire tomorrow afternoon and evening – and is demanded by Moores from his players – is a determination to improve and prepare in the right manner in order to maximise performances out on the field.
"The real challenge is at the front end of it (the switch from red to white ball) where we've only got a couple of days to get our heads around the skills needed for white ball cricket."
"The real challenge is at the front end of it (the switch from red to white ball) where we've only got a couple of days to get our heads around the skills needed for white ball cricket," explains Moores. "It's quite different, because the white ball doesn't move as much and the scoring rates are a lot higher.
"It's been made slightly easier by the schedule we've had in the past couple of seasons whereby we've played five Championship games and then had a run of eight Royal London games, so that we aren't switching balls quite so much with no time in between.
"I suppose one of the bonuses about being beaten early in the Lancashire (Specsavers County Championship) game, although hugely disappointing at the time, is that it has given us an extra day of preparation that we've topped up today at Old Trafford before getting underway tomorrow.
"Last year at Lord's was great, but it's gone. We are looking at only one thing now – this year, our team and where it's at. I've been around the track enough now to know that you can't get sucked into what has gone in the past.
"You have to focus on what you need for the future. Only then will you get to those points that create the special memories. They come off the back of a lot of hard work that has gone before it.
"The change of codes is a different format of the game and after playing red ball for a while, where it's been tough for the batters, for them to get a bit of freedom to go out and strike the white ball is something those players will be looking forward to."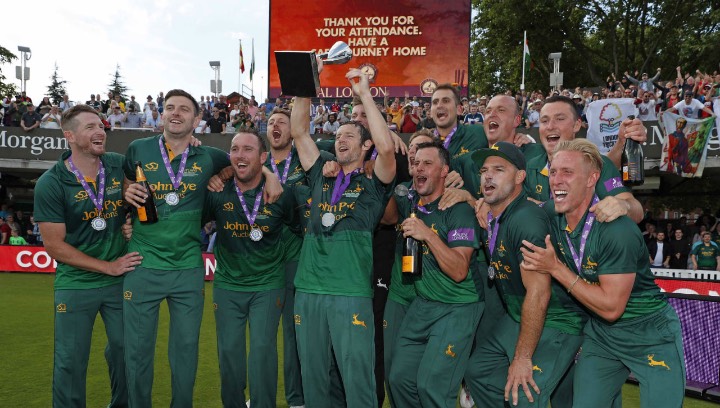 Notts were beaten inside three days by an innings and 67 runs by Lancashire last weekend, which has been widely acknowledged as well below their best.
But Moores is adamant that will have little effect on what happens in Manchester tomorrow – the scene of a six-wicket Notts four-day win in April.
Moores adds: "I don't think that has any bearing on this match. They had the better of one of the Championship games and we had the better of the other, but they were in a different format to what we've moved onto now.
"It's a quirk of the season that we are already playing them for a third time in such a short space of time.
"What we do know is they are a good team and a competitive side throughout the tournament, so it makes for a tough start for us, but we're looking forward to it because it's a lovely place to go and play and it's the start of something new, which is exciting for everyone."
"What we do know is that Lancashire are a good team and a competitive side throughout the tournament, so it makes for a tough start for us."
Notts will go into the fixtures without two big-name players in Stuart Broad and Alex Hales, who are unavailable due to other playing commitments.
Broad is preparing for England's first Test of the summer against Pakistan at Lord's which starts next Thursday, while Hales is still with Sunrisers Hyderabad in the Indian Premier League.
"Stuart, like all the players on England duty next week who have been playing county cricket recently, is not going to be around, so he will be one of the changes to the team," says Moores.
"We knew once Alex got a place in the IPL that he wouldn't be available for at least two games, and that if his Sunrisers team did well, as they are, then it might be the first five.
"We have to take that on the chin. Other teams will have a similar thing with people who are playing in the IPL, and it creates an opportunity for someone else.
"We'd love to have Alex in the side and there is no doubt that we are a stronger side with him in it because he's a very experienced white ball player now and has a great record in it, but we feel we have enough depth in the squad to cover for that.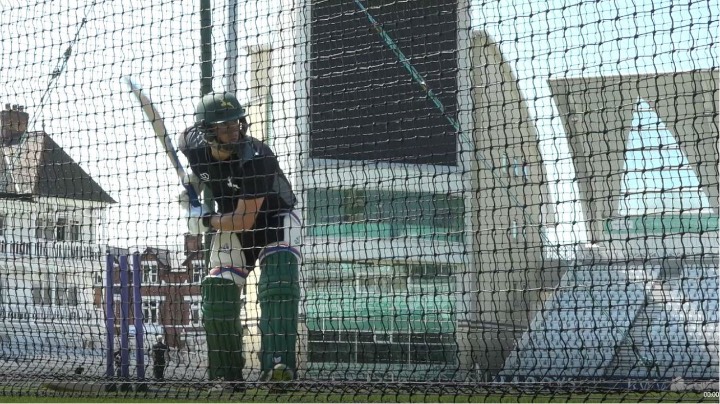 "Ross Taylor will be in for the first time in white ball for us, coming off a fantastic winter for New Zealand in that format.
"We have also got some really familiar faces who did well for us last year and have done so for a number of years such as Samit, Riki, Captain Steven Mullaney, Gurney, Fletcher Ball – some very experienced performers."
Notts, of course, won the Royal London One-Day Cup last summer with victory over Surrey as Hales hit a Lord's one-day best score of 187 not out and long-serving skipper ended a glittering limited overs career by lifting the trophy.
Moores knows that the Outlaws will be seen as a scalp as a result and have to be ready to respond.
He says: "We go in fully aware that we will be a targeted side in some ways because we have a good track record in this competition and played very well last year.
"We know that last season was last season – it's a new start."
"But we also know that last season was last season – it's a new start. We can take all the positives from then including the experiences of performing well under pressure to win that trophy, but to do that this year we will have to do the same.
"The first job is no different – to try to get enough wins to get through to the knock-out stages and we are looking no further ahead than that.
"The games come thick and fast – Thursday, Sunday, Wednesday, Sunday – they keep coming. The key is to try to get some momentum into it early but if you don't, as was the case with us last year when we lost the first couple, you know you can still get through.
"We will go to Lancashire and give it everything we've got."
Notts Outlaws squad to face Lancashire Lightning: Jake Libby, Chris Nash, Steven Mullaney (c), Riki Wessels, Harry Gurney, Matt Milnes, Luke Fletcher, Samit Patel, Tom Moores, Ross Taylor, Jake Ball, Will Fraine, Billy Root, Jack Blatherwick.
************
You can watch every ball of Notts' scheduled home matches in 2018 - including all seven Vitality Blast (T20) group games - by joining our family as a Member. Adult prices start from £38 and you can become a Member by clicking here.