Matt Carter is not a man who craves to be the centre of attention – the fact he found it uncomfortable walking in front of the rest of his teammates to take the applause of the Trent Bridge crowd following his debut 4-40 against Warwickshire on Sunday tells you that.
But that is not to say he freezes in front of a big crowd either. A domestic record home attendance of 14,357 - at Family Fun Day - might have fazed some, but it simply served to inspire the right-arm off-spinner.
Making his bow alongside fellow 'newbie' Jack Blatherwick, Carter was a picture of calmness and concentration as he was introduced in the 10th over with the scoreboard having already rattled along to 78-1 and Ed Pollock on 56 not out.
His pinpoint first over yielded just one run. His second brought the breakthrough wicket of Pollock, sparking a fist-pumping celebration, and setting the tone for more success to come.
Carter's further triumvirate of victims was no less impressive, either, with front line batsmen Sam Hain, Adam Hose and Tim Ambrose all attempting, and failing, to launch him over the ropes in the second half of the Warwickshire innings.
"I've been working trying to get everything right so I was in the best place possible position for when my chance came."
It was a performance that won high praise from Head Coach Peter Moores and was the perfect belated birthday present for Carter, who had turned 22 the day before.
"I did not like that bit at all, walking off at the end," admitted Carter. "I would just have rather walked off with everyone else!
"But at the same time it is a good feeling because you know you have done well and it's recognition for the work you put in for your performances.
"Playing second team cricket every week and doing well you are always knocking on the door, and the last three games I've had for the seconds I've probably bowled the best I've ever bowled.
"I've been working trying to get everything right so I was in the best place possible for when my chance came.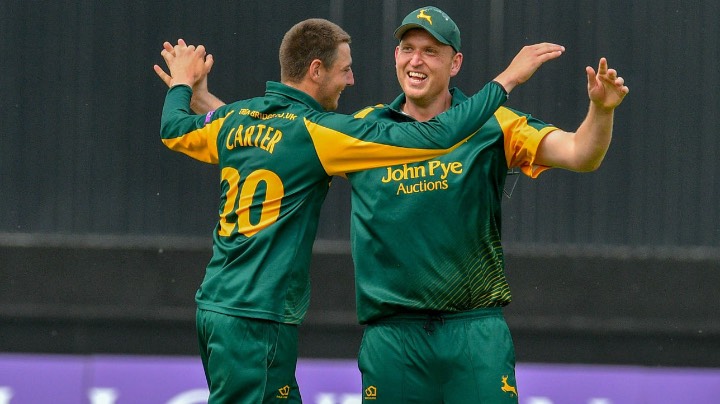 "Luckily, I managed to take it forward into that game and got some big players out. It was a good little result for myself overall, even if I was disappointed for the team with the result we got.
"I had to give it a good celebration for my first wicket, simply because it was my first one!
"But generally speaking I just had to keep my head as clear as I could. I always say I play a lot better under pressure and, against Warwickshire, I felt under pressure to show what I could do. I felt that was the perfect setting for me."
Being selected for the Outlaws first team was in stark contrast to the previous day, where Carter had played club cricket alongside Blatherwick for Papplewick and Linby, taking 2-25 in their Nottinghamshire Premier League victory over Farnsfield, for whom Assistant Head Coach Paul Franks scored a measured 67 not out.
That was just one match in what had been a hectic week for the Lincoln-born younger brother of former Notts paceman Andy, as he played on seven out of eight days in five different matches for four different teams.
"I worked it out and, including my 10 overs against Warwickshire, it knocked me up to 122 overs for the week."
Carter explains: "Leading up to my Outlaws debut, I had a one-dayer for Lincs (1-35 in victory over Northumberland) and then Monday to Thursday at Leicestershire I played in a Trophy game (2-27 in a five-wicket defeat) and then a three Second XI County Championship game (match figures of 5-170).
"I was pretty thankful of the rest day on the Friday, before the club cricket game and my senior debut at the weekend. I worked it out and, including my 10 overs against Warwickshire, it knocked me up to 122 overs for the week.
"It was a bit weird, the difference between playing Club cricket and then playing in front of 14,000 a day later. I spoke to a couple of lads before the match and asked them if they ever noticed the crowd.
"But I only noticed it when I was walking out onto the field. Once I was out there, it went completely blank and then once it had finished you come back into the real world and see everyone there watching."
Notts go into tomorrow's 50-over Royal London One-Day Cup game with Worcestershire Rapids sitting sixth in the North Group table, having won two, lost two and had one game abandoned.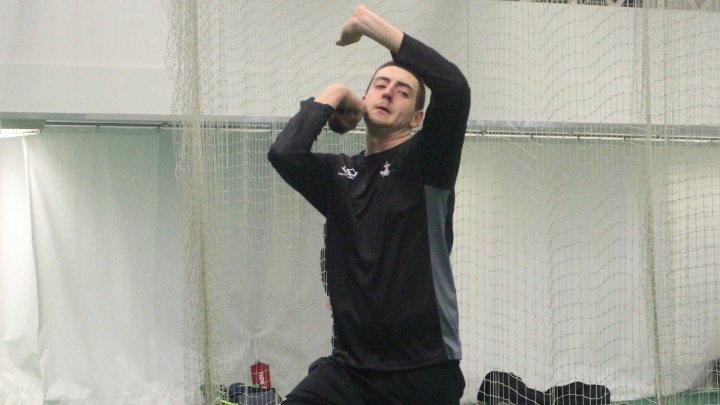 Carter and the Outlaws know that there is now only a small margin for error if the team are to secure one of the top three slots that will secure progress to the knockout stages.
"What we were saying after the Warwickshire game was that we want to win at least two more to put us in a decent spot," he says.
"But it is a very big game for us, especially as we're coming off the back of a loss, them having beaten us in this last year and them going well and topping the group this year.
"Retaining my place would be very nice, but I guess you're never certain of staying in the team with the talent available in our squad."
For their part, Worcestershire come to Trent Bridge having completed a record run chase for one-day cricket in England on Tuesday, responding to Leicestershire's 376-4 with 380-4.
"I think Alex coming back will be a massive for the squad and will give us that extra bit of firepower at the top of the order."
That was led by Australian debutant Callum Ferguson's brilliant 192 that contained five sixes and 21 fours.
Carter hopes that the return of Notts' own power hitter, Alex Hales, following a stint with Indian Premier League finalists Sunrisers Hyderabad, will give the Outlaws a timely boost.
He insists: "I think Alex coming back will be a massive boost for the squad and will give us that extra bit of firepower at the top of the order.
"With him in the side, you could be 5-1, but then still be 80-1 after the first 10 overs. It's just the way he goes about what he does – he can change the way a game is going in a moment.
"He is as good as anyone in one-day 50 over cricket in this country, so to have him back in your side is obviously a big plus."
Seam bowler bowler Harry Gurney, who was absent for the Warwickshire game, again misses out with a calf injury.
Notts Outlaws squad to face Worcestershire Rapids: Chris Nash, Steven Mullaney (c), Riki Wessels, Alex Hales, Matt Milnes, Luke Fletcher, Matt Carter, Samit Patel, Tom Moores (wkt), Ross Taylor, Jake Ball, Billy Root, Jack Blatherwick.
*************
You can watch every ball of Notts' scheduled home matches in 2018 - including all seven Vitality Blast (T20) group games - by joining our family as a Member. Adult prices start from £38 and you can become a Member by clicking here.