Putting Harry Gurney's KFC Big Bash League contract into perspective, it is quite the achievement.
Outside of the Indian Premier League, the BBL is the best attended, most high profile T20 competition in the world.
It's also worthy of mention that Melbourne Renegades, who have snapped up the Notts Outlaws left-armer for a seven game stint, are permitted just two overseas players in their team.
They could have picked almost anyone. They selected Gurney.
It's easy, of course, to point to finals-day heroics of 7-36 across two matches at Edgbaston in 2017 – or to the fact that no other player has topped 20 wickets in each of the last two Blast campaigns – as reason enough for such a deal to come Gurney's way.
The long-serving Outlaw, however, sees his shot at the domestic big time more as the result of near-on a decade's work.
"For the last seven or eight years, I've been a pretty consistent performer in T20," he said. "I've always prided myself particularly on my performances in the format.

"Winning the Blast in 2017 helped in terms of profile and I backed that up with another good season in 2018 – but it's been building for a few years."
Gurney's T20 international career with England was hard-earned but fleeting, limited to two appearances in 2014. He took three wickets with an economy rate below seven.
Since then, the standards that got him to that level have never dropped. A BBL call from the red half of Melbourne is due recognition.
The 32-year-old's seven match stint with the Renegades will commence against Brisbane Heat on Sunday 13 January.
It comprises seven matches plus, if applicable, the semi-finals and final. It's perfect timing in the eyes of the former Leicestershire man.
"You'd choose the second half of the tournament because it means the potential for playing knockout cricket," he said.
"I'll be there for the semi-finals and final if we get that far and that's exciting.
"During the remainder of my career, I'm desperate to win as much silverware as I can. This could be an opportunity to do that. Hopefully I can repay the Renegades' faith."
T20 cricket, of course, is a batsman's game. Bowling with the new ball and at the death can be a thankless task.
Not if you're Harry Gurney. His career with the Outlaws has been characterised by meagre economy rates, notable wicket hauls and a reputation for staying ice cool under the pressure of bowling at the death.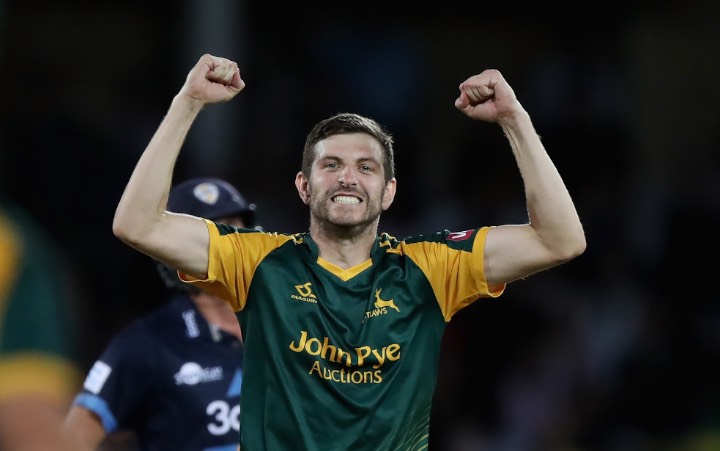 "There are two main things I focus on to mitigate the pressure," he said.
"One is preparation. I've always felt that if you're prepared, you'll feel confident.
"That comes with practice, but also being aware of the game situation when you're out there on the field.
"Come the 13th or 14th over, start thinking about your fields and who is likely to be in at the end.
"Secondly, see every pressure situation as an opportunity. You take pressure off yourself by reframing it in a positive light."
Ready to welcome Gurney to Melbourne will be his Notts Outlaws T20 captain Dan Christian – the 35-year-old having penned a three-year deal with the Renegades back in May.
With Christian – an Outlaw since 2015 – not due back in Nottinghamshire until next summer, it's a friendship Gurney is only too happy to rekindle a few months earlier than usual.
"I love playing under Dan. We've built a good relationship and he understands me as a bowler really well," he said.
"We've come to a point where we have really healthy debate and discussion out there on the field.
"He's also a really good partner on the team bus when it comes to doing crosswords! I might have to take a few over with me."
*************
Nottinghamshire memberships for the 2019 season are on sale now. Watch every Notts scheduled home game and enjoy a whole host of prestigious perks by clicking here...