Trent Bridge recently got its own dose of glitz and glamour when BBC's Strictly Come Dancing visited Nottingham.
Former Outlaw Graeme Swann will take part in this year's show and the spinner brought his partner Oti Mabuse to grace the hallowed turf.
After joining Nottinghamshire in 2005, Swann went on to have an illustrious career for both club and country, taking 739 First Class wickets for Notts and 255 Test wickets for England.
Swann was also a part of the 2009 Ashes winning side before being named ECB Cricketer of the Year in 2010.
However, his dancing partner Oti also comes with a level of pedigree of her own, after reaching the final with Danny Mac in 2016.
Oti will begin her fourth straight year on Strictly with Swann and both will be hoping to do even better than last year, when Oti finished eighth with Paralympian Johnny Peacock, and the South African can't wait to get going.
"I was really excited, I think from the first day at the beginning of July when all the celebrities meet the professional dancers I got on with him and we were partnered for the group dance for the longest so I kind of had a feeling we'd be together," she said.
Swann joins an illustrious list of cricketers who have donned their dancing shoes, with Mark Ramprakash and Darren Gough both winning the competition in the past.
In preparation for his dancing debut, the former Green and Gold has been seeking advice from his cricketing colleagues.
"I saw Mark Ramprakash the other day and he said just go in there, enjoy it, throw yourself into it and don't be afraid to mess it up, just smile because you're not expected to get everything right," he said.
"People want to see personality and they want to see Oti do well first and foremost, and just don't let her down so I'm going to make her proud."
Watch the full interview with Graeme and Oti in the video below.
When the duo visited Trent Bridge, some of Swann's former teammates in the form of Harry Gurney, Samit Patel, club captain Steven Mullaney and Jake Ball were around to lend their support - to a varying degree.
"He's got no chance," joked Patel, whilst both quick bowlers think Swanny has got what it takes to do well. You can see the full interview with the Outlaws below.
Before they got back training, Oti was presented with her very own Outlaws shirt by the Notts players.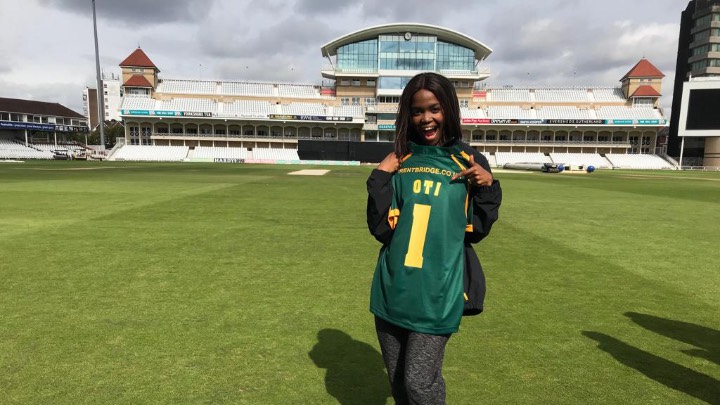 You can see what Graeme and Oti got up to at Trent Bridge and the couples first dance of the competition during the show tonight (Saturday) at 6.15pm on BBC One.
**********
Watch 39 days of cricket next year, with priority access to international tickets by joining our family as a Nottinghamshire Member. Click here to find out more...