We can't wait to welcome you this weekend for a heavyweight bank-holiday weekend clash between Notts Outlaws and Yorkshire Vikings on Sunday 25 August.
The Outlaws take to the field at 3.30pm, with Lougborough Lightning taking on Lancashire Thunder in the KIA Super League from 11.30am.
Should you be thinking of visiting, you can be happy in the knowledge that you will be visiting a venue frequently voted the best spectator experience in the country by cricket supporters, and one that holds a TripAdvisor Certificate of Excellence.
This guide will give you all the information you need to make the most of your visit, including details of:
Ticketing Information
You can enter the ground at any of our gates (situated on Bridgford Road, Radcliffe Road, Hound Road and Fox Road) by simply presenting our friendly Stewards with your valid match ticket, print at home receipt or Membership card.
Seating is unreserved, meaning you are welcome to sit anywhere in the ground, with the exception of the exclusive seating in front of the Pavilion, which is for Members only.
Tickets In Advance
Advance tickets for this match are priced at £19 for adults, £9 for juniors (Under-16s), £14 for senior citizens (Over-65s) and Under-21s, and £40 for a family ticket (two adults and two Under-16s). A group discount is also available should you wish to buy ten or more tickets, with each ticket costing £14.
Tickets must be purchased by 11.59pm on Saturday 24 August for these prices to be valid.
There are three different ways to purchase tickets in advance:
- Click here to buy your tickets online...
- Call the Ticket Hotline on 0115 899 0300
- Visit the Ticket Office in person
Tickets On The Day
You can purchase tickets from the Ticket Kiosk next to the Trent Bridge Inn (to the right of the pub as you look at it). On the day prices are £24 for adults, £10 for juniors (Under-16s), £15 for senior citizens (Over-65s) and Under-21s, and £50 for a family ticket (two adults and two Under-16s).
Ticket Office & Hotline Opening Hours
Our ticket office is open Monday to Friday from: 9.30am-4.30pm.
The ticket office on the day will be open from 9.30am and for 30 minutes after the game should you wish to buy tickets for future matches.
Ticket Collection
Anyone needing to collect tickets on the day of the match can do so at our Ticket Collection Point at the ground, adjacent to the Hound Road turning opposite the Co-op. Our friendly Stewards will be on hand to direct you.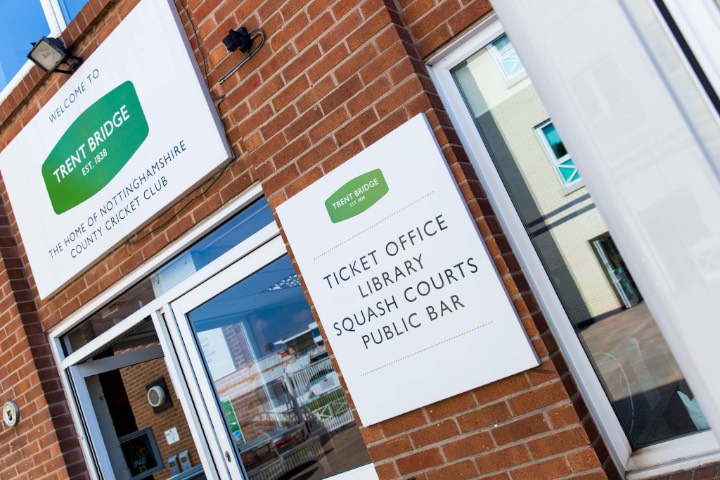 Hours of Play
Gates open at 10.30am, an hour before the start of play between Loughborough Lightning and Lancashire Thunder.
Play in the KIA Super League clash begins at 11.30am, with an interval at 12.45pm before the second 20-over innings begins at 1pm.
The first game of the day is scheduled to finish at 2.15pm, with the Outlaws beginning their match at 3.30pm.
There will then be a 15-minute interval at 4.45pm, before the second innings takes place between 5pm and 6.15pm, or until the match reaches its conclusion.
Trent Bridge Cricket Ground is situated in West Bridgford, in very close proximity to both Nottingham Forest and Notts County Football Clubs. Our postcode is NG2 6AG.
As you approach, you can't miss the circular floodlights.
We are a couple of miles from Nottingham City Centre, a mile or so from the train station, and our city is blessed with one of the best public transport networks in the UK.
Car Parking And Travel Information
Car Parking for spectators is available at Notts Sports Ground, Lady Bay (postcode NG2 5AA) and Bridge Field (postcode NG2 6AP), priced at £5 for ticket holders (£2 for Nottinghamshire County Cricket Club Members). Both of these car parks are around a five-minute walk from the ground.
Alternative parking can be found in the Nottingham Forest Car Park, also priced at £5 or £2 for Members. Access for this can be gained off Lady Bay Bridge (NG2 3HF).
Bicycle Parking
Supporters planning to take their bikes to Trent Bridge will be able to utilise the facilities within the Bridge Field Car Park on Bridgford Road. Please remember to bring a chain to secure your bike.
Bike parking will be available from two hours before scheduled start times until an hour after close of play.
Kindly note that bikes are not allowed inside the ground for this fixture.
Travelling By Tram
The Queens Walk and Meadows Embankment tram stops are located around a 20-minute walk from the ground, with the route from the Meadows Embankment stop proceeding along a pleasant stretch of the River Trent. Alternatively, a stop at Nottingham Railway Station can be found just a 20-minute walk away.
Anyone travelling from outside the city to use the tram can also take advantage of NET's free park and ride facilities.
As an added incentive to take the tram, NET will be running its return event ticket offer for all match ticket holders and Nottinghamshire County Cricket Club members and season ticket holders. To take advantage of the deal, fans need to select the Event Ticket option from the ticket vending machine before boarding the tram, and make sure they have their match ticket to hand for inspection. Please note that the price for the event ticket has increased to £2.50 from Sunday 25 August.
Alternatively, you can also purchase a group ticket for £5, which is for up to two adults and three children (under the age of 19).
To help plan your journey, visit www.thetram.net
Complimentary NET Tram Shuttle Bus Service
Vitality Blast match ticket holders who travel into Nottingham on the tram, and those planning to buy a ticket for the match on the night, can take advantage of a free shuttle bus service. Non-tram users attending these matches can also use this service for just £2 return.
The service, running in partnership with Skills Coaches and Nottingham Express Transit (NET), will depart from the bus stop on Arkwright Street, which is just a short walk from Nottingham Train Station's main or Queens Road exits/entrances.
Buses will then drop off near the Trent Bridge Embankment, which is just a few minutes' walk over the bridge to our ground.
Buses will leave the Arkwright Street bus stop (near Nottingham Train Station) from 1.30pm and will run every 10 minutes until the Outlaws match starts at 3.30pm.
The return service will resume and pick-up from the same Trent Bridge Embankment bus stop at the end of the match. For more information, you can download a map here.
Travelling By Bus
Regular bus travel is available to the ground, with bus stops situated on Bridgford Road and Radcliffe Road.
To plan your bus journey visit www.nctx.co.uk/cricket
Travelling By Train
The nearest railway station is Nottingham Station, less than a mile from the ground. Up-to-date information on the train services passing through the station can be found on the National Rail Enquiries website.
Regular bus services run between the station and the ground.
Download Our Map
If you've never been to Trent Bridge, or aren't that familiar with the layout of the ground, you can download a printable map here.
Help on the day
Our stewards and volunteers are a very friendly bunch so should you need any help during your time at Trent Bridge, please ask them and they'll be delighted to help.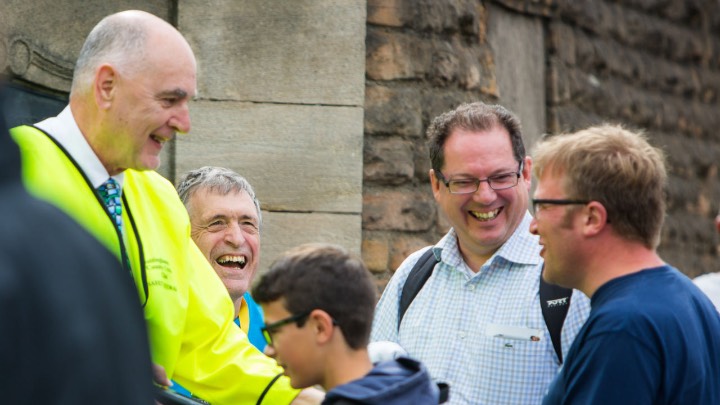 Public Wi-Fi
New for 2019, public Wi-Fi is available throughout Trent Bridge, which you are very welcome to use at your leisure.
Simply connect to The Cloud from the available list of wireless networks and follow the sign-in or login instructions.
Should you experience any technical difficulties, if you are able to access the internet via other means (such as 4G), helpful guides are available at www.sky.com/wifi or you can email wifiuser@sky.co.uk
Alternatively, the phone number to call is 0844 824 5000.
Our friendly staff will, of course, endeavour to assist you should you struggle with the process of connecting your device to the Wi-Fi.
However, we're sorry to say that we're not able to assist with technical issues. This can only be done via the process with Sky above.
Accessing Match Commentary using Public Wi-Fi
Our free Wi-Fi also provides you with the opportunity to enjoy full match commentary of Notts Outlaws from the BBC without worrying about using the data on your phone.
After connecting to The Cloud, go to bbc.co.uk/cricket when the game is in play and follow the links to the live commentary of the game.
Trent Bridge Shop
Don't forget to have a look around our new Club Shop, on the Radcliffe Road concourse, which offers a range of Outlaws and Trent Bridge merchandise for purchase.
Small Retail Outlets
For your convenience, additional Trent Bridge retail outlets will also be in position next to the Ticket Office alongside the Pavilion, in the Trent Bridge Inn Courtyard, behind the Yu Energy Stand and on the Radcliffe Road Stand concourse. The shop behind the Yu Energy Stand will be open from 2pm.
Scorecards are available at the Ticket Office, Radcliffe Road Reception and Trent Bridge Shop at the nominal price of 50p.
Toilet Facilities
Ample toilet facilities are located, and well signposted, in various locations around the ground. A Mobiloo accessible toilet will be available behind the Yu Energy Stand.
Baby Changing Facilities
Changing facilities are available in the Members' Pavilion disabled toilets, as well as in the squash complex ladies' toilets (access via the Ticket Office near the back entrance to the building), the William Clarke Stand ladies' toilets, the Hound Road ladies' toilets and the first-floor toilets on the East Wing of the Radcliffe Road Centre. There are also facilities in the accessible toilets on the second and third floors inside the Radcliffe Road Stand. Please feel free to ask any steward for directions.
The squash complex changing rooms can be made available upon request from a steward as further baby changing facilities accessible to men, or as a quiet feeding area.
Accessibility Information
Mobiloo
A Mobiloo accessible toilet, with an adult-sized changing bench and hoist, will be available behind the Yu Energy Stand.
Wheelchair viewing areas
Wheelchair viewing positions are available in front of the William Clarke and Smith Cooper Stands, as well as the Hound Road Upper, Radcliffe Road Lower and the top of the Smith Cooper Stand.
If you have any questions, please feel free to ask your nearest steward, volunteer or member of staff, who will be delighted to assist you.
Borrow a wheelchair
Spectators can borrow wheelchairs from the Dixon Gates near to the Ticket Office, adjacent to the rear entrance to the Pavilion - or from the Radcliffe Road gates - should they be required to assist with mobility.
William Clarke Family Stand
The William Clarke Stand is Trent Bridge's designated alcohol-free family zone for T20 cricket and you'll find this stand nestled in-between the Radcliffe Road End and the Smith Cooper Stand.
Within this seating area, there's plenty to keep children entertained, with free face painting from 2pm and regular visits from our mascot, Nuts the Squirrel.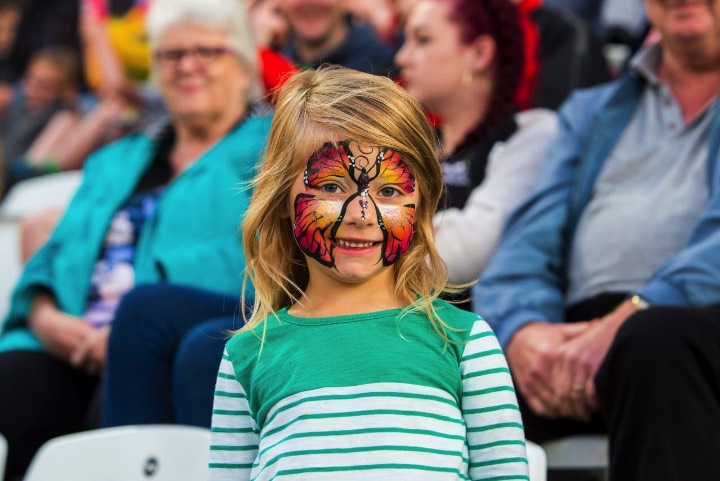 Matchday Activities
A host of entertainment will be on offer from the moment gates open at 10.30am, including big-match build up on our two big screens hosted by East Midlands Today's Colin Hazelden.
If the explosive on-field action isn't enough, we are also laying on an array of other family-friendly entertainment.
We are delighted to welcome critically-acclaimed soprano Lizzie Jones to Trent Bridge to sing the Outlaws onto the field. Read more about Lizzie's role in a quest to place a defibrillator in every cricket club in Nottinghamshire here.
English Welterweight Champion boxer Ekow Essuman will also be joining us on the field, as will West Bridgfordians Cricket Club, who will be celebrating their women's softball trophy win.
The BatFast cricket simulator will be situated in the TBI Courtyard, allowing people of all ages and abilities to have a go at batting.
White Post Farm's animal roadshow will be situated behind the Smith Cooper Stand, while John Pye will also be in attendance with a range of giveaways.
Families can visit our face painter, urban artist, bouncy castle, collection of garden games and colouring station in the Woodhead Hall, which can be found behind the Larwood and Voce Stand.
Balloon modeller Mrs Sparkle will also be roaming the ground.
After each match, supporters will have the chance to collect autographs from the players on the field of play.
Loughborough Lightning will sign autographs at the conclusion of their game in front of the Smith Cooper Stand, while the Outlaws team will sign autographs in front of the Pavilion once their game has finished. You can pick up 'My Cricket Heroes' autograph cards at various points around the ground to collect all the players' signatures.
Finally, you won't be able to miss our entertaining in-ground pyrotechnic displays, which we use to celebrate the Outlaws' boundaries and wickets.
All of the above entertainment is free of charge. Please ask one of our friendly Stewards or T20 Volunteers should you require any further information.
Click here to download the ground plan.
Junior Wristbands
Spectators visiting with children can take advantage of our free wristband system. Simply collect your band from one of our gate Stewards or volunteers, or alternatively ask a member of staff on the Radcliffe Road Reception or Ticket Office.
On the reverse of your wristband, where details are well hidden from view, simply complete the following information:
• Parent/guardian's name
• Contact phone number whilst in the ground
• Your stand and seat location
• Date
These details will then help a steward reunite you with your child should you become separated or should he or she get lost around the ground.
It is, we hasten to add, very rare for parents and children to become separated at Trent Bridge, but it of course makes very good sense to have a procedure in place.
Food and Drink
A range of outlets, serving locally-sourced food, will be situated around the ground for you to enjoy and a number of bars will be serving hot and cold, alcoholic and non-alcoholic beverages.
From 10.30am, you will be able to purchase food and drink from the Parr Bar, Scoreboard Bar, Hound Road bar and the Cricketer's Suite, while members' facilities will also be available in the Pavilion.
The remainder of our bars and food outlets will then open between 1pm and 2pm.
You can download the ground plan here.
Contactless debit/credit cards are accepted at all bars around the ground. Please note that some bars will be card only.
Trent Bridge Inn Courtyard
Sylvester & Green Pork, purveyors of British Pork
The Grill handmade burgers
Catch of the Day Fish & Chip Shop
Veg'an'love vegetarian food, offering burgers, naan bread pizza and chips
Taco & Sushi
Ice Cream van
The Sound Bar (card only), serving draught beers, where live music will be playing on the rooftop stage before play and during the mid-innings interval.
Clarke's Crafty Ones (one card only till, one cash/ card till) – serving premium draught & bottled craft beers
The newly-refurbished Parr Bar, serving draught beers and real ales, soft drinks and hot drinks, and Cornish Pasties.
Radcliffe Road Concourse
West and East Bars serving draught beer, wine, Pimm's & soft drinks (please note that the East bar will be card-only).
Ice cream van
Ostrich Burgers
Campervin, serving a selection of wines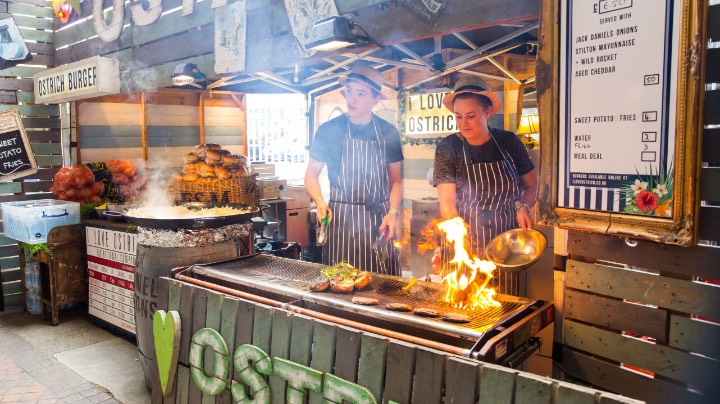 Radcliffe Road Stand
The Cricketers' Suite Restaurant, on the first floor of the Radcliffe Road Stand, is open to all and serves hot and cold food to eat-in and take-away, including vegetarian, gluten free and halal options, as well as a variety of alcoholic and non-alcoholic drinks.
Two bars situated on level three (one card-only till, one cash/ card till).
Two draught beer bars on level five.
Scoreboard
Bar serving draught beer, wine, hot drinks, soft drinks and ice cream.
Yu Energy Stand concourse
Bar (six card-only tills, two cash/ card tills) serving draught beer, wine, Pimms and soft drinks.
Gallops Farm handmade burgers and sausages
Ice Cream van
Big Melt Cheese, serving gourmet cheese toasties
Hound Road Stand
Bar serving draught beer, wine, Pimm's, soft drinks and ice cream.
Greene King bar
Squash Bar
Bar serving a selection of draught beers and real ales.
Dixon Gate Car Park
Craft London bar, serving draught beers
Rustic Crust, serving wood-fired pizza
Smith Cooper Stand concourse
Spirit and wine bar
Bar serving (four card-only tills, two cash/card tills) draught beer, wine, Pimm's and soft drinks
Ice Cream van
Craft London bar, serving draught beers
Bringing Your Own Food & Drink (No Glass Or Cans Please)
You're welcome to bring your own food, but kindly ensure that any food or soft drinks are in plastic or cardboard containers.
It is not permitted to bring alcohol into the ground, and this also applies to Members for Blast matches. Cans, glassware or metal cutlery are also not allowed on site.
Recycling your beer cups
Beer will be served in branded, reusable cups, with spectators paying a £1 deposit. Each drink will be served in a fresh cup, with no deposit required in exchange for the existing vessel.
Supporters have two options in terms of what to do with their final cup of the day:
Take it home as a souvenir.
Return it to the bar and regain your £1 deposit.
Kindly note that beer cup returns will be accepted from over-18s only.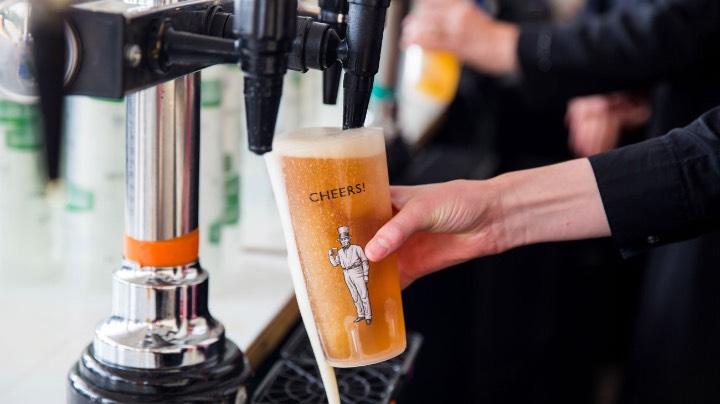 Multi-faith Room
If you want to get away from the hustle and bustle to pray, a multi-faith room is available in Squash Court Two within the Ticket Office building. Please see a steward or volunteer if you need directions.
Cameras and mobile devices
Please note that the use of any cameras, mobile devices or any electronic equipment for the recording, transmission or communication of match footage, details, statistics, images (on any platforms including but not limited to websites and social media) etc, is not permitted, other than with the proper accreditation. All ground regulations apply.
You can, however, take pictures for your own personal use, providing you do not use specialist equipment such as telephoto lenses, tripods or mono pods.
Accredited photographers will be present during the match and will be taking images for use on our printed marketing materials and digital channels. If you or anyone in your party would not like photographing, please inform our photographer.
You can view a full list of ground regulations here.
Smoking Policy
Designated smoking areas are assigned in various concourse areas, but smoking (including e-cigarettes) is only permitted in these areas, so please refrain from smoking in your seat.
Re-entry to the ground
If you need to leave the ground at any point, you will need to scan in and out using your match ticket.
Weather Forecast
View the latest weather forecast here…
The weather can take turns during the day, so please bring clothing to cover all eventualities. As it is forecast to be a scorcher, please bring sun cream and consider wearing a hat.
Exchanges and refunds in the event of an early abandonment
If play is restricted to 9.5 overs or less and no result is obtained, you will be entitled to a full refund on your ticket. If your ticket has been purchased in advance, this will be refunded automatically to the relevant credit or debit card.
Tickets purchased on the gate can be returned to the ticket office, after the day of the game, for a full refund. Alternatively, you may prefer to exchange for any other home regular season match during the 2019 season (subject to availability).
If 10 overs or more are played but no result is obtained, please feel free to exchange your match ticket - after the day of the rained off game - for any other regular season match at Trent Bridge during the 2019 season.
Kindly note, we require ticket exchanges to have been made in advance of the day of your chosen fixture. This policy applies only to paid-for match tickets.
Following the Action Online
Can't make it to the ground? We offer the perfect matchday companion...
When the match is in play you can access our live page with BBC commentary and a full scorecard by clicking here...
You can also find regular live updates on Twitter and Instagram.