Notts Outlaws host Durham tonight (30 August) for the final match in the group stages of the Vitality Blast as the green and golds look to secure a home quarter-final.
The Outlaws have enhanced their reputation as being one of the most successful white-ball sides of this decade by reaching the knockout stages for the ninth time in 10 years, but go into this fixture knowing that victory will also guarantee their eighth home quarter-final in that period.
Durham have won four and lost seven of their completed matches this season and can no longer reach the next round.
Head-To-Head
This will be the 29th occasion on which Notts Outlaws and Durham have faced each other in T20 cricket, although four of the matches were abandoned without a ball being bowled, most recently for the scheduled fixture in the north-east three weeks ago.
Of the completed contests, Notts have recorded 13 victories and Durham have won 10 times.
At Trent Bridge the head-to-head sits in favour of the Outlaws, who have won on eight occasions and lost four, with a further scheduled meeting (in 2016) being abandoned.
Results at Trent Bridge for T20 meetings between Notts & Durham
The Outlaws' leading performers with bat and ball are in brackets:
2004 NOTTS WON BY 3 WKTS (R Logan 2-7, K Pietersen 67)
2006 NOTTS WON BY 52 RUNS (D Hussey 39, M Ealham 39*, C Shreck 3-36)
2008 NOTTS WON BY 23 RUNS (S Patel 56, R Ferley 3-17)
2009 DURHAM WON BY 8 RUNS (S Patel 2-32, W Jefferson 42)
2010 NOTTS WON BY 4 WKTS (S Patel 2-15, D Hussey 47*)
2011 NOTTS WON BY 54 RUNS (A Hales 67*, S Mullaney 3-26)
2012 NOTTS WON BY 41 RUNS (A Hales 88, A Carter 2-31)
2013 DURHAM WON BY 3 WKTS (J Taylor 54, H Gurney 3-26)
2014 DURHAM WON BY 3 RUNS (S Mullaney 4-25, M Wessels 26, S Mullaney 26*)
2015 NOTTS WON BY 15 RUNS (M Wessels 67, L Fletcher 2-29)
2016 MATCH ABANDONED
2017 NOTTS WON BY 5 WKTS (S Patel 2-23, A Hales 95)
2018 DURHAM WON BY 34 RUNS (H Gurney 2-23, M Wessels 42)
History
2003
On the very first day of T20 cricket in this country, the opening match of the new tournament featured Durham at home to Notts.
The game was played at Chester-le-Street on 13th June 2003 and it was Durham who emerged victorious, with a six-wicket triumph.
Jason Gallian skippered the Outlaws and led the charge with an innings of 62 as his side posted 157 for seven. Opener Nicky Peng led the response with an innings of 49, as the home county cantered to their target with five balls to spare.
QUIZ QUESTION: How many of the 22 players can you name that featured in the inaugural T20 match between Notts and Durham in 2003?
2017
Alex Hales came within one big hit of a world record, making 95 from only 30 deliveries. The Outlaws' opener was caught trying to hit the six that would have tied Chris Gayle's existing record for the fastest T20 hundred.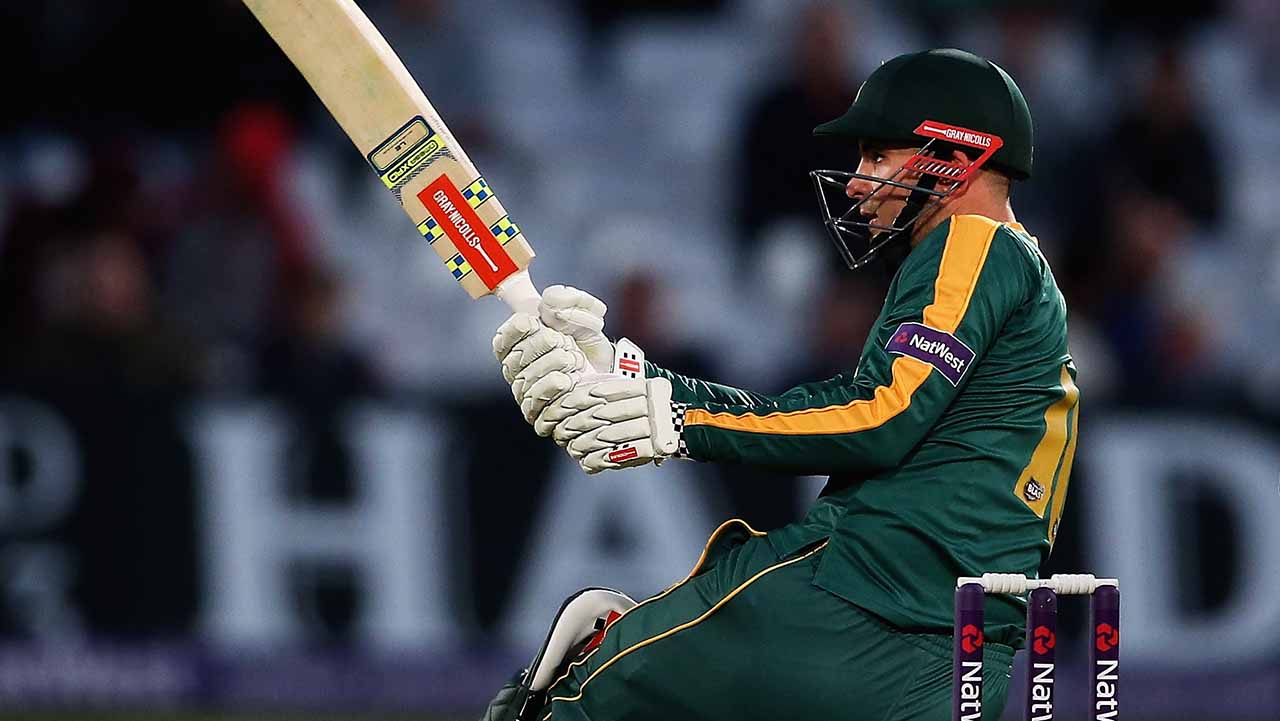 Hales and opening partner Riki Wessels did break one record though, with the pair racing to 106-0 after only six overs – the most runs ever scored in the powerplay overs of a T20 match.
Durham had scored 183-7 earlier, with Michael Richardson making 53 and their captain, Paul Coughlin, making an undefeated 42.
Coughlin, now with Notts, was a central character in the second over of the Outlaws' chase.
Usman Arshad was warned out of the attack after sending two beamers (he was withdrawn with the extraordinary figures of 0-0-5-0).
Hales then hit two fours and a six as Coughlin stepped in to try and complete the over. Alas, he damaged a finger trying to stop a Hales drive and Jack Burnham had to finish the over – the only instance of three bowlers being required to complete one domestic T20 over.
When he fell, having hit 9 fours and 9 sixes, Hales was first out with the score on 126-1 after only 7.1 overs.
The home side got over the line to win by five wickets with more than six overs to spare.
Played For Them Both
Nine cricketers have represented both Nottinghamshire and Durham. The first to do so was wicketkeeper Chris Scott, who played 63 times for Notts between 1981 and 1991, then moved north to join Durham for their debut season in the County Championship.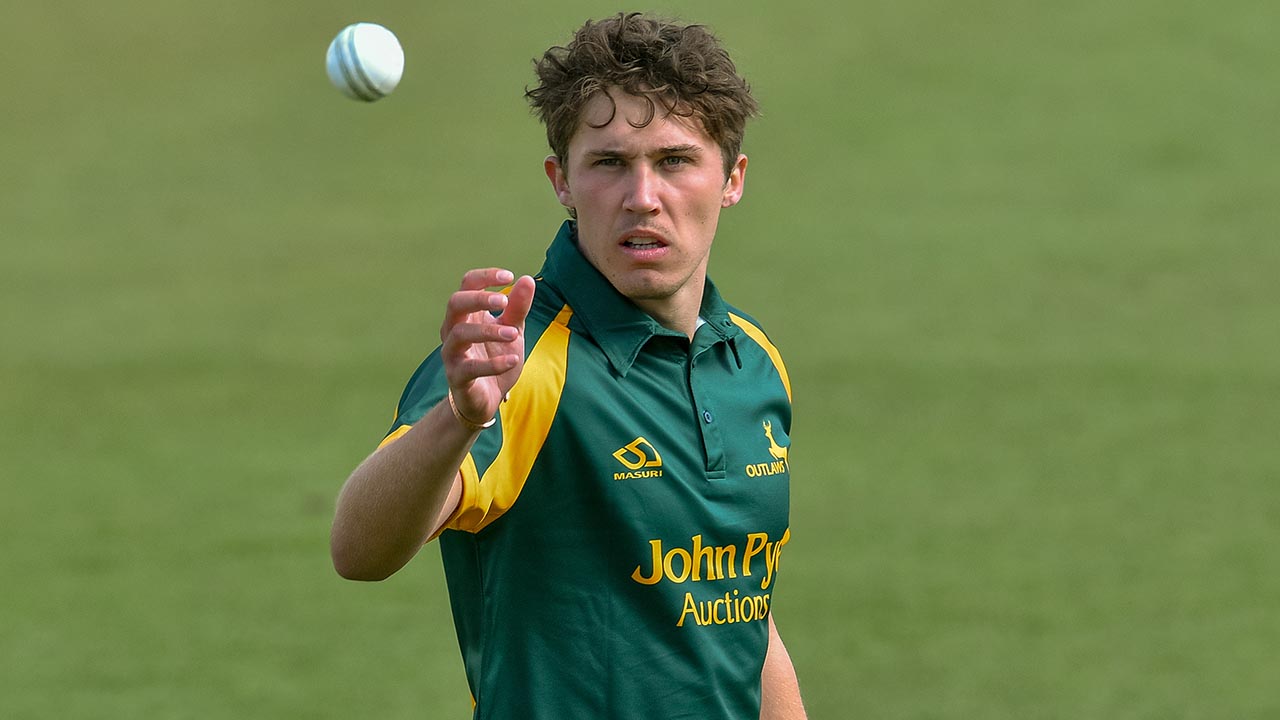 The eight others to have represented both Notts and Durham are Will Gidman, Mark Saxelby, Nathan Astle, John Morris, Will Smith, Imran Tahir, Mark Davies and Paul Coughlin.
Stats (for Notts v Durham in T20)
Highest Team Total | Notts 213-4 (Trent Bridge 2011), Durham 187-8 (Chester-le-Street 2011).
Lowest Team Total | Notts 112 (Chester-le-Street 2016), Durham 114-5 (20) (Chester-le-Street 2012).
Highest Individual Innings | Notts 97 MH Wessels (Chester-le-Street 2015), Durham 98* T Latham (Trent Bridge, 2018).
Best Bowling | Notts 4-25 SJ Mullaney (Trent Bridge 2014), Durham 5-26 ME Claydon (Chester-le-Street 2009).
Did You Know?
Both Alex Hales and Luke Fletcher made their T20 debuts in a Notts Outlaws v Durham fixture at Trent Bridge. In that 2009 match – 10 years ago – Hales failed to score but took a catch to dismiss Phil Mustard, giving Fletcher (2-23) his maiden wicket.
QUIZ QUESTION – Answer
The teams for the inaugural T20 match between Notts and Durham in 2003 were:
Notts: Jason Gallian (capt), Usman Afzaal, Guy Welton, Kevin Pietersen, Bilal Shafayat, Paul Franks, Gareth Clough, Wayne Noon (wkt), Richard Logan, Andrew Harris, Stuart MacGill.
Durham: Nicky Peng, Phil Mustard (wkt), Vince Wells, Ash Thorpe, Gary Pratt, Jon Lewis (capt), Gordon Muchall, Ian Hunter, Nick Phillips, Neil Killeen.
*******
There is just one further opportunity to catch the Outlaws in T20 group stage action at Trent Bridge this summer, with Durham the visitors under the Friday night lights on 30 August.