Luke Fletcher and Jake Ball, Nottinghamshire's experienced fast bowling duo, don't feel sure of their place in the team; so stiff is the competition for places at Trent Bridge.
The homegrown pair have their sights set firmly on Yorkshire's visit to Trent Bridge for the first game of the season.
With a little over two months to go until the season's curtain raiser, Fletcher joined host Ball and Performance Psychologist Matt Thompson on the Talk of Trent Bridge podcast, where the conversation quickly turned to discussing their goals for the season.
"The benchmark for me is to be in the first team of the season," said Fletcher. "After that I feel like the spot is mine to lose and the responsibility is on me to take it on.
"After that all I really want to do is play as much as I can. I want to play all three formats. I don't really say 'I want to take X many wickets' because I think if you are playing all three formats regularly you are doing something right. I just love playing."
Jake Ball added: "We had Mull (Steven Mullaney) and Mooresy (Peter Moores) on last week and we said how quickly the season comes around after Christmas.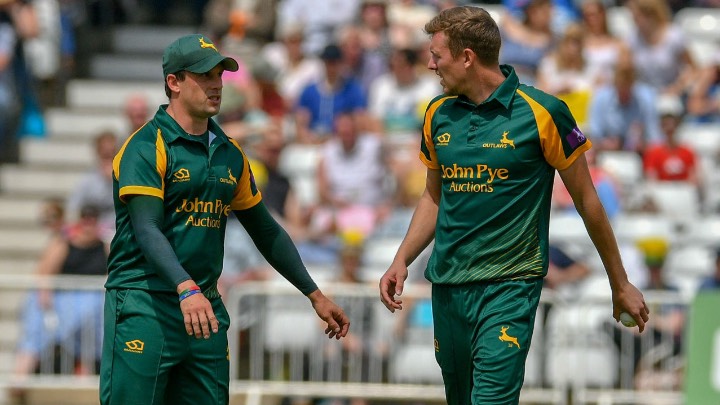 "Even though not everyone is around now, if you're not switched on when you get to the bowling and pre-season camp, with the likes of Broady (Stuart Broad) coming back you start to have a lot of competition.
"If you haven't done your work you can find yourself out of the side for that first game."
For Fletcher, the off-season provides the opportunity to hone the skills he needs to be part of a side challenging across all three fronts.
And Thompson believes there is no better time of year to be involved with the Club, as the players put in the hard work so they're ready to express themselves come game time.
"This time of year, you start looking at who is available so for me it starts to get quite competitive," said Fletcher.
"I don't know if every player feels like that, but I'm thinking I need to make sure I'm bowling as well as I can because other players are coming back.
"It gets me going knowing I've got to get myself in the condition where I am fit to play, fit to bowl and keep my standards as high as I can.
"You look at the players we have signed in the likes of Zak Chappell, Paul Coughlin coming back - there's Luke Wood, and it's going to be tight who is going to play that first match."
Thompson added: "I love this time of year. Don't get me wrong I prefer the summer and the sun, but I think sometimes people can get their intensity for training and playing the wrong way around.
"This time of year you start looking at who is available so for me it starts to get quite competitive." Luke Fletcher
"They enjoy training, but then they get really intense and serious about matches whereas a big part of our philosophy here is to flip that.
"You work hard and get your practice in so you deserve to be able to express yourself and play freely when it comes to the matches and enjoy those experiences.
"This time of year is where we do the hard yards so we can enjoy the season when it comes round."
Listen to the full episode of the Talk Of Trent Bridge podcast at the top of this story and in order to make sure you never miss an episode, subscribe through iTunes or Spotify by clicking on the 'subscribe' button on the audio above.
Let us know if you enjoyed the show by leaving a review, and tell us any topics or guests you'd like to hear from in future episodes by using #TalkOfTrentBridge on social media.
********
It's jolly convenient to receive latest news, ticket information and behind the scenes exploits direct to your inbox and we'll never pass on your information to others. Join our mailing list here...