Should you be visiting us for one of our five fixtures in the ICC Cricket World Cup 2019, read on to learn all the information you need to ensure maximum enjoyment from your visit to Trent Bridge.
Trent Bridge is hosting five group stage games during the World Cup:
Friday 31st May: West Indies v Pakistan
Monday 3rd June: England v Pakistan
Thursday 6th June: Australia v West Indies
Thursday 13th June: India v New Zealand
Thursday 20th June: Australia v Bangladesh
In this guide, you will find information on:
Ticket Information
To view the latest availability, visit the Official ICC Cricket World Cup ticketing website.
What to do if you haven't yet received your tickets from the ICC
If your match tickets have not yet arrived in the post or you have selected to collect at the ticket office, you can now print these tickets at home instead.
What to do next:
1 - Please log into your ticketing account
2 - Go to the 'My Tickets' tab
3 - Select 'Download' for the tickets you need to print
Your physical tickets will be cancelled once you print your tickets at home. They will not gain you access to the ground. If you receive your tickets in the post in the days between this point and the match day, please use only the print at home ticket.
As well as the print at home option, your ticket can also be scanned from your mobile phone once downloaded.
If you need to collect your tickets, the Trent Bridge ticket office is open during the following hours:
- Monday to Friday: 9.30am-4.30pm
- Saturday: 9.30am-1pm.
Ticket Office opening hours will be extended on matchdays.
Meanwhile, the last few hospitality packages are available should you wish to enjoy world-class cricket in the greatest of grandeur and style. Email cwc19@trentbridge.co.uk or call 0844 811 8712 for more information.
As this match is reserved seating, you must sit in the seat allocated on your ticket.
If you're unsure, please ask your nearest steward or World Cup Cricketeer volunteer, who will be delighted to assist you. You can also contact our ticket office on 0115 899 0300.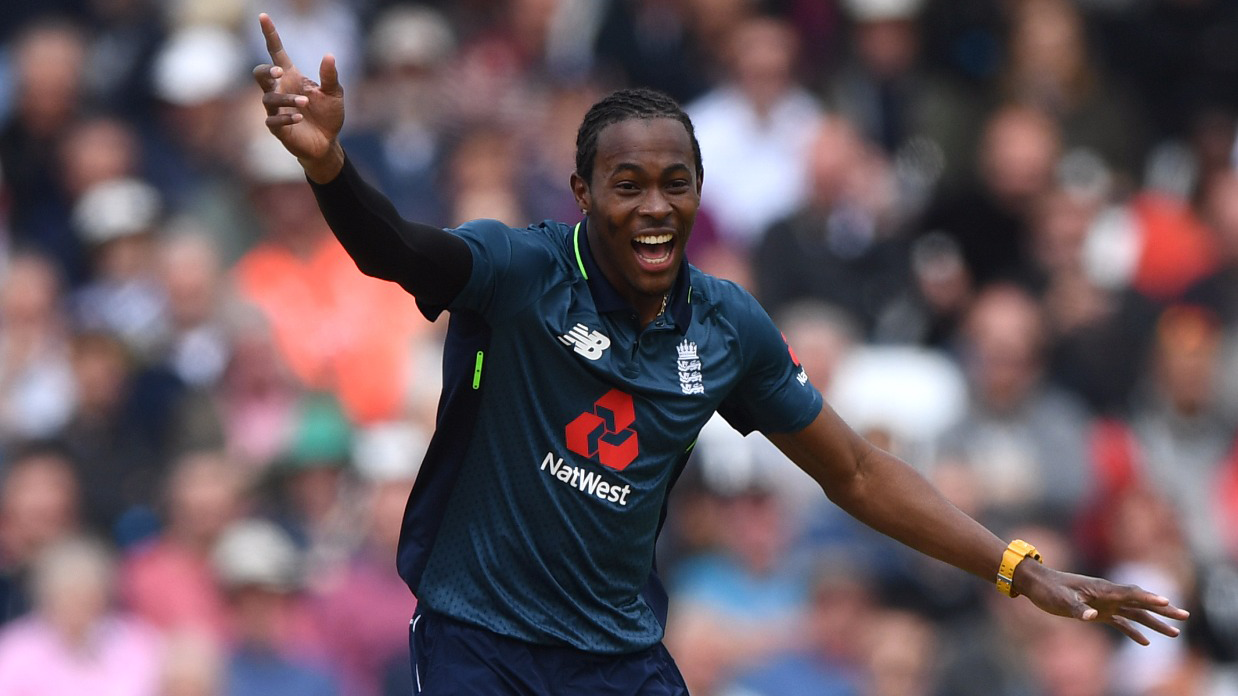 Arriving at the Ground
We ask that you 'travel light' and bring with you only essential items, leaving bags at home if at all possible.
Please listen to our stewards at the gate, as they will be able to direct you to the shortest queue.
Hours of Play
Gates open at 8.30am, with the start of play scheduled for 10.30am. Each side will bat for a maximum of 50 overs.
The first innings is scheduled to take place between 10.30am and 2.00pm before a 45-minute interval. The second innings is then scheduled for between 2.45pm and 6.00pm.
Scheduled hours of play may be extended by up to 75 minutes in the event of any delays or suspensions during the game.
How To Find Us
Trent Bridge Cricket Ground is situated in West Bridgford, in very close proximity to both Nottingham Forest and Notts County Football Clubs. Our postcode is NG2 6AG.
As you approach, you can't miss the circular floodlights.
We are a couple of miles from Nottingham City Centre, a mile or so from the train station, and our city is blessed with one of the best public transport networks in the UK.
We have gates through which to enter the ground situated on Bridgford Road, Radcliffe Road, Hound Road and Fox Road.
For your convenience, you can view a map that shows approaches to the ground here.
Travelling by Car
Paid car parking is available on Victoria Embankment (NG2 2JY), priced at £10 on the day, albeit a section of this parking will be closed off for the fixture between India and New Zealand owing to a Triathlon event on the Embankment.
Anyone travelling by car from outside the city can take advantage of NET's seven free park & ride facilities located around Nottingham. The most convenient tram park & ride site for the A453 can be found at Clifton South (17-minute tram travel time).
As an added incentive to take the tram, NET will be running its £2 return event ticket offer (see travelling by tram, below).
If you have a spare seat in your car, or are looking for a ride, www.nottinghamshare.com, the free-to-use car share website, could save you money on your transport costs.
Travelling By Tram
The Queens Walk and Meadows Embankment tram stops are located around a 20-minute walk from the ground, with the route from the Meadows Embankment stop proceeding along a pleasant stretch of the River Trent. Alternatively, a stop at Nottingham Train Station can be found just a 20-minute walk away, or you can complete your journey for free by bus (see Travelling by Bus below). To help plan your journey, visit www.thetram.net
NET will be running its £2 return event ticket offer for all match ticket holders and Members.
To take advantage of the deal, you need to select the Event Ticket option from the ticket vending machine before boarding the tram, and make sure you have your match ticket to hand for inspection.
Additionally, you can also purchase a group ticket for £5, which is for up to two adults and three children (under the age of 19).
Travelling By Bus
Free bus travel is available between Nottingham city centre, Nottingham Station and Trent Bridge for passengers with match tickets.
Free travel is available on Navy Line 1, 3 and Green 5, 6, 7, 8, 9 and 10 routes between the city and the cricket ground.
The nearest bus stops to the ground are situated on Bridgford Road and Loughborough Road.
Staff and volunteers will be on hand at Nottingham Station to assist you in finding the best way to the ground.
To plan your bus journey visit www.nctx.co.uk/cricket.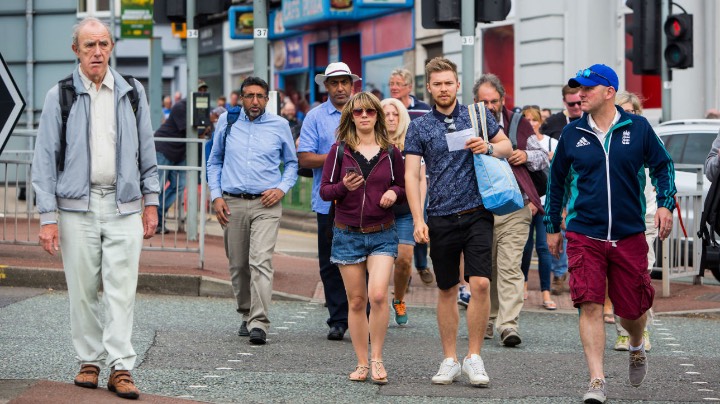 Travelling By Train
The nearest railway station is Nottingham Station, less than a mile from the ground. Up-to-date information on the train services passing through the station can be found on the National Rail Enquiries website.
When you arrive at Nottingham Station, look out for our friendly World Cup Cricketeer volunteers, wearing blue, who will point you in the right direction for the 20-minute walk to the ground. They can also assist you with finding public transport and taxis should you require it.
More volunteers will be in position on the approach to Trent Bridge to direct you.
Taxis
A taxi rank can be found 200 yards from the ground on Bridgford Road, adjacent to the large West Bridgford Co-op. Fares to and from the station will cost around £7. If you need to call for a taxi, some of our local operators include: Royal Cabs 0115 9608 608, Trent Cars 0115 950 5050 and Yellow Cars 0115 981 8181.
If you're travelling by taxi, please note that there is no designated pick up/ drop point by the ground.
Pick up and Drop off zones for those travelling by Uber are available on Musters Road and in the car park situated between Bridgford Road and Loughborough Road opposite the ground.
Travelling By Bicycle
Supporters planning to take their bikes to Trent Bridge are welcome to chain them to the fence on the Bridge Field Car Park on Bridgford Road. Please bring a chain to secure your bike.
Kindly note that bikes are not allowed inside the ground for this fixture.
Planning Your Journey
A full Nottingham travel guide is available for download here.
Assistance on the day
If you have any queries during your day at Trent Bridge, one of our World Cup Cricketeer volunteers, wearing blue, or stewards will be only too delighted to help.
Public Wi-Fi
New for 2019, public Wi-Fi is available throughout Trent Bridge, which you are very welcome to use at your leisure.
Simply connect to The Cloud from the available list of wireless networks and follow the sign-in or login instructions.
Should you experience any technical difficulties, if you are able to access the internet via other means (such as 4G), helpful guides are available at www.sky.com/wifi or you can email wifiuser@sky.co.uk
Alternatively, the phone number to call is 0844 824 5000.
Our friendly staff will, of course, endeavour to assist you should you struggle with the process of connecting your device to the Wi-Fi.
However, we're sorry to say that we're not able to assist with technical issues. This can only be done via the process with Sky above.
Thirty minutes of free phone charging will be available at charging stations around the ground, including:
On the first floor of the Radcliffe Road Stand
Near the Radcliffe Road Stand reception desk
In the lobby of the squash club bar
On the concourse of the Fox Road and Bridgford Road Stands
Food & Drink
An array of catering options and bar facilities are on offer throughout the ground, featuring locally-sourced produce to satisfy a variety of tastes and dietary requirements.
Contactless debit/credit cards are accepted in most bars around the ground.
Trent Bridge Inn Courtyard
The Grill, serving handmade burgers
The 'Catch of the Day' Fish & Chip Shop
Roti Pan, serving Caribbean food
Ice cream van
Bars serving draught beers, ales and ciders, as well as soft drinks
Bridgford Road Stand Concourse
Bars serving draught beers, Pimm's, wine & soft drinks
Craft beer trailer
Handmade burgers, bacon sandwiches and hot dogs
Ice cream van
Fresh coffee and hot chocolate
Radcliffe Road Concourse
Bars serving beer and Pimm's on draught, as well as wine & soft drinks
Ice cream van
I Love Ostrich Burgers
Fresh coffee and hot chocolate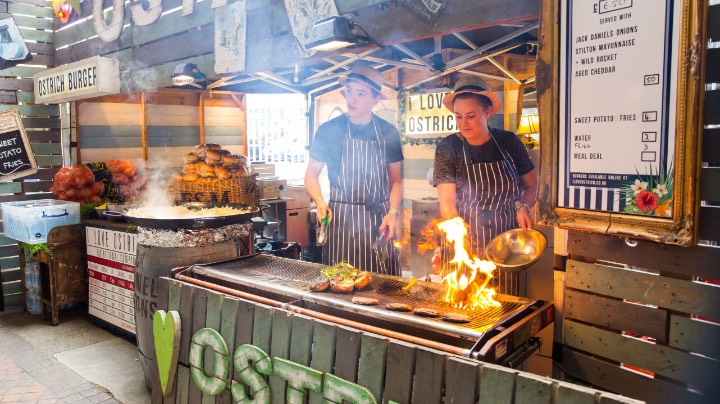 Radcliffe Road Stand
Bars on level 3, serving draught beers, soft drinks & hot drinks
Bars on level 5 serving draught beer, soft drinks and Cornish pasties
Replay Screen (between Radcliffe Road Stand and Fox Road Stand)
Scoreboard Bar serving draught beers, soft drinks, hot drinks & ice cream
Fox Road Stand Concourse
Bars serving draught beers, spirits, wines, Pimm's & soft drinks
Freshly cooked steak sandwiches
Handmade burgers
Ice cream van
Curry stall, serving gluten-free, vegetarian and halal options
Hound Road Concourse
Hound Road Bar serving draught beers, Pimm's, soft drinks, hot drinks & ice cream
British Baguettes & Pork, who offer children's options. Vegetarian options include baguettes, salad boxes and chips
Taco & Sushi bar
Squash Complex/Ticket Office
Bar with TV (on first floor), serving draught beers, real ales, wine & hot drinks
Dixon Gates
Rustic Crust Pizza, serving vegetarian options
Bar serving draught beers
If you still wish to bring your own meals, ensure that any food or soft drinks are in plastic or cardboard containers. Please note that it is not permitted to bring glassware or metal cutlery into the ground.
Recycling your beer cups
Beer will be served in branded, reusable cups, with spectators paying a £1 deposit. Each drink will be served in a fresh cup, with no deposit required in exchange for the existing vessel.
Supporters have two options in terms of what to do with their final cup of the day:
1. Take it home as a souvenir.
2. Return it to the bar and regain your £1 deposit.
Kindly note that beer cup returns will be accepted by over-18s only. Beer cup return points will be available outside the Parr Bar, adjacent to the Fox Road Stand and on the Radcliffe Road Concourse.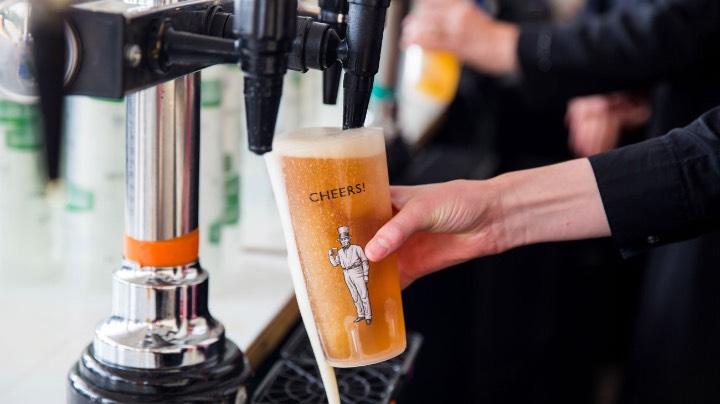 Water Dispensers
Water dispensing facilities will be available around the ground if you wish to use your own refillable water bottles.
Visit our Cricket World Cup partners
A range of partners will be in attendance at fixtures, including:
Coca-Cola, with 'sip sampling' and a Virtual Reality experience.
Gaames, with their demonstration of bat, helmet and boot sensor technology.
Uber Eats, with a competition which gives fans the chance to win a hamper during the match.
MoneyGram, with their commentary challenge giving fans the opportunity to commentate on iconic moments from past Cricket World Cup matches.
Thatchers Cider, with 'catch the apple' and 'spin the wheel' games.
Partners will be in place around the ground, including in the Fan Village in the TBI Courtyard.
Merchandise will be available at shop units around the ground, while programmes and scorecards will also be on sale.
Toilet facilities
Toilet facilities will be situated around the ground and will be clearly signposted.
Mobiloo disabled toilet and changing facilities will also be on site, situated near the Hound Road gates.
Baby changing facilities
Changing facilities are available in the Members' Pavilion accessible toilets, as well as in the squash complex ladies' toilets (access via the Ticket Office near the back entrance to the Pavilion), at the back of the Pavilion near the Hound Road Stand and the William Clarke Stand ladies' toilets. Please feel free to ask any volunteer or steward for directions.
The squash complex changing rooms can be made available upon request at the Ticket Office as further baby changing facilities accessible to men, or as a quiet feeding area.
First Aid
First Aid facilities will be available at the rear of the Radcliffe Road and Bridgford Road Stands.
Wheelchair viewing positions are available in front of the William Clarke and Bridgford Road Stands, as well as the Hound Road Upper, Radcliffe Road Lower and the top of the Bridgford Road Stand.
Please feel free to ask your nearest steward, or World Cup Cricketeer volunteers wearing blue, if you have any questions regarding our accessible facilities around the ground, as they'll be delighted to assist you.
Multi-faith Room
If you want to get away from the hustle and bustle to pray, a multi-faith room has been set up in Squash Court Two situated just next door to our Ticket Office. Please see a steward or volunteer if you need directions.
Safety and security
Our stewards will be on hand to ensure you are safe and secure throughout your day at Trent Bridge and should be your first port of call if you see anything that you may consider suspicious.
We ask that you travel light and bring only essential items. Bags are best left at home although we do allow small ones through the gates. You will be searched upon entry, so please arrive in good time.
Cameras and mobile devices
Please note that the use of any cameras, mobile devices or any electronic equipment for the recording, transmission or communication of match footage, details, statistics, images (on any platforms including but not limited to websites and social media) etc, is not permitted, other than with the proper accreditation. All ground regulations apply.
You can, however, take pictures for your own personal use, providing you do not use specialist equipment such as telephoto lenses, tripods or mono pods.
Accredited photographers will be present during the match and will be taking images for use on our printed marketing materials and digital channels. If you or anyone in your party would not like photographing, then please inform our photographer.
You can view a full list of ground regulations here.
Ticket refund policy
If play is restricted or does not take place at Trent Bridge on the day for which a ticket is valid, the ticket purchaser may claim a refund of the original sale price of that Ticket (excluding fees) subject to there being: (a) 15 overs or less because of adverse weather conditions - a full refund; (b) 15.1 overs to 29.5 overs because of adverse weather conditions - a 50% refund. In no other circumstances can money be refunded.
Details on how to claim a refund will be provided in due course, should a game fail to reach the number of overs specified above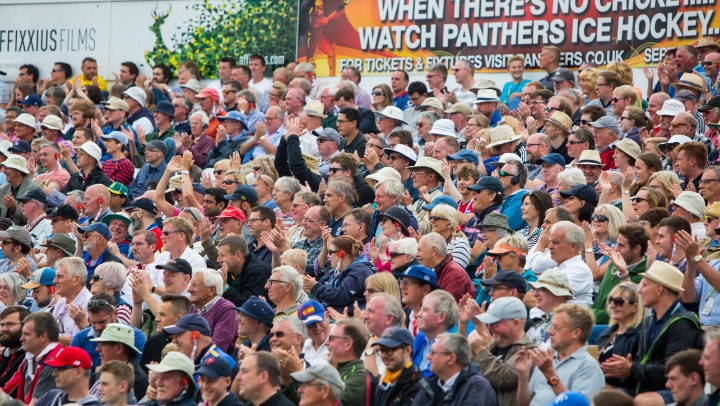 After the match
Just a few hours after the match is over, look out for your exclusive post-match email to those that purchased tickets. It includes reaction to the game, photographs and the opportunity to provide feedback on your matchday experience with us.
Please feel free to forward this communication to those that attended the fixture with you.
Looking for somewhere to stay?
Nottingham Tourist Information Centre, situated on Smithy Row in the City Centre, has an up-to-date view on availability across the city. They can be contacted on 0844 477 5678 or you can go online here.
Special offers
A range of businesses are running special offers for World Cup ticketholders. Find out more here.
Any questions?
If there's anything we can help with in advance of your visit, please kindly feel free to call us on 0115 982 3000, email questions@nottsccc.co.uk or Tweet us via @TrentBridge.
We hope you enjoy the cricket!
*******
A Notts Outlaws squad brimming with international talent will commence their T20 Vitality Blast campaign against Worcestershire Rapids at Trent Bridge on Thursday 18 July, with advance tickets priced at £10 for adults and £5 for under 16s. Secure your seats here…