Nottinghamshire host four-day cricket at Welbeck for the first time, when they welcome Hampshire for a Specsavers County Championship match beginning on Sunday 8 June 2019.
It is less than three weeks since the two county sides were last in opposition, facing each other in the historic inaugural fixture at Newclose Cricket Club on the Isle of Wight.
Hampshire were successful in that fixture, winning by 244 runs and have since drawn with Yorkshire to maintain their healthy start to the season.
Since the sides last met, Hampshire have also played in the final of the Royal London One-Day Cup, losing to Somerset at Lord's.
They will be without two of their star performers once again, with club captain James Vince and all-rounder Liam Dawson on Cricket World Cup duty with England.
Notts go into the contest on the back of their battling draw against Warwickshire at Edgbaston but remain in 8th spot in the Division One table. Hampshire are currently second, 15 points behind leaders Somerset.
Head-To-Head
Nottinghamshire and Hampshire have met on 142 previous occasions in first class cricket.
There have been 40 wins for Notts, 39 for Hampshire and 63 draws.
Notts have hosted the fixture on 72 previous occasions, winning 20 of the matches, most recently last season.
Hampshire's 16 wins include successes in both 2015 and 2016.
There have been 36 draws but none since 2009.
The first meeting was in 1843 at Trent Bridge, where all but two of the contests have taken pace. The exceptions being in 1964 and 1968 when it was played at the Town Ground in Worksop.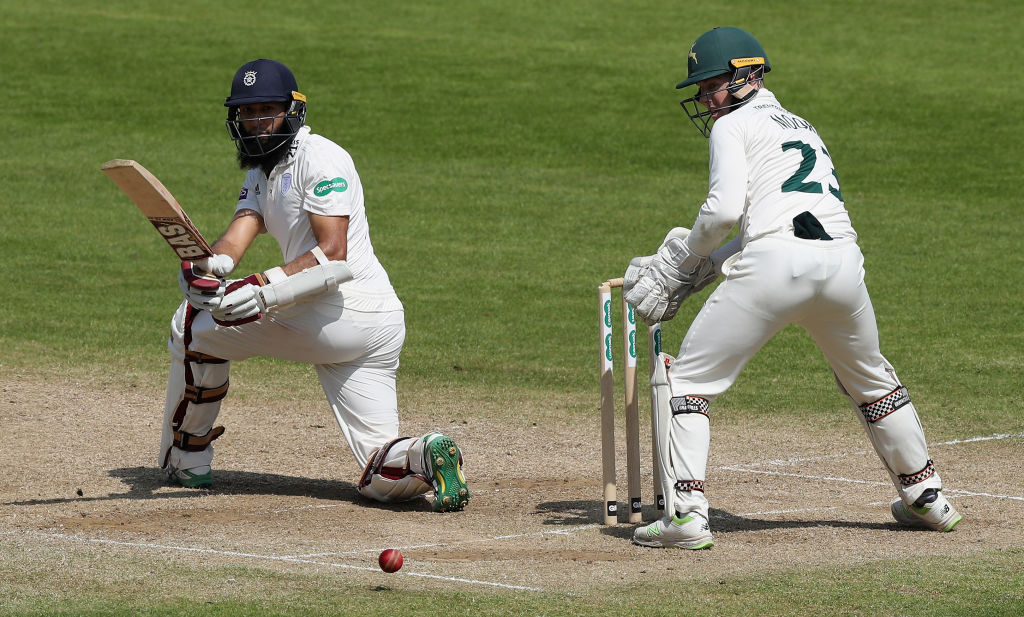 Last Time
Notts were triumphant when the two counties met at Trent Bridge last season, despite Hashim Amla returning to score a century against his former side.
The South African international was a member of the Nottinghamshire team that won the county championship title in 2010 and came back to Nottingham to score 112 in a losing cause.
Notts made 302 after winning the toss and batting, with Samit Patel making 73. Amla and Lewis McManus passed 50 in Hampshire's first innings but the home side still had an advantage of 69 when they batted for a second time.
Steven Mullaney, who scored his fourth century against Hampshire in the recent meeting on the Isle of Wight, hit 130 and Ross Taylor scored 83 out of a score of 389-9 declared.
Set to score an unlikely 459, the south coast side made only 265, despite Amla's ton.
The victory was Nottinghamshire's third win out of the opening four matches of the season and, momentarily, took them to the top of the table.
History
1930 | The final day was never going to give much value for the admission price as the home side needed just one more run for victory. Notts took to the field in lounge suits, rather than in traditional whites, Fred Barratt and Bill Voce even wearing their overcoats. The second delivery, bowled by Arthur Carr, was hit away for four by Alex Kennedy, enabling the visitors to make a speedy getaway for their long journey home.
1966 | Nottinghamshire's first championship match to include Sunday play also produced one of the most bizarre endings. Chasing 238 on the final day, Hampshire were 236-5 with one ball remaining. Henry Horton played the ball forward and set off for the run but appeared to deliberately kick the ball away from the fielders as he completed the single. Reports indicated it was a clear case of obstructing the field. After half an hour of deliberations, Notts captain Brian Bolus confirmed that his side had not made an appeal for such a dismissal. Hampshire, having ended the match with the scores level, were thereby awarded five extra points.
1999 | Nottinghamshire were dismissed for 324 on the first day of their PPP Healthcare County Championship match against Hampshire at Trent Bridge. Nothing particularly unusual about that – except the top scorer in the innings was extras with 73. Made up of 25 byes, 18 leg-byes, six no-balls and 24 wides, the contribution was the most ever recorded in a single innings against Notts.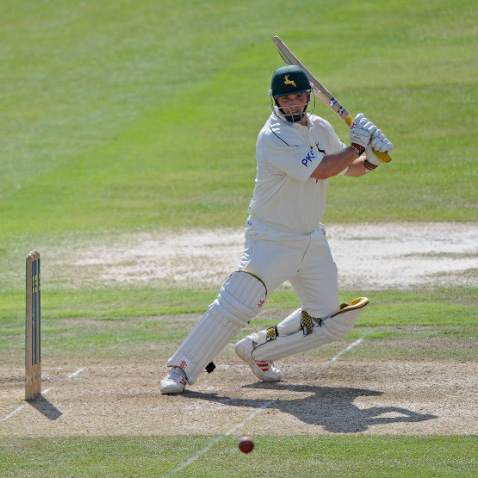 2004 | For the first time, a championship match at Trent Bridge saw both teams pass 600 in their first innings. Hampshire made 641-4 declared, thanks to an unbeaten 301 from John Crawley and a century from Australia's Michael Clarke. Nottinghamshire's response was equally emphatic with David Hussey (170), Mark Ealham (113 not out) and Darren Bicknell (103) scoring tons of their own in a total of 612. Needless to say, the match was drawn.
2010 | Steven Mullaney scored a century on his Nottinghamshire debut, scoring an unbeaten 100 in his side's victory.
2011 | Notts made the most sporting of gestures when visiting wicketkeeper Nic Pothas had injured himself and was unfit for the second day of the match. The home side offered and allowed their academy keeper Adeel Shafique to keep for the opposition. With approval by both umpires and the ECB, the 17-year-old kept impeccably for Hampshire for the entire morning session until replacement Michael Bates arrived.
2016 | Needing a win to retain their Division One status, Hampshire avoided relegation after pulling off an eight-wicket success, with their West Indian Test match bowler, Fidel Edwards, taking the spoils with match figures of 10 for145.
Stats (for all first class matches between Notts & Hampshire)
Highest Team Total | Notts: 612 (Trent Bridge 2004), Hants: 714-5 dec (Southampton 2005).
Highest Individual Score | Notts: 239* CB Harris (Trent Bridge 1950), Hants: 311* JP Crawley (Southampton 2005).
Best Bowling | Notts: 9-21 TL Richmond (Trent Bridge 1922), Hants: 8-36 CJ Knott (Bournemouth 1953).
Hat-Tricks | Notts: HJ Butler (Trent Bridge 1939), Hants: CT Tremlett (Trent Bridge 2005).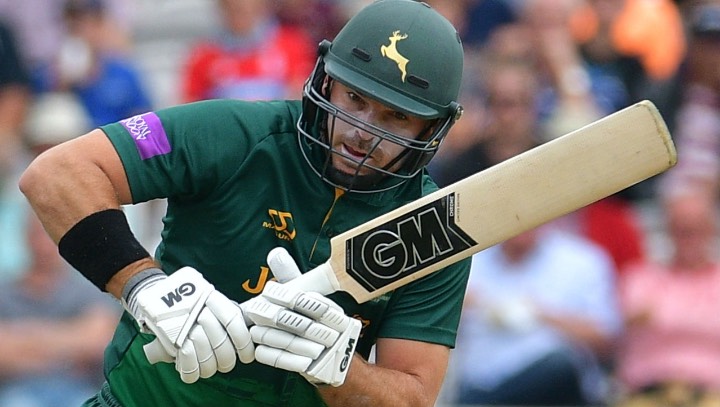 Played For Them Both
Michael Lumb was a magnificent servant to both Hampshire and Nottinghamshire cricket before an ankle injury forced his retirement from the game in 2017.
Son of former Yorkshire opener Richard Lumb, Michael was born in Johannesburg but started his first-class career with his father's old county.
He moved from Headingley to Southampton in 2007 and played in 54 first class, 43 one-day and 47 T20 matches for Hampshire before joining Notts in 2012.
Lumb was a member of the Outlaws team that triumphed in two winning Lord's finals and memorably scored 184 on the day that Notts rattled up 445 against Northants to smash all sorts of one-day records.
He played in 3 ODIs and 27 T20 internationals for England and was a member of their winning ICC T20 World Cup winning side in 2010.
Amongst the many other players to have enjoyed stints with both counties are: Andre Adams, Hashim Amla, Jackson Bird, Andrew Carter, Dan Christian, Richard Logan, Kevin Pietersen, Darren Sammy, Bilal Shafayat, Will Smith, Imran Tahir, Mike Taylor and Adam Voges.
Welbeck
Notts have hosted first team matches at Welbeck since the 2015 season, playing five one-day matches at the venue.
In that first year, the county hosted a 'Welbeck Weekender', with matches scheduled over both Saturday and Sunday.
Notts easily defeated Warwickshire in the first match but rain halted early progress against Glamorgan 24 hours later.
Over the next two years the venue became a very good friend to the Notts team, as both Derbyshire and Leicestershire were swept aside.
Sadly, the county's unbeaten record ended last May, when Northants became the first visiting team to take all of the points from their trip to North Notts.
Highlights from the matches played there so far would include Alex Hales' 103 and Dan Christian's five-wicket haul in the debut match, Riki Wessels' 114 against Derbyshire and James Pattinson's fiery 4-42 against Leicestershire.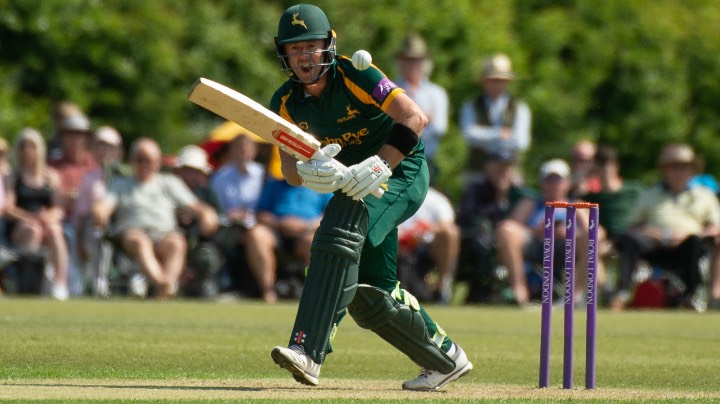 Milestones
Congratulations to Chris Nash, who will be playing the 200th first-class match of his career v Hampshire.
The 36-year old made his debut for home county Sussex in 2002 and went on to make 177 appearances for them.
He played in 6 matches for Loughborough MCCU and once for the British Universities.
Nash will appear for Nottinghamshire for the 16th time this week, taking his total to 200.
The right-hander has scored over 12,000 career runs and scored 24 centuries.
Other milestones which could be reached this week:
Stuart Broad is 28 runs away from 5,000.
Luke Fletcher is 78 runs away from the career landmark of 2,000 runs.
Jake Ball needs 80 runs to reach 1,000.
James Pattinson needs 4 more wickets to reach 250 in his career.
*******
A Notts Outlaws squad brimming with international talent will commence their T20 Vitality Blast campaign against Worcestershire Rapids at Trent Bridge on Thursday 18 July, with adult tickets priced at £10. Secure your seats…