We'd love to welcome you as Nottinghamshire host Kent in the Specsavers County Championship from Tuesday 10 to Friday 13 September.
You'll be able to take in the action within a venue which has frequently been voted the best spectator experience in the country by cricket supporters, and one that holds a TripAdvisor Certificate of Excellence.
Should you be thinking of attending, this matchday guide will tell you all you need to know, including information on:
Trent Bridge welcomes armed forces personnel
We are delighted to be welcoming a number of serving and former members of the Armed Forces as guests of the Club on day one of the match.
Representatives of the military will present the match-ball to the umpire at the toss, ring the five-minute bell and lead the players on to the field.
A cluster of military themed stalls will be positioned in the Derek Randall Suite throughout the lunch interval.
Hours of Play
Gates open at 9am, with the start of play scheduled for 10.30am – half an hour earlier than the regular scheduled start time. The morning session will take place between 10.30am and 12.30pm, before a 40-minute Lunch interval. The afternoon session will then take place between 1.10pm and 3.10pm (or when 32 overs remain, whichever is later) before a 20-minute Tea interval. The scheduled close of play is at 5.30pm.
96 overs are scheduled per day. Overs lost to bad weather can be made up in subsequent days, up to a maximum of eight per day. In the case of a longer day, times will be announced each day.
Ticketing information
Adults can enjoy a day of Specsavers County Championship cricket for £18, whilst seniors (65+) and under 21s can attend for £12. Junior tickets (under 16s) are priced at £9, with free entry for children aged under 3 on April 30 2019.
Seating is unreserved, meaning you are welcome to sit anywhere in the ground, with the exception of the exclusive seating in front of the Pavilion for Members only. Find out more about memberships here...
Tickets in Advance
There are three different ways to purchase tickets in advance:
- Click here to buy your tickets online.
- Call the Ticket Office on 0115 899 0300.
- Visit the Ticket Office in person, just inside the Dixon Gates near the Smith Cooper stand.
Tickets purchased at this stage will be available for collection from the Ticket Office. Alternatively, you can use the digital ticket option.
Tickets on the Day
Feel free to purchase tickets from the Ticket Office on arrival at the ground. Window counters for this purpose are situated on Bridgford Road, adjacent to the Hound Road turning.
Teatime reductions
If you can't get here for the start of play, you can pop in after the tea interval to watch the final session at the reduced price of £5 for adults, seniors and under 21s; £1 for juniors (under 16s).
Ticket office opening hours
- Monday to Friday: 9.30am-4.30pm
- Saturday: 9.30am-1pm.
- Opening hours are extended on matchdays.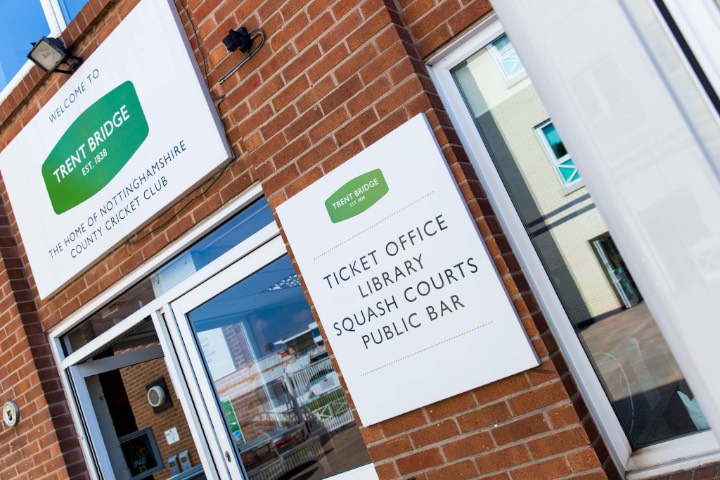 Where to Find Us
Trent Bridge Cricket Ground is situated in West Bridgford, in very close proximity to both Nottingham Forest and Notts County Football Clubs. Our postcode is NG2 6AG.
As you approach, you can't miss the circular floodlights.
We are a couple of miles from Nottingham City Centre, a mile or so from the train station, and our city is blessed with one of the best public transport networks in the UK.
We have gates through which to enter the ground situated on Bridgford Road, Radcliffe Road, Hound Road and Fox Road.
You'll need your membership card or match ticket at the ready to gain entry.
Car Parking and Travel Information
Car Parking for spectators is available priced at £3 (£2 for Nottinghamshire County Cricket Club Members) at Notts Sports Ground (Lady Bay, postcode NG2 5AA).
Alternative parking can be found in the Nottingham Forest Car Park, also priced at £3 or £2 for Members. Access for this can be gained off Lady Bay Bridge (NG2 3HF).
Bicycle Parking
Cyclists are able to park their bikes at the ground, in bike racks situated on the Smith Cooper Stand and Radcliffe Road Stand concourses, until an hour after close of play.
Travelling by Bus
Regular bus travel is available to the ground, with bus stops situated on Bridgford Road and Radcliffe Road.
To plan your bus journey visit www.nctx.co.uk/cricket
Travelling by Train
The nearest railway station is Nottingham Station, less than a mile from the ground. Up-to-date information on the train services passing through the station can be found on the National Rail Enquiries website.
Regular bus services run between the station and the ground.
Travelling by Tram
The Queens Walk and Meadows Embankment tram stops are located around a 20-minute walk from the ground, with the route from the Meadows Embankment stop proceeding along a pleasant stretch of the River Trent. Alternatively, a stop at Nottingham Railway Station can be found just a 20-minute walk away.
Anyone travelling from outside the city to use the tram can also take advantage of NET's free park and ride facilities.
As an added incentive to take the tram, NET will be running its £2.50 return event ticket offer for all match ticket holders. To take advantage of the deal, fans need to select the Event Ticket option from the ticket vending machine before boarding the tram, and make sure they have their match ticket to hand for inspection.
Additionally, you can also purchase a group ticket for £5, which is for up to two adults and three children (under the age of 19).
To help plan your journey, visit www.thetram.net
Public Wi-Fi
New for 2019, public Wi-Fi is available throughout Trent Bridge, which you are very welcome to use at your leisure.
Simply connect to The Cloud from the available list of wireless networks and follow the sign-in or login instructions.
Should you experience any technical difficulties, if you are able to access the internet via other means (such as 4G), helpful guides are available at www.sky.com/wifi or you can email wifiuser@sky.co.uk
Alternatively, the phone number to call is 0844 824 5000.
Our friendly staff will, of course, endeavour to assist you should you struggle with the process of connecting your device to the Wi-Fi.
However, we're sorry to say that we're not able to assist with technical issues. This can only be done via the process with Sky above.
Accessing Match Commentary using Public Wi-Fi
Our free Wi-Fi also provides you with the opportunity to enjoy full match commentary from the BBC without worrying about using the data on your phone.
After connecting to The Cloud, navigate to trentbridge.co.uk/live when the game is in play and click the 'audio' button to find live commentary.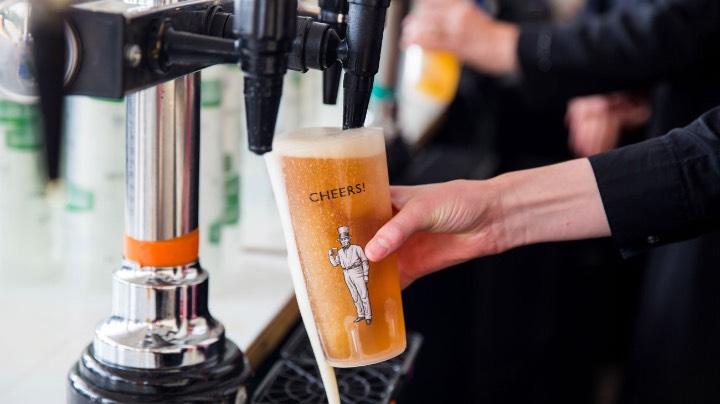 Food & Drink
The Cricketers' Suite, situated on the first floor of the Radcliffe Road Stand, serves delicious hot and cold food as well as vegetarian and gluten free options, while catering for Nottinghamshire and visiting Members is also available in the Pavilion.
The all-important ice cream van will, meanwhile, be located on the Smith Cooper Stand concourse.
Additional bar facilities will be available at the Parr Bar in the TBI Courtyard, at the Hound Road Bar under the Hound Road Stand, and at the base of the scoreboard on the corner of the Radcliffe Road and YU Energy Stands.
If you still wish to bring your own food & drink, please ensure any food or soft drinks are in plastic or cardboard containers, avoiding alcohol, cans, glassware or metal cutlery.
Water fountains are located around the ground should you wish to bring your own refillable water bottle.
Trent Bridge Shop
For souvenirs, replica shirts, bats, balls and training wear, our Club Shop is located at the rear of the Radcliffe Road stand, near to the reception entrance on the ground floor. Discounts will be available on selected items of Nottinghamshire 2019 apparel.
Scorecards
Scorecards are available at the Ticket Office, Radcliffe Road Reception and Trent Bridge Shop at the nominal price of 50p.
Mortgage Surgery event
Spectators who are looking for no-obligation advice about their mortgage or property portfolio are being invited to Ryley Wealth Management's mortgage surgery, on days two and three of Nottinghamshire's Specsavers County Championship fixture against Kent.
Ryley Wealth Management Financial Planner Keiran Dunne, a Nottinghamshire fan, will be on hand on Wednesday 11 and Thursday 12 September in the Pavilion between 10:00am and 4:00pm.
John Player & Sons talk
To mark the 50th anniversary of the Sunday League, the heritage team at Trent Bridge have been looking at the various links between John Player & Sons and the sport of cricket – and Nottinghamshie County Cricket Club in particular.
Heritage Officer Steve LeMottee will describe the various ways that Players were involved in cricket, explain what the project team would still like to discover, and invite your memories of John Player Sunday League matches or playing and watching cricket at "Player's Rec" on Aspley Lane.
Grace the Hallowed Turf
During the lunch and tea intervals, weather permitting, you'll be able to make your way onto our hallowed turf, with a bat and ball, and crack on with an impromptu game. Please note, only softballs are permitted.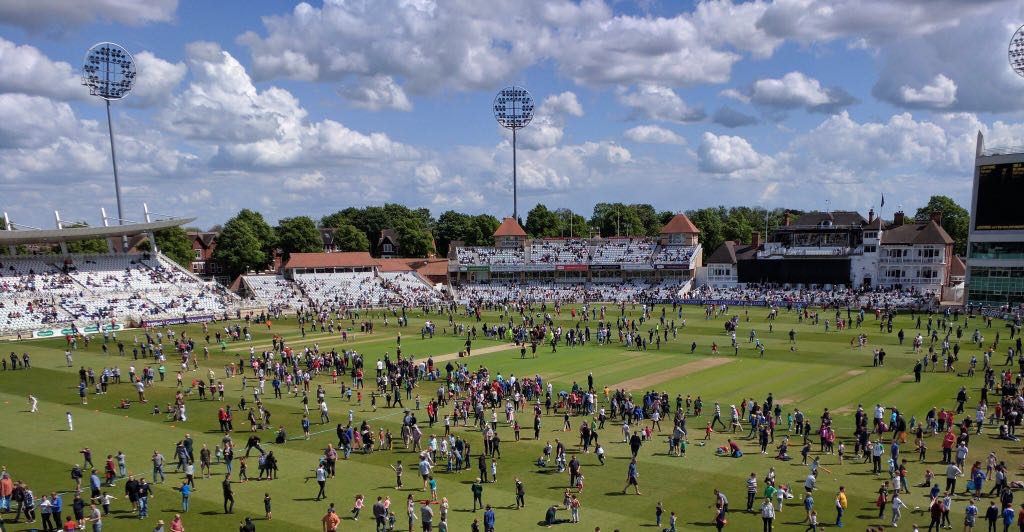 Toilet Facilities
Ample toilet facilities are located, and well signposted, in various locations around the ground.
Changing facilities are available in the Members' Pavilion disabled toilets, as well as in the squash complex ladies' toilets (access via the Ticket Office near the back entrance to the Pavilion), the William Clarke Stand ladies' toilets, the Hound Road ladies' toilets and the first-floor toilets on the East Wing of the Radcliffe Road Centre. Please feel free to ask any steward for directions.
The squash complex changing rooms can be made available upon request from a steward as further baby changing facilities accessible to men, or as a quiet feeding area.
Information For Those Using Wheelchairs
Wheelchair viewing positions are available in front of the William Clarke and Smith Cooper Stands, as well as the Hound Road Upper, Radcliffe Road Lower and the top of the Smith Cooper Stand.
Please feel free to ask your nearest steward or Member of staff if you have any questions, who will be delighted to assist you.
Designated smoking areas are assigned in various concourse areas, but smoking (including e- cigarettes) is only permitted in these areas, so please refrain from smoking in your seat.
Weather Forecast
View the latest weather forecast here…
The weather can take turns during the day, so please bring clothing to cover all eventualities.
Following the Action Online
Can't make it to the ground? We offer the perfect matchday companion...
When the match is in play you can access our live stream with BBC commentary, in-play highlights and a full scorecard by clicking here...
You can also find regular live updates on Twitter and Instagram.
*******
Nottinghamshire Membership for the 2020 season is on sale, with those who join for next season currently bestowed exclusive access to applying for international tickets.