Nottinghamshire's cricketers and coaching staff have rallied to provide a diverse selection of memorabilia to assist John Pye Auctions in supporting those affected by the coronavirus outbreak.
Items including a Stuart Broad Test top signed by the England team, Samit Patel's England Test top and a one-to-one training session with former Outlaws skipper James Taylor will go under the hammer to raise money for the Robin Hood Fund, which distributes financial support to the organisations best-placed to help the most vulnerable people in the local area.
The auction is underway now, with individuals having until midday on Monday 27 April to place their bids. View the lots up for grabs and make your bids here.
"As a Nottingham business, it feels really fitting to support a fund which will directly benefit local people," said Sheldon Miller, John Pye's Business Development Director.
"This is an issue which is having a direct and indirect impact on everybody – my wife is a nurse who's been redeployed into intensive care, and the stories I've heard from her about the situation really put things into perspective.
"It's time to rally round as a community to offer as much help as we possibly can.
"We've always been committed to assisting charities and raising funds for worthy causes, but this has to be one of the most deserving I've ever known us support in the 18 years I've been here."
Organisations and individuals across Nottinghamshire's cultural and sporting community have responded in their droves to the call for auction lots – and Sheldon is certain that their contributions will make a huge difference to the Robin Hood Fund's final total.
"This has to be one of the most worthwhile causes I've ever known us support in the 18 years I've been here."

Sheldon Miller, John Pye Auctions
"The way the community has pulled together to provide these lots has been brilliant," he said.
"No matter who we've asked for help, they haven't taken a second to say they want to offer their support.
"The money that those lots will raise will really make a difference to people's lives."
Other lots provided by local luminaries include the opportunity to be Sheriff of Nottingham for the day, and the chance for a youth football team to enjoy a coaching session from Nottingham Forest icon Andy Reid.
It is an auction which Simon Bristow of the Robin Hood Fund feels embodies the spirit of the legendary Outlaw.
"The story of Robin Hood is about helping people whenever they need it most," he said.
"We're remaining true to the spirit of helping those who most need help, and we're doing that by inviting people to support us through donating, bidding on an item in the auction or just sharing news about the fund.
"We know that the here and now is very serious, but the lots available in this auction are designed to give people something to look forward to – whether that's an incredible experience or a piece of memorabilia they can't get hold of otherwise."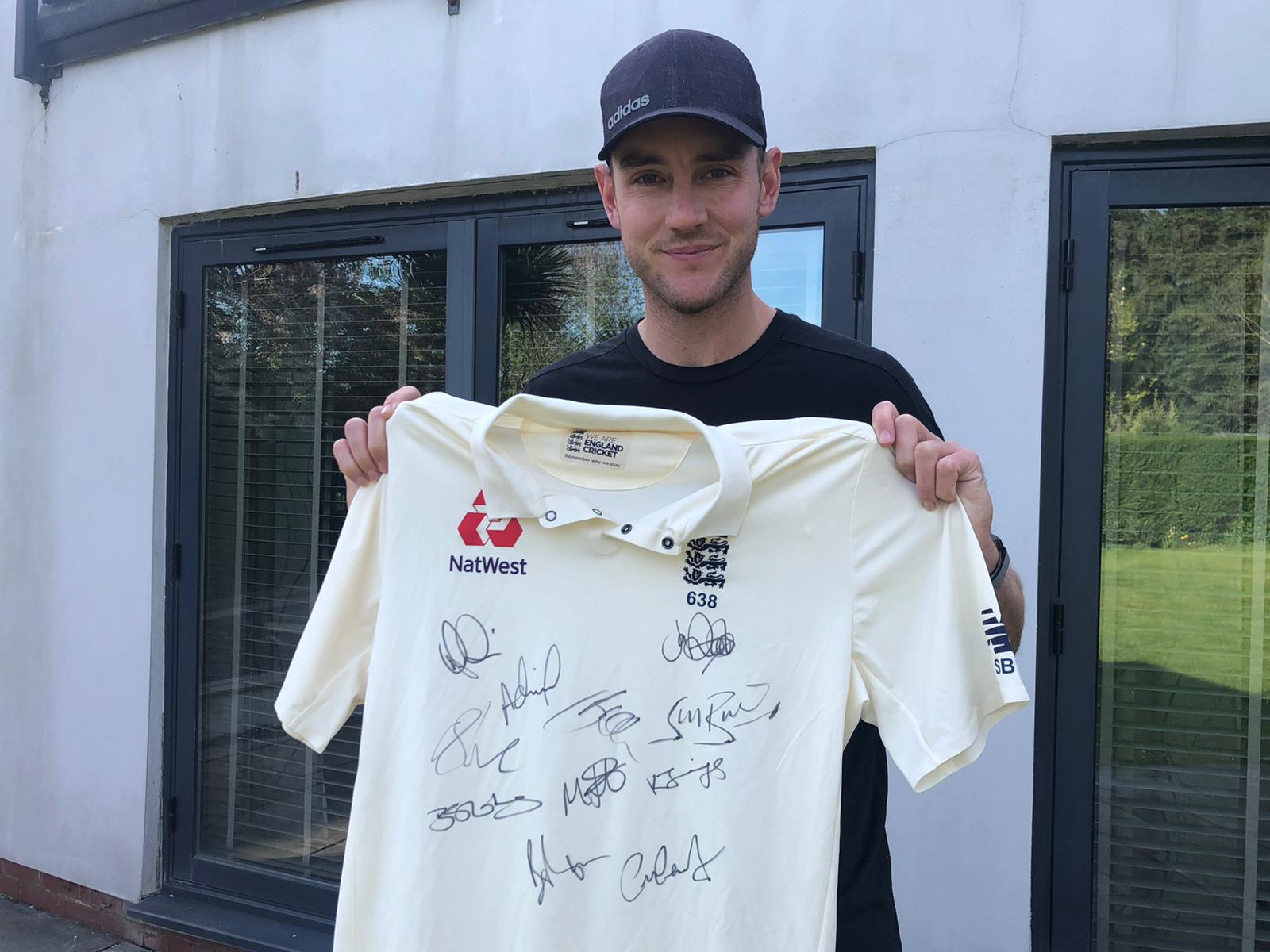 An England Test shirt worn by Stuart Broad and signed by the team will be amongst the items up for auction.
The fund has grown out of an initiative designed to showcase Nottinghamshire's cultural and sporting strengths, and has quickly harnessed the support of countywide to aid those most affected by COVID-19.
"We wanted to do whatever we could to help the city, and within 72 hours of having the idea, we were ready to launch," said Simon.
"Nottingham City Council have been hugely supportive - they were getting a huge number of calls from people who wanted to donate, but they needed a centralised fund to distribute support to the organisations that needed it the most.
"Every week, we'll review where the most pressing need is. That might be in places like food banks, but last week we distributed £2,000 to women's refuges because they were dealing with greater demand than usual.
"Every penny that comes in will go out – there aren't any administration costs being deducted – and each week we'll publish where the money has gone."
Whilst those behind the fund were confident that the local community would react positively, the strength of feeling has surpassed their expectations.
"Our initial target was to raise £10,000, which we thought might be tough to achieve, so to reach that landmark within 36 hours was mindblowing," admitted Simon.
"The organisations and individuals involved have been brilliant, as they always are."
Items donated for the auction include:
A Stuart Broad Test shirt from the 2018 series against India, signed by the England team
A Samit Patel Test shirt signed by the England team he was part of in 2015
A one-on-one training session with England selector and former Notts Outlaws captain James Taylor
Joe Clarke's England Lions shirt
Chris Nash's player-issue bat
Luke Fletcher's Notts Outlaws T20 shirt
Vitality Blast hospitality and Test match tickets at Trent Bridge
*******
John Pye's auction for the Robin Hood Fund is underway now, with individuals having until midday on Monday 27 April to place their bids. View the lots up for grabs and make your bids here.
Find out more about the Robin Hood Fund here.