Luke Fletcher has likened the surface of Trent Bridge to a 'pinball machine' as he prepares for the 2020 Vitality Blast.
The paceman admits the short boundaries and rapid outfield for which Nottinghamshire's home venue has become renowned make life difficult for bowlers. Fletcher, as ever, is determined to tackle the challenge head-on.
The 31-year-old insists he wouldn't have it any other way as he sets out to make Trent Bridge a fortress during the upcoming campaign.
"We're fortunate with our home fans," said Fletcher.
"They make it feel like a fortress. We're so confident when we play at Trent Bridge.
"It is statistically one of the best places to bat in one-day white ball cricket.
"Some of the biggest scores in 50-over cricket have been here. And in T20 over the past couple of years, we've seen totals in excess of 200 on a regular basis.
"They (the fans) make it feel like a fortress. We're so confident when we play at Trent Bridge."
"There haven't been games at Trent Bridge without big runs."
These eye-watering numbers could be construed as a fast-bowler's nightmare. Fletcher, however, is having none of that.
Nottinghamshire's resident yorker specialist is relishing the opportunity to test himself against the best batsmen on one of the best surfaces.
"It's (Trent Bridge) like a pinball machine! It can be chaos at times," he says.
"It is hard work being a bowler, but all we hope for is to score one more run than the opposition.
"If you're in the crowd, keep an eye on the ball as it is likely to be flying there a lot of the time.
"It's such a special place to play."
Crowds peaked at an average of over 12,000 for the Vitality Blast at Trent Bridge in 2019, as the Outlaws made their third Finals Day in four summers.
With the competition returning to the earlier part of the season for the first time since 2016, players such as Fletcher have less time to wait to get their teeth into a T20 campaign.
"It's a great time of year," he adds.
"Any time you get to play in front of a packed Trent Bridge is incredible.
"The atmosphere is sort of on top of you. Everyone feels like they are so close, which makes it feel like there are 30,000 people there.
"It's an exciting time of year.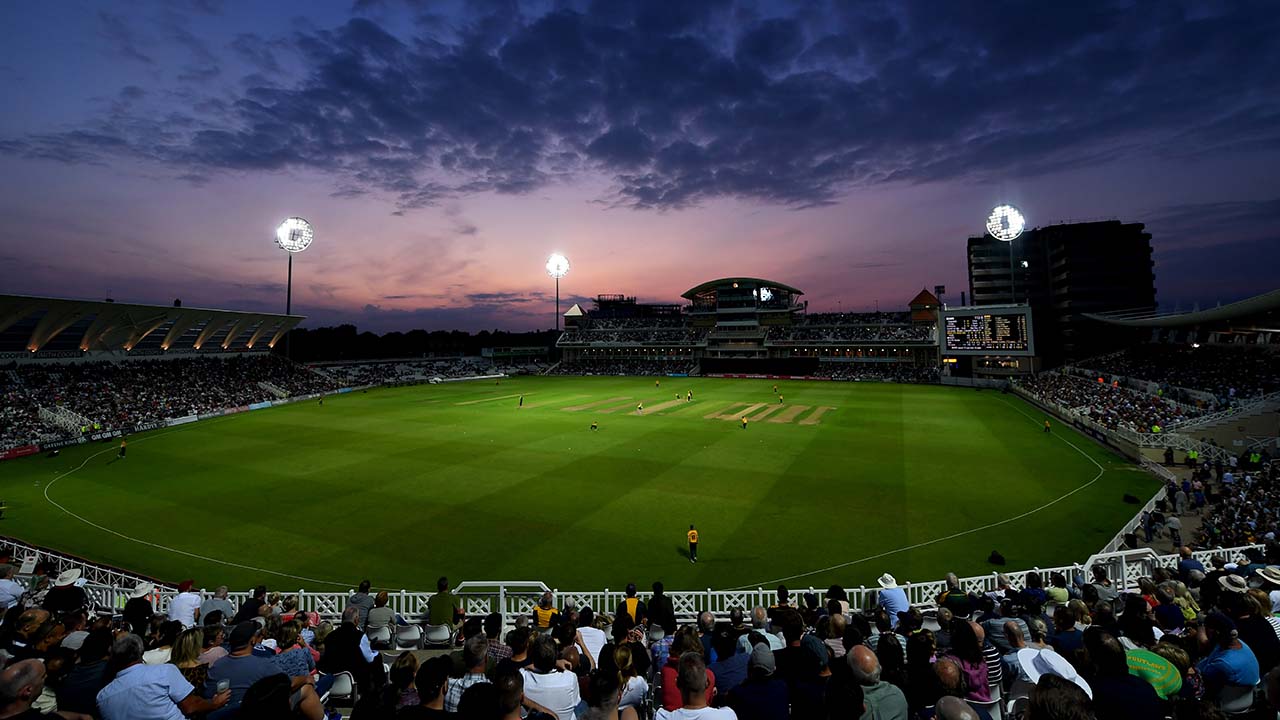 "I've been lucky to play in front of our home fans for a long time and each year they have have got consistently better.
"More people are coming, everyone around the city loves it.
"When you're warming up before the game, you can feel the atmosphere building around the ground. It's just incredible to be involved in.
"It's one of the best grounds in the world.
"There's no better place to be on a Friday night, or any time really.
"My advice for anybody reading this is to get your tickets early. It's just that special."
************