While the VE celebrations were taking place all over the country 75 years ago today, Trent Bridge was probably a surprisingly peaceful place.
The 1945 season of ten friendly fixtures did not start until 19 May, and the Pavilion was being used as a mess room for staff at the nearby headquarters of the Royal Engineers Postal Section.
Meanwhile, numerous Notts cricketers – including Arthur Jepson, Bill Voce and Frank Woodhead – were on service duty in England, with Reg Simpson, Joe Hardstaff and Harold Butler stationed in India.
Although the groundstaff would have been preparing the pitches for the new season, it's likely that the playing area was seeing more use as a parade ground.
Recalling her wartime experiences, Dorothy Pope – a member of the Auxiliary Territorial Service who worked at the sorting office on London Road – admitted that "worst sacrilege of all, we drilled on the hallowed turf! What would Denis Compton et al have thought of that?"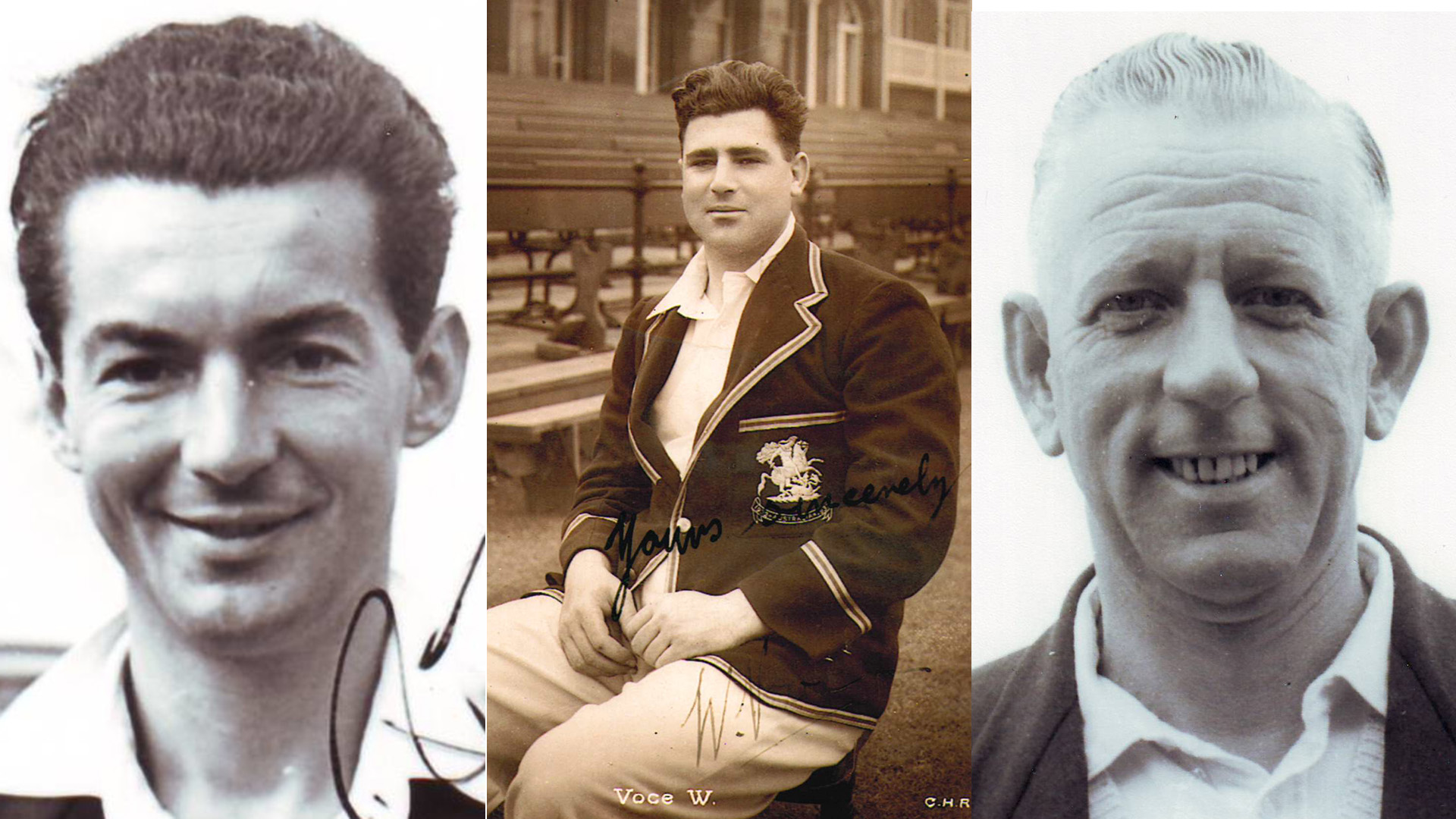 Following an early end to 1939 County Championship, Notts had played matches during each year of the war – although arranging fixtures and raising teams was a constant struggle.
In April 1940 the county had announced an ambitious programme of 11 two-day matches, including home and away fixtures against Surrey.
But in the event only the first of these matches – against Derbyshire on the Whitsun weekend – was played as intended.
Throughout the war fixtures were mainly one-day matches played home and away against Derbyshire and Leicestershire, while various service teams visited Trent Bridge. Until 1944 these matches featured eight-ball overs, a two-year trial having been agreed in 1939.
It was not unusual to find Notts players appearing in opposition sides, including Sergeant Joe Hardstaff, Bombardier Charlie Harris, Gunner Harold Butler and Sapper Joseph Knowles.
Meanwhile Notts' teams would often be a mixture of established 1st XI players, local club cricketers and high-profile guests.
Middlesex's Gubby Allen and Yorkshire's Maurice Leyland (both of whom had been on 'The Bodyline Tour' with Larwood and Voce in 1932/33) were amongst those guests, each playing a single match for Notts in 1940 and 1944 respectively.
Overseas Test players were also seen occasionally: New Zealand's Roger Blunt played for Notts in three of the war years, while South Africa's Denijs Morkel (who had lived in Nottingham since the 1930s) appeared in 1940 and 1944.
The late withdrawal of players, the cancellation of matches at short notice and incomplete scorecards were not unusual, but the 50 completed fixtures (another four were abandoned) were appreciated by the cricketers and by the spectators.
Among the 90 players who represented Notts were a young Reg Simpson, who made his debut against a Services XI in July 1940, and Cyril Poole, who appeared against the RAF in 1941.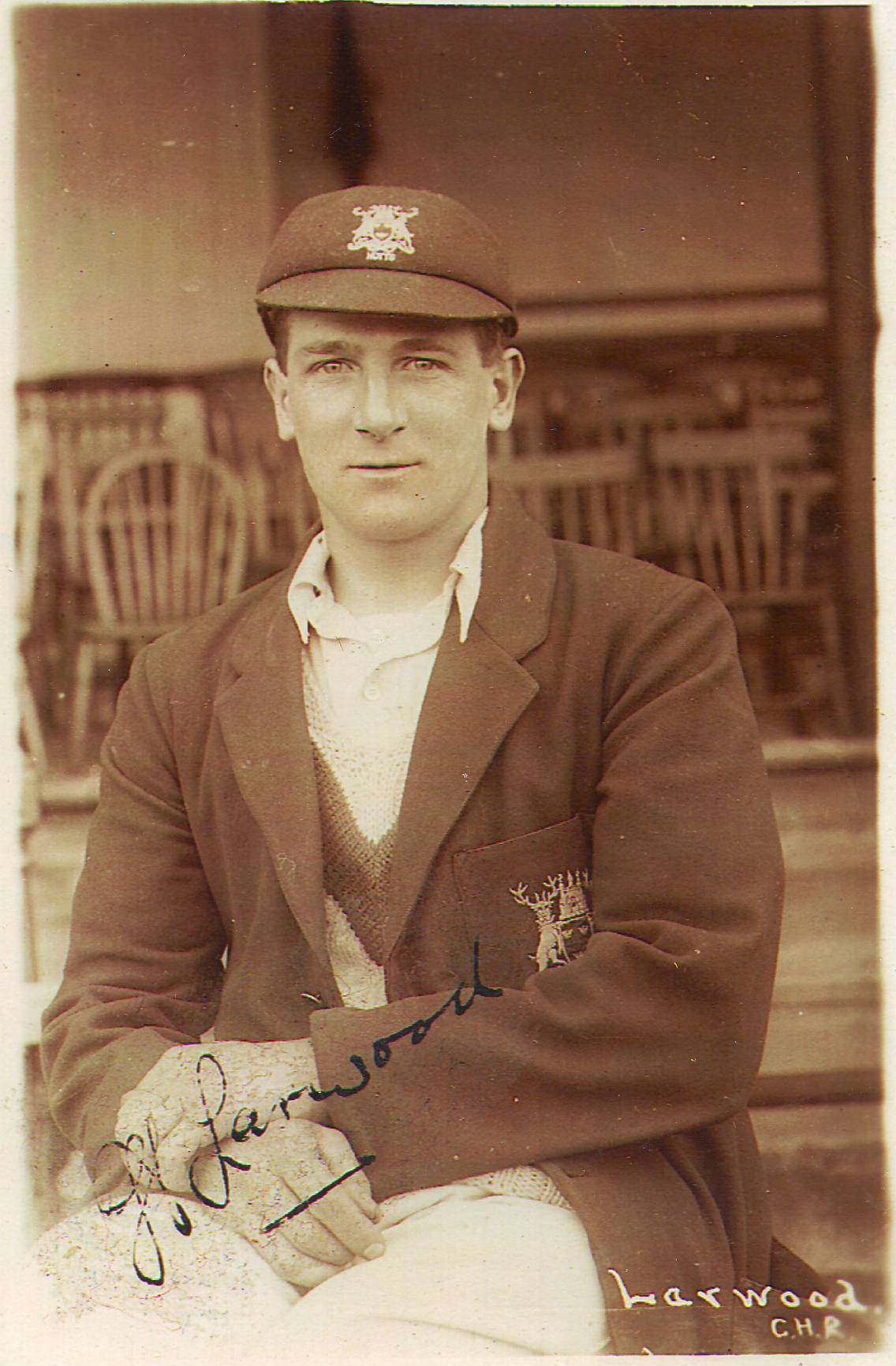 Two wartime matches provided particular points of interest:
On 17 August 1940 a strong Notts side overwhelmed a Notts & Derbys Border League XI, bowling the visitors out for 97 before going on to reach 234 for 3 declared.
After tea the teams played one of the earliest limited-overs matches seen at Trent Bridge, consisting of 15 six-ball overs per side. Notts batted first and scored 157 for 4, led by Joe Hardstaff's 111*. Despite Ron Giles taking six wickets for three runs in three overs – and twice being on a hat trick – the visitors closed on 59 for 9 so the match was deemed a draw.
On 4 August 1941 a match between 'Officers' and 'Other Ranks' featured the final Trent Bridge appearance of one of Notts' greatest bowlers.
Harold Larwood had left his home county at the end of the 1938 season and moved to Blackpool, but on this day he was reunited with Bill Voce for one last time.
"Midst a roar of cheers and a fanfare of motor-horns Larwood clean bowled Major Webber with the fourth ball of his first over"

Nottingham Journal report on Harold Larwood's final appearance at Trent Bridge
Having scored five runs in the Other Ranks' 288 for 7 declared, Larwood opened the bowling against the Officers.
"Midst a roar of cheers and a fanfare of motor-horns Larwood clean bowled Major Webber with the fourth ball of his first over" reported the Nottingham Journal. "In his second over Flying-officer Lowcock had his off-stump knocked back with a ball that fairly ripped off the wicket."
With Bill Voce also claiming two early wickets in two balls, captain Maurice Leyland decided to change the bowling and avoid a very early finish for the sizeable Bank Holiday crowd. Larwood had bowled three overs, taking two wickets and conceding 13 runs, while also earning ten shillings for charity from an anonymous sponsor.
After VE Day Notts played eight matches at Trent Bridge in 1945, closing with a two-day fixture against a strong team of Australian servicemen.
Thanks to the sterling efforts of Club Secretary HA Brown, Nottinghamshire had been the only Club to play county cricket throughout the six wartime summers, raising money for a variety of war-related charities and maintaining the interest of Notts members throughout challenging times.