James Pipe believes Nottinghamshire's steadfast showing against Worcestershire was the reward for a winter of battle-hardening preparation as they look to their next LV= Insurance County Championship match against Derbyshire.
Stuart Broad returns to the 13-man squad for the fixture at the Incora County Ground, while Tom Barber and Matt Carter miss out.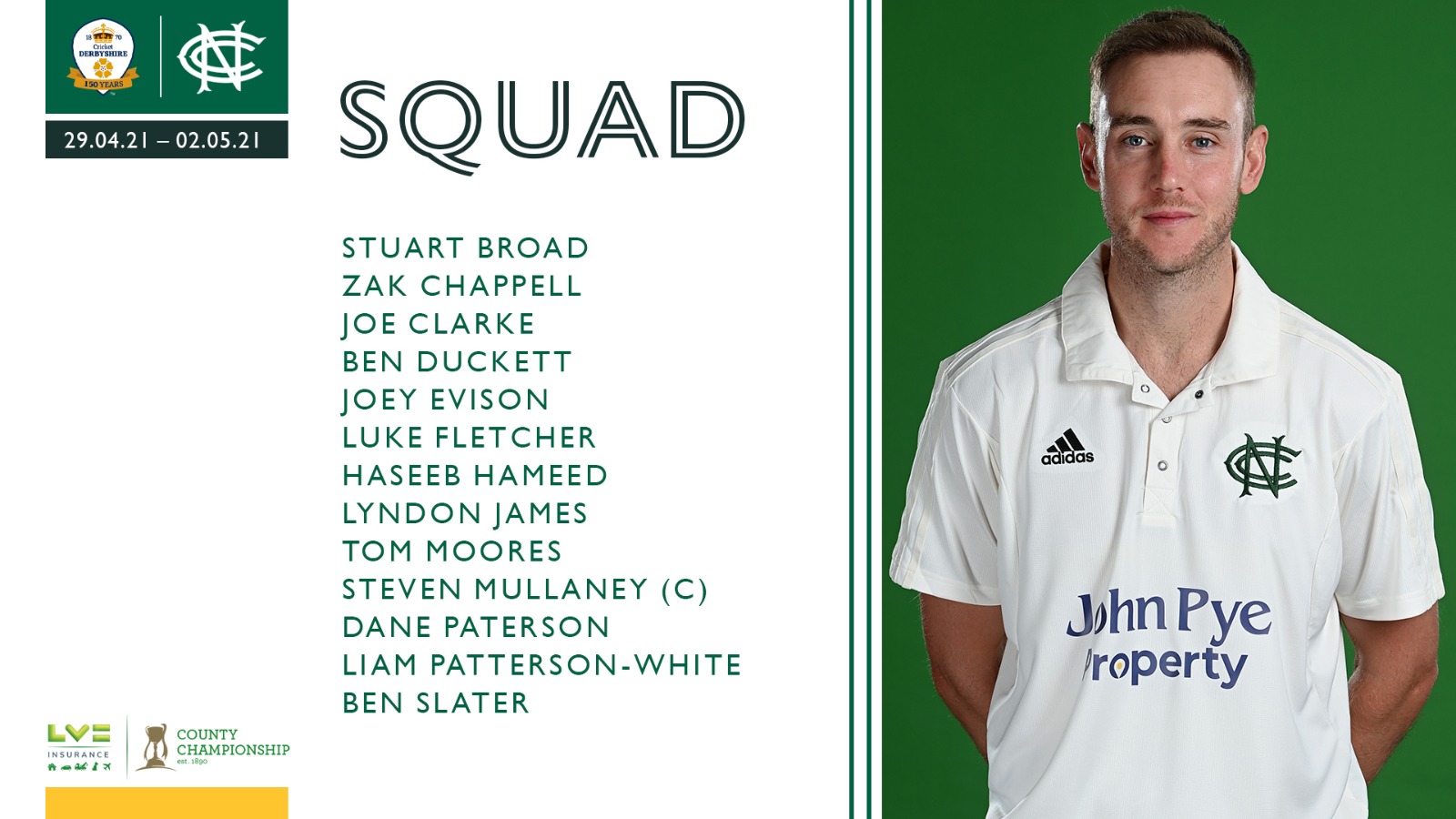 Notts were forced to follow on at New Road after succumbing to a 160-run first innings deficit, but openers Haseeb Hameed and Ben Slater batted throughout the entirety of day four to finish on 236 for none with centuries apiece for the openers.
"Cricket is a funny game because you do all the preparation, get all the processes sorted out, but then you get a good ball or a bad decision and you don't get anything for it," admitted the Head of Science and Medicine.
"Hass [Hameed] and Slats [Slater] have worked hard at their fitness and their physical preparation. They prepare to bat long periods of time by hitting thousands and thousands of balls in pre-season and it was great for them to do it out in the middle where it counts.
"Credit it to them, they are good lads and they got what they richly deserved. They are good professionals."
Hameed and Slater's success was met with rapturous appreciation by their teammates, coaches and support stuff during, and at the end of, the final day; a reception which Pipe says is a hallmark of the togetherness and selflessness in the dressing room.
"One of the beauties of this game is sharing success with others, and you get the feeling that when someone does well in this team everyone shares it.
"The lads couldn't have been any happier for them because of their application and commitment. It was great to see all the hard work, discipline and dedication over the winter and the pre-season prep coming to fruition.
"We have got a special group here who work hard, enjoy spending time with each other and are really committed and passionate about bringing success to the club."
Thursday sees another trip away from Trent Bridge, this time to East Midlands neighbours Derbyshire, another of Pipe's former employers. The prospect of playing away is something that, during unfamiliar times, is there to be relished.
"It's always good whenever you get the chance to spend time with players and coaches because you are surrounded by good people. We always say that's what makes the club here, the people.
"It was nice to go back to New Road as well to see some familiar faces. I'm really proud of the time I spent at Worcestershire and Derbyshire, and the things I was able to be a part of.
"You should always be proud if you have committed to something. Now I am proud be at Notts, and enjoying giving 100 per cent to the cause to try and get some more silverware."
As the players gear up for their fourth match in as many weeks, Pipe stressed that the onus is on the players to ensure they are in the best position physically to meet the demands of yet another game.
"We've got a clear philosophy in the Science and Medicine Department. All we ask of the players is to commit to helping improve their own performance to keeping themselves out on the park," he said.
"Although we can do all the right things - give advice and provide facilities & manpower - ultimately it is the players' responsibility to make sure they recover to the best of their ability, and to make sure they stay on top of their conditioning and physical preparation.
"It is simple, it is something that has filtered down from Pete (Moores, Head Coach); that's what he expects, that's what he demands from us and that's what we strive to do on a daily basis."
Coverage of Derbyshire v Nottinghamshire, featuring live streaming, highlights and match scorecard, will be available from 11am on Thursday 29 April via Trent Bridge Live.
*******
Tickets to witness Notts Outlaws' defence of their Vitality Blast title in 2021 are now on general sale.