We can't wait to welcome England and India to our historic home as Test Match cricket returns to Nottingham from Wednesday 4 August.
Should you be visiting us for the LV= Insurance Test Match, read on to learn all the information you need to ensure maximum enjoyment from the game at Trent Bridge.
To familarise yourself with our venue, please peruse the map below (which is available to download here), or use the links which follow to navigate your way through the guide.
Day five ticketing
Sadly, no play was possible on the final day of the first LV= Insurance Test Match between England and India.
All day five ticketholders will receive a full, automatic refund within four weeks, with no further action required.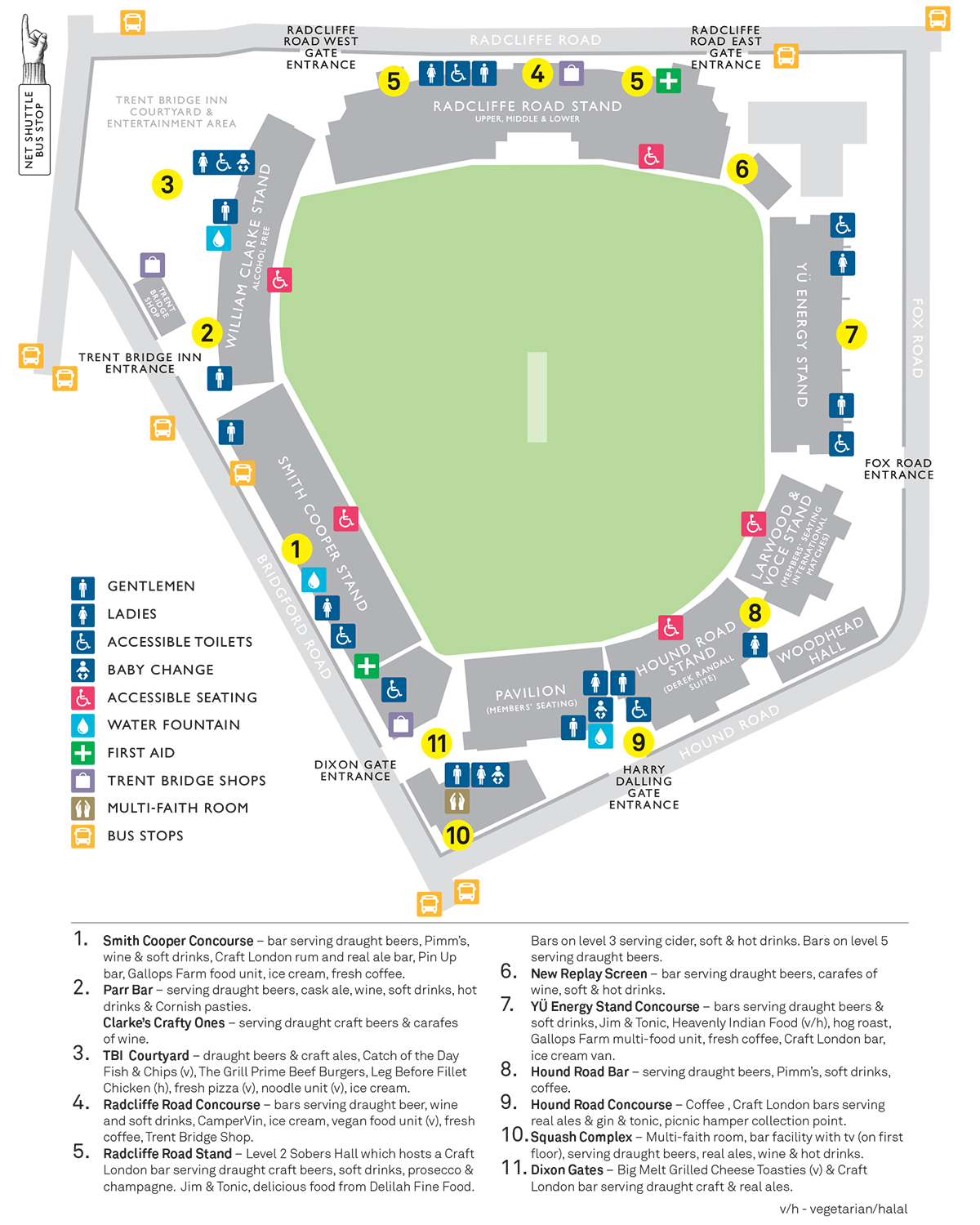 Ticket information
A limited number of returned tickets are available across all five days of the Test. Browse our latest availability, and make your purchase, here.
If you selected the option of e-tickets, please be aware that the PDF attachment to your booking confirmation is not your match tickets.
Kindly be sure to log into your ticketing account and download your tickets by selecting the My Orders option within the Account section of the site.
From there, you'll be able to either print them at home, store them in your Apple Wallet or download them to your mobile phone.
If you opted to receive printed tickets and they have not arrived by Monday 2 August, kindly let us know via questions@nottsccc.co.uk or 0115 899 0300 so our friendly team can make the necessary arrangements.
Ticket refund policy
For days 1 to 4 of the Test Match: If, for the day for which the ticket is valid (where the date of the match has changed this means the new date of the match), the venue is unable to admit spectators OR play does not take place OR play is restricted, you will be entitled to a refund of only the match ticket value subject to there being: (a) non admittance of spectators OR zero to 15 overs played - a full refund; (b) 15.1 overs to 30 overs played - a 50% refund. In no other circumstances can money be refunded.
In respect of tickets purchased in advance for the day on which this ticket is valid, the refund process will be commenced automatically by Nottinghamshire County Cricket Club to the original purchaser only. Any refunds will be processed either by refunding to the debit or credit card used to make the purchase or by BACS payment.
For refund queries, please contact our ticket office via questions@nottsccc.co.uk or 0115 899 0300. Further information is available at www.ecb.co.uk/refundscheme. Please allow 30 days for the refund process to take place.
This refund policy does not apply to day 5 of Test Matches. For day 5 tickets, a full refund may be claimed on the value of the ticket only if there is no play because of adverse weather conditions or completion of the match.
Covid safety measures
Please do not attend our venue if you or anyone within your household undergoes symptoms of Covid-19, incurs a positive test or if you have been asked to self-isolate by NHS test and trace.
Meanwhile, for everybody's safety and peace of mind, we are encouraging all spectators – on a voluntary basis – to follow the guidance outlined below:
We know many of our spectators will be double vaccinated, and will have received the second jab more than 14 days prior.
If that is the case, you need take no further action ahead of the day of the game.
If you are not double vaccinated, we heartily encourage you to conduct a lateral flow Covid test, which are available to order from the government website here or from local pharmacies, within 48 hours of your visit and not to attend if the result is positive.
Once in the ground, we ask that you retain impeccable hand hygiene, use the sanitisers provided around the ground and apply a face covering as you move around the venue.
Pssssssst! For clarity, the above measures are requested on a voluntary basis only. They will not be enforced, and are not a condition of entry.
How to find us
Trent Bridge Cricket Ground is situated in West Bridgford, in very close proximity to both Nottingham Forest and Notts County Football Clubs. Our postcode is NG2 6AG.
As you approach, you can't miss the circular floodlights.
We are a couple of miles from Nottingham City Centre, a mile or so from the train station, and our city is blessed with one of the best public transport networks in the UK.
We have gates through which to enter the ground situated on Bridgford Road, Radcliffe Road, Hound Road and Fox Road. Your ticket will indicate which gate you should use.
For your convenience, you can view a map that shows approaches to the ground here.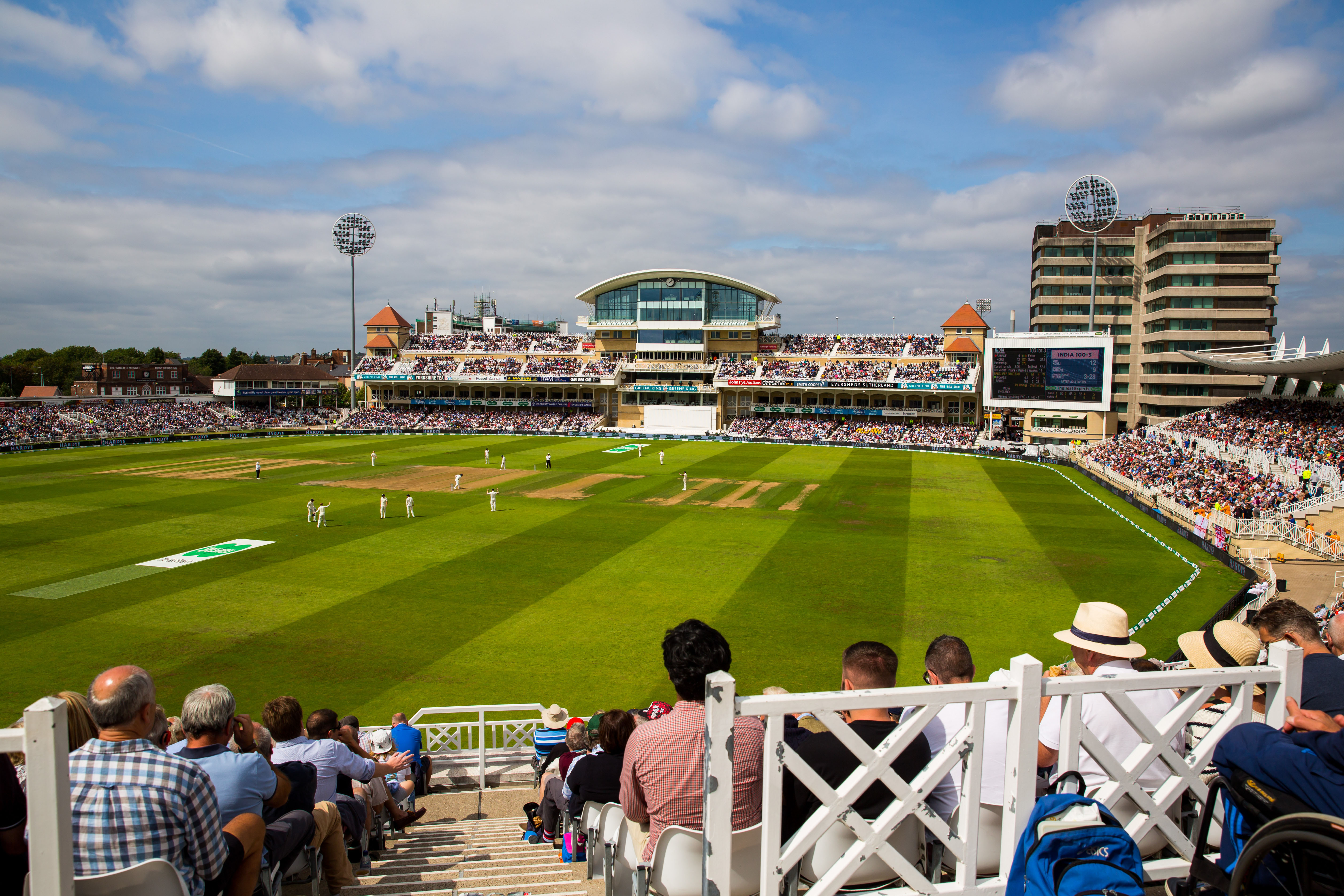 Travel Information
Ticket holders travelling to the event are advised to follow the Department for Transport's Safer Travel guidance advice.
For further details on public transport and car parking options around the city, please find a full transport guide here.
Travelling by car
Extremely limited parking remains on Bridge Field (NG2 6AP), a few hundred yards away from Trent Bridge. Car park passes, priced at £10 for Nottinghamshire members and £12 for non-members, must be booked in advance here.
Parking can also be found on the Victoria Embankment (NG2 2EH), priced at £10 per car and £30 per coach (cash only).
You will also find parking at County Hall (NG2 7QP) on Saturday 7 August and Sunday 8 August.
Anyone travelling by car from outside the city can take advantage of NET's seven free park & ride facilities located around Nottingham. The most convenient tram park & ride site for the A453 can be found at Clifton South (17-minute tram travel time), while parking is also available at Toton Lane (31-minute tram travel time).
As an added incentive to take the tram, NET will be running its £2.50 return event ticket offer (see travelling by tram, below).
If you have a spare seat in your car, or are looking for a ride, www.nottinghamshare.com, the free-to-use car share website, could save you money on your transport costs.
Please also note that roadworks will be in operation on the A52 Clifton Bridge from 5-7 August, with the road being closed eastbound overnight from 8pm.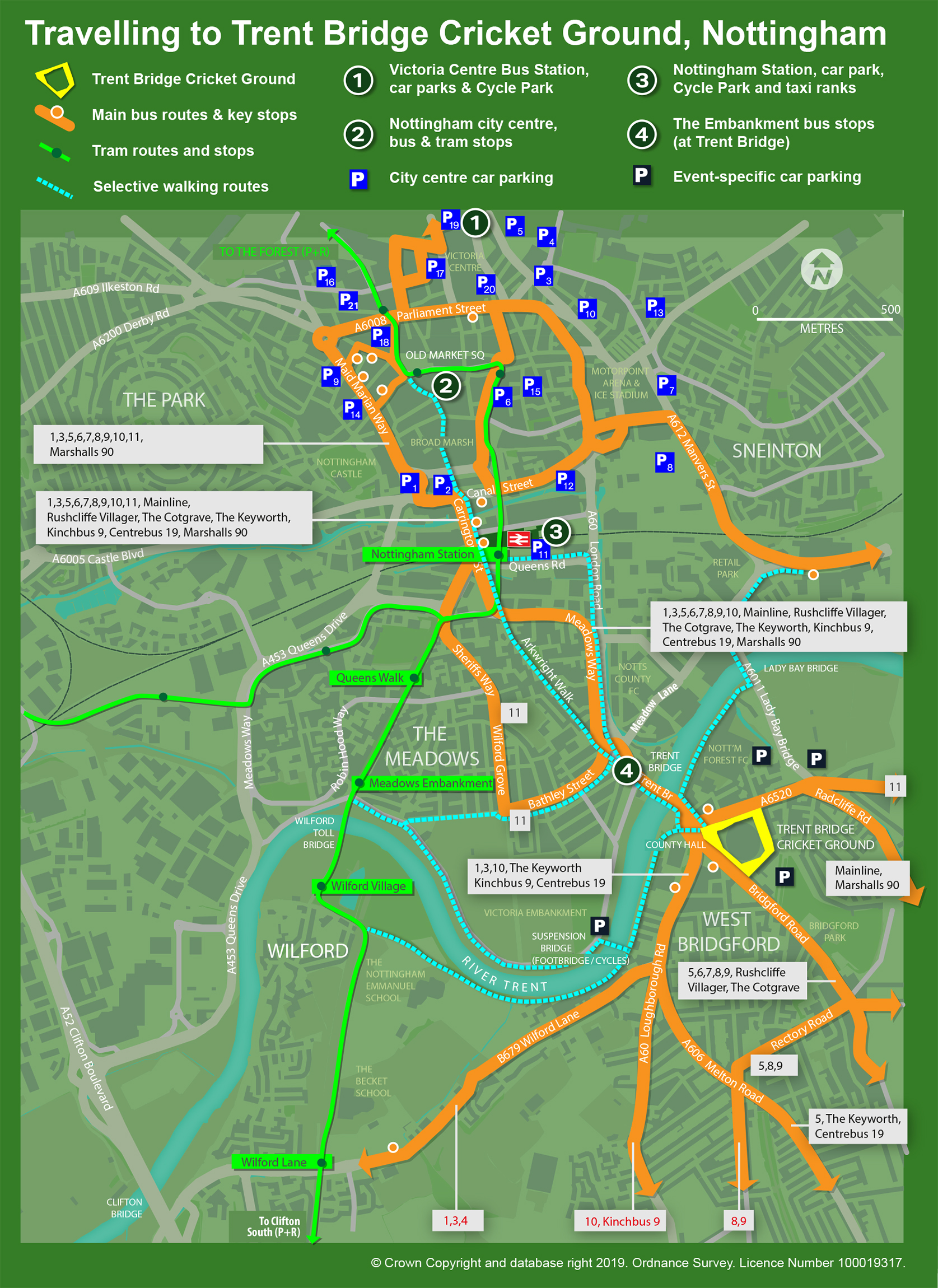 Travelling by tram
The Queens Walk and Meadows Embankment tram stops are located around a 20-minute walk from the ground, with the route from the Meadows Embankment stop proceeding along a pleasant stretch of the River Trent. Alternatively, a stop at Nottingham Train Station can be found just a 20-minute walk away. To help plan your journey, visit www.thetram.net.
NET will be running its £2.50 return event ticket offer for all match ticket holders and members.
To take advantage of the deal, you need to select the Event Ticket option from the ticket vending machine before boarding the tram, and make sure you have your match ticket to hand for inspection.
Additionally, as above, you can also purchase a group ticket for £6, which is for up to two adults and three children (under the age of 19).
Travelling by bus
Regular bus travel is available to the ground, with bus stops situated on Bridgford Road and Radcliffe Road.
Grouprider tickets, costing £6, allow up to five people to travel together (min 1 adult, max 2 adults) and are available to purchase on the bus, provided you have the exact fare in cash.
Alternatively, adults travelling on their own can save by tapping their payment card on the bus's card reader. This will deduct £2.30 if you travel one way, or £4.20 if you travel both ways.
To plan your bus journey visit www.nctx.co.uk, while NCT's safer travel guidance is available at https://www.nctx.co.uk/safertravel.
Trent Barton buses, meanwhile, serve West Bridgford and Nottingham via their Mainline (every ten minutes), Rushcliffe Villager, Keyworth and Cotgrave buses. Plan your journey at https://www.trentbarton.co.uk/.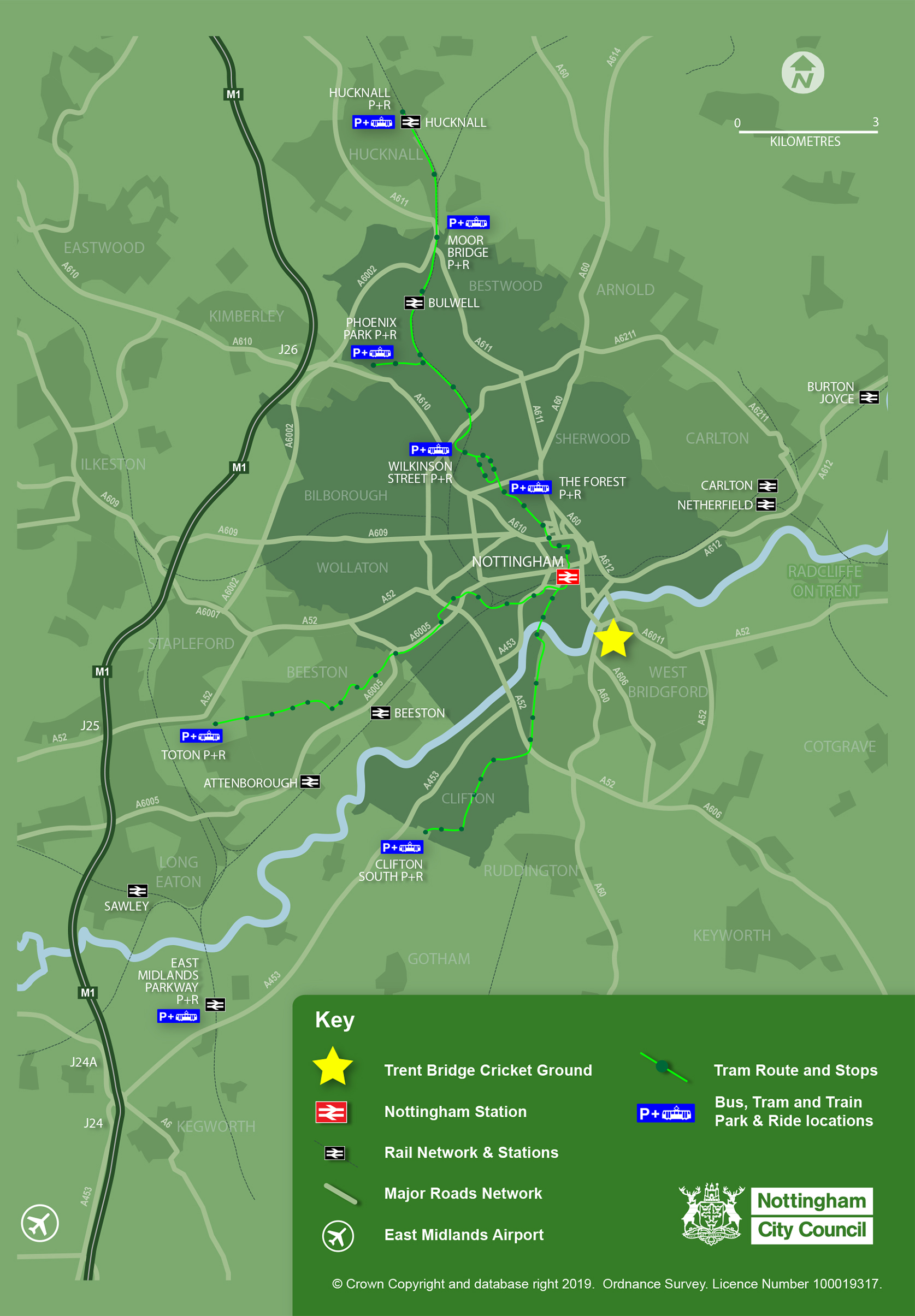 Travelling by train
Nottingham Station can be found a 20-minute walk from the ground, with public transport and taxis available to convey you to your destination.
To plan your journey, please visit the National Rail Enquiries website.
Taxis
A taxi rank can be found 200 yards from the ground on Bridgford Road, adjacent to the large West Bridgford Co-op. Fares to and from the station will cost around £7. If you need to call for a taxi, some of our local operators include: Royal Cabs 0115 9608 608, Trent Cars 0115 950 5050 and Yellow Cars 0115 981 8181.
Travelling by bicycle
Supporters planning to take their bikes to Trent Bridge are welcome to chain their bikes to the fence on the Bridge Field Car Park on Bridgford Road. Please bring a chain to secure your bike.
Bike parking will be available from two hours before scheduled start times until an hour after close of play. Kindly note that bikes are not allowed inside the ground for this fixture.
Arriving at the ground
The gates of our venue will open at 9am. Kindly approach the gate designated on your ticket and arrive as soon after that time as you can. We will be sure to keep you entertained both in our concourse areas and in your seat.
Note that our usual ground regulations continue to apply.
Hours of play
Gates open at 9am, with the toss set to take place at 10.30am on day one. Hours of play across all five days are scheduled as follows:
Morning session: 11am
Lunch: 1pm
Afternoon session: 1.40pm
Tea: 3.40pm
Evening session: 4pm
Close: 6pm
There is provision for an extra 30 minutes to be added on to make up for any loss in time. Kindly note that all timings are subject to change.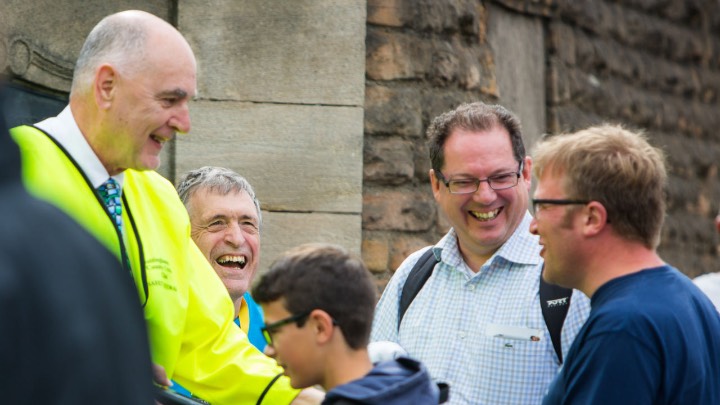 Assistance on the day
If you have any queries during your day at Trent Bridge, one of our Happy to Help volunteers, wearing blue, or stewards will be only too delighted to help. Additionally, our Above and Beyond volunteers will be available to assist guests with disability or accessibility needs and their helpers during the match.
Free spectator Wi-Fi
Free Wi-Fi is available throughout Trent Bridge, which you are very welcome to use at your leisure.
Simply connect to The Cloud from the available list of wireless networks and follow the sign-in or login instructions.
Should you experience any technical difficulties, if you are able to access the internet via other means (such as 4G), helpful guides are available at www.sky.com/wifi or you can email wifiuser@sky.co.uk.
Alternatively, the phone number to call is 0844 824 5000.
Our friendly staff will, of course, endeavour to assist you should you struggle with the process of connecting your device to the Wi-Fi.
However, we're sorry to say that we're not able to assist with technical issues. This can only be done via the process with Sky above.
Food & Drink
An array of catering options and bar facilities are on offer throughout the ground, featuring locally-sourced produce to satisfy a variety of tastes and dietary requirements.
Kindly note that all bars will be card-only, with cash not accepted.
Breakfast offer
A number of outlets around the ground will be offering breakfast snacks for a snip, upon production of a voucher.
To secure a breakfast baguette (three rashers of bacon and an egg) for £5, or a bacon bap with tea or coffee for £4.50, please make use of our downloadable vouchers, which can be found here.
Trent Bridge Inn Courtyard
Catch of the Day, serving fish and chips (V)
The Grill, serving prime beef burgers
Leg Before Fillet, serving fried chicken (halal)
Fresh pizza (V)
Noodle unit (V)
Ice Cream van
The Sound Bar, with live bands (on days 1-4) performing before play and during the lunch interval
Clarke's Crafty Ones – serving premium draught craft beers, alcohol-free beers and carafes of wine
The Parr Bar, serving draught beers and real ales, wines, soft drinks and hot drinks, as well as tasty Cornish pasties
Smith Cooper Concourse
Gallops farm, serving a selection of food
Fresh coffee stall
Bars serving draught beers, Pimm's, wine & soft drinks
Craft London rum and real ale bar
Pin Up bar
Ice Cream van
Dixon Gates
Toasted Big Cheese Melt stall (V)
Craft London bar, serving draught craft beers and real ales
Radcliffe Road Concourse
Vegan stall, serving meat-free options (V)
Fresh coffee stall
Bars serving draught beer, wine & soft drinks
CamperVin, serving wines by the glass
Ice Cream Van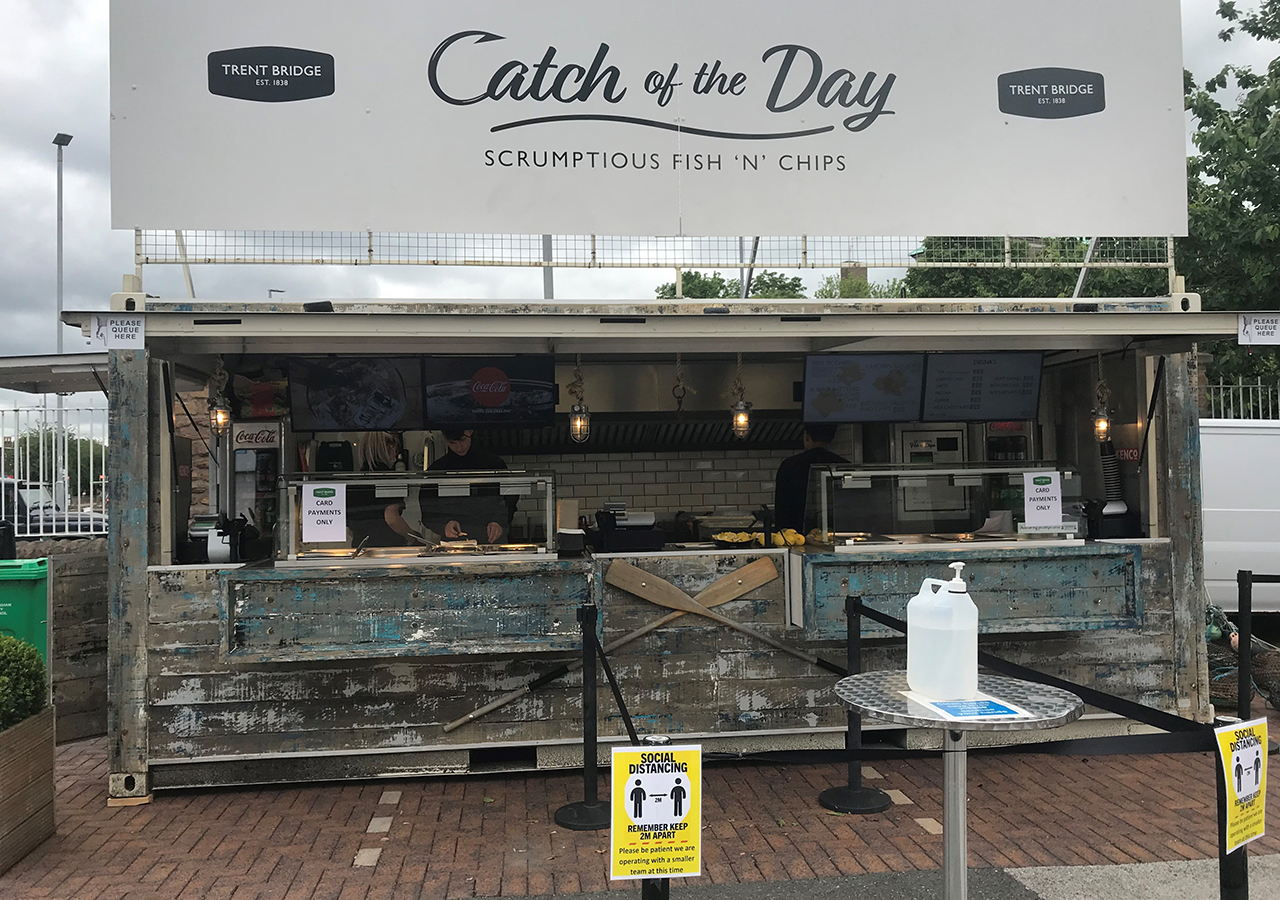 Radcliffe Road Stand
Bars on level 3, serving cider, soft drinks and hot drinks
Bars on level 5 serving draught beers
Sobers Cricket Hall (Level 2, Radcliffe Road Stand)
Craft London Bar serving premium draught craft beers, soft drinks, prosecco and champagne
Jim & Tonic, serving a selection of gin and tonics
Delilah Fine Food, serving artisan deli products
Scoreboard (between Radcliffe Road Stand and Yu Energy Stand)
Scoreboard Bar serving draught beers, carafes of wine, soft drinks and hot drinks
Yu Energy Stand Concourse
Hog roast
Gallops Farm, serving a selection of food
Heavenly Indian Food (V, halal)
Mr Kebab, serving kebabs, wraps and rolls
Bar serving draught beers & soft drinks
Craft London bar, serving premium drinks
Jim & Tonic serving a selection of Gin & Tonics
Fresh coffee stall
Ice Cream van
Hound Road Concourse
Hound Road bar, serving draught beers, Pimm's, soft drinks and hot drinks
Craft London bars, serving real ales, and gin & tonic
Fresh coffee stall
Food hamper collection point
Squash Complex/Ticket Office
The Rice Bar: Real Ale bar with TV (on first floor), serving draught beers, real ales, alcohol-free beers, wines & hot drinks.
Alcohol policy
At Trent Bridge, we expect everyone to be courteous to their fellow spectators and that all those in attendance conduct themselves with a level of decorum befitting of the resplendent surroundings.
Kindly, therefore, be sure to regulate your alcohol intake accordingly – and help others within your party do the same.
Recycling your beer cups
Beer will be served in branded, reusable cups, with spectators paying a £1 deposit. Each drink will be served in a fresh cup, with no deposit required in exchange for the existing vessel.
Supporters have two options in terms of what to do with their final cup of the day:
Take it home as a souvenir.
Return it to the bar and regain your £1 deposit.
Kindly note that beer cup returns will be accepted by over-18s only.
Picnic hamper collection
Pre-ordered picnic hampers can be collected from behind the Hound Road Stand between 9am and 11am.
You are, of course, welcome to bring your own food and soft drinks in plastic or cardboard containers, but please avoid cans, glassware and metal cutlery. Please be reminded that bringing alcohol into the ground is not permitted.
Water dispensers
Water dispensing facilities will be available around the ground if you wish to use your own refillable water bottles.
Club Shop
Don't forget to have a look around our Club Shop, at the rear of the Radcliffe Road stand, which offers a range of England and Trent Bridge merchandise for purchase. Scorecards will also be available in the shop, priced at 50p.
Additional Trent Bridge retail outlets will also be in position on the concourse of the Smith Cooper and Radcliffe Road Stands, and in the TBI Courtyard.
Kindly note that all retail outlets will be cashless.
Programmes and scorecards
Programmes will be available from vendors around the ground, priced at £6.
Scorecards, meanwhile, will be available from the Trent Bridge Shop outlets, priced at 50p.
Kindly note that both programmes and scorecards will be available via cashless payments only.
Book signing – lunch, day two
Michael Holding will be signing copies of his powerful new book, Why We Kneel, How We Rise, outside the Trent Bridge Shop on the Radcliffe Road concourse. Copies of the book will also be available to purchase for £20 (card only).
Support the Trent Bridge Community Trust
You will find contactless donation stations situated around the venue, allowing you to make a small donation to our official charity, the Trent Bridge Community Trust, using your debit/ credit card or mobile phone.
Your donations will help the Trust to provide a sporting chance to disadvantaged people across Nottinghamshire, with over £1.5m having been invested into local projects over the last decade.
Initiatives operated by the Trust include:
Positive Futures, helping young people at risk of social exclusion to hone their skills and raise their aspirations
The YouNG Project, providing placement and entrepreneurship opportunities
Healthy Hearts, promoting a healthy and active lifestyle to primary school children
Forget Me Notts, supporting individuals with dementia
Notts in Mind, using sport to boost confidence, self-esteem and fitness.
Find out more about the Trust here, or make a donation here.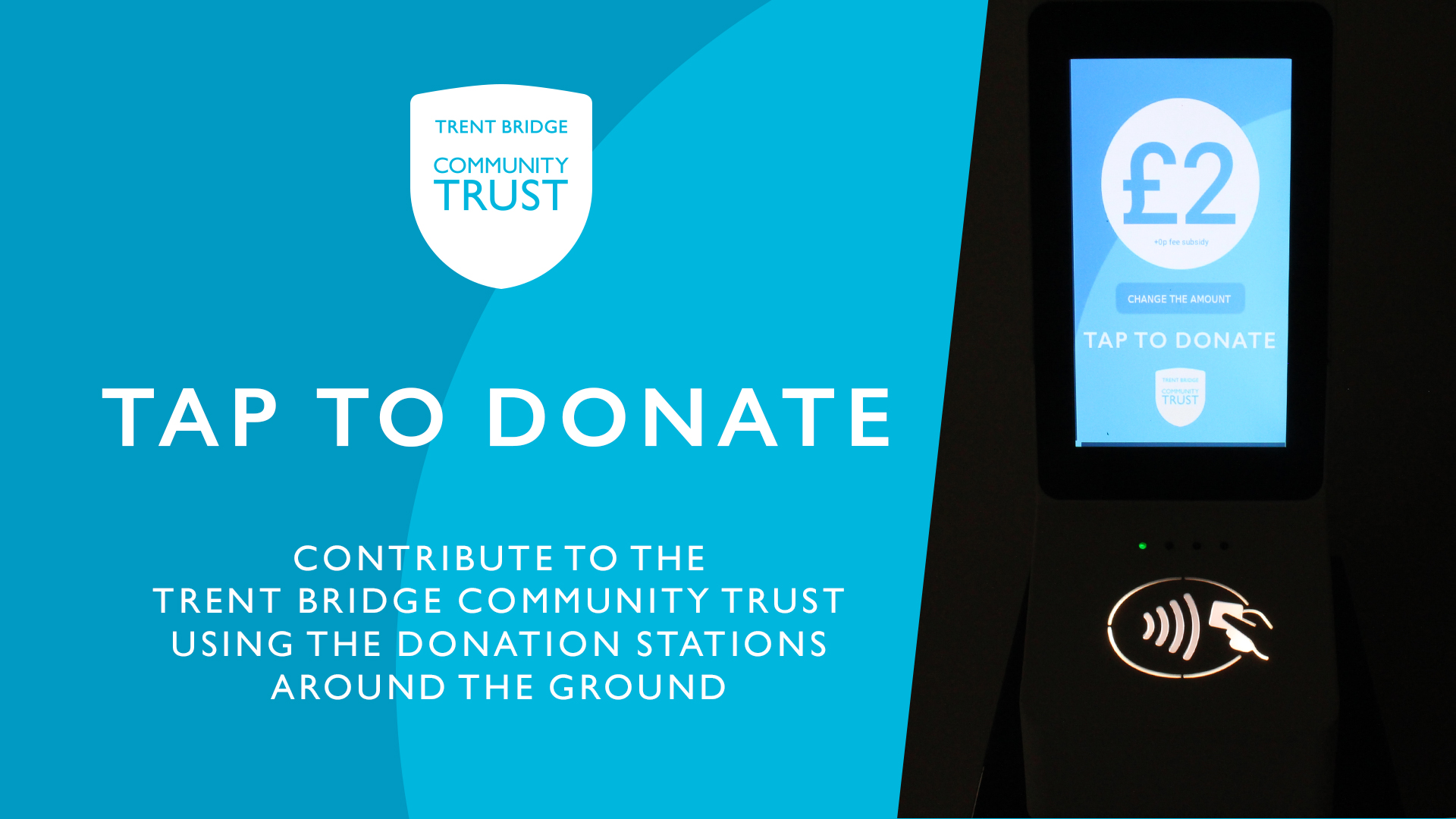 Toilet and baby changing facilities
Toilet facilities will be open and signposted around the ground, with stewards on hand to guide you to your nearest facility.
Changing facilities are available in the William Clarke Stand ladies' toilets, the Smith Cooper Stand toilets, the Hound Road ladies' toilets, in the Radcliffe Road Stand (on the concourse, beside Radcliffe Road reception, and on the East wing of the first floor) and in the Yu Energy Stand. Please feel free to ask any volunteer or steward for directions.
The squash complex changing rooms can be made available upon request at the Ticket Office as further baby changing facilities accessible to men, or as a quiet feeding area.
First Aid
First Aid facilities will be available at the rear of the Radcliffe Road and Smith Cooper Stands.
Accessibility at Trent Bridge
Wheelchair viewing positions are available in front of the William Clarke and Smith Cooper Stands, as well as the Hound Road Upper, Radcliffe Road Lower and the top of the Smith Cooper Stand.
Please feel free to ask your nearest steward, or Above and Beyond volunteers wearing blue, if you have any questions regarding our accessible facilities around the ground, as they'll be delighted to assist you.
Multi-faith room
If you want to get away from the hustle and bustle to pray, a multi-faith room has been set up in Squash Court Two situated just next door to our Ticket Office. Please see a steward or Happy to Help volunteer if you need directions.
Junior wristbands
All spectators visiting with children can take advantage of our free wrist band system. Simply collect your band from one of our gate stewards or volunteers, or alternatively ask a member of staff on the Radcliffe Road Reception or Ticket Office.
On the reverse of your wrist band, where details are well hidden from view, simply complete the following information:
• Parent/guardian's name
• Contact phone number whilst in the ground
• Your stand and seat location
• Date
These details will then help a steward reunite you with your child should you become separated or should he or she get lost around the ground.
Leaving and re-entering the venue
You are most welcome to exit the venue during the course of your visit to explore the surrounding area. Please be sure to check in with a steward as you leave in order to be permitted re-entry.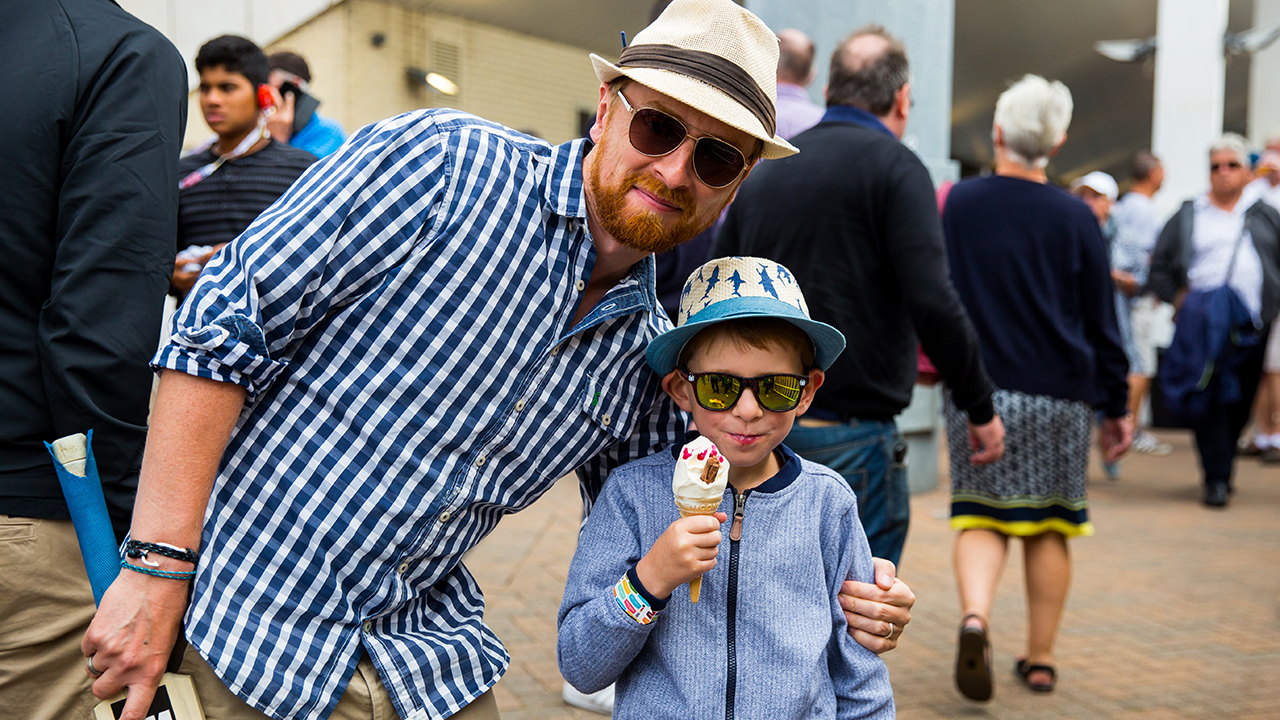 Safety and security
Our stewards will be on hand to ensure you are safe and secure throughout your day at Trent Bridge and should be your first port of call if you see anything that you may consider dangerous or suspicious.
We ask that you travel light and bring only essential items. Bags are best left at home although we do allow small ones through the gates. Your bags will be searched upon entry, so please arrive in good time.
Cameras and mobile devices
Please note that the use of any cameras, mobile devices or any electronic equipment for the recording, transmission or communication of match footage, details, statistics, images (on any platforms including but not limited to websites and social media) etc, is not permitted, other than with the proper accreditation. All ground regulations apply.
You can, however, take pictures for your own personal use, providing you do not use specialist equipment such as telephoto lenses, tripods or mono pods.
Accredited photographers will be present during the match and will be taking images for use on our printed marketing materials and digital channels. If you or anyone in your party would not like photographing, then please inform our photographer or your nearest steward.
You can view a full list of ground regulations here.
Contacting the Ticket Office
Kindly note that, to avoid indoor face to face contact for the safety of our staff, the Ticket Office will not be open for spectators as a walk-in facility inside the ground during the course of the event.
Members of our friendly team will be available at the windows to resolve any issues before you enter the venue and will be contactable throughout at questions@nottsccc.co.uk or 0115 899 0300.
Spectators will be permitted to enter the building in order to access other facilities.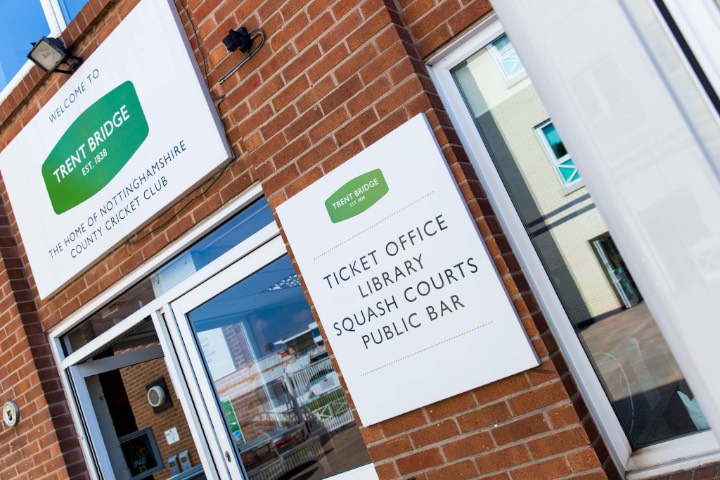 Pavilion Access
It has been deemed essential that we continue to protect the integrity of the accommodation required for players, support staff and officials.
Consequently, the Pavilion building, including the Long Room, will be restricted to use by those individuals, and we will unfortunately not be able to provide an indoor facility for members at this fixture.
Whilst being able to provide indoor access as usual would of course have been our preference, we have brought in additional facilities to ensure that all relevant amenities are close by.
After the match
Just a few hours after close of play, look out for your exclusive email to those that purchased tickets. It includes reaction to the game, photographs and the opportunity to provide feedback on your matchday experience with us. Please feel free to forward this communication to those that attended the fixture with you.
Looking for somewhere to stay?
Nottingham Tourist Information Centre, situated on Smithy Row in the City Centre, has an up-to-date view on availability across the city. They can be contacted on 0844 477 5678 or you can go online here.
Any questions?
If you find yourself in need of assistance, please contact our friendly team at questions@nottsccc.co.uk, or by telephone to 0115 899 0300, and we will come back to you as quickly as we can.
Coming up at Trent Bridge
There's a host of on-field action to come at our vibrant venue through the course of the summer, including:
The Royal London Cup Final: Our historic home plays host to county cricket's original cup final for the very first time on Thursday 19 August. Adults from £20, all under 16s £1. Secure your seats here...
Vitality Blast Quarter-Final: Notts have secured a home knockout tie for the tenth time in 12 seasons, with the Outlaws continuing the defence of their T20 title on Wednesday 25 August. Register your interest here...