Seventy-five years ago today, Reg Simpson made his First-Class debut for his home county to start a long and illustrious career with Nottinghamshire and England.
Born in Sherwood on 27 February 1920, Simpson showed early promise as a batsman whilst still at Nottingham High School, notably in an opening partnership of 467 with one Henry Betts in a house game. But for the outbreak of World War II, he would certainly have made his county debut earlier.
He did, in fact, play for Notts in a couple of the wartime games staged at Trent Bridge, and an innings of 134* against an RAF XI showed the home club what they could look forward to when cricket proper returned.
When he did break into the First XI, against Sussex on 6 July 1946, he had already played half-a-dozen First-Class matches in India whilst serving with the RAF. In his first game he represented Sind province against Bombay, and made 88 as an opener before being bowled by Vijay Merchant.
Simpson was a stylish opening bat and cut an elegant figure at the wicket with an upright stance and flowing drives. A strong back-foot player, he hooked better than most tall men. He bowled occasional off-breaks and was a fine fielder, especially in the covers.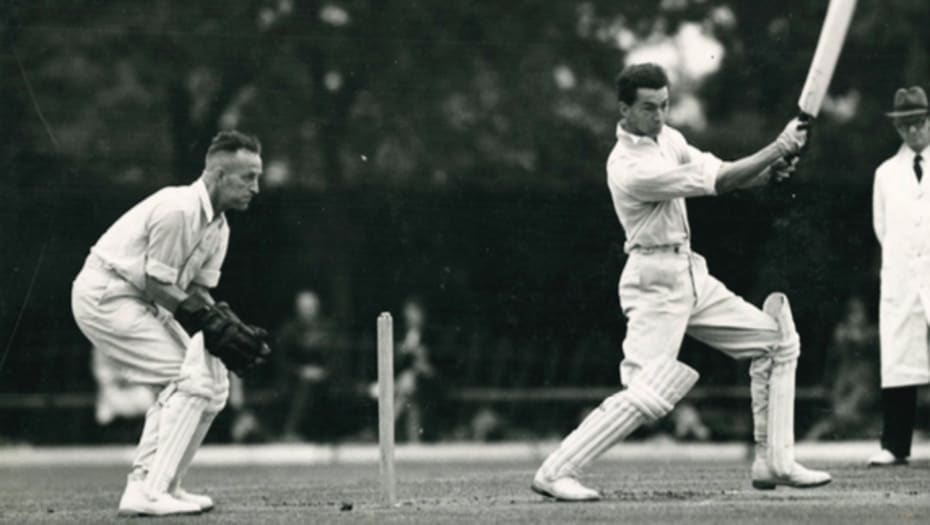 He made an immediate impression in his county career and was selected to tour South Africa in 1948/49, playing a single Test on that tour. When selected to play against New Zealand the following year he made his first test century, playing in the middle order.
Competition for places in the England side was fierce, with Hutton and Washbrook an established opening pair and such luminaries as Peter May and Denis Compton in the top order.
Reg was, therefore, in and out of the Test side over the next six years, playing 27 times for England in all.
His finest test innings was the 156* that played a major part in England's first Test victory over Australia in thirteen years, in the final Test of the 1950/51 tour.
Batting at number 3, he was on 92 when the ninth wicket fell with England only 29 ahead. He took the attack to the Australians magnificently, and the last wicket put on 74. The great cricket writer E W Swanton said of this innings "in such a mood Simpson's batsmanship looked akin to greatness".
Simpson was one of Wisden's Five Cricketers of the Year for 1950, and took over the captaincy of Nottinghamshire in 1951, shouldering the burden for ten years. He topped the national batting averages in 1962, with 867 runs at 54.18, and retired after the 1963 season. He made more than 30,000 runs in his career with 64 centuries in all.
His final game for Nottinghamshire was against the touring West Indians in 1963, when he fell victim to a certain Gary Sobers.
Although that was his last first-team game, Simpson continued playing cricket well into his sixties. His last recorded game was for the Forty Club – a 'wandering' team for senior players – in Perth, Scotland in June 1986, just a month short of forty years on from his county debut.
Simpson served on the Nottinghamshire committee for many years and was a popular figure at Trent Bridge. He was made an honorary member of the MCC and was a director of the bat-makers, Gunn and Moore.
Born Thomas Reginald Simpson, though he always answered to 'Reg', he died on 22 November 2013, aged 93 in Nacton, Ipswich – at that time the oldest surviving England Test player.