In the last few years, the importance of mental health – in sport, and in everyday life – has gained a higher profile.
In recent times, the challenges of the pandemic have raised this awareness still further.
During Mental Health Awareness Week (10 to 16 May) we remember three Notts cricketers for whom life simply became too much, and spread the simple but critical message that it's okay not to be okay.
************
Born in 1856, William Scotton played for Notts between 1875 and 1890. He also made 15 Test appearances, toured Australia three times in the 1880s with Alfred Shaw and Arthur Shrewsbury and played a few games for Notts County FC between 1878 and 1887.
Renowned for his slow and disciplined batting and described as 'one of life's great stonewallers', it was said that 'at the wicket his unwearying patience was enough to break the heart of most bowlers, for to him it was a matter of indifference whether he batted for a day or more'.
After his last appearance for Notts, Scotton rented a room in London during the cricket season while he undertook umpiring duties around the country.
In July 1893, it was said that Scotton had 'taken very much to heart' the end of his playing career.
He was troubled by having accidentally injured an opponent when persuaded to play in a club match, and by two mistakes he had made when umpiring a match in Bristol; and he had recently been divorced.
The Nottingham Daily Express reported that 'he appeared in a mentally distressed condition – indeed, he is stated to have been strange in his manner for a long time past', and on the morning of Sunday 9 July 1893 he cut his throat with his razor before being discovered by his horrified landlady.
At the inquest, a fellow resident in the lodging house stated that Scotton 'had been taking too much to drink', while a police officer read a letter from 'a friend at Lord's' who had told Scotton 'not to be a fool and to pull himself together'.
************
One of Scotton's childhood friends, and a long-time teammate from their days in club cricket, was a supremely talented batsman by the name of Arthur Shrewsbury.
In 375 matches for his home county, he accumulated 19,409 runs, including 44 centuries.
He also played in 23 Tests and was said to be WG Grace's preferred opening partner in the national team.
Shrewsbury was commercially-minded, promoting tours to Australia and setting up a sports goods company with his Notts teammate Alfred Shaw.
In '100 Greats of Nottinghamshire County Cricket Club', Jim Ledbetter described Shrewsbury as 'a complex character – teetotaller, non-smoker, bachelor, sensitive about his premature baldness to the point of not being seen without a hat, desperate to sleep at home if at all possible, continually worrying about his health and sight and living a lonely life in the midst of crowds'.
Having consulted various doctors in Nottingham and London – one of whom described Shrewsbury as 'hypochondriacal' and 'too pessimistic' – the great batsman was convinced that he was suffering from an incurable disease and, at the age of 47, shot himself on the evening of 19 May 1903.
************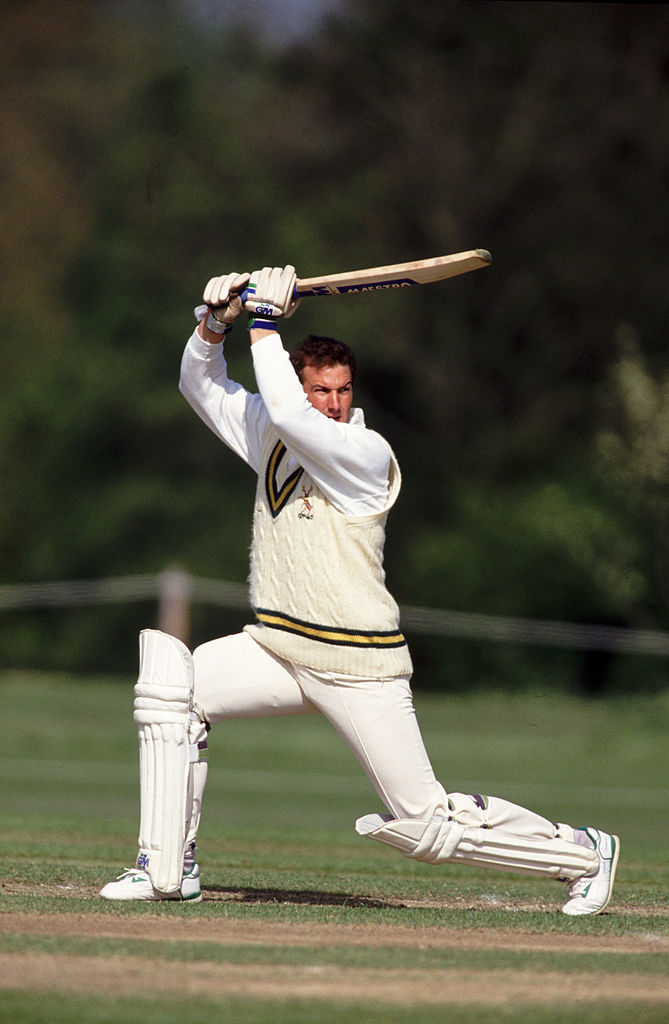 Born in 1969, Mark Saxelby made his debut for Notts in 1989 and averaged 30.19 in 37 First-Class matches across five seasons.
Moving to Durham in 1994, he stayed in the north-east for two seasons before playing Minor Counties cricket and qualifying as a teacher. He played a solitary County Championship match for Derbyshire in 2000.
Three months later on 12 October 2000, at the age of just 31, Saxelby took his own life.
Writing for The Times in 2011, former England captain Michael Atherton commented: 'All professional sports affect their participants in differing ways, but it is hard not to feel that cricket is particularly cruel at times. There are short, enjoyable summer months followed by, for county cricketers, long, lonely winters.'
Developing an idea proposed by former All Black John Kirwan, Atherton added: 'A sportsman's default reaction to anything is to fight. You fight for your place, your career, your form and you fight, in a manner of speaking, your opponents every day. It is what you are programmed to do. The tragedy was that, when the fighting was done, Saxelby did not know where to turn.'
************
Had Scotton, Shrewsbury and Saxelby been playing today, various sources of help would have been available to them, all year round.
Each member of the Nottinghamshire squad received a pre-season mental health screening in March and the Professional Cricketers' Association (PCA) helps current and former professional cricketers in a variety of ways.
Mental health support can be accessed through a regional Personal Development Manager; a confidential helpline is available 24 hours a day, 365 days a year; and emotional counselling is offered by other charities such as Mind, Heads Together and CALM (the Campaign against Living Miserably).
The NHS-approved 'Thrive' well-being app is, meanwhile, available to all members – allowing direct access to qualified therapists, and can be used proactively to help deal with the daily stresses of life on and off the pitch.
Finally, the PCA's registered charity – the Professional Cricketers' Trust – provides additional support for members and their immediate families when they need it most.
In 2020, the Trust supported 94 cases in the area of mental health alone, 35 of which were current players, bringing the total number of individuals supported since 2015 up to 426.
In addition, a further 20 individuals were supported in hardship and other areas throughout last year.
With demand for the Trust's services increasingly on the rise, 2021 is set to be a record-breaking year for the players' charity, with support having been offered in 59 cases by the end of March.
************
If you have concerns regarding your own mental health, be assured that help is at hand. Peruse a range of available resources here…