Tickets for the international cricket to be staged at Trent Bridge in 2022 are now on general sale, with availability already limited following unprecedented demand during the priority windows.
General admission tickets for the Vitality IT20 between England and India on Sunday 3 July have already sold out, with days one and two of the host nation's Test Match against New Zealand starting on Friday 10 June also nearing their full capacity.
Seats remain available in a variety of locations across the ground for the final three days of the fixture, the Black Caps' first Test at our renowned venue since 2008, with a maximum in place of six tickets per matchday, per booking.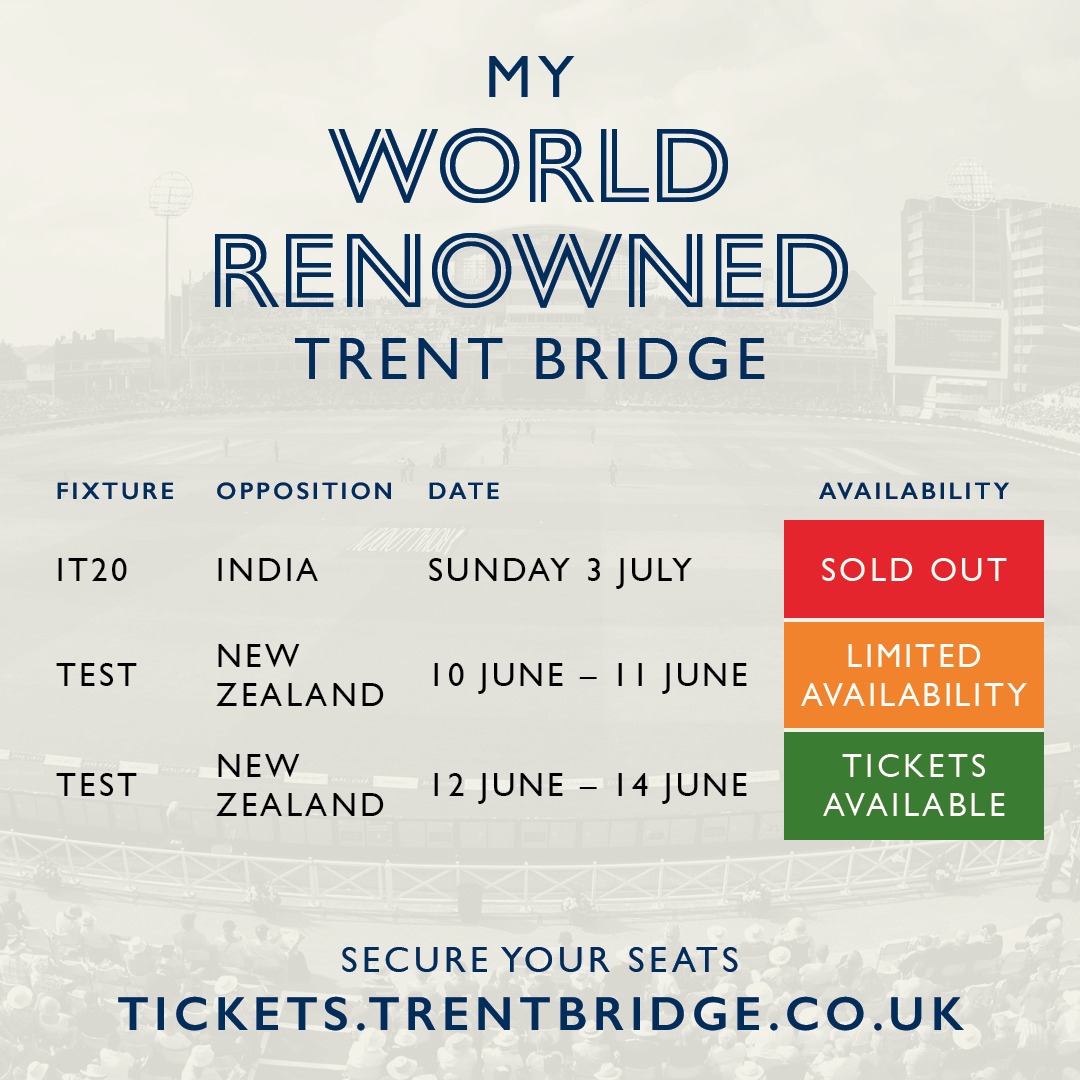 Hospitality places, from where guests can enjoy all of the world-class action from the very best suites in the house, remain available for each of the matchdays and can be secured online here…
Seats in exclusive members' areas currently remain available across all matches, with information on how to join the club for 2022 available here…
Those wishing to secure spots in the seating adjoined to Trent Bridge's historic Pavilion must be Nottinghamshire members, with all members of their party also required to join the club for 2022.
And, although only members are permitted to purchase tickets in the Larwood and Voce Stand, each member will be permitted to purchase for themselves and five guests in that part of the venue.
Whilst our ticketing platform will state a requirement for all seats to be assigned to an individual, each purchaser will be able to – with the exception of those being purchased by or for a member of the club – assign all tickets to themselves.
Supporters can join the waiting list for any returned England versus India tickets here…
Anyone who is experiencing difficulties with transacting online can contact the Ticket Office by email to questions@nottsccc.co.uk or by telephone at 0115 899 0300 (9.30am to 4.30pm, Monday to Friday) and a member of the club's friendly team will be delighted to assist.
International cricket: secure your seats