We can't wait to welcome you as The Hundred returns to Trent Bridge for four matchdays at the height of summer.
If you are joining us, read on for further information on:
Ticketing information
Tickets for Trent Rockets' home matchdays in The Hundred are available via thehundred.com:
Weds 17 August, Trent Rockets v Oval Invincibles (double-header): Buy here…
Sat 20 August, Trent Rockets v London Spirit (double-header): Sold out
Mon 29 August, Trent Rockets v Welsh Fire (double-header). Buy here…
Kindly note that tickets can only be accessed via The Hundred app, which is available to download here...
Arriving at our venue
The gates to our venue open 90 minutes before play starts, and we heartily recommend arriving in good time ahead of the start of the game.
Before arriving at our home, please ensure that you have the most up-to-date version of The Hundred app on your mobile device, and that your tickets are safely contained within the app.
Hours of play

Weds 17 August, Sat 20 August, Mon 29 August:
Gates: 2pm
Women's game starts: 3.30pm
Interval: 4.35pm
Second innings: 4.50pm
Scheduled close: 5.55pm
Interval: 8.05pm
Second innings: 8.20pm
Scheduled close: 9.25pm
Kindly note that all timings are subject to change.
Travel information
Travelling by car
Parking is available in Bridge Field (NG2 6AP), approximately 200 yards from Trent Bridge, and can be pre-booked online. Priced at £6 for Notts members and £12 for non-members, spots can be reserved here...
There is also parking available on the day on the Victoria Embankment.
Please note that the Embankment is no longer accessible via car from the Eastern approach (near Trent Bridge), and must now be accessed via Queens Drive/ Riverside Way to the West. The postcode NG2 2GJ may assist when navigating to the car park: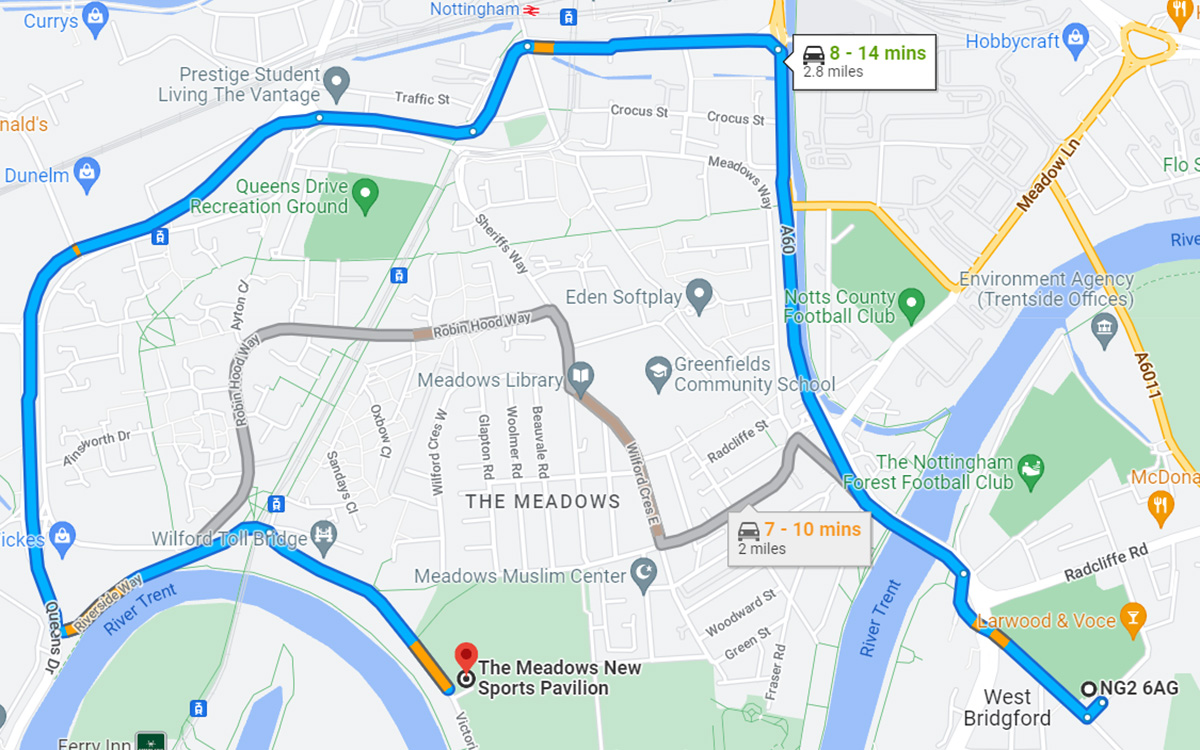 Travelling by bicycle
Supporters are welcome to chain their bikes to the fence on the Bridge Field Car Park on Bridgford Road. Please bring a chain to secure your bike. This parking will be available from two hours before scheduled start times until an hour after the end of the men's match.
Bikes are not allowed inside the venue during matchdays in The Hundred.
Travelling by rail
The ground is approximately a 20-minute walk from Nottingham Railway Station towards West Bridgford and over the bridge, with regular buses also taking the route. Visit www.nationalrail.co.uk or https://www.eastmidlandsrailway.co.uk/
Industrial action is planned for Saturday 20 August when Trent Rockets host London Spirit. Click here for more information.
Travelling by tram
The nearest tram stops to Trent Bridge are Queens Walk, Meadows Embankment and Nottingham Station, all of which are a 20 minute walk away. To help plan your journey visit www.thetram.net
From 25 July to 31 August, NET is introducing a Family Group ticket. This ticket will allow 2 adults and up to 6 children to travel together on the entire tram network for £8 per day.
Anyone travelling by car from outside the city can take advantage of NET's free park & ride facilities located around Nottingham. There are 5,000 spaces available across the Nottingham tram network. Parking can be found at Clifton South, The Forest, Hucknall, Moor Bridge, Phoenix, Toton Lane and Wilkinson Street. For more details visit www.thetram.net/park-and-ride
Travelling by bus
Regular bus travel is available to the ground, with bus stops situated on Bridgford Road and Radcliffe Road. Grouprider tickets, costing £6, allow up to five people to travel together (min 1 adult, max 2 adults) and are available to purchase on the bus, provided you pay via contactless means or have the exact fare in cash.
Advantageous pricing is also available for individuals if you choose to pay via contactless means. Plan your journey at www.nctx.co.uk
Trent Barton buses, meanwhile, serve West Bridgford and Nottingham via their Mainline (every ten minutes), Rushcliffe Villager, Keyworth and Cotgrave buses. Plan your journey at https://www.trentbarton.co.uk/
Food and drink
There are a range of food and drink outlets within the ground to suit all tastes, including vegetarian, vegan, gluten-free and halal options. Please note that Trent Bridge is a cashless venue. Food options include:
TBI Courtyard
Catch of the Day, serving fish and chips (V)
The Grill, serving prime beef burgers
Leg Before Fillet, serving fried chicken (including halal options)
Ice Cold Slush stall
Ice cream van
The Sound Bar, serving draught beers, wines by the glass/ bottle, soft drinks and alcohol-free beers
Clarke's Crafty Ones – serving craft beers, gluten-free beers, alcohol-free beers, wines by the glass/ bottle and soft drinks
Barrel and Bean, serving artisan bean-to-cup coffees, draught beers, alcohol-free beers, cask ales, wines and soft drinks, with pasties also available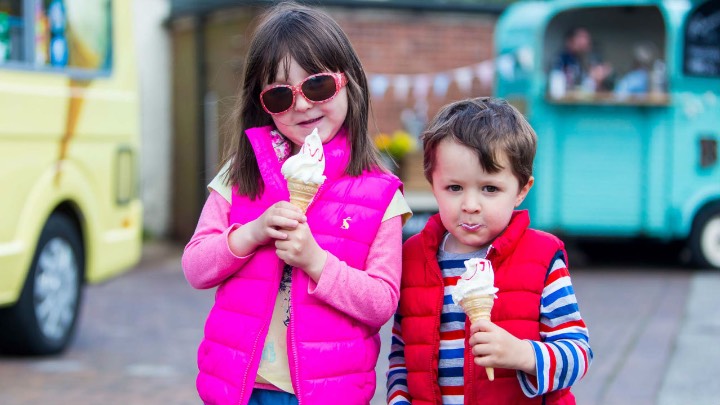 Radcliffe Road concourse
Bars serving draught beer, alcohol-free beer, Pimms, soft drinks, wine by the glass/bottle and bean to cup coffee
Jim & Tonic, serving a range of Gin & Tonics as well as soft drinks and alcohol-free options
Fresh pizza stall
Ice cream van
Fox Road Stand
Gallops Farm, serving a selection of food including burgers and sausages
Big cheese melt stall, serving cheese toasties
Vegan stall
Ice cream van
Bar serving draught beers, alcohol-free beers, Pimms, wine by the glass/bottle and soft drinks
The Ebar, a self-serve beer and cider bar
Hound Road Concourse
Doughnut stall
Hound Road bar, draught beers, alcohol-free beers, soft drinks, Pimms, wine by the glass/bottle and bean to cup coffee
Jim & Tonic, serving a range of Gin & Tonics as well as soft drinks and alcohol-free options
The Ebar, a self-serve beer and cider bar
PKF Smith Cooper Stand
Ice cream van
Sweetie stall
Bars serving serving draught beer, alcohol-free beer, Pimms, wine by the glass/bottle, soft drinks and hot drinks
Dixon Gate
Big Cheese Melt stall, serving cheese toasties
Delilah, serving artisan deli produce including grilled chorizo and halloumi baps
Ticket Office Building
The Rice Bar, located on the first floor, offers a range of real ales, as well as draught beer, alcohol-free beer, cask ale, wine by the glass/bottle, soft drinks and hot drinks.
A wide selection of alcoholic and non-alcoholic beverages will be available for purchase at stalls around the ground. Non-alcoholic beverage options include: Coca-Cola, Diet Coca-Cola, Coca-Cola Zero Sugar, Sprite, Fanta Orange, Water, Brewdog Alcohol-Free, Capri-Sun.
Food and non-alcoholic beverages can be brought into the venue, but anything in glass containers is not permitted.
Recycling your beer cups
Beer will be served in branded, reusable cups, with spectators paying a £1 deposit. Each drink will be served in a fresh cup, with no deposit required in exchange for the existing vessel.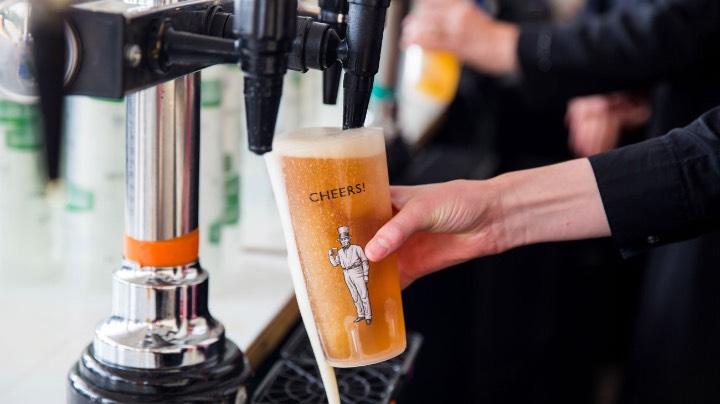 Supporters have two options in terms of what to do with their final cup of the day:
Take it home as a souvenir.
Beer cup returns will be accepted from those aged 18 and over only.
Water dispensers
Water dispensing facilities will be available around the ground if you wish to use your own refillable water bottles.
Alcohol and fancy dress
At Trent Bridge, we expect everyone to be courteous to their fellow spectators and that all those in attendance conduct themselves with a level of decorum befitting of the resplendent surroundings.
Kindly, therefore, be sure to regulate your alcohol intake accordingly – and help others within your party do the same.
We also request that you refrain from visiting our venue whilst clothed in inappropriate fancy dress outfits that are liable to cause offence to children and young families.
Reporting discrimination
If you are aware of or witness discrimination or abusive language at any level of cricket in Nottinghamshire, including matches at Trent Bridge, we urge you to report it to us so that we can investigate and take appropriate action.
You can do so by sending a text message to 88440 with further details, starting your message with 'Notts'.
Alternatively, telephone 0115 982 3000, email whistleblowing@nottsccc.co.uk, or write to the HR Manager, Trent Bridge, Bridgford Road, West Bridgford, Nottingham, NG2 6AG
Entertainment around the ground
A host of off-field entertainment will be available during the game, including:
Pose like a pro
With a single shot, this will place you in the team's shirt with a uniquely detailed augmented reality try-on with an overlay graphic for each team that will include your name. You'll even be able to print out the photo and take it home.
Keeper challenge
You'll be faced with five buttons that light up in a random sequence, one at a time. Press the button that's lit up to earn 100 points. You'll have 30 seconds to press as many of the buttons as possible and rack up points to place as high up the leaderboard as possible.
Accessibility
To book a wheelchair or accessible ticket, call 0115 899 0300 Monday to Friday, 9.30am - 4.30pm or email questions@nottsccc.co.uk.
Wheelchair viewing positions are available in front of the PKF Smith Cooper Stand, Hound Road Stand and Larwood & Voce Stand, as well as the Hound Road Upper, Radcliffe Road Lower and Middle tiers and the top of the PKF Smith Cooper Stand.
Please feel free to ask your nearest steward, or volunteers wearing blue, if you have any questions regarding our accessible facilities around the ground, as they'll be delighted to assist you.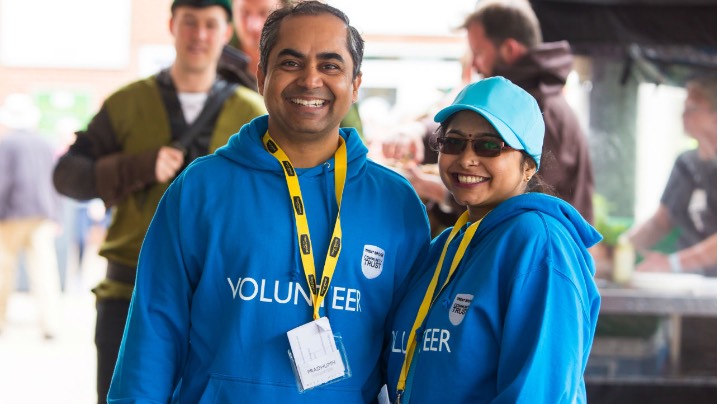 Ambulant attendees with disabilities are welcome across the range of stands and areas, dependent on their personal requirements.
The majority of the ground has flat level access throughout. Passenger lifts are available in the following areas:
Radcliffe Road Stand serving all floors including the middle and upper terraces, as well as Restaurant Six.
Hound Road Stand serving the Derek Randall Suite and the upper terrace.
PKF Smith Cooper Stand - this is located in the Administration Block to the south end of the stand.
Accessible toilets are available in the following locations, and can be accessed using a RADAR key. If you do not have a RADAR key, please speak to the nearest steward, who will be happy to assist.
Hound Road West (adjacent to the doors to the Derek Randall Suite west stairwell)
PKF Smith Cooper Stand level 2
PKF Smith Cooper rear concourse
Radcliffe Road Stand ground floor
Radcliffe Road Stand 1st floor
Fox Road Stand north (rear concourse)
Multi-faith room
A multi-faith room is available for use in the Woodhead Hall, to the rear of the Hound Road Stand.
Buggy parking
Should you need somewhere to store a buggy or pram, provision is available in the Woodhead Hall. Please ask a steward or volunteer if you need directions.
Trent Bridge Shop
Get the Trent Rockets kit at the Trent Bridge shop, located on the Radcliffe Road concourse, as well as at our other units around the ground.
Scorecards
Scorecards will be available from our Club Shops, priced at 50p.
Support the Trent Bridge Community Trust
You will find contactless donation stations situated around the venue, allowing you to make a small donation to our official charity, the Trent Bridge Community Trust, using your debit/ credit card or mobile phone.
Your donations will help the Trust to provide a sporting chance to disadvantaged people across Nottinghamshire, with over £1.5m having been invested into local projects over the last decade.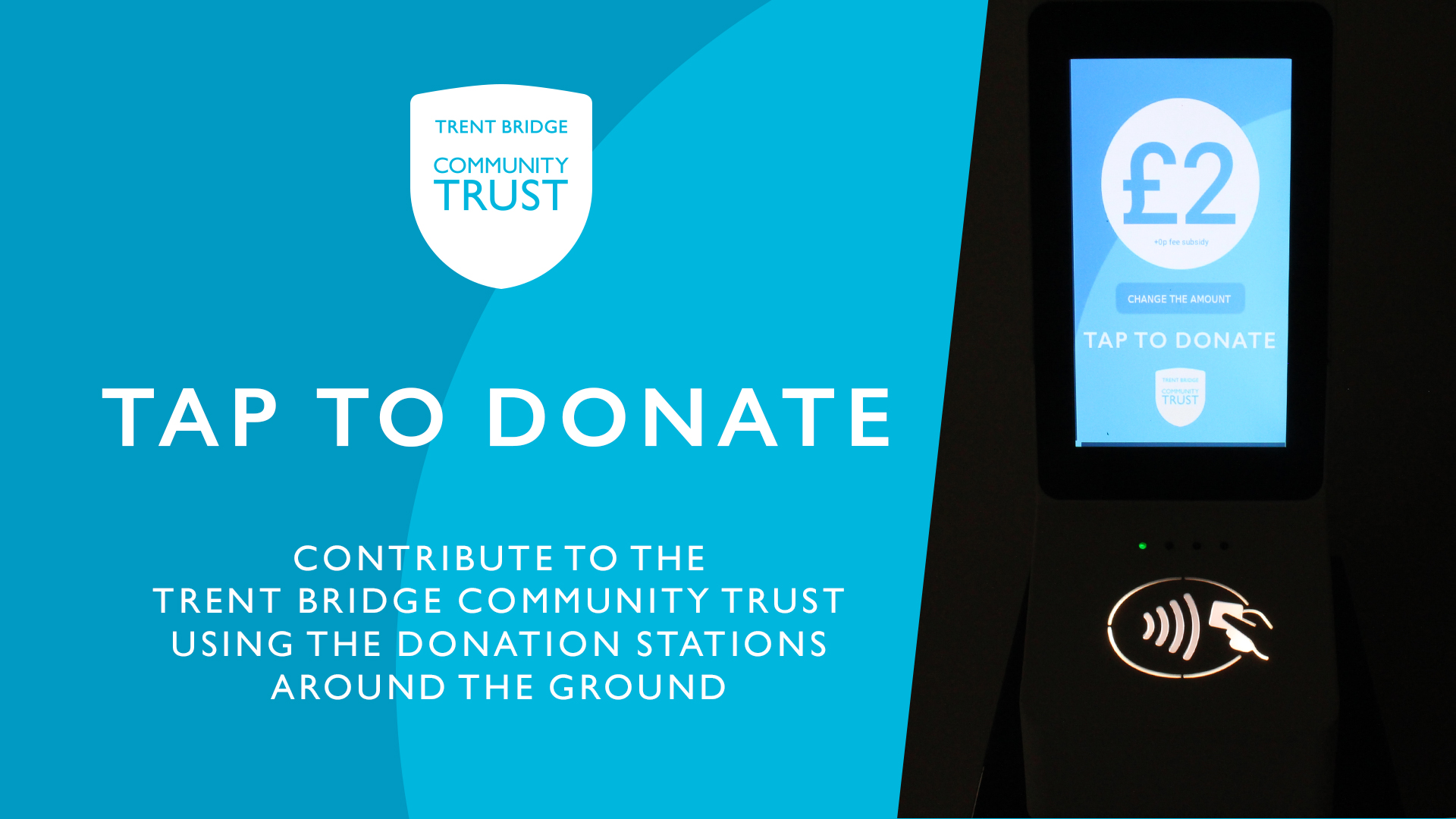 Initiatives operated by the Trust include:
Positive Futures, helping young people at risk of social exclusion to hone their skills and raise their aspirations
Healthy Hearts, promoting a healthy and active lifestyle to primary school children
Forget Me Notts, supporting individuals with dementia
Notts in Mind, using sport to boost confidence, self-esteem and fitness.
Find out more about the Trust here, or make a donation here.
Public WiFi
Public Wi-Fi is available throughout Trent Bridge, which you are very welcome to use at your leisure.
Simply connect to The Cloud from the available list of wireless networks and follow the sign-in or login instructions.
Should you experience any technical difficulties, if you are able to access the internet via other means (such as 4G), helpful guides are available at www.sky.com/wifi or you can email wifiuser@sky.co.uk
Toilet and baby changing facilities
Toilet facilities will be open and signposted around the ground, with stewards on hand to guide you to your nearest facility. These will include a Mobiloo accessible toilet, with an adult-sized changing bench and a hoist, situated to the rear of the Hound Road stand.
Baby changing facilities are available in the William Clarke Stand ladies' toilets, the PKF Smith Cooper Stand toilets, the Hound Road ladies' toilets, in the Radcliffe Road Stand (on the concourse, beside Radcliffe Road reception, on the East wing of the first floor) and in the Fox Road Stand. Please feel free to ask any volunteer or steward for directions.
The changing rooms in the ticket office building can be made available upon request at the Ticket Office as further baby changing facilities accessible to men, or as a quiet feeding area.
First Aid
First Aid facilities will be available at the rear of the Radcliffe Road and PKF Smith Cooper Stands.
Junior wristbands
All spectators visiting with children can take advantage of our free wrist band system. Simply collect your band from one of our gate stewards or volunteers.
On the reverse of your wrist band, where details are well hidden from view, simply complete the following information:
• Parent/guardian's name
• Contact phone number whilst in the ground
• Your stand and seat location
• Date
These details will then help a steward reunite you with your child should you become separated or should he or she get lost around the ground.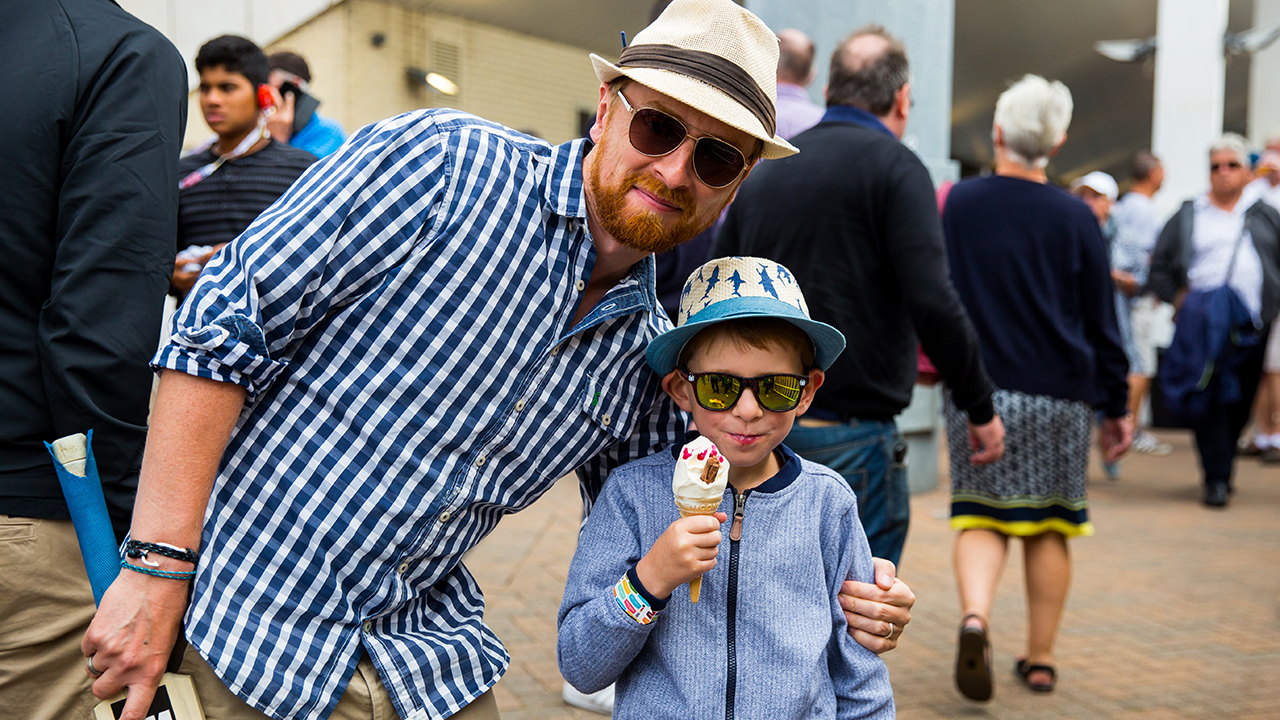 Leaving and re-entering the venue
You are most welcome to exit the venue during the course of your visit to explore the surrounding area. Please be sure to check in with a steward as you leave in order to be permitted re-entry.
Safety and security
Our stewards will be on hand to ensure you are safe and secure throughout your day at Trent Bridge and should be your first port of call if you see anything that you may consider dangerous or suspicious.
We ask that you travel light and bring only essential items. Bags are best left at home although we do allow small ones through the gates. Your bags will be searched upon entry, so please arrive in good time.
Cameras and mobile devices
Please note that the use of any cameras, mobile devices or any electronic equipment for the recording, transmission or communication of match footage, details, statistics, images (on any platforms including but not limited to websites and social media) etc, is not permitted, other than with the proper accreditation. All ground regulations apply.
You can, however, take pictures for your own personal use, providing you do not use specialist equipment such as telephoto lenses, tripods or mono pods.
Accredited photographers will be present during the match and will be taking images for use on our printed marketing materials and digital channels. If you or anyone in your party would not like photographing, then please inform our photographer or your nearest steward.
You can view a full list of ground regulations here.
Contacting the Ticket Office
Members of our friendly team will be available in the Ticket Office to resolve any issues you may encounter, and will be contactable throughout at questions@nottsccc.co.uk or 0115 899 0300.
Smoking policy
Designated smoking areas are assigned in various concourse areas, but smoking (including e-cigarettes) is only permitted in these areas, so please refrain from smoking in your seat.
Weather forecast
View the latest weather forecast here…
We would advise bringing clothing for all eventualities, as wet weather cover is limited in some areas of the ground.