We can't wait to welcome you as First-Class cricket returns to Trent Bridge, with Nottinghamshire hosting Sussex from Tuesday 26 to Friday 29 July (11am start).
Should you be thinking of attending, read on for everything you need to know in order to make the most of your visit, including:
Ticket information
Nottinghamshire members need only brandish their membership card on arrival to gain entry to this fixture. Find out more about memberships here...
Tickets for non-members are priced as follows:
Adults: £20
Senior citizens (65+) and under 21s: £15
Under 16s: £11
Seating is unreserved, meaning spectators are welcome to sit anywhere in the ground, with the exception of the exclusive members-only seating in front of the Pavilion.
Tickets in advance
There are three different ways to purchase tickets in advance:
- Click here to buy your tickets online.
- Call the Ticket Office on 0115 899 0300.
- Visit the Ticket Office in person, just inside the Dixon Gates near the Smith Cooper stand.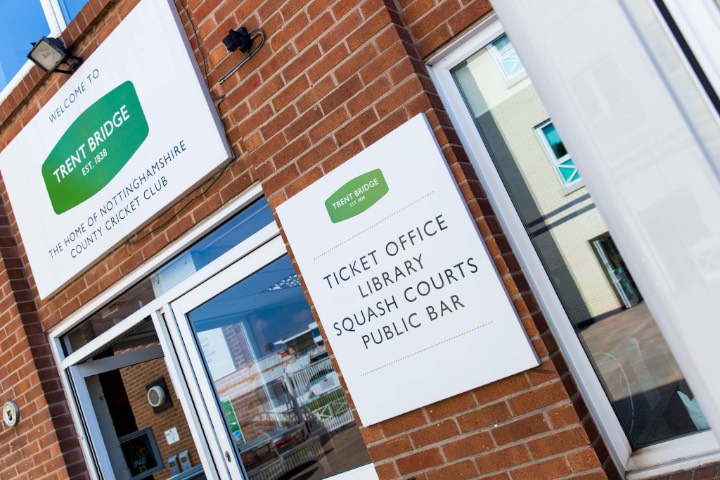 Tickets on the day
Feel free to purchase tickets from the Ticket Office on arrival at the ground. Window counters for this purpose are situated on Bridgford Road, adjacent to the Hound Road turning.
Teatime reductions
If you can't get here for the start of play, you can pop in after the tea interval to watch the final session at the reduced price of £6 for adults, seniors and under 21s, and £1 for juniors (under 16s).
Ticket office opening hours
- Monday to Friday: 9.30am-4.30pm
Opening hours are extended on matchdays.
Covid-19 information
While Covid restrictions in England have been lifted, we kindly request that you do not attend our venue if you are testing positive for, or believe you may have, Covid-19. Face coverings are a matter of personal choice, however we continue to request that you practice impeccable hand-hygiene throughout your visit.
Should you need to visit the Ticket Office during a busy period and do not feel comfortable within a confined space, feel free to pop outside the ground and visit one of the external windows instead.
Hours of play
96 overs are scheduled to be bowled each day.
Gates open: 9.30am
Toss (day one): 10.30am
Start of play: 11am
Lunch: 1pm
Afternoon session: 1.40pm
Tea: 3.40pm (or when 32 overs remain, whichever is later)
Close: 6pm
On each of the first three days, there is a provision for playing time to be extended by the amount of time lost in that day up to a maximum of 30 minutes. Kindly note that all timings are subject to change. In the case of a longer day, times will be announced each day.
Where to find us
Trent Bridge Cricket Ground is situated in West Bridgford, in very close proximity to both Nottingham Forest and Notts County Football Clubs. Our postcode is NG2 6AG.
As you approach, you can't miss the circular floodlights.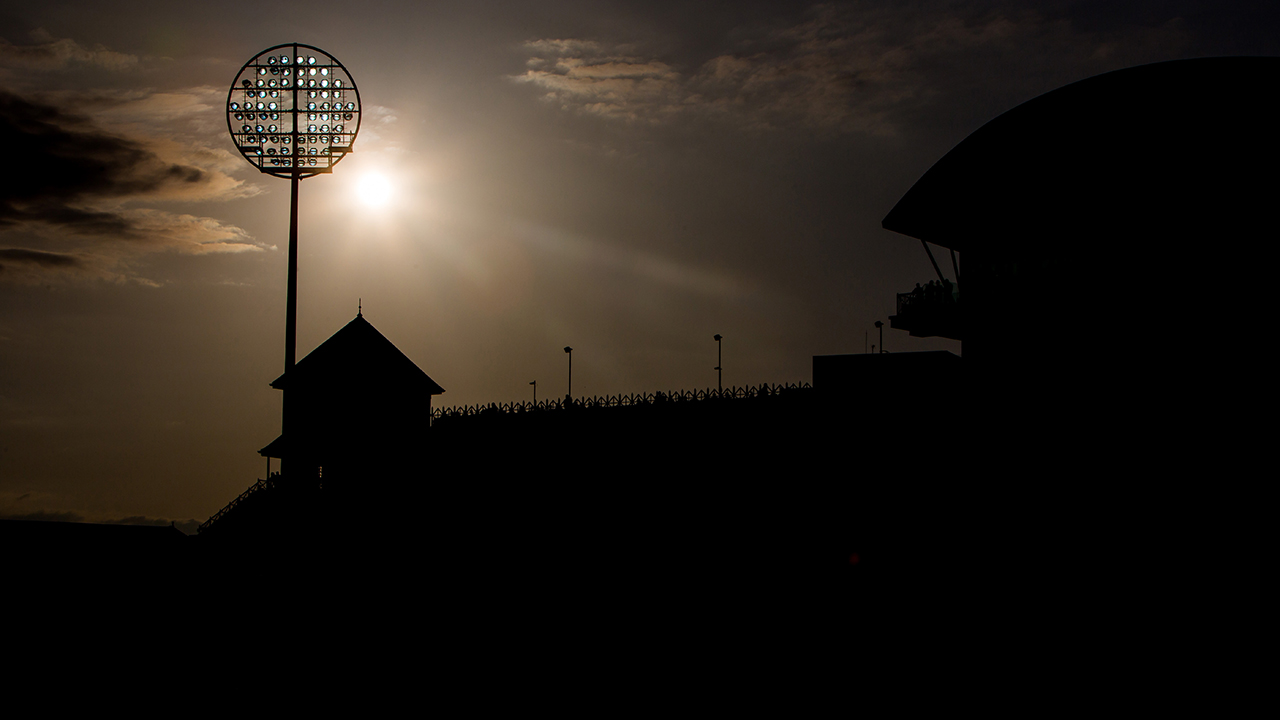 We are a couple of miles from Nottingham City Centre, a mile or so from the train station, and our city is blessed with one of the best public transport networks in the UK.
Travel information
Car parking
Parking can be secured in advance at the Nottinghamshire Sports Club, situated off Holme Road (NG2 5AA). Spaces, priced at £3 for Nottinghamshire members and £5 for non-members, can be booked here…
Parking can also be secured on the day in the Nottingham Forest Car Park, priced at £3 for Nottinghamshire members and £5 for non-members. Access for this can be gained off Lady Bay Bridge (NG2 3HF).
Bicycle parking
Cyclists are able to park their bikes at the ground, in bike racks situated on the PKF Smith Cooper Stand and Radcliffe Road Stand concourses, until an hour after close of play.
Travelling by tram
The Queens Walk and Meadows Embankment tram stops are located around a 20-minute walk from the ground, with the route from the Meadows Embankment stop proceeding along a pleasant stretch of the River Trent. Alternatively, a stop at Nottingham Train Station can be found just a 20-minute walk away. To help plan your journey, visit www.thetram.net.
Group tickets can be purchased should you wish to travel by tram (priced at £10 on weekdays, and £8 at the weekend), for up to two adults and three children (under the age of 19).
Travelling by bus
Regular bus travel is available to the ground, with bus stops situated on Bridgford Road and Radcliffe Road.
Grouprider tickets, costing £6, allow up to five people to travel together (min 1 adult, max 2 adults) and are available to purchase on the bus, provided you pay via contactless means or have the exact fare in cash.
Advantageous pricing is also available for individuals if you choose to pay via contactless means. Find out more here, and plan your bus journey at www.nctx.co.uk.
Trent Barton buses, meanwhile, serve West Bridgford and Nottingham via their Mainline (every ten minutes), Rushcliffe Villager, Keyworth and Cotgrave buses. Plan your journey at https://www.trentbarton.co.uk/.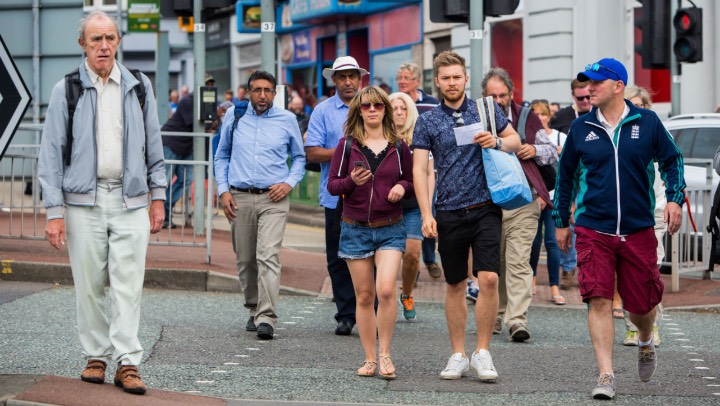 Travelling by train
Nottingham Station can be found a 20-minute walk from the ground, with public transport and taxis available to convey you to your destination.
Industrial action across the national railway network may affect services on Sunday 26 June. Up-to-date information is available here.
To plan your journey, please visit the National Rail Enquiries website.
Taxis
A taxi rank can be found 200 yards from the ground on Bridgford Road, adjacent to the large West Bridgford Co-op. If you need to call for a taxi, some of our local operators include: Royal Cabs 0115 9608 608, Trent Cars 0115 950 5050 and Yellow Cars 0115 981 8181.
Food & Drink
A range of refreshment options will be available around the ground, via card payments only:
Barrel & Bean
Situated in the TBI Courtyard, Barrel & Bean serves hot drinks, alcoholic beverages and snacks, with pasties available from midday.
The Cricketers' Suite
Located on the first floor of the Radcliffe Road Stand, the Cricketers' Suite serves hot meals from 12pm-2pm, and afternoon tea at the Tea interval. Hot and cold drinks, and alcoholic beverages, are also available.
Keeton's Corner
Located to the rear of the large replay screen, Keeton's Corner serves hot drinks, snacks and alcoholic beverages.
Derek Randall Suite
Offering a full bar and non-alcoholic drinks, the Derek Randall Suite will also serve as an indoor vantage point from which all spectators can take in the action.
The Long Room
Exclusively for members, the Long Room inside our historic Pavilion serves bacon cobs from 9.30am, hot roast cobs from midday and afternoon tea at the Tea interval. A bar will also be in operation, with alcoholic beverages, hot drinks and snacks available.
Water dispensers
You'll find dispensers via which you can refill water bottles and containers situated around the ground.
Recycling your beer cups
Beer will be served in branded, reusable cups, with spectators paying a £1 deposit. Each drink will be served in a fresh cup, with no deposit required in exchange for the existing vessel.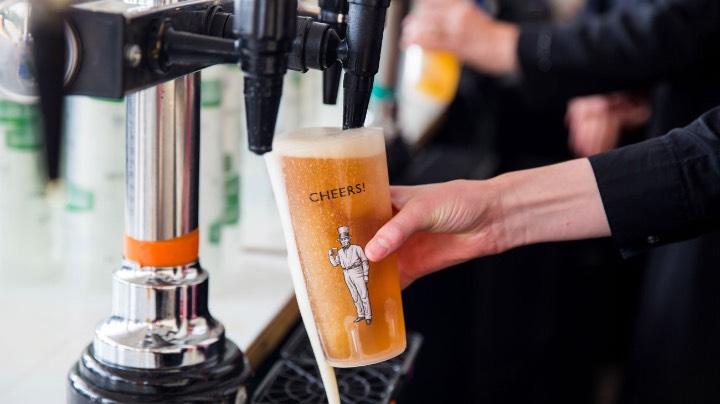 Supporters have two options in terms of what to do with their final cup of the day:
1. Take it home as a souvenir.
2. Return it to the bar and regain your £1 deposit. Kindly note that refunds can only be obtained by inserting your payment card into the terminal, and may take 3-5 working days to be credited to your account. Beer cup returns will be accepted by over-18s only.
Public Wi-Fi
Public Wi-Fi is available throughout Trent Bridge, which you are very welcome to use at your leisure.
Simply connect to The Cloud from the available list of wireless networks and follow the sign-in or login instructions.
Should you experience any technical difficulties, if you are able to access the internet via other means (such as 4G), helpful guides are available at www.sky.com/wifi or you can email wifiuser@sky.co.uk
Alternatively, the phone number to call is 0844 824 5000.
Our friendly staff will, of course, endeavour to assist you should you struggle with the process of connecting your device to the Wi-Fi.
However, we're sorry to say that we're not able to assist with technical issues. This can only be done via the process with Sky above.
Trent Bridge Shop
For souvenirs, replica shirts, bats, balls and training wear, our Club Shop is located at the rear of the Radcliffe Road stand, near to the reception entrance on the ground floor.
The Club Shop will be open throughout the fixture.
Scorecards
Scorecards will be available around the ground, priced at 50p.
The Wynne-Thomas Library
Spectators are very welcome to visit the library and explore the thousands of books on the shelves, browse the latest cricket magazines and chat to other visitors. Staff will explain the lending service that will be launched soon for Nottinghamshire members, and they are keen to hear your comments and suggestions about the Library.
Situated behind the Ticket Office, the Wynne-Thomas Library is open each matchday, from the start of the lunch interval until the end of the tea interval (including during the afternoon session).
Heritage displays
In the Museum Room (off the Long Room in the Pavilion) there is a new display that marks the Queen's Jubilee year by looking at the links between the royal family, Trent Bridge and the county club.
New information panels about Notts' knights of the realm, Sir Garry Sobers and Sir Richard Hadlee, can be seen on the ground floor of the Radcliffe Road Stand, in the waiting areas named after these two giants of the game.
Displays about the varied talents of Peter Wynne-Thomas – our late Historian and Librarian – and items showcasing his skill as a watercolour artist, cartoonist and illustrator, are in the corridor near the Ticket Office.
A small tribute to Colin Slater – known as 'Mr Notts County', but a man forever linked with Trent Bridge too – can be found on the lower ground floor of the Pavilion.
Support the Trent Bridge Community Trust
Nottinghamshire's official charity have been running schemes, initiatives and programmes to support those in need across Notts for over a decade, with over £1.5m having been invested into local projects over that time.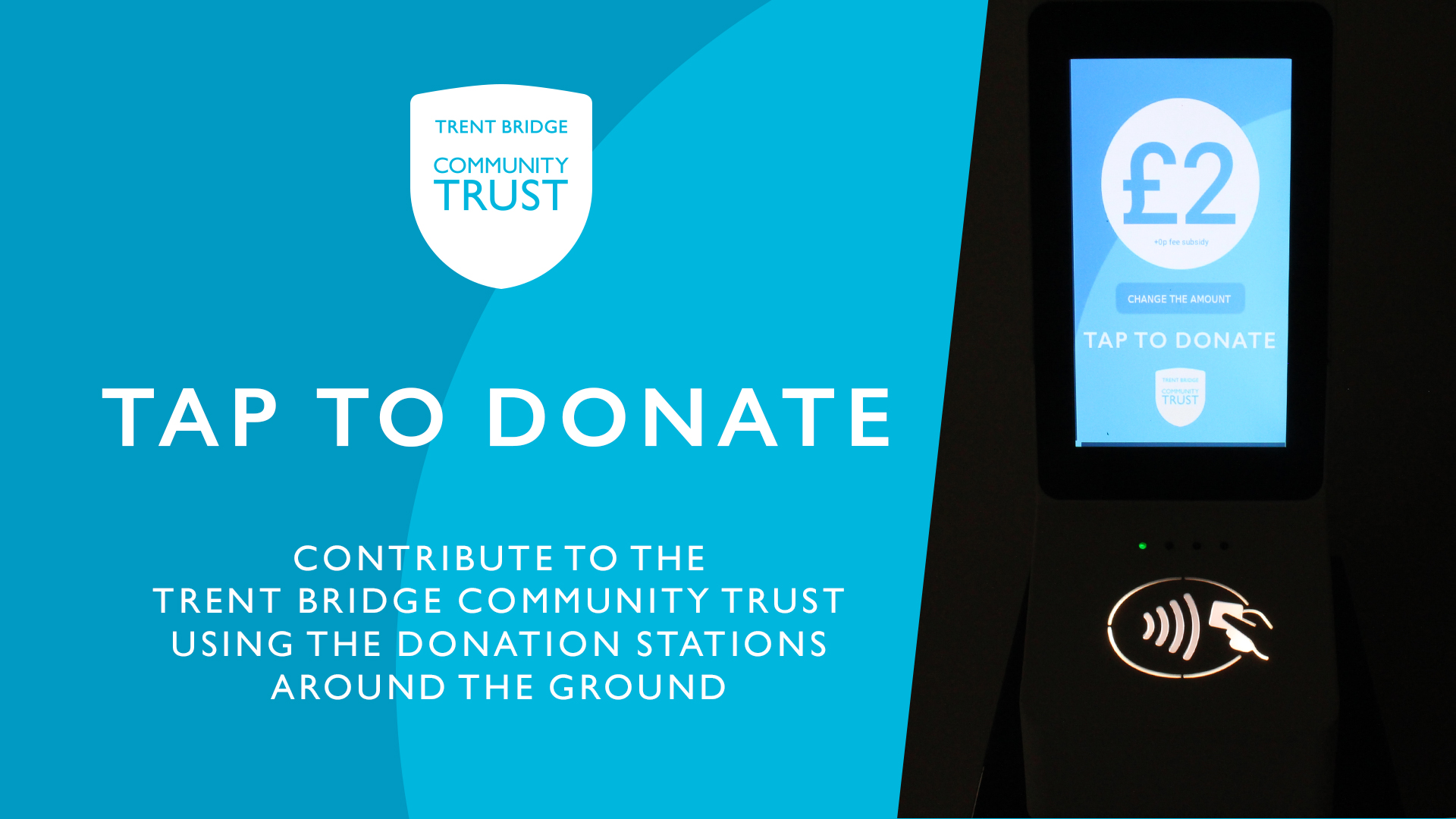 Initiatives operated by the Trust include:
Positive Futures, helping young people at risk of social exclusion to hone their skills and raise their aspirations
The YouNG Project, providing placement and entrepreneurship opportunities
Healthy Hearts, promoting a healthy and active lifestyle to primary school children
Forget Me Notts, supporting individuals with dementia
You will find contactless donation stations situated around the venue, allowing you to make a small donation to our official charity, the Trent Bridge Community Trust, using your debit/ credit card or mobile phone. Donations are also invited online via JustGiving.
Find out more about the Trust here.
Toilet and baby changing facilities
Ample toilet facilities are located, and well signposted, in various locations around the ground.
Changing facilities are available in the Members' Pavilion disabled toilets, as well as in the squash complex ladies' toilets (access via the Ticket Office near the back entrance to the Pavilion), the William Clarke Stand ladies' toilets, the Hound Road ladies' toilets and the first-floor toilets on the West Wing of the Radcliffe Road Centre. Please feel free to ask any steward for directions.
The squash complex changing rooms can be made available upon request from a steward as further baby changing facilities accessible to men, or as a quiet feeding area.
First Aid
First Aid facilities will be available at the rear of the PKF Smith Cooper Stand. If you require assistance when in another area of the ground, please alert the nearest steward.
Accessibility
Wheelchair viewing positions are available in front of the PKF Smith Cooper Stand, Hound Road Stand and Larwood & Voce Stand, as well as the Hound Road Upper, Radcliffe Road Lower and Middle tiers and the top of the PKF Smith Cooper Stand.
Please feel free to ask your nearest steward if you have any questions regarding our accessible facilities around the ground, as they'll be delighted to assist you.
Smoking policy
Designated smoking areas are assigned in various concourse areas, but smoking (including e-cigarettes) is only permitted in these areas, so please refrain from smoking in your seat.
Reporting discrimination
If you are aware of or witness discrimination at any level of cricket in Nottinghamshire, including matches at Trent Bridge, we urge you to report it to us so that we can investigate and take appropriate action.
You can do so by sending a text message to 88440 with further details, starting your message with 'Notts'.
Alternatively, telephone 0115 982 3000, email whistleblowing@nottsccc.co.uk, or write to the HR Manager, Trent Bridge, Bridgford Road, West Bridgford, Nottingham, NG2 6AG.
Weather forecast
View the latest weather forecast here…
Following the action online
If you can't make it to the ground, our live streaming service, social media channels and club website will keep you updated throughout.
*******
The Royal London Cup Final
The timeless pomp, ceremony and tradition of county cricket's historic 50-over final. 18 First-Class counties go head-to-head in this prestigious competition, aiming to emerge with the spoils at our historic venue. Secure your seats here...