Tom Moores has underlined the importance of Notts Outlaws retaining a positive mindset as they aim to bounce back from defeat to Birmingham Bears against Lancashire Lightning at Blackpool (Sunday 19 June, 2.30pm).
Moores hit 40 from 21 deliveries as Trent Bridge saw a flurry of boundaries on Friday night, but the Outlaws ultimately fell short as they attempted a record chase in a domestic English T20.
Despite the loss, the wicketkeeper-batter remains confident that Notts can return to winning ways when they make the journey to the Fylde coast tomorrow, a game for which an unchanged 14-man squad has been named.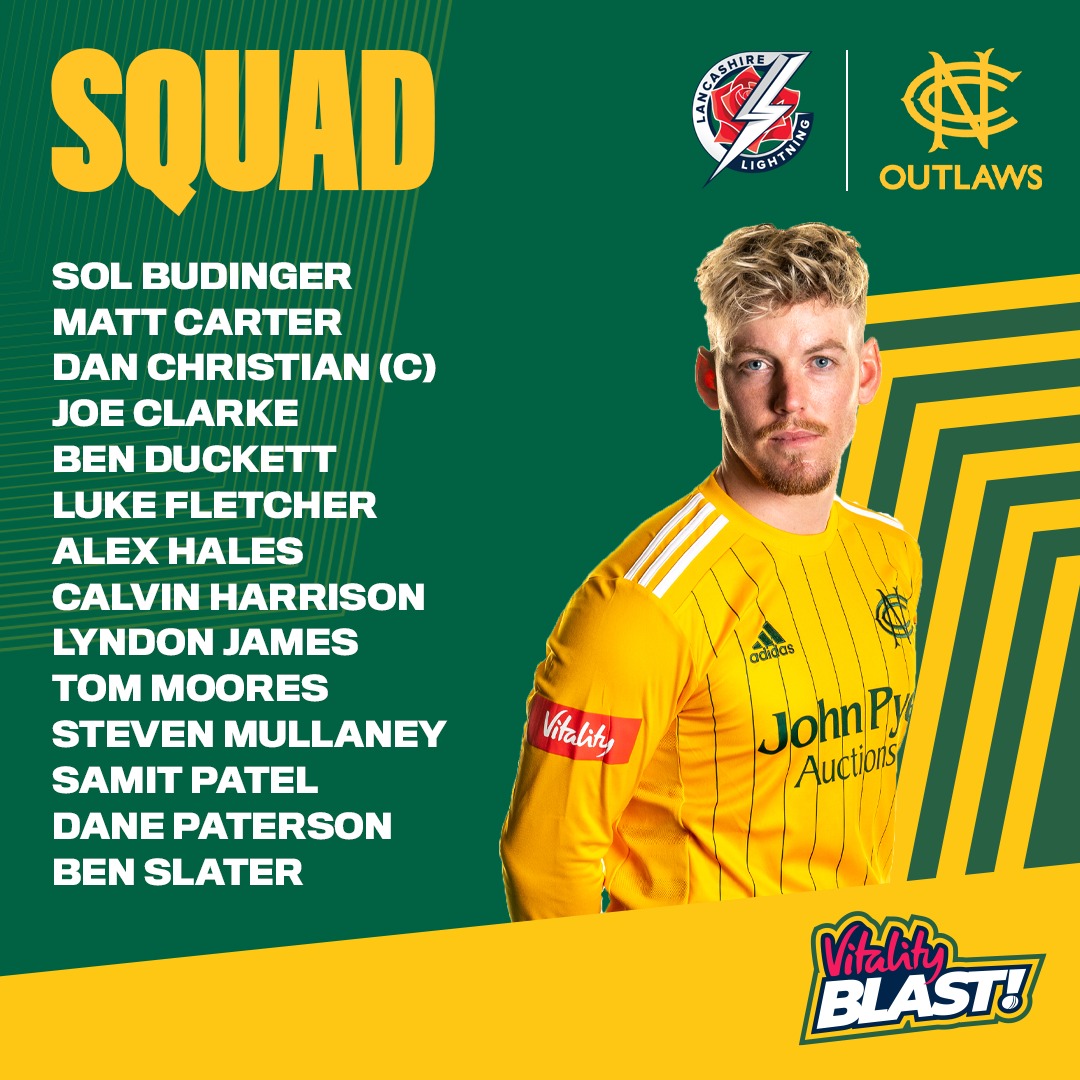 "We've obviously got to bounce back pretty quickly after we were on the wrong end of the result against Birmingham," reflected Moores. "It was a great wicket, which produced a classic Trent Bridge high-scoring game.
"It was a shame for us not to get the result, but it was a great game for the fans to watch, with plenty of boundaries and plenty of action.
"If we're being honest with ourselves now, we've got to make sure we bounce back pretty quickly, and we've got some games to win."
Many observers could be forgiven for considering that the clash with Lancashire might hold some extra significance for Moores, with the 25-year-old having spent time on loan at Old Trafford in 2016.
However, the left-hander feels no extra motivation is needed ahead of the trip to the North West.
"That was a nice time in my career," said Moores. "They did give me an opportunity to go and play for them, and I learnt a lot, but I don't think there's anything extra there.
"I think the game will be pretty competitive as always, but we'll go to Blackpool looking to try and turn them over and get on a good winning streak.
"I feel good personally. I haven't had that big score yet, though the way I bat isn't necessarily designed for a massive total, but I feel like I'm hitting it nicely."
Notts have never before played a match in the shortest format at the Stanley Park ground in Blackpool, and have not played there in any format since a rain-ruined 50-over clash in 2016, but the outground factor does not faze Moores.
"There won't be any big changes to how we'll approach it," he confirmed. "We'll have a look at the wicket, like we always do, see how we think it might play, and go from there.
"T20 cricket really suits an outground because of how fast-paced it is, but wherever you play, you always only ever need one more run than the opposition, that's what it's about!
"We'll keep focused on staying tight as a group. We're playing some great cricket in patches, so our target will just be to string those together to build some momentum."
The Outlaws have six further clashes scheduled in the Vitality Blast North Group, a run that commences with the trip to Lancashire tomorrow, before a pair of home clashes with Leicestershire and Derbyshire next week.
With almost half of the group stage still to be played, Moores is keen to ensure the side do not lose sight of the basics as they target quarter-final qualification.
"We can't look too far ahead, and instead just focus on winning the next game, one at a time," he explained.
"We've got four games in the next week, and when you've got a run of games like that, you can't get too down in the dumps and start letting bad form get to you.
"We're going to dust ourselves off and look to Sunday. T20 cricket is all about momentum, so once you find a formula and get on a streak, good things will come."
*******
Be More Outlaw: The 2022 Vitality Blast at Trent Bridge
Tuesday 21 June, Notts Outlaws vs Leicestershire Foxes: Secure your seats…
Thursday 23 June, Notts Outlaws vs Derbyshire Falcons: Secure your seats…
Friday 1 July, Notts Outlaws vs Durham: Secure your seats…