Laurel and Hardy, Strawberries and Cream, Nottinghamshire and Kiwis. Some partnerships are just meant to be.
The Green and Golds have an illustrious history of imports from New Zealand, all of whom have had a mighty impact at Trent Bridge.
We take a look at a handful of Blackcaps who have graced the hallowed turf.
Richard Hadlee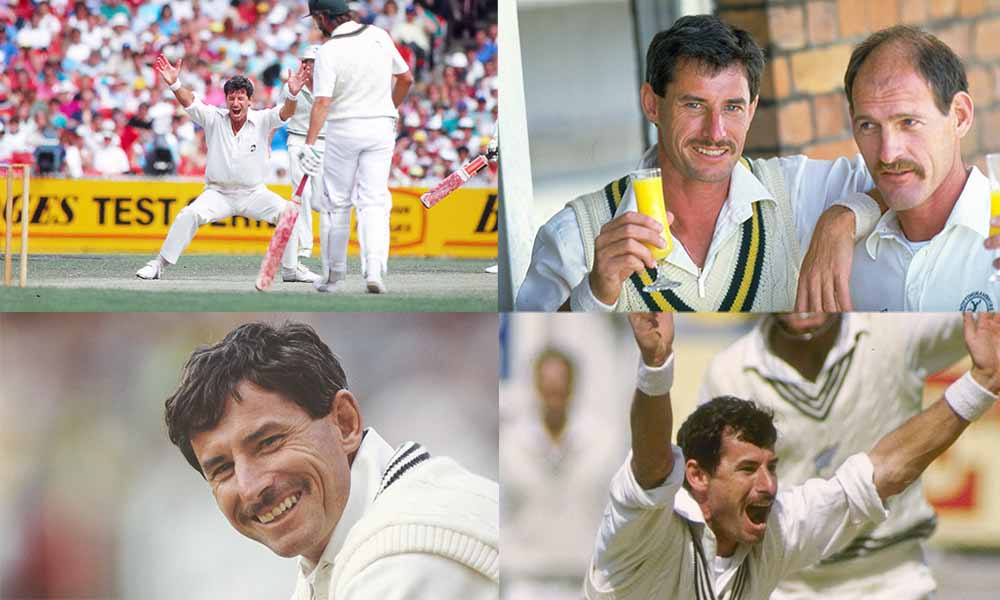 Richard Hadlee's list of career honours require a floor-to-ceiling scroll, and his influence at Nottinghamshire is arguably as great as that of any who have donned the pristine white flannels.
He might never have represented the county but for Clive Rice's selection for World Series Cricket in 1978. Hadlee was selected as the South African's replacement.
The pair went on to spearhead Nottinghamshire's 1981 County Championship triumph and historic 1987 double-title winning season.
In all, Hadlee scored nearly 6,000 runs for Notts at a touch under 39, and took 622 wickets at a frankly jaw-dropping average of 14.51.
Since the reduction in First-Class games in 1969, only two players have achieved the all-rounder's double of 1,000 runs and 100 wickets in one season. It was a record achieved by Hadlee in 1984 (and Nottinghamshire's Franklyn Stephenson four seasons later, as it happened).
In the colours of his native New Zealand, he made his debut in 1973, though it was not until 1976 that he had a permanent place in the side.
By 1980 he had become the first New Zealand player to complete the Test double of 1,000 runs and 100 wickets. He was also the first player to complete the double of scoring 1,000 runs and taking 100 wickets in ODI history.
Chris Cairns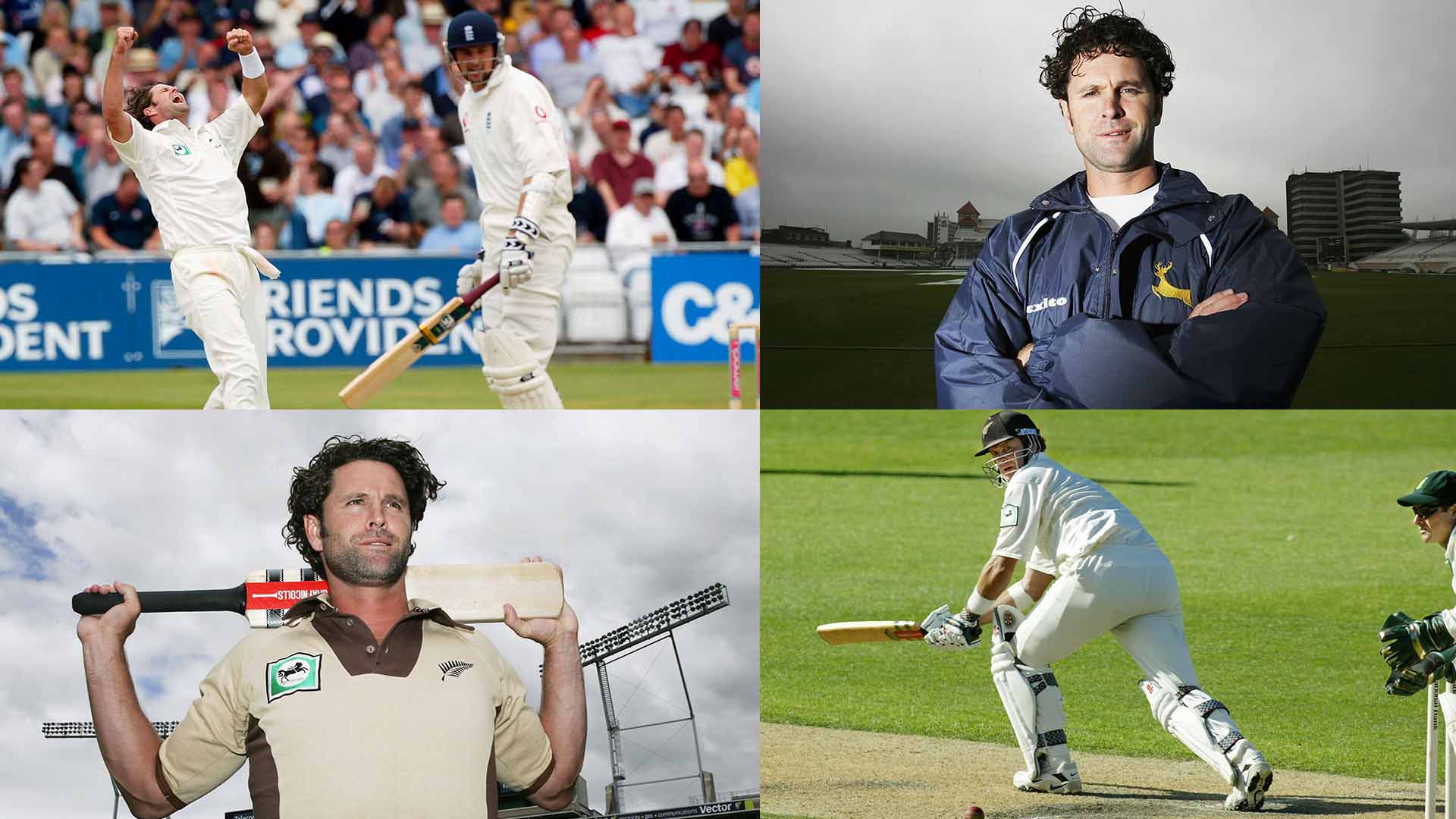 Regarded in New Zealand as a cricketer of immense potential, Chris Carns made his Test debut in 1989-90 versus Australia, even though he had only played in a handful of First-Class games in New Zealand. By the time he returned to Notts as the county's principal overseas player in 1992, he was a seasoned Test cricketer at the tender age of 21.
He returned for a second season with the Green and Golds in 1993, before further stints in 1995, 1996, 2003, 2006 and, after coming out of retirement, 2008.
He initially joined Nottinghamshire on a youth scholarship in 1988, at the age of 18. He played in three Notts First-Class matches that summer, before making his debut in New Zealand for Northern Districts that winter.
When he was selected as one of Wisden's five Cricketers of the Year in 2000, the publication stated he "had a claim to be considered the game's pre-eminent all-rounder;" his numbers attested to his ability.
Selected to bat primarily at six or seven in the County Championship, he averaged 37.81 whilst amassing 7,783 all format runs.
With the ball he took 241 First-Class wickets, and claimed 135 List A scalps at an impressive average of 23.44 and economy of 4.58.
For the Blackcaps, 3320 runs and 218 wickets puts him firmly in the pantheon of New Zealand's great all rounders.
Andre Adams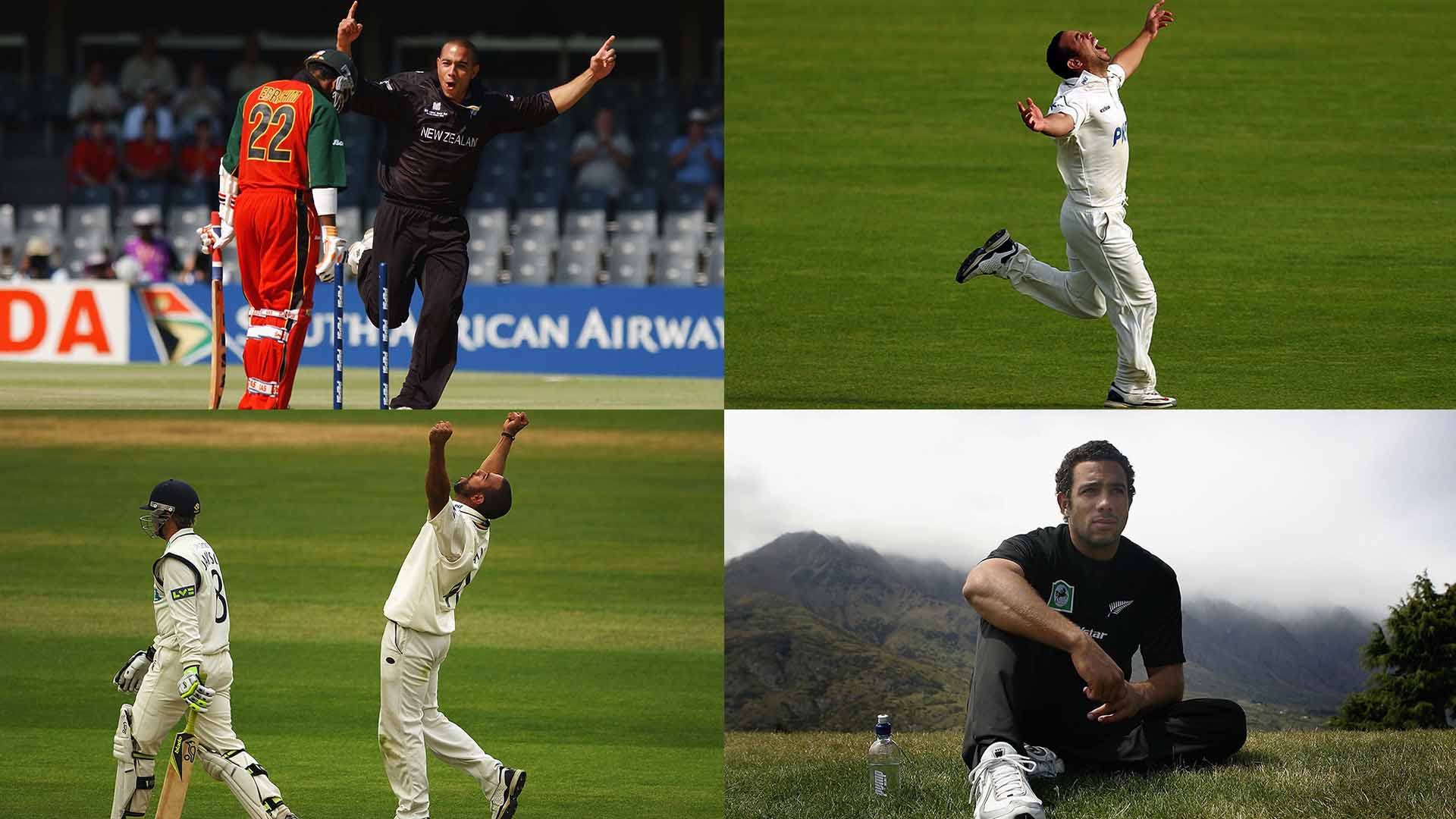 Anyone who thought Andre Adams' best days were behind him by the time he joined Nottinghamshire in 2007 was undoubtedly mistaken.
He had, admittedly, played his first and only Test five years prior against England, finishing with an average of 17.50 with the ball courtesy of six wickets on debut.
And he had played all of his 42 One Day Internationals, which saw him take 53 wickets and score a modest 419 runs.
But a change of country (or clubs, more accurately, as Adams had represented Essex) brought a new lease of life.
He played just four games in his first year, taking 14 wickets, but returned with 31 in 2008, 43 in 2009, 68 in 2010, 67 in 2011 and 54 in 2012. Nothing if not consistent.
In all, he finished with 344 wickets at 24.18 in red-ball cricket with a best return of 7-32. He was a keen fielder, taking 56 catches, and if his batting figures are not quite all-rounder class, he contributed many useful runs, with nine First-Class fifties and a top score of 84, made against Yorkshire, from 1,894 runs at 18.38.
He had already shown the county his capabilities, albeit at a lesser standard, in 2000 and 2001, when he collected the batting and bowling awards in the Notts Premier League whilst playing for Kimberley Institute.
Stephen Fleming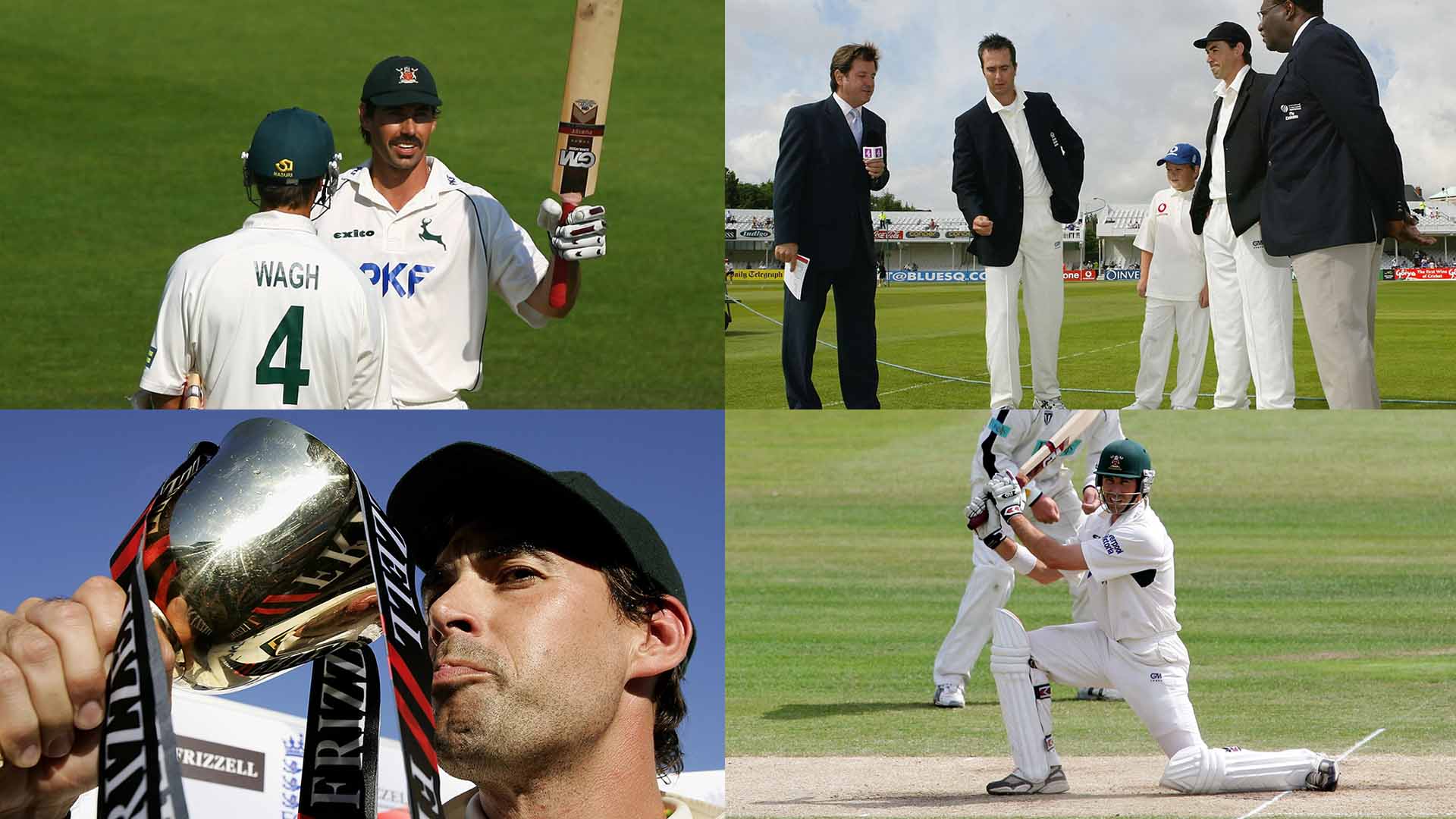 Stephen Fleming arrived at Trent Bridge with impeccable cricketing credentials.
At the time he had several New Zealand records – most Tests as captain, most Test runs and most Test catches. Despite these milestones he was still only aged 32. Like Garry Sobers before him, Fleming was appointed captain on his arrival in 2005 – in 2004 Jason Gallian had led Notts to a promotion spot in the Second Division.
Fleming's impact was immediate. In his first year, Nottinghamshire claimed the County Championship title for the first time since 1987. Fleming averaged 60.53 in the first-class batting table, coming second to David Hussey.
2006 was, in many ways, the reverse of 2005. Notts were relegated to Division Two, but, for the first time, success came in the Twenty20, when Fleming took Notts to a dramatic Final at Trent Bridge, where Leicestershire won by a whisker. Fleming again took second place in the first-class batting averages and was as sharp as ever in the slips.
The ambition a year later was, predictably, to get promotion. Mission accomplished. Fleming arrived in May, but still managed 930 runs at an average above 58.
In 35 first-class matches for Notts, he maintained an average of 55.49. The only blight on his record was that relegation in 2006, a situation he rectified before leaving the county at the end of the 2007 season.
And for the Blackcaps, his leadership and a Test batting average of 40.06 helped New Zealand to punch above their weight with series wins against India, England, West Indies, Sri Lanka, Bangladesh and Zimbabwe.
Ish Sodhi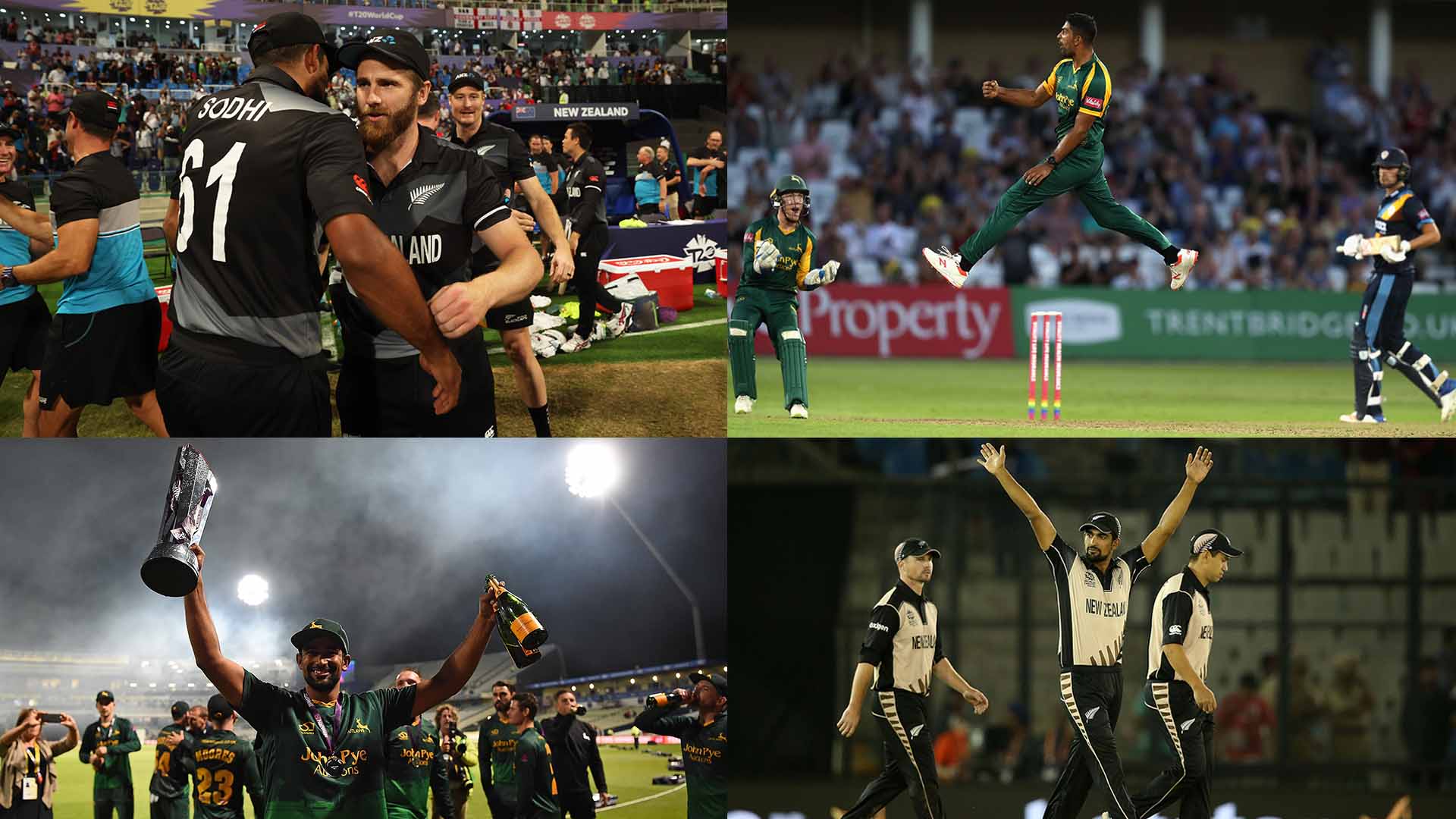 When Inderbir Singh 'Ish' Sodhi joined Notts Outlaws as one of two overseas players permitted in the domestic T20 tournament in 2017, he was already one of the most coveted white-ball bowlers in world cricket.
In his first year he became a medal winner, as part of the squad which lifted the Blast trophy at Edgbaston.
By the time he returned for his second season at Trent Bridge a year later, he was the number one rated T20 bowler with impressive figures wherever he played.
In his two seasons of T20 cricket with the Outlaws, he took 34 wickets at 26.58, with a best of 4-17, a strike rate of 17.82 and an economy rate of 8.95.
When adorned in the Silver Fern, Sodhi has played 17 Test Matches, 33 ODIs and 45 T20Is. He was plucked from relative obscurity within a year of his Plunket Shield debut in 2012-13, making his Test bow against Bangladesh.
******
England versus New Zealand at our historic home
From James Anderson ripping through Australia, to Joe Root and Jos Buttler tons, day four fireworks are frankly commonplace at our historic home.
Secure your seats for day four of England against world champions New Zealand here…