Some of the finest recent moments in Stuart Broad's career have arrived in somewhat unusual circumstances.
A season that saw Broad take more Test wickets than any other individual (38 at 14.76), and brought his 500th scalp in the format, came and went with supporters absent for the vast majority of the year.
Now, with Covid restrictions removed, Broad and family can finally celebrate his remarkable achievements of 2020 – and look forward to the 2022 international summer with optimism.
England host World Test Champions New Zealand at Trent Bridge from 10-14 June. Secure your day four seats here…
"Every player is similar – you're there to win games for the team, so those moments mean more than the individual ones," he said after a presentation at Trent Bridge to mark his feats in the Test arena.
"But to join my great mate Jimmy in the 500 club – actually with the same batter, Kraigg Brathwaite, was pretty special.
"I love playing cricket, I love playing for Nottinghamshire, I love playing for England, and the years have gone by pretty quickly and the wickets have sneaked up, so it's been enjoyable."
Broad's landmark moment may have occurred in an almost-empty Emirates Old Trafford, but the presence of his father, Chris, as match referee added a little gloss to the moment.
Now, with newly-installed England supremo Rob Key and skipper Ben Stokes proclaiming their support, the prospect of the seamer appearing in front of the Trent Bridge faithful while wearing the three lions has returned.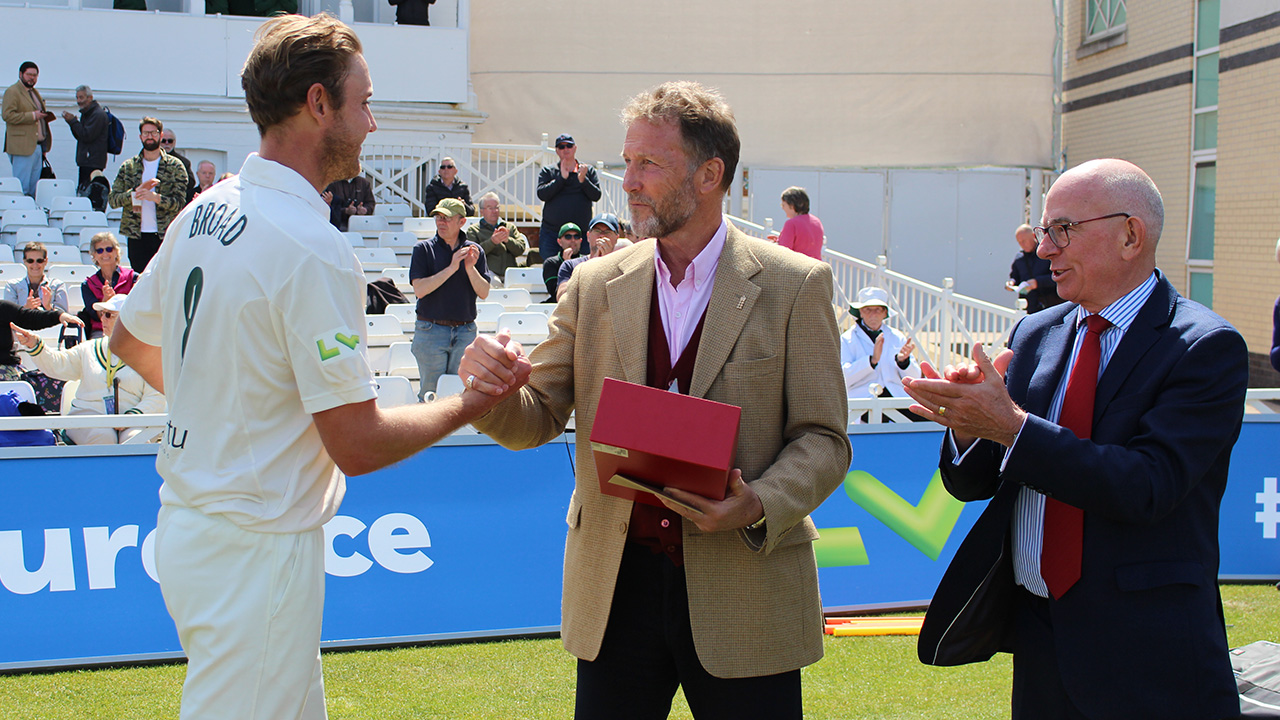 Broad's 500-wicket milestone is commemorated by his father, former Notts and England opener Chris, and Notts Chairman Jeff Moore.
"It wasn't looking too good in March!" Broad joked of the prospect of representing England on home turf.
"Trent Bridge is one of the greatest grounds to play at in the world. I've been running around this ground since I was little, watching Dad and the Notts team of the late 80s, and that's how you grow your love for the game.
"I think all our players feel such happiness to be back in front of the Trent Bridge crowd again. Every Notts player feels such amazing support from everyone.
"I love this place – I always will – and it's special for the whole of my family."
Broad spoke on the third day of a fixture dominated by Dane Paterson's wicket-taking feats on day one.
The South African's return of 8/52 was the first eight-fer at Trent Bridge since Broad's in 2015 – and the first for Notts since the right-armer starred at Edgbaston in 2010.
"He's been a superb signing," said Broad of Paterson.
"He's perfect for the Trent Bridge pitch, he makes batters play and he fits into that changing room superbly with his leadership and his energy.
"We've really moved in a great direction over the last couple of years. We've grabbed hold of what it's about to play for this club, and the style we want to play our cricket in.
"Dane fits perfectly into that, but the most exciting thing for me is seeing the young players come through from the age groups.
"I can't list them all because there are so many, but you've already had Lyndon James, Liam Patterson-White and Joey Evison playing match-winning performances for the first team.
"That's really exciting for the whole club – to see the young players coming through and winning games is what it's all about."
*******
England versus New Zealand at our historic home
From James Anderson ripping through Australia, to Joe Root and Jos Buttler tons, day four fireworks are frankly commonplace at our historic home.
Secure your seats for day four of England against world champions New Zealand here…